The eyebrows are interesting body parts," Jay Garrigan says. "They're the windows to the soul and they frame everything."
They also give their name to Garrigan's spikey yet melodic rock trio The Eyebrows, and nowadays they're framing a bright and expanding picture for guitarist and singer-songwriter Garrigan, drummer Shawn Lynch and bassist Darrin Gray. The Charlotte trio has completed their latest album Volume, ten punchy and emotional tunes that recall the snarky smarts and wiry grooves of new wave performers like Nick Lowe and Athens, Georgia's Pylon.
But don't take our word for it. Volume, which gets a physical CD and vinyl release party at Snug Harbor on September 1, has garnered effusive praise from publications like No Depression, Magnet Magazine and The Big Takeover.
All the positive attention for Volume is a little bit disorienting to Garrigan and Lynch, who have been playing together off and on in various rock combos ­— including Poprocket and Bruce Hazel's transcendent Temperance League — since 1999. What distinguishes this Eyebrows record from previous releases is a new strategy, according to Garrgian.
Jay Garrigan (Photo by Daniel Coston)
"This record is not a last hurrah," he continues. "It's about, 'Let's do things differently.'" For starters, Garrigan and crew made a conscious decision to work with seasoned indie rock veterans. Volume was produced by Mitch Easter at Fidelitorium Recording Studio in Kernersville, North Carolina and mastered by Greg Calbi at Sterling Sound in New York City. If you swap the now-shuttered Reflection Sound Studio in Charlotte for Fidelitorium, this is the team and facilities that produced and mastered R.E.M.'s classic debut album, Murmur.
Originally Garrigan and crew were going to host a listening party for the new album and call it a day, but instead they decided to approach Athens-based public relations firm Team Clermont.
"Shawn and I grew up a little bit and realized it's not just about sitting in the basement writing songs and having fun in the studio," Garrigan explains. "You have to get with the right people who want to call attention to the record."
The partnership with Team Clermont has exceeded The Eyebrows' expectations. On only the second week of the PR firm's radio campaign, the band has gotten play on 22 stations, a figure that is likely to expand exponentially, Garrigan says.
"It's like a dream come true," he continues.
It's a far cry from six years ago when Garrigan's career was stymied by a bad record deal, and then things went from bad to worse when Garrigan nearly lost his eyesight due to a botched Lasik surgery. In intense pain, Garrigan lost all sense of joy. He dropped out of making music entirely, but in the end it was music, and Garrigan's musician friends, that brought him back from the brink, he maintains. But now, the future looks bright for The Eyebrows
"I can't believe that people actually like [the record], because we're so used to people not paying attention." It may surprise people who have seen Garrigan gyrating and whooping it up during his band's sets, but offstage he's a shy and retiring guy. It's a characteristic that stems from his childhood.
"I was left alone a lot and I would wander over to the piano in the family room," he remembers. His mother noted his interest and taught him how to read music. By the time he was 3, Garrigan was playing music. He was a school band kid, picking up the drums in sixth grade and the trumpet a few years later. When he was 17, Garrigan's father taught him to play guitar. It's been his main instrument for playing and composition ever since.
In eleventh grade Garrigan was the weird artsy guy hanging with all the heavy metal kids in the high school jazz band, but his most enduring and meaningful musical partnership began a few years later when he joined forces with Lynch. Both men had been knocking around the 1990s Charlotte music scene, and had caught each other's notice.
"We admired each other," Garrigan recalls, praising Lynch's drumming with Charlotte's proto-Americana band Lou Ford. "They had this cool blend of roots music coupled with a real rock 'n' roll rhythm section. There was a raunchiness to it." Garrigan and Lynch hit it off. They started jamming and hanging out together. Lynch was impressed with Garrigan's prolific songwriting.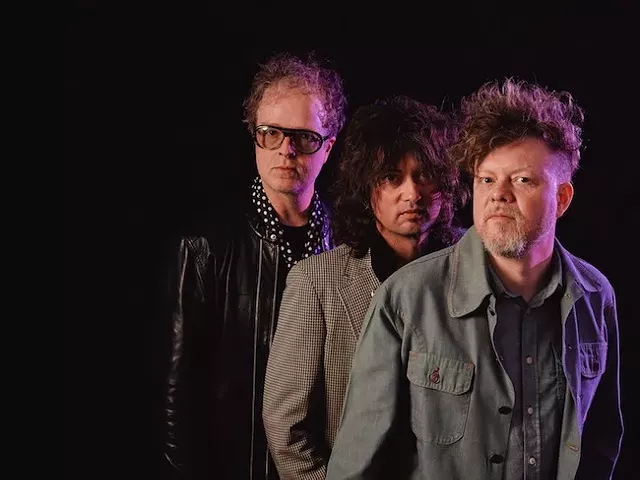 The Eyebrows [from left]: Shawn Lynch, Darrin Gray and Jay Garrigan.
"Shawn once told me that the reason he keeps playing with me is that I never stop writing," Garrigan reveals. Then one day, Lynch told Garrigan that he would be his drummer for life. Garrigan reciprocated, saying he'd be Lynch's guitarist for life. The two friends have kept that vow. Since 2000, they've played together in Poprocket, Temperance League, and starting in 2014, The Eyebrows. Lynch was also in what is arguably Garrigan's career nadir, a band also called Garrigan.
"That was a bad experience," Garrigan says of his deal with Spectra Records. "I thought our agreement was one thing but I got trapped into another." The record company promised Garrigan the moon, he remembers, but he wound up getting little in return. The band Garrigan was a deal based on the bandleader's songs and songwriting, Garrigan recalls, but he feels the material for the outfit was not his best.
"The songs were overwritten, overwrought and overthought," he says. Garrigan concludes that the songs he wrote for his ill-fated self-named band were tunes for the head. In contrast, the material for Volume is aimed straight for the heart. He describes his current working method as being a catalyst for the rest of The Eyebrows. Garrigan usually hears something in his head and has to run to a guitar or a piano to get it down before it's lost, he says. Then he records the demo and brings it to the band.
"I usually let the band members come up with their own parts," he explains. "I'm just framing it and setting it up for them to see where they'll take it." This creative process ground to a halt in 2012 when Garrigan went in for what was supposed to be routine Lasik eye surgery. To this day, Garrigan believes the eye surgeon, who is no longer practicing, knew that Garrigan was not a good candidate for the procedure. The botched operation resulted in life-altering chronic corneal erosion. Garrigan was in excruciating pain and his vision was variable at best. He quit his band, bailed from his record deal with Spectra and dropped out of music. Garrigan was struggling, trying to figure out how to keep his day job and pay his mortgage. Then music came to his rescue.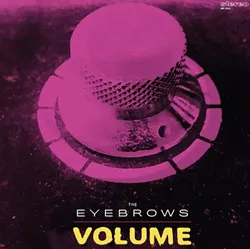 "Shawn and Bruce Hazel [of Temperance League] came to me and said, 'You're not doing anything, why don't you come by and play bass?' I thought why not give it a shot?" Within a month, Garrigan had gone from feeling he would never make music again to playing with Temperance League at Time Warner Cable [now Spectrum] Arena opening for Bob Seeger in 2013. Able to better manage his eye pain, Garrigan was set to launch The Eyebrows. He started writing much of the material that appears on Volume. Some of the tunes are even unused material for the band Garrigan, and one song, "She Can't Stand Me," refers to Garrigan's medical condition with the lyrics, "because you want to slash my eyes."
Garrigan says the line is both an ode to Salvador Dalí and Luis Bunuel's 1929 surrealist film Un Chien Andalou, where a man slices a woman's eye with a razor, and the song "Debaser" by the rock band Pixies, but it is also about his life.
The outlook for Garrigan's life, and for The Eyebrows future, is very positive now, Garrigan says. Volume was recorded with bassist Jon Lock and keyboardist Molly Poe. Poe left the band in 2017 and now plays with local country rockers Amigo. Lock stepped aside a few months ago to make room for a longtime friend of Garrigan and Lynch's, Darrin Gray. Gray was Garrigan's first choice for The Eyebrow's bassist but prior commitments kept Gray from joining, Garrigan explains.
"It's great getting him in the band," Garrigan says, adding that Gray's compatibility with the other band members makes band-related decisions and touring much easier.
"You learn the most about yourself and your band when you're on the road," he adds. "It's much easier when people are more alike than different. It's a lesson I've had to learn throughout the course of my entire life."
Though the average age of The Eyebrows is 48, the band is psyched to tour the new record, but they're going to be smart about it, Garrigan maintains. The plan is to take short trips to cities where the album has been getting airplay.
"I'd like to be a regional band playing within a couple hours or so of Charlotte," Garrigan says. "That's because we have day jobs and we have to keep our wives happy." It's also an opportunity to solidify long-standing relationships between people who share the love of making music and friends who came to Garrigan's aid when all was dark.
"It's kind of a romantic story," Garrigan says with a chuckle. "In a bro-mantic sort of way."