A fairly refined theme park atmosphere reigns in Ovens Auditorium, where the national tour of Wicked is parked through March 30. The Disney-level merch is available on the lower and upper levels, and strangely soothing pre-recorded announcements remind everyone how long it will be before the show starts or resumes, what foods and beverages will or won't be allowed in the hall, and sternest of all, that the doors will be closed for nine minutes before latecomers can take their seats.
The show itself is engineered with similar toymaker precision. Readers of the original Gregory Maguire novel, I'm told, will not experience the same disconnect between set designer Eugene Lee's dragon-and-clock-tower motif that surrounds the stage and the dragonless, unclocked action unfolding within. Nor are first-time viewers of this Wizard of Oz prequel likely to be anything less than wonderstruck when our heroine Elphaba, the future Wicked Witch of the West, first sets foot in Emerald City.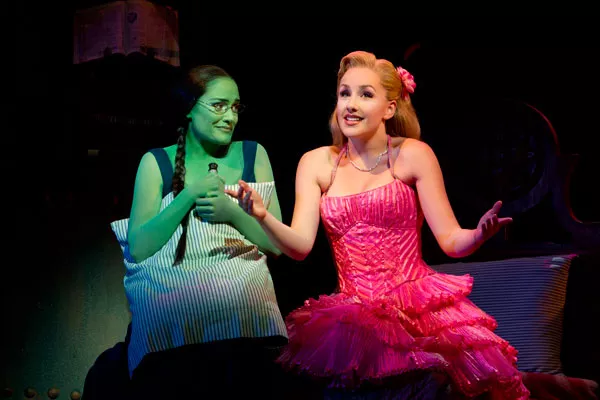 GREEN WITH ENVY: Christine Dwyer as Elphaba and Jeanna de Waal as Glinda in Wicked
On my third go-round with this musical, it all began to seem, well, precious. Flaws that the glitter had previously blinded me to began to peep through. The animal rights theme seemed to get shorter shrift than I'd remembered. Ditto Fiyero's realization that Elphaba was worthier of his love than Glinda the Good. And just when did the future Scarecrow find the time to travel nearly all the way down the Yellow Brick Road — and beyond — with Dorothy?
Forgive me, Wicked groupies, for my brain is real. And the Ovens sound system, which I've found quite accommodating in past sojourns in the center aisles, was quite garbled in my first sampling of the side-aisle experience. Another reason why the spell of this Wicked didn't hold me totally in thrall.
Part of my enjoyment had to be transferred to the delighted exclamations of the folks sitting behind us, obviously beholding the Stephen Schwartz musical for the first time. I had the distinct impression that they felt they were getting their money's worth.
Rightly so. Susan Hilferty's costumes and Kenneth Posner's lighting are still knockouts, and the current cast is as good as we've seen here. Especially impressive are the supporting players, largely because Winnie Holzman's script is occasionally worthy of fine character actors. Gina Ferrall gets just enough stage time to give Madame Morrible, Glinda and Elphaba's college mentor, a keen melodramatic edge; Jay Russell can crown Doctor Dillamond, Elphaba's beloved goat teacher, with a modicum of donnish dignity before he becomes pitiable; and Walker Jones injects just enough genial goodness into The Wonderful Wizard of Oz to make him a slightly tragic figure by evening's end.
It would be cruel to imply that Christine Dwyer as Elphaba, Jeanna de Waal as Glinda, and Billy Harrington Tighe as Fiyero all appeared to have been plucked off the same generic American Idol or Broadway Belter assembly line. But Schwartz's power ballads didn't retain much individuality for me in their third hearing. Aside from the spectacularly staged "Defying Gravity" at the end of Act 1, only the Glinda-Elphaba "For Good" duet kept a glint of merit.
With de Waal, I was unable to shake the impression that I was watching the reincarnation of Georgia Engel playing Glinda — or to decide whether I should just give in, since Engel was always so precious. Dwyer gave me a far more positive feeling as Elphaba, making me wish I'd seen her action-heroine portrayal in one of the previous tours. As for Tighe, there was some conceited charisma when he arrived as Fiyero, but everybody — Tighe, de Waal, Dwyer, Holzman, and director Joe Mantello — let it slip away afterward.
UP IN CORNELIUS, there's a rip-roaring new production of Crimes of Omission at the Warehouse Performing Arts Center that is inexplicably struggling to find an audience. Don Cook's taut script, nearly flawlessly directed by the playwright's wife, Divina Cook, gives us the opportunity to watch a confrontation between two of Metrolina's most formidable — and intimidating — stage actors, Tom Ollis and Lamar Wilson.
Tom Ollis (left) and Lamar Wilson in Crimes of Omission
Ollis is forensic psychologist Dr. Phil Bennett, who has taken over the nettlesome case of Bob Burlington. There is no doubt that Burlington horrifically murdered his mom and dad. What remains to be decided before the murderer is put on trial is whether Burlington was sane when he did the deed, for Burlington seems to believe that he killed his wife and child — or he's playing that game in order to cop an insanity plea.
Still shaking off his presidential mannerisms and vocal tics from his recent starring role in Frost/Nixon, Wilson makes Burlington all that the meticulous Bennett can handle and more. For when Bennett breaks down his defenses, Burlington mounts a devastating counterattack after licking his wounds. Looking in on all these sessions, conferring with Bennett between sessions — and maybe conspiring with Burlington as well — is the mental facility's executive director, Dr. Marty Rosen, a garrulous and conniving role that suits Jim Esposito perfectly.
Having seen a couple of thousand shows on this beat, I could see Bennett's comeuppance while it was still in the distance as far away as Statesville (or Lillian Hellman's The Little Foxes). Knowing what was coming hardly diluted the pleasure of watching Ollis and Wilson play out this fateful game of musical chairs. This is one DC2 production that is worth the trip through March 24.