The phone rings three times before a man answers. "Can you please connect me with guest Sharon Goodhead?" I ask the hotel front desk, stifling a chuckle.
As I wait for Ms. Goodhead, which is the pseudonym used by burlesque performer, model and fashion icon Dita Von Teese, to answer the phone, I'm distracted by thoughts of bare thighs, sequined corsets and red lips. I wonder what it must be like to be that exposed publicly, how one goes about applying a nipple tassel, and what my own stage name might be.
"Hello?" says a surprisingly small, sweet voice.
"Um, is this Dita?" I ask nervously, suddenly panicking that there is actually some poor woman named Sharon Goodhead, and I'm unwittingly part of a prank.
"Yes, good morning, how are you?" She sounds like she's holding back a giggle as well.
During our 40-minute conversation, Von Teese — who visits North Carolina for the first time when she brings her Strip Strip Hooray show to The Fillmore Oct. 10 and 11 — says that more than 60 percent of her typical audience is comprised of heterosexual women. In fact, most burlesque shows across the country draw more women than men. That's surprising, considering the popular misconception of burlesque as simply hyper-glam antique stripping.
Burlesque began as a form of parody: comedy with plenty of tongue-in-cheek that poked fun at any serious subject. Later, performances were complemented by mind-numbing glitz and strip tease. American burlesque, once for the upper echelon and later an underground movement for fetishists that dates back to the late 19th century, has seen a notable resurgence since the 1990s.
The most recent revival of burlesque is very much mainstream and dominated in all areas by women. Neo-burlesque can be considerably more subversive and socially or politically staked than the original, but many performers still adhere to elements of the old art form: the shimmy and smile, the beautiful costumes, the razzmatazz. Delve into any feminist forum, though, and you'll find an array of opinions on burlesque, from it being a pathetic perpetuation of the male gaze to providing one of the most valuable opportunities for women to reclaim their sexuality.
So, why are women cheekily disrobing on stage? And why are others turning out in droves to cheer them on?
"I could do that!"
In 1990, 18-year-old Von Teese, known then as Heather Sweet, wandered into a strip club — "mostly out of curiosity," she says — to try her hand at stripping. She approached it as a social experiment at first. "I wondered if, in the sea of blondes, tans and rock 'n' roll songs, there was a place for me with my dark hair and pale skin," she says. There was, but eventually she would give up the gentleman's club for burlesque; she thought it was the best avenue to express her individuality and utilize her skills in design and production.
Burlesque creates "familiar and accessible" sexuality for women, says Deana Pendragon, better known as Big Mamma D of Charlotte's Big Mammas House of Burlesque. "Many women won't frequent stores that sell sex toys, but most women will go to a Pure Romance party at a friend's house." The same applies for burlesque and racy entertainment. "Burlesque is non-threatening," she says, "and often the women performing in the shows are average women that present a variety, allowing guests to see themselves on the stage."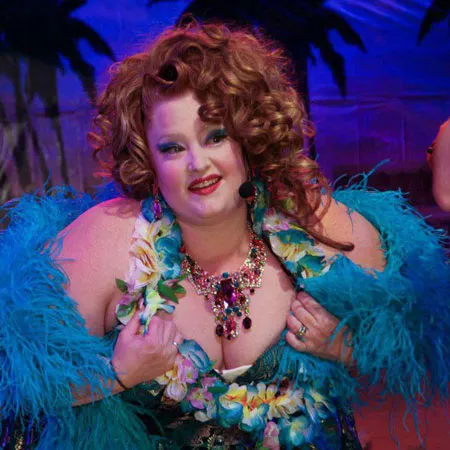 Courtesy of Pendragon

Big Mamma D
Unlike straight porn and strip clubs, which cater to male ideals of female sexuality, burlesque expands the definition of beauty in a way that is inclusive of all women. You'll find performers with varying body types, styles, tastes, personalities and personas. Examples include the sideshow style of Charlotte troupe Kabaret Vulgare (at the Milestone on Oct. 18) and the tattoo-heavy humor-driven performances of the alternative models, the Suicide Girls (performing at the Fillmore on Nov. 11). There are even gorelesque houses, specializing in blood, zombie and horror themes, and nerd-culture burlesque shows, which focus on geek-chic elements such as sci-fi, comic books and anime. "The things that make us different are also the things that make us beautiful and desirable," Von Teese says.
Pendragon says that she is frequently approached by female audience members after shows with questions about how to get involved. Because burlesque offers the general message of "come as you are," Pendragon often hires from her audience for the all-new reviews that she produces every few months.
"We're a family."
Many women get excited about burlesque because they see it as a way to bond with other women in a unconventional way. After taking some burlesque classes herself, blogger Chloe Emmott wrote in a 2007 article that she and her fellow classmates were a "sisterhood of sequins" — a fitting way to describe the connection between and amongst performers and the audience.
Performing burlesque can also be a means for a woman to take back something that was stolen from her by various circumstances in life, or that she never had. Higher self-esteem, body confidence, courage and sexual power are just a few of the benefits that women claim to reap in the world of burlesque, all with the encouragement from fellow female performers and adoring fans. Pendragon says that it's the one place where she has found women supporting one another unabashedly. "There is such a sense of camaraderie, and these women are encouraging sexuality from and acceptance for other women, which doesn't happen regularly in many other places that I can think of."
As a testament to that bond, Von Teese proudly boasts about her fellow performers in Strip Strip Hooray. "They are the best of the best of burlesque from all over the world. I am proud of the diversity and talent," she says.
"We run this."
Although there are men in burlesque (like Hot Toddy, who describes himself as the "love child of Lili St. Cyr and Liberace") and "boylesque" houses (which focus on male strip tease and poke fun at traditional archetypes of masculinity), women predominantly run the industry. Von Teese says that roughly "90 percent of the industry is owned by females." Burlesque often isn't a job — it's a time-intensive and expensive hobby that requires passion.
Von Teese, for example, is heavily involved in creating the entire experience of Strip Strip Hooray for her patrons, from brainstorming the concept and costume design right down to welding the often complex sets. "I am an aesthetic control freak," she says. "I literally put my hands on every aspect of the show and the final product is my heart and soul right up there on the stage. This is my own money and my vision — I don't just show up in a costume."
Because women own and execute these shows, they control the content, molding the final presentation to their liking. "In our hyper-pornified culture, where women are often portrayed in a degrading sexual performance as dictated by heterosexual male fantasies," says Kelly Finley, UNC Charlotte professor of women and gender studies, "burlesque allows women to metaphorically flip their middle finger to these images."
Both Von Teese and Pendragon say that the attraction to burlesque is about a lot of things: feeling pretty, creating glamour, making a statement, healing a wound, expanding a mind or stretching a comfort zone. If done properly, though, it is always about self-creation and having a great time.
If that is true, if burlesque is about evolution of self and personal fulfillment, then much like beauty, "it can't be judged," Von Teese says. If it can't be judged, it can only be liked or disliked — and it appears that more often than not, women are digging what they see.