Page 3 of 3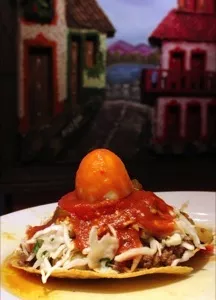 8. Lempira Restaurant: At the other end of the spectrum is Lempira Restaurant, one of those unexpected spots Charlotte seems to grow with regular certainty. Lempira is situated in a transformed Japanese restaurant on South Boulevard where the servers speak Spanish and most of the patrons are Spanish-speakers. According to owner Gilmer Alfaro, Lempira is the only Honduran restaurant in town. Lempira was a William Wallace-styled warrior of the Lenca (indigenous people) during the Spanish invasions of the 1500s, and a drawing of this man appears on the menu's front cover. In addition to the better-known Mexican dishes they offer, flip to the back to the platos típicos hondureño section. My favorites are the enchiladas: two crispy flat corn tortillas are slathered with black bean puree, then layered with spicy ground beef, shredded cabbage, carrots, half a hard-boiled egg, drizzled with Mexican sour cream and a tomato sauce and the baleades, the Honduran national dish, and street food. This is a folded flour tortilla with beans, cheese, cream, and sausage. Most dinners are under $8. At the price, who cares if the service is slow, albeit well-intentioned.
Lempira Restaurant, 5906 South Blvd., 704-552-1515. Hours 8 a.m.-midnight daily. Breakfast menu available.
9. Fu Lin Asian Cuisine: There's something about eating another culture's ethnic food. At least that's how I felt when I first discovered Fu Lin Asian Cuisine. Just when you think you've got all the Chinese cuisine covered, up pops this hybrid. Fu Lin offers Indochinese cuisine -- an amalgam created by the migrating Hakka people when they set up shop in India. This cuisine is an interesting mix of Chinese and Indian. Included in their "Specialties from India" are Manchurian Beef, Ginger Chicken and Szechuan Shrimp. Entrees arrive in aluminum wok-shaped serving bowls and are passed around the table. Jars of chopped Thai peppers in vinegar dot the tables -- and are frequently used. Appetizers include steamed chicken dumplings and fried chicken wings with ginger and turmeric, crispy vegetable pakoras and beef skewers tasting of curry. Although pork is popular in Chinese cuisine, the owners decided not to have this meat on the menu since it is forbidden in Islam. Rather, Fu Lin offers halal meats. But, there are a limited number of wines and beers, including Indian beers, on hand (Alcohol is forbidden in Islam). The service staff is welcoming of children and Indochinese novices.
Fu Lin Asian Cuisine, 5301 East Independence Blvd., 704-568-8877. Hours: Tuesday through Thursday 11:30 a.m.-10 p.m. Friday 11:30 a.m.-10:30 p.m.; Saturday noon-10:30 p.m., and Sunday noon-10 p.m. Closed Monday. www.fulinasiancuisine.com.
10. Ben Thành: For almost 20 years, the Duong family has delighted Charlotteans with herbaceous Vietnamese food. Traditional Vietnamese dishes are lighter and crisper than Chinese dishes and are not as fiery as Thai. Clean herbaceous flavors are the hallmarks of Vietnamese cuisine. Their latest endeavor, Ben Thành, (this family was the original owner of Lang Van), is named for the large open market in Ho Chi Minh City (in Vietnam) and filled with fresh foods. The interior of this restaurant may be sparse, but the food is perfection. The Pho, Vietnam's national dish, is a quart-sized bowl loaded with rice noodles, thin slices of beef and vegetables lazing in a flavorful broth. Banh Xeo Chay is the Vietnamese equivalent of the Indian dosai -- a large, thin, yellow, rice-flour crepe folded over slices of pork, bean sprouts and shrimp. Wrap this in a lettuce leaf, gussied up with a sprig of basil and mint and then dunk it into a savory sauce. The best dish here, though, is the hot and crispy quail appetizer gloriously spritzed with a cooling lemon and a sprinkle of freshly ground pepper.
Ben Thành Vietnamese Restaurant, 4900 Central Ave., 704-566-1088. Hours: Monday, Tuesday, Thursday, and Friday 11 a.m.-10 p.m. Saturday and Sunday 10 a.m.-10 p.m. Closed Wednesday.
Click here for more Food Issue