Page 2 of 3
Cuisine Malaya, Malaysian Cuisine & Japanese Sushi Bar, 1411 Elizabeth Ave., 704-372-0766. Hours: Monday through Thursday 11 a.m.-10 p.m.; on weekends 11 a.m.-11 p.m. www.cuisine-malaya.com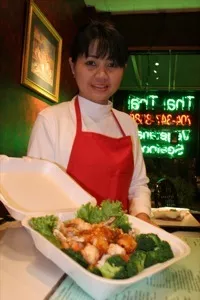 5. Thai Thai Takeout: Thai restaurants have a long history in North Carolina. During the Vietnam War, a few Thai restaurants opened near the military air bases on the eastern side of the state, most notably Seymour Johnson Air Force Base. In part, the original restaurants were operated by Thai wives or Thai relatives of American military personnel. Soon this sensational Asian cuisine swept the state. In Thai, the word for rice and food is synonymous: rice is at the heart of this cuisine. But the minor players -- basil, kiffir lime leaves, ginger, chilies, coconut milk, cilantro and lemon grass -- are the food-lovers faves. Thai dishes rely on the eye and palate of the cook rather than a step-by-step recipe. Many Charlotteans have come to rely on Thai Thai Takeout's Chef and owner Tony Kwok's first-rate palate. He's been creating Thai dishes in Charlotte for 15 years. This latest venture with his wife Phim offers a stellar ka nom jeb appetizer (minced shrimp and chicken dumplings), which may be prepared steamed or fried; however, the steamed version is extraordinarily fresh tasting. The Pad Thai, everyone's bellwether and Thailand's most popular noodle dish, is wonderfully aromatic. Another favorite is the Gaeng Panang curry with diver-sized scallops in a spicy coconut cream sauce made with basil leaves and lemon grass.
Thai Thai Takeout, 1412-C East Blvd., Dilworth Garden Shopping Center beside Outback Steakhouse, 704-347-8886. Lunch hours: Monday through Friday 11 a.m.-2:30 p.m. Dinner hours: Monday through Friday 5 p.m.-10 p.m.; Saturday and Sunday 3 p.m.-10 p.m. Take out only.
Austin's Carribbean Cuisine
6. Austin's Caribbean Cuisine: Another inspired takeout ethnic eatery is Austin's Caribbean Cuisine located in a small strip shopping center cattycorner from the new Target and Home Depot Design Center in Midtown. Owner and cooks Austin and Yvonne Martin opened Austin's in 1996 and have been making sensational Jamaican food ever since. The menu changes daily, and some items -- like coco bread -- run out frequently, but the best advice here is to go early and often. Goat and chicken pieces, rendered into bite-sized portions with a cleaver chop, are placed, bones and all, in luxuriously flavorful sauces. The Jerk Chicken is a remarkable blend of heat, herbs, and spices which balance the tender sweetness of the meat. Mellower is the brown stew chicken enhanced with its balanced rich gravy. Yvonne Martin makes Ital stew, a coconut cream based vegetarian dish prepared by Rastafarian code by request or for catering. On holidays, such as Easter, Martin bakes special dishes, such as Jamaican Spice Buns. Special request for more Jamaican dishes can me made through their catering arm.
Austin's Caribbean Cuisine, 345 South Kings Drive, 704-331-8778. Hours: Monday, Tuesday, Thursday and Friday 11:30 a.m.-8 p.m.; Wednesday and Saturday 11:30 a.m.-7 p.m. Closed Sunday.
7. Chaat 'n' Chai: Nothing is more deliciously illicit than snacking between meals. And nowhere will you have more fun doing this than at Chaat 'n' Chai, which opened up in the University area earlier this year. This is fast, on-the-go -- and cheap -- sweet and savory Indian street food. Try a mango lassi (like a smoothie, only infinitely better) for a quick afternoon pick-me-up or their Paani Puri: golf-ball-sized fried puri orbs loaded with cubed potatoes, onions and a tamarind sauce. Almost as good is the Bhel Puri, a kind of Indian layered dish with crispy puris, puffed rice, sev -- a crispy noodle, cubed potatoes, tomatoes, and onions drizzled with mint and tamarind chutney. Also on the menu are entrée items such as lamb vindaloo and chicken korma, but co-owners (and engineers) Santoh and Ranjitha Pasula, and Radha K. and Bhavana Swayampakala, excel in their irresistible Chaat and bakery items like the Veggi Burger and veggi puff. Halal meat is available here as well.
Chaat 'n' Chai, 9609 North Tryon St., 704-503-4748. Hours: Lunch Tuesday through Friday 11:30 a.m.-2:30 p.m.; Saturday and Sunday 11:30 p.m.-3 p.m.; Dinner Sunday, Tuesday through Thursday 5 p.m.-9:30 p.m., Friday and Saturday 5 p.m.-10 p.m. Closed Monday. www.chaat-n-chai.com