Ethnic eateries are often the unsung heroes in a city's culinary chorus. Some are cheap, fast and good; others are predictably wonderful, while a third category takes an ethnic cuisine to a modern level. The last category is not cheap, but then you do get what you pay for. Quality costs and imported premium food items may be especially costly.
Charlotte has hundreds of ethnic restaurants. Selecting 10 was a daunting task, but the following group represents the ends of the spectrum: from innovative and expensive, to well-crafted perfunctory and cheap.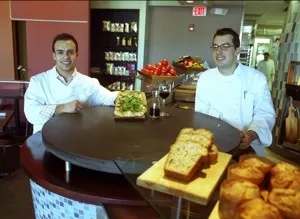 1. Ilios Noches: One ethnic restaurant taking its cuisine to a higher level is Ilios Noches, a creative, well-executed take on upscale Greek cuisine. Greek restaurateurs have played an important part of Charlotte's ethnic restaurant history. But rather than opening Greek restaurants, most of these entrepreneurs who arrived in the 1950s and 1960s opened Italian restaurants, meat-and-threes, fish camps and even barbecue outposts. One of the chef/owners of Ilios is Angelo Kaltsounis, whose father Tommy owns the Landmark Diner on Central Avenue. Co-owner and chef Stratos Lambos also grew up in his father's Greek restaurant in New York, while pastry chef and partner Frank Kaltsounis (Angelo's brother) is one of the most talented pastry chefs in the Southeast -- much less at an ethnic restaurant. Lunch at Ilios Noche includes a marvelous mix of spreads including the smoked eggplant with walnuts and a tzatziki made with Greek yogurt; marinated white anchovies; homemade sausage; a superlative grilled chicken sandwich with roasted red pepper and feta; roasted lamb pie; and their meli mangio pizza with thin slices of tart granny smith apples and flecks of goat cheese. Then there's dinner ...
Ilios Noche, 11508 Providence Road, 704-814-9882. Hours: Monday through Thursday 11 a.m.-10 p.m.; Friday 11 a.m. until 11 p.m., Saturday brunch 8:30 a.m. until 3 p.m., full menu 3 p.m.-11 p.m. Closed Sunday.
Copper, Modern Cuisine of India
2. Copper, Modern Cuisine of India: Two years ago Copper, Modern Cuisine of India breathed life into the historic Mays house in Dilworth that had seen many a restaurant come and go. Owner Pannu Singh, a native of the Punjab, opened his second restaurant after finding unqualified success in Roanoke, in a section of Charlotte close to banking centers and hospitals -- in other words where many well-heeled Indian expatriates work and live. With this base of expats available, Singh gambled that exploring Indian cuisine -- dishes beyond chicken tikka -- would work. And he was right. Although some still complain that Copper is "expensive," quality ingredients cost. The menu is divided into three categories: "Traditional," "Modern," and "For the Gourmands." The traditional section offers the better-known Indian dishes: tandoori, vindaloo, and tikka. But dishes carry just the right note: Curries are savory, not sweet. The items in the gourmand section are delicate and subtle, yet aromatic. Portions sizes are not huge -- there's plenty of plate showing. The focus is on taste and presentation, two aspects often lacking in tikka emporiums. Copper offers a well-chosen wine list and wines are served in Reidel glasses. Indian beers such as Flying Horse are also popular here. Copper may not be for everyone, especially those who assume ethnic food is cheap. But the quality here shines on the plate.
Copper, Modern Cuisine of India, 311 East Blvd., 704-333-0063. Hours: Lunch Monday through Friday 11:30 a.m.-2:30 p.m.; Dinner Monday through Thursdays 5 p.m.-10 p.m., Friday and Saturday until 10:30 p.m.; and Sunday 5 p.m.-9:30 p.m.
3. Waldhorn Restaurant: Gitta Maier is another second-generation restaurateur, growing up in her parents' restaurant in Germany. There she decided to continue the family enterprise by going to culinary school, but emigrated to the United States to open the Waldhorn Restaurant (named for her parents' restaurant in Germany) in Pineville with her husband and chef Thomas Maier, a graduate of the Culinary Institute of America in Hyde Park and a second generation German American. Waldhorn is one of those happy dining experiences you want to repeat. If you like beer and food, you won't find a better combo than here. In addition to items that have umlauts, there's pasta pillows with meat and spinach and a selection of gilled sausages. But the best deal is Sunday brunch with dozens of items including homemade breads, omelettes, sauerbraten and spätzle, pork roast and red cabbage, house-made desserts and cheese grits -- we are in the South, after all. Brunch is $16 per person. The tent is up for Oktoberfest activities on the weekends Sept. 28 and 29, Oct. 5 and 6, and Oct. 12 and 13.
Waldhorn Restaurant, 12101 Lancaster Highway, 704-540-7047 Hours: Lunch Tuesday through Friday 11:30 a.m.-3 p.m.; Saturday 11:30 a.m.-4 p.m.; Sunday brunch 11:30 a.m.-2 p.m.; Dinner: Tuesday through Friday 5 p.m.-10 p.m.; Saturday 4 p.m.-10 p.m.; Sunday 2 p.m.-9 p.m. Closed Mondays.
4. Cuisine Malaya: A while back, Cuisine Malaya added sushi and Japanese offerings to their list, but my favorite dish is still the Roti Canai appetizer: a hand-stretched, paper-thin, grilled bread dough served with a bowl of coconut milk curry and filled with chunks of potato and thin strips of chicken. Malaysian dishes are a melt-in-the-pot blend of Asian cuisines: southern Indian, Cantonese Chinese, Thai, and Malaysian with a dash of Arabia and Portugal. Cuisine Malaya's main dining room is a nod to tropical Asia highlighted by fans and palms. The owners have set the back space for mainly Japanese offerings. But the Malaysian dishes with married flavors and bold sauces are still what distinguishes this restaurant.
Cuisine Malaya, Malaysian Cuisine & Japanese Sushi Bar, 1411 Elizabeth Ave., 704-372-0766. Hours: Monday through Thursday 11 a.m.-10 p.m.; on weekends 11 a.m.-11 p.m. www.cuisine-malaya.com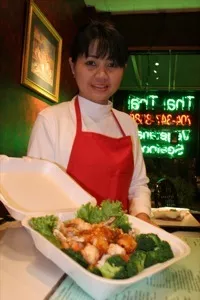 5. Thai Thai Takeout: Thai restaurants have a long history in North Carolina. During the Vietnam War, a few Thai restaurants opened near the military air bases on the eastern side of the state, most notably Seymour Johnson Air Force Base. In part, the original restaurants were operated by Thai wives or Thai relatives of American military personnel. Soon this sensational Asian cuisine swept the state. In Thai, the word for rice and food is synonymous: rice is at the heart of this cuisine. But the minor players -- basil, kiffir lime leaves, ginger, chilies, coconut milk, cilantro and lemon grass -- are the food-lovers faves. Thai dishes rely on the eye and palate of the cook rather than a step-by-step recipe. Many Charlotteans have come to rely on Thai Thai Takeout's Chef and owner Tony Kwok's first-rate palate. He's been creating Thai dishes in Charlotte for 15 years. This latest venture with his wife Phim offers a stellar ka nom jeb appetizer (minced shrimp and chicken dumplings), which may be prepared steamed or fried; however, the steamed version is extraordinarily fresh tasting. The Pad Thai, everyone's bellwether and Thailand's most popular noodle dish, is wonderfully aromatic. Another favorite is the Gaeng Panang curry with diver-sized scallops in a spicy coconut cream sauce made with basil leaves and lemon grass.
Thai Thai Takeout, 1412-C East Blvd., Dilworth Garden Shopping Center beside Outback Steakhouse, 704-347-8886. Lunch hours: Monday through Friday 11 a.m.-2:30 p.m. Dinner hours: Monday through Friday 5 p.m.-10 p.m.; Saturday and Sunday 3 p.m.-10 p.m. Take out only.
Austin's Carribbean Cuisine
6. Austin's Caribbean Cuisine: Another inspired takeout ethnic eatery is Austin's Caribbean Cuisine located in a small strip shopping center cattycorner from the new Target and Home Depot Design Center in Midtown. Owner and cooks Austin and Yvonne Martin opened Austin's in 1996 and have been making sensational Jamaican food ever since. The menu changes daily, and some items -- like coco bread -- run out frequently, but the best advice here is to go early and often. Goat and chicken pieces, rendered into bite-sized portions with a cleaver chop, are placed, bones and all, in luxuriously flavorful sauces. The Jerk Chicken is a remarkable blend of heat, herbs, and spices which balance the tender sweetness of the meat. Mellower is the brown stew chicken enhanced with its balanced rich gravy. Yvonne Martin makes Ital stew, a coconut cream based vegetarian dish prepared by Rastafarian code by request or for catering. On holidays, such as Easter, Martin bakes special dishes, such as Jamaican Spice Buns. Special request for more Jamaican dishes can me made through their catering arm.
Austin's Caribbean Cuisine, 345 South Kings Drive, 704-331-8778. Hours: Monday, Tuesday, Thursday and Friday 11:30 a.m.-8 p.m.; Wednesday and Saturday 11:30 a.m.-7 p.m. Closed Sunday.
7. Chaat 'n' Chai: Nothing is more deliciously illicit than snacking between meals. And nowhere will you have more fun doing this than at Chaat 'n' Chai, which opened up in the University area earlier this year. This is fast, on-the-go -- and cheap -- sweet and savory Indian street food. Try a mango lassi (like a smoothie, only infinitely better) for a quick afternoon pick-me-up or their Paani Puri: golf-ball-sized fried puri orbs loaded with cubed potatoes, onions and a tamarind sauce. Almost as good is the Bhel Puri, a kind of Indian layered dish with crispy puris, puffed rice, sev -- a crispy noodle, cubed potatoes, tomatoes, and onions drizzled with mint and tamarind chutney. Also on the menu are entrée items such as lamb vindaloo and chicken korma, but co-owners (and engineers) Santoh and Ranjitha Pasula, and Radha K. and Bhavana Swayampakala, excel in their irresistible Chaat and bakery items like the Veggi Burger and veggi puff. Halal meat is available here as well.
Chaat 'n' Chai, 9609 North Tryon St., 704-503-4748. Hours: Lunch Tuesday through Friday 11:30 a.m.-2:30 p.m.; Saturday and Sunday 11:30 p.m.-3 p.m.; Dinner Sunday, Tuesday through Thursday 5 p.m.-9:30 p.m., Friday and Saturday 5 p.m.-10 p.m. Closed Monday. www.chaat-n-chai.com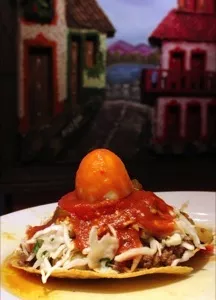 8. Lempira Restaurant: At the other end of the spectrum is Lempira Restaurant, one of those unexpected spots Charlotte seems to grow with regular certainty. Lempira is situated in a transformed Japanese restaurant on South Boulevard where the servers speak Spanish and most of the patrons are Spanish-speakers. According to owner Gilmer Alfaro, Lempira is the only Honduran restaurant in town. Lempira was a William Wallace-styled warrior of the Lenca (indigenous people) during the Spanish invasions of the 1500s, and a drawing of this man appears on the menu's front cover. In addition to the better-known Mexican dishes they offer, flip to the back to the platos típicos hondureño section. My favorites are the enchiladas: two crispy flat corn tortillas are slathered with black bean puree, then layered with spicy ground beef, shredded cabbage, carrots, half a hard-boiled egg, drizzled with Mexican sour cream and a tomato sauce and the baleades, the Honduran national dish, and street food. This is a folded flour tortilla with beans, cheese, cream, and sausage. Most dinners are under $8. At the price, who cares if the service is slow, albeit well-intentioned.
Lempira Restaurant, 5906 South Blvd., 704-552-1515. Hours 8 a.m.-midnight daily. Breakfast menu available.
9. Fu Lin Asian Cuisine: There's something about eating another culture's ethnic food. At least that's how I felt when I first discovered Fu Lin Asian Cuisine. Just when you think you've got all the Chinese cuisine covered, up pops this hybrid. Fu Lin offers Indochinese cuisine -- an amalgam created by the migrating Hakka people when they set up shop in India. This cuisine is an interesting mix of Chinese and Indian. Included in their "Specialties from India" are Manchurian Beef, Ginger Chicken and Szechuan Shrimp. Entrees arrive in aluminum wok-shaped serving bowls and are passed around the table. Jars of chopped Thai peppers in vinegar dot the tables -- and are frequently used. Appetizers include steamed chicken dumplings and fried chicken wings with ginger and turmeric, crispy vegetable pakoras and beef skewers tasting of curry. Although pork is popular in Chinese cuisine, the owners decided not to have this meat on the menu since it is forbidden in Islam. Rather, Fu Lin offers halal meats. But, there are a limited number of wines and beers, including Indian beers, on hand (Alcohol is forbidden in Islam). The service staff is welcoming of children and Indochinese novices.
Fu Lin Asian Cuisine, 5301 East Independence Blvd., 704-568-8877. Hours: Tuesday through Thursday 11:30 a.m.-10 p.m. Friday 11:30 a.m.-10:30 p.m.; Saturday noon-10:30 p.m., and Sunday noon-10 p.m. Closed Monday. www.fulinasiancuisine.com.
10. Ben Thành: For almost 20 years, the Duong family has delighted Charlotteans with herbaceous Vietnamese food. Traditional Vietnamese dishes are lighter and crisper than Chinese dishes and are not as fiery as Thai. Clean herbaceous flavors are the hallmarks of Vietnamese cuisine. Their latest endeavor, Ben Thành, (this family was the original owner of Lang Van), is named for the large open market in Ho Chi Minh City (in Vietnam) and filled with fresh foods. The interior of this restaurant may be sparse, but the food is perfection. The Pho, Vietnam's national dish, is a quart-sized bowl loaded with rice noodles, thin slices of beef and vegetables lazing in a flavorful broth. Banh Xeo Chay is the Vietnamese equivalent of the Indian dosai -- a large, thin, yellow, rice-flour crepe folded over slices of pork, bean sprouts and shrimp. Wrap this in a lettuce leaf, gussied up with a sprig of basil and mint and then dunk it into a savory sauce. The best dish here, though, is the hot and crispy quail appetizer gloriously spritzed with a cooling lemon and a sprinkle of freshly ground pepper.
Ben Thành Vietnamese Restaurant, 4900 Central Ave., 704-566-1088. Hours: Monday, Tuesday, Thursday, and Friday 11 a.m.-10 p.m. Saturday and Sunday 10 a.m.-10 p.m. Closed Wednesday.
Click here for more Food Issue