WHAT IF
**1/2
DIRECTED BY Michael Dowse
STARS Daniel Radcliffe, Zoe Kazan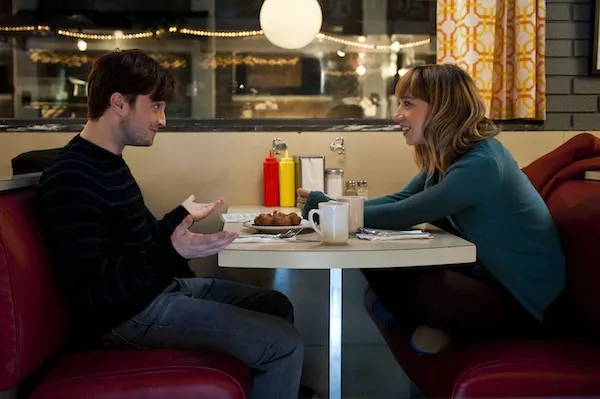 Daniel Radcliffe and Zoe Kazan in What If (Photo: CBS Films)
Here's the thing about What If: Unlike such past hipster rom-coms as (500) Days of Summer, Ruby Sparks and the criminally overlooked In Search of a Midnight Kiss, we really don't care if the central lovers end up together or not.
That may sound like a condemnation, but that would be an incorrect assumption. What If tells the story of Wallace (Daniel "Don't call me Harry Potter" Radcliffe) and Chantry (Ruby Sparks' Zoe Kazan) and whether it's possible for these two people of opposite sexes to be just friends. In the real world, that's a no-brainer — a glance at Facebook reveals that even misogynist brutes manage to have plenty of female buddies — but apparently in Hollywood, it's as fantastic a concept as the ones found in 2001: A Space Odyssey and Eraserhead. And so we get movies like When Harry Met Sally..., My Best Friend's Wedding and this one, which posit that under every male-female friendship rests a restless libido looking to bust loose with the force of the Alien chestburster.
The minor complication in What If is that Wallace has just come out of a disastrous relationship and looks down on love. The major complication is that Chantry, the girl who stirs Wallace out of his surliness, already has a boyfriend in Ben (Rafe Spall), who tends to come across as a clod but at least treats Chantry with genuine affection and tenderness. Resigned to "just a friend" status, Wallace values his time spent with Chantry but perpetually wishes that they could be lovers.
The ending is pat, predictable and completely out of character, but such are the demands of the marketplace and the demographics that drive it. But up until this cop-out denouement, What If manages to feel fresh even in spite of its well-worn elements. That's primarily because of the efforts of the cast: Radcliffe and Kazan are ingratiating as the leads, and there are also sharp supporting turns from Adam Driver as Wallace's advice-dispensing pal Allan, Mackenzie Davis (the one bright spot in Breathe In) as Allan's girlfriend and Megan Park as Chantry's sister. And scripter Elan Mastai, adapting the play Toothpaste and Cigarettes by T.J. Dawe and Michael Rinaldi, initially explores the dynamics of Wallace and Chantry's friendship with a sobering honesty. But convention eventually rears its ugly head, and What If settles for being So What.