It was a half-year ago in May that Desiree Kane found herself laying in the grass of the Sacred Stone camp in North Dakota with about 15 other people, most of whom indigenous "water protectors" who had gathered there for a prayer movement aimed to peacefully resist the construction of the now-infamous Dakota Access Pipeline.
On that May afternoon, while Kane lay in the grass licking ice cream, a small white puppy playfully gnawed at her bare toes. She felt an overwhelming feeling of serenity, tinged with the knowledge that things would soon change drastically.
She was right.
In the next three months, violence would escalate while police and private security contractors would implement brutal tactics against protesters.
In November, many people around the country were shocked to wake up to headlines about authorities using water cannons on protesters in below-freezing temperatures.
But according to Kane, the water cannons were just one in a long list of cruel tactics she's seen authorities use on peaceful protesters — also called water protectors — during her time among the nearly 30 camps that make up the Standing Rock site.
"You all don't hear about the things that happen out here," Kane says when asked if the water cannon tactics were the worst she had seen. "This is not new."
She has long since stopped worrying about what she might face each day as she wakes up anew at the Oceti Sakowin camp, where she now lives just outside the Standing Rock reservation in a traditional Mongolian hut called a yurt that was recently donated.
Kane is a member of the Miwok tribe. She was a Creative Loafing contributor in Charlotte before co-founding The PPL, a grassroots home for independent media, in the lead-up to the 2012 Democratic National Convention. She later moved to Arizona to produce documentaries for Vice News and most recently lived in Denver before going to Standing Rock reservation in May to help with communication training for water protectors. She left after completing that training, but soon answered a call to return and has been at the camp since.
Speaking over the phone, she says she felt it was her duty to be there in a supportive role for the tribes whose water sources would be affected by the construction of the pipeline, which will travel under a nearby lake used by the Standing Rock Sioux and other Lakota tribes as a main water source. Water protectors often refer to the pipeline as "the black snake."
"Being one of the first people out here, when things started to get more serious, at a certain point, your friends call you up and need your help," she says. "You can't say, 'No' if you have the privilege and capacity to do so."
She said her first two-and-a-half months at Standing Rock went as expected, but then it "turned into a war zone."
"It happened at an alarming pace. Every time there's an escalation on behalf of police, I'm always alarmed and kind of surprised while simultaneously not being surprised," she says. "We know as indigenous people, for hundreds of years the United States government hasn't respected us or believed that we had any rights at all, so it's expected. But what's always alarming is the level in which they're willing to go to harm us, especially being unarmed. We never expect to hear stories about police smiling in people's faces while simultaneously shooting them with rubber bullets in their kneecaps, or dumping water on people. It's really just inhuman."
She says she and other water protectors haven't had a chance to register what they've been through, but she's concerned with how the experiences will affect her later.
"I guess the only thing I've really lost out here is frankly a little bit of faith in humanity," she says. "It's just been awful."
Despite the hardships, Kane continues to get back on the horse, quite literally in one instance early in her stay in which she hurt her arm after being bucked from a bronco that had just been broken from the wild three days earlier.
Kane regrets none of her time in camp and knows some parts of her time there, like her time with the puppy in the grass early in her stay, will stay with her forever — in a good way.
There was one experience, for example, in which two indigenous women, one a lesbian, presented for show the musket and flag captured during Custer's Last Stand. The mixed symbolism between history and progress in that moment stuck with Kane.
"Our culture has changed a little bit in the positive toward the LGBTQI community, so as I was watching this, I was choked up realizing that we've really come a long way," she says. "There's a lot of pride in that moment, knowing that they were never defeated — my ancestors — so to think that we would be defeated out here just isn't in the scope of our understanding."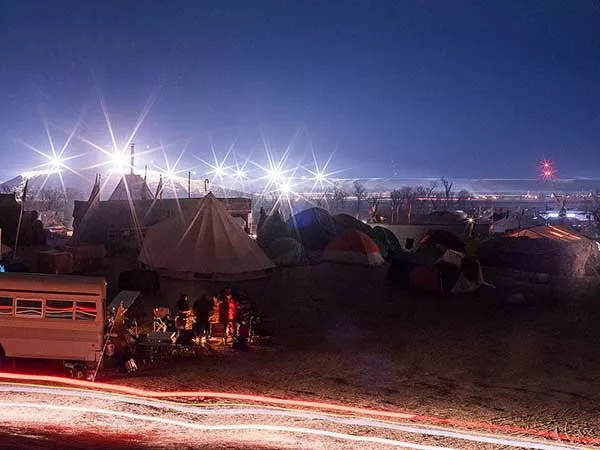 Eric Schwabel
The Oceti Sakowin camp at night. The lights in the distance are the pipeline construction site.
From Charlotte, it can feel tough to make a difference in what's happening 1,600 miles away at the Standing Rock camps. Some Charlotte activists have made the trip to North Dakota to stand in support with water protectors, while others in the area have donated money and needed materials.
Around Halloween, more than 1 million Facebook users around the country used the site to check in at Standing Rock thanks to a viral post claiming it would help confuse police who were targeting organizers on the ground there. That turned out not to be true, but did act as a symbolic show of support for those peacefully resisting the construction of the pipeline.
This weekend, a Charlotte woman is hoping to unite others around the #NoDAPL (No Dakota Access Pipeline) cause by throwing a "healing party," the funds from which will go directly to those on the ground at the Oceti Sakowin camp.
Linda Simthong, founder of School of Jai, began planning the event after seeing videos of water protectors being brutalized online and on television. As School of Jai is a holistic healing and education-based organization in Charlotte, Simthong had been contemplating a healing party in the city since the Charlotte Uprising, and knew she had a chance to get people together around a common cause when she saw the widespread support being expressed for the #NoDAPL movement.
Simthong, who is originally from Laos ("jai" is the Laotian word for heart), wants her organization to serve as a place for people to come for a better understanding of other cultures they may not be connected with.
"I am a part of such different groups and I knew it was a time for our city to unite," she says. "I've been a part of the hip-hop community, I've been a part of the spoken word community, I've been a part of different communities in my Laotian community, but there isn't really a safe space for all of us to come together to create, to have dialogue, and that's what School of Jai is about."
While Simthong is connected in those communities, she is not connected with the local indigenous community, so she reached out to make sure she would be helping the right people. She began to get council from a friend in Arizona who knew people on the ground at the protest site, then started hearing from people nearby. She has since been in talks with the Metrolina Native American Association as well as water protectors at Standing Rock, who have told her that Oceti Sakowin would be the best camp in which to funnel funding.
Through a silent auction and a recommended $10 donation at the door at the upcoming fundraiser, Simthong hopes to raise at least $1,000 for the folks at Oceti Sakowin.
Kane said people at the camp are currently in need of gear to survive the coming cold, but emphasized that people could also help in ways that didn't put a strain on their own time or resources. She encourages people to research what companies are funding the Dakota Access Pipeline — Wells Fargo, for example, is one of 17 banks directly funding the pipeline's construction — and take action from there.
"People can make a huge difference by divesting and pulling their money out of the banks that fund the Dakota Access Pipeline," she says. "We vote with our money. We have influence through our money. The most tangible and helpful thing people can do besides sending material support and sponsoring indigenous organizers is to pull their money out of the banks. Use a credit union. There are a lot of other banks that aren't funding brutalization against indigenous people."
In the short term, however, funds and materials are needed now at Standing Rock reservation more than ever, and new threats have arisen that make it unclear whether the Oceti Sakowin camp will be around by the time Simthong throws her party.
As folks at the camp prepared for an oncoming blizzard, they recently faced two eviction notices coming within days of each other; first from the U.S. Army Corps of Engineers then from North Dakota Governor Jack Dalrymple.
Garrett Ammesmaki
Water protectors in the Oceti Sakowin camp prepare hay that will be used for insulation during the coming winter.
On Nov. 25, the chairman of the Standing Rock Sioux tribe received a letter from the U.S. Army Corps of Engineers stating they would soon be closing off the land just north of the Cannonball River — where the Oceti Sakowin camp is located — to the public.
The camp is on disputed land, as the government claims it's federally owned but leased for grazing, while the Standing Rock Sioux point out that they own the land by right of the 1851 Fort Laramie Treaty.
The Army Corps letter states "this decision is necessary to protect the general public from the violent confrontations between protesters and law enforcement" and to "prevent death, illness, or serious injury to inhabitants of encampments due to the harsh North Dakota weather conditions."
The letter says the land will be closed on Dec. 5, leading many to speculate that authorities would forcibly remove any water protectors who hadn't left by that date. On Sunday, however the Army Corps released a new statement stating that won't be the case.
The corps suggested a new 41-acre "free speech zone" south of the river for those in the Oceti Sakowin camp to relocate to.
"The Army Corps of Engineers is seeking a peaceful and orderly transition to a safer location, and has no plans for forcible removal. But those who choose to stay do so at their own risk as emergency, fire, medical, and law enforcement response cannot be adequately provided in these areas," the statement reads. "Those who remain will be considered unauthorized and may be subject to citation under federal, state, or local laws. This will reduce the risk of harm to people in the encampments caused by the harsh North Dakota winter conditions."
The Dec. 5 ultimatum coincides with plans by two veterans to deploy a force of hundreds of veterans to the Standing Rock reservation to join water protectors and prevent further progress on the pipeline.
Wesley Clark Jr., and Michael Wood Jr., plan to arrive at the site with between 500 and 2,000 other veterans on Dec. 4 then lead an action of peaceful resistance on Dec. 5, the day the Oceti Sakowin camp will be officially closed.
On Monday, Dalrymple took things a step further, ordering the mandatory evacuation of all water protectors on federally owned land. The governor cited the oncoming weather hazards and said he is taking action for the well-being of activists.
"Winter conditions have the potential to endanger human life, especially when they are exposed to these conditions without proper shelter, dwellings, or sanitation for prolonged periods of time," Dalrymple wrote in the order.
"It is the responsibility of the state to assist citizens and visitors to North Dakota in addressing the emergencies, disasters, and other hardships that may face the state, its citizens and visitors, to include issuance of orders in the best interest of public safety."
As of CL's print deadline, Dalrymple had not specified how he planned to carry out the order, which states that no state agencies, emergency service officials or nongovernmental organizations will be offering emergency provisions in the evacutation area.
Spokespeople for the Standing Rock Sioux have pointed out the hypocrisy of implying that authorities are worried about the water protectors' well-being after spending weeks blasting them with water cannons in below-freezing temperatures.
The protesters have stood firm in stating they will remain where they are as fears grow of a forced removal taking place during harsh winter conditions in the upcoming weekend.
"We have lived for generations in this setting. That is our camp. We will continue to provide for our people there," Standing Rock Sioux spokesperson Phyllis Young said at a press conference Monday following the governor's order. "This is Lakota territory. This is treaty territory, and no one else has jurisdiction there."
It can be hard to reach Kane at the Oceti Sakowin camp, as her already-busy camp life has only accelerated in preparation for the oncoming storm. On Monday, following news of the Army Corps ultimatum and preceding the governor's evacuation order, I reached out through text message to get her thoughtson the impending deadline.
Her answer, while blunt, showed that the resolve she showed during our original conversation a few days before hadn't left her or her campmates.
Her reply read, "We aren't leaving 1851 treaty land until the black snake is dead."