(View From The Couch is a weekly column that reviews what's new on Blu-ray and DVD.)
Dennis Quaid in At Any Price (Photo: Sony)
AT ANY PRICE (2013). In his finest performance in over a decade, Dennis Quaid plays Henry Whipple, an Iowa farmer who's doing whatever it takes to hold onto the land that's been in his family for generations. Henry hopes that one of his own sons will agree to take over the agriculture business; with the oldest boy off climbing mountains in Argentina, the duty falls on Dean (Zac Efron). But he clearly isn't interested in helping out a father he detests; besides, he'd rather be making out with his girlfriend Cadence (Maika Monroe) and racing cars in hopes of working his way up to a lucrative NASCAR career. Henry's problems don't end with his son: His wife Irene (Kim Dickens) knows he's having an affair with the local floozy (Heather Graham), he's being crushed in the region by a fellow seed salesman (Clancy Brown), and a potentially illegal action regarding his seed distribution results in a pair of company agents sniffing around. With his potent performance, Quaid manages to earn audience sympathy for his often unlikable character, never more than in a scene in which he tries to explain to his dad (Red West) the differences between the farming business now and decades ago. Efron gives his role his best shot, but the actor's a little too soft around the edges for this part, and the result is that Dean comes off less as an understandably angry rebel than as a petulant brat who needs to be put into time-out. But the problems with Dean are created by writer-director Ramin Bahrani as much as by Efron: While the situations surrounding Quaid's character remain interesting — his scenes with Brown's jovial salesman and with Monroe's sensitive teenager are among the film's best — the plot points focusing on Dean veer drastically off course, starting with the ludicrous reason he balks on his racing career and ending with a third-act twist that feels more like a screenwriter's last-second Hail Mary pass than a natural progression of events. With Bahrani's assured direction squaring off against his ragged script, this proves to be a mixed bag of a movie, maybe worth renting for a reduced rate but not necessarily at any price.
Blu-ray extras include audio commentary by Bahrani and Quaid; a Q&A session with Bahrani, Quaid, Efron, Dickens and Monroe; and footage from four rehearsal scenes.
Movie: **1/2
Clint Eastwood in Dirty Harry, included in Warner's Thrillers box set (Photo: Warner Bros.)
BEST OF WARNER BROS.: THRILLERS (1931-2010). Warner Bros. wraps up its celebration of its 90th year with the final box set in its 20 Film DVD Collection line. Thrillers is the theme for this fifth effort (the past ones were Best Picture Oscar Winners, Musicals, Comedy and Romance), and pound for pound, it's the best of the quintet, and a must-buy for any film fan who inexplicably doesn't already own the majority of the included titles. For one thing, while the other sets all include a dog or two (The Lake House in Romance, Ace Ventura: Pet Detective in Comedy, etc.), there are no basement dwellers here. The weakest film in the bunch is 1987's Lethal Weapon, and even that merits a mixed review; next would be 1994's The Shawshank Redemption, which is an admirable effort but hardly deserving of its "Greatest Movie of All Time" designation among IMDb fanboys and others who obviously need to see many more classics. Also adding to the set's appeal is the fact that it arguably contains more 4-star efforts than any of the other collections, including two starring Humphrey Bogart (1941's The Maltese Falcon and 1946's The Big Sleep) and two directed by Christopher Nolan (2008's The Dark Knight and 2010's Inception). As always, the lineup leans too heavily toward the modern — eight of the 20 flicks hail from the 1990s alone — but most eras are nevertheless represented by movie stars in iconic roles: James Cagney in 1931's The Public Enemy, Cary Grant in 1959's North By Northwest, Clint Eastwood in 1971's Dirty Harry, Al Pacino in 1975's Dog Day Afternoon, Harrison Ford in 1993's The Fugitive, and more.
The box set includes a booklet with photos and write-ups.
Movies: Ranging from **1/2 (Lethal Weapon) to **** (The Maltese Falcon, The Big Sleep, North By Northwest, Goodfellas, L.A. Confidential, The Dark Knight, Inception)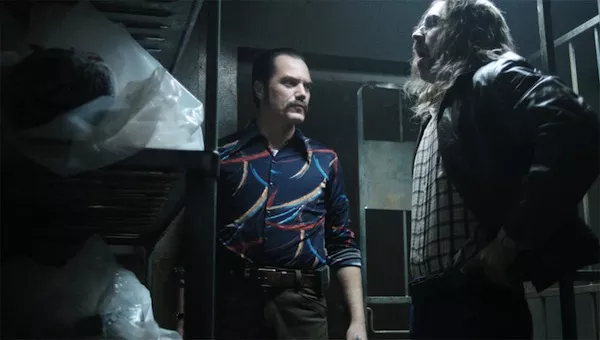 Michael Shannon and Chris Evans in The Iceman (Photo: Millennium)
THE ICEMAN (2013). Nobody would think to call The Iceman a romanticized version of anything, but when compared to the real-life story of Richard Kuklinski, this excessively brutal film comes off almost as gentle and dreamy-eyed as a Nicholas Sparks adaptation. Kicking off in the mid-1960s, the movie stars Michael Shannon as Kuklinski, who woos and weds Deborah (Winona Ryder) while holding down a menial job dubbing porno tapes (he tells Deborah that he dubs cartoons for a living). An encounter with crime boss Roy DeMeo (Ray Liotta) leads to him working as a hit man for the mobster, and once that relationship begins to sour, he teams up with another killer-for-cash (Chris "Captain America" Evans, unrecognizable under all that ratty hair) for more murderous mayhem. Over the course of approximately two decades, Kuklinski kills over 100 people, and the sick punchline is that his wife and daughters are never the wiser, believing him to be a financial broker. The movie posits that he did everything for the sake of his family, with the character himself saying that he only cares for Deborah and his girls and nothing else. The film also repeatedly pushes his claim that he will never hurt women and children, preferring instead to only murder men — and even then mainly for monetary gain. In real life, though, Kuklinski was more serial killer than paid assassin — he enjoyed the art of the kill — and he would occasionally beat up his wife on the side. Writer-director Ariel Vromen and co-writer Morgan Land, adapting both Anthony Bruno's book and an HBO documentary, naturally need to streamline actual events for the sake of a coherent movie that clocks in with an acceptable running time, but in this case, they have marginally softened the character while also jettisoning many elements that would have made this picture unique. As it stands, this plays out as a formulaic mob flick: messy double-crosses, tough-guy patter, secretive meetings in big limos, debts that must be repaid in blood, etc. Shannon delivers an appropriately steely performance, but since his character isn't inherently interesting, he can only provide so much of a center to the film. The supporting roles are well-cast — Robert Davi is especially memorable as a gangland in-between, and the prolific James Franco pops up in one particularly distinctive sequence — but even the heat these actors are packing isn't enough to thaw out the picture's frosty approach.
Blu-ray extras include a making-of featurette and a behind-the-scenes piece.
Movie: **
This Island Earth, the featured title in Mystery Science Theater 3000: The Movie (Photo: Shout! Factory & Universal)
MYSTERY SCIENCE THEATER 3000: THE MOVIE (1996). Here's a dirty secret concerning this big-screen adaptation of the long-running cult TV series (which premiered toward the end of the show's 10-year run): At 74 minutes, it's actually shorter than all of the television episodes — curious, since it wasn't constrained by the boob tube's rigid time slots (although there was studio interference that possibly resulted in some trimming). And here's the other dirty secret regarding the film: Its target, 1955's This Island Earth, is actually a good movie, considered in many circles to be a minor classic of '50s sci-fi flicks. Clearly, the folks behind the series didn't feel this way — in one of the host sequences (yes, the movie has them, just like the show), Dr. Clayton Forrester (Trace Beaulieu) calls it a "stinky cinematic suppository" — but for the first (and last) MST motion picture, the honor should have gone to a universally acknowledged turkey like Frankenstein Meets the Space Monster or Ed Wood's immortal Plan 9 from Outer Space — or, if it had to be a Universal Pictures title (reportedly part of the agreement), Curucu, Beast of the Amazon or Howard the Duck. The worst problem with This Island Earth as its own film is that it's a bit stiff, but that's easily negated by its superb visual effects and an intelligent story about warring alien factions. Here, this 86-minute movie is slashed to less than an hour (since the host segments and credits take up at least 15 minutes of the 74-minute running time), and Satellite of Love resident Mike Nelson and his robot friends Crow and Tom Servo serve up their usual buffet of wisecracks, non sequitors and movie/TV references. The laughs don't come quite as fast and furious as on most episodes of the show, but there's still plenty of choice material, including amusing nods to Stanley Kubrick's Dr. Strangelove, Peter Weir's Fearless and Bob Barker on The Price Is Right. And it wouldn't be an MST3K project without a salute to Manos: The Hands of Fate's Torgo popping up at some point.
Blu-ray extras include deleted scenes; a vintage making-of featurette; a new making-of piece; a look at the making of This Island Earth (with The Howling director Joe Dante among the interviewees); and the theatrical trailer.
Movie: **1/2
Isla Fisher in Now You See Me (Photo: Summit)
NOW YOU SEE ME (2013). I daresay that making the entire Grand Canyon disappear would be an easier feat of magic than trying to whip the screenplay for Now You See Me into something remotely logical. The theme of the movie is misdirection — the magician's practice of making audiences focus on something while the real trick is taking place away from the center of attention — and that notion has seeped into every aspect of the production. A terrific cast, a promising premise, a zippy pace, glitzy locales — all of that is merely meant to distract us from noticing that the movie itself is nothing more than an empty spectacle hopelessly riddled with gaping plotholes, narrative coincidences and a final twist that couldn't have been more preposterous had it revealed that Chewbacca was actually Luke's father. Four magicians of differing popularity — swaggering J. Daniel Atlas (Jesse Eisenberg), confident Henley Reeves (Isla Fisher), has-been Merritt McKinney (Woody Harrelson) and rookie Jack Wilder (Dave Franco) — are brought together by an unknown person and transformed into a successful, world-class outfit known as the Four Horsemen. The first part of the film works so well because it focuses exclusively on the four tricksters, who are all interesting characters whether working alone or sharing the screen. But the movie eventually spirals wildly out of control, with the emphasis taking a hard right away from its intriguing angle and settling into a more standard cat-and-mouse game between the magicians and an FBI agent (Mark Ruffalo). This is one of those movies where the plot can only progress if characters perform a specific act at a specific time, or where one unanticipated reaction from a peripheral character would unravel all the plans, or where one component of the master scheme has a 50-50 chance of killing innocent people (that would shift audience allegiance in a hurry, wouldn't it?). To add to the stuffing, there are also discussions of the Eye of Horus, a real-life symbol from ancient Egypt. It's clumsily interjected into the proceedings, but while it's perhaps meant to be a Hitchcockian MacGuffin, it's more like a McNugget, adding little nutrition or value to a disappointing movie whose promise vanishes as quickly as the assistant in the box.
The Blu-ray/DVD combo pack includes the theatrical version and an extended cut that's 10 minutes longer. Extras include audio commentary by Leterrier and producer Bobby Cohen; deleted scenes; a making-of piece; and the featurette A Brief History of Magic.
Movie: **