For many PGA fans, the sport of disc golf remains in a class with ultimate (frisbee) as a pastime only for tree hugger hippies with nothing better to do than tromp through the woods tossing a hard disc into baskets and smoking pot between holes.
But disc golf's popularity has been growing throughout the country, especially in the greater Charlotte area, which we dubbed "the Mecca of Disc Golf" in our May 5, 2016, cover story.
Disc golf courses are built into a more natural setting than the cleared terrain of a regular golf course; the atmosphere is more laid back than the smug country clubs of Caddyshack fame; and most importantly, it's far less expensive. Discs cost around $20 each and most courses in Charlotte are open to the public and free to play.
Hole 12 at Eastway Disc Golf Course. (Photo by Andy Goh)
From the private Bracket's Bluff course in Davidson to the Winthrop Gold Course — the site of the annual U.S. Disc Golf Championship — there are top-notch courses to play all around and just outside of Charlotte city limits. However, we've decided to highlight five of the best courses from within the Queen City proper for you to try if you're looking to let go of your balls for a day and get out in nature for your golfing fix.
Plantation Ruins at Winget
Thomas McAlister Winget Park
12235 Winget Road
One of a handful of high-quality courses built for the PDGA Disc Golf World Championships, held in Charlotte in 2012, the Ruins are one of the city's coolest courses, mainly because it's kind of creepy. The park runs up against the ruins of an old plantation, which can be distracting for folks who want to go off and explore the foundation and still-standing chimney of a home some historically horrible person probably once lived in.
Stay focused, though, because although this course is relatively short — it's just 4,751 feet long — it's technical. Lots of tight turns through heavily wooded fairways makes for a tough trip through the course, which also throws a few hills at you when you're finally out in the open.
Play with finesse and don't try to force too much and you should be in line for a few birdies, as there are a few Par 4 holes that could arguably exist as tough Par 3s. Avoid the course if it's rained recently, but otherwise, enjoy this Steele Creek gem and keep an eye out for the Blair Witch while you traverse it.
Renaissance Gold
Renaissance Park
1200 W. Tyvola Road
Called a "monster of a course" by the popular DGCourseReview.com, Renaissance Gold is one of the tougher courses you'll find in the country, let alone Charlotte. Designed and built by local legend Stan McDaniel, the course quickly throws you into the grinder, with Hole 2 sitting atop a manmade cliff, overlooking a valley of shrubbery that you don't want to have to climb down into to look for a disc.
You'll need all your discs for this course, as you'll be throwing right, left, uphill and down, and you'll be in and out of the woods all day. Just pray you come home with all the discs you came with.
At 9,407 feet, Renaissance Gold nearly doubles the length of its southwest Charlotte neighbor, Plantation Ruins at Winget, so planning to play just one round is usually the safest bet. However, the recent addition of RenSke, a much shorter, less stressful course in a different part of the same park, makes for a fun warm up that can help you build up confidence before taking a run at the absolute son of a bitch that is Renny Gold.
All in all, we don't mean to scare you off. Renny is hard as hell, but it's as fun as any option you'll have in Charlotte — or anywhere.
Hornets Nest Disc Golf Course
Hornets Nest Park
6301 Beatties Ford Road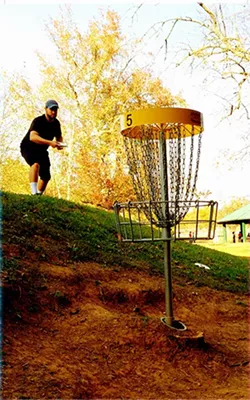 Hole 5 at Hornet's Nest. (Photo by Andy Goh)
Named after the infamous statement from British General Cornwallis, in which he called Charlotte "a hornet's nest of rebellion" during the Revolutionary War, this course has been around for years. But now, a newly refurbished Hornet's Nest is testing the patience of generals of the disc golf course, as the iconic course was recently reopened with a brand new layout.
The course's new look includes a true island green on Hole 2, but hold your horses on that one, it's only open for approved tournaments.
The first half of the course includes a number of wide-open holes that give you the freedom to bomb one out there, just don't end up in the outfield of one of the nearby baseball fields and please don't hit anyone barbecuing at one of the surrounding shelters (I've done both).
Players of all skill levels can enjoy this course, as there are tee pads for the pros and the amateurs — as with most area courses. The difference between the two here is between a 5,600-foot course and 9,200 feet, so step up and choose your challenge.
The Scrapyard
Idlewild Park
10512 Idlewild Road
Named for the efforts of former Charlotte Disc Golf Club president Ralph Vickers, who raised the money to build it by accepting donations of scrap metal, there's a manmade pond about halfway through the course that at this point could be called a scrapyard of long-missing discs. Holes 8 and 9 are water carry holes, meaning you're forced to throw over the pond. The short nature of the holes — especially 8 — mean relatively good players shouldn't have to worry about getting wet, but you'll need a steady hand, as just looking out over that murky water can be intimidating if you're holding one of your favorite discs.
As far as the rest of the course goes, it's a tough traipse through heavy woods, with the water holes being the only open holes of the 18. Set aside a couple hours to make your way through this one.
Eastway Disc Golf Course
Eastway Park
423 Eastway Drive
This park is similar to Plantation Ruins in that it was built for the 2012 Worlds, it has a nice mix of open holes to wooded holes and is home to a hole that runs right over the foundation of an old — if categorically less creepy — home.
There's a string of holes starting at 7 that runs alongside the entrance road to the park, and almost all of them give you a great chance to really bomb out some of your drivers. Before and after that, however, the course offers a great mixture of long and short holes in the woods, including a fun Hole 2 that has players throwing off a major drop down to a basket propped precariously on a hill below.
The course not only offers a good mix of open to wooded, but also of civilization to seclusion. Some holes run up against neighborhoods, busy train tracks or the busier Eastway Drive, while others place you in the woods without a sign of the outside world.