(View From The Couch is a weekly column that reviews what's new on Blu-ray and DVD. Ratings are on a four-star scale.)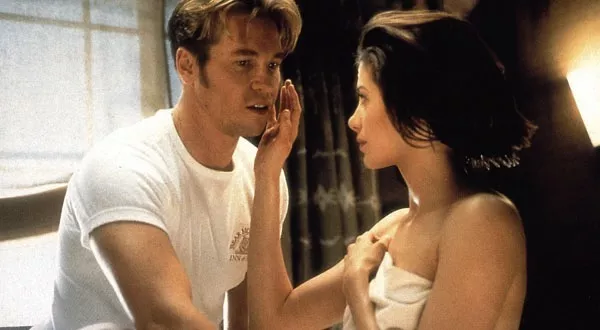 Val Kilmer and Mira Sorvino in At First Sight (Photo: Olive Films)
AT FIRST SIGHT (1999). Like 1990's acclaimed Awakenings, At First Sight is based on a story by Dr. Oliver Sacks ("To See and Not See"), and both films have much in common: a similar plotline (impaired person briefly gets better before reverting to former state); static direction that detracts from the natural warmth of the story; and several good actors able to ward off TV-movie banality. Val Kilmer plays Virgil Adamson, a blind masseur who falls in love with Manhattan architect Amy Benic (Mira Sorvino) and agrees to her suggestion to have a cutting-edge surgeon (Bruce Davison) perform an operation that will restore his vision. The operation appears to be a success, but even as Virgil learns to cope with the power of sight, he discovers his newfound vision may only be a short-lived sensation. Director Irwin Winkler takes a thudding and detached approach to Steve Levitt's humanistic screenplay, but tart turns by Kilmer and Kelly McGillis (as Virgil's overprotective sister) provide the material with the conflict it requires.
There are no extras on the Blu-ray.
Movie: **1/2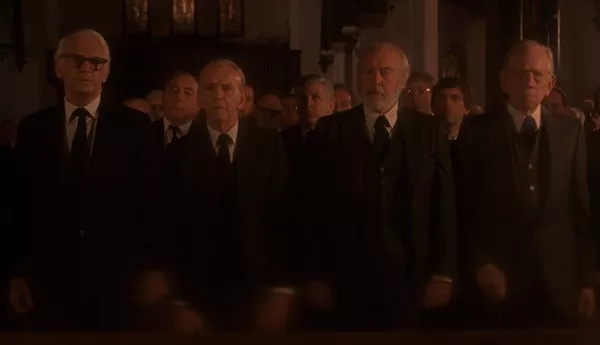 Douglas Fairbanks Jr., Fred Astaire, John Houseman and Melvyn Douglas in Ghost Story (Photo: Shout! Factory)
GHOST STORY (1981). Peter Straub's massively successful novel gets streamlined for an OK film adaptation whose primary point of interest is its collection of superlative seniors in the leading roles. Octogenarians Fred Astaire and Melvyn Douglas and septuagenarians Douglas Fairbanks Jr. and John Houseman portray four lifelong friends whose staid existence in their New England hometown is uprooted by what appears to be a spectral entity seeking some sort of retribution. The son (Craig Wasson) of one of the elders is also drawn into the mystery, which seems to hinge on the presence of a beautiful if peculiar woman (Alice Krige). Director John Irvin has difficulty establishing any sort of mood, and scares are equally nonexistent. But the commitment of the fine cast (particularly Krige) and the picture's smooth use of flashbacks help elevate the proceedings. This proved to be the final theatrical film for Astaire, Douglas and Fairbanks.
Blu-ray extras include audio commentary by Irvin; new interviews with Krige, Straub, screenwriter Lawrence D. Cohen, producer Burt Weissbourd and matte photographer Bill Taylor; a photo gallery; and the theatrical trailer.
Movie: **1/2
Gene Hackman in Heartbreakers (Photo: Olive Films)
HEARTBREAKERS (2001). Director David Mirkin, whose renowned quirkiness was better utilized as the producer of TV's The Simpsons and as the helmer of Romy and Michele's High School Reunion, faces an uphill battle in providing enough juice to propel this overlong farce about Max Conners (Sigourney Weaver) and her daughter Page (Jennifer Love Hewitt), con artists skilled at swindling rich men out of their money. For their latest stings, Max sets her sights on a wheezy cigarette fiend (Gene Hackman) who looks like he's about to kick the bucket while Page hooks up with an amiable bar owner (Jason Lee) whose property is worth $3 million. After a dreadful first half, the film steadies itself once the plot mechanics start paying off; still, the end result is more exhausting than entertaining. Ray Liotta has some good bits as one of Max's patsies, although it's Hackman who steals the show. Apparently basing his character on W.C. Fields (right down to the red nose), he's a riot as a crusty tobacco tycoon who proudly recalls how he used to hook grade-school kids on cigarettes.
There are no extras on the Blu-ray.
Movie: **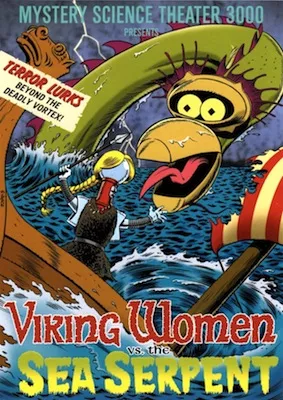 MYSTERY SCIENCE THEATER 3000: VOLUME XXXIV (2015). It's all-AIP all the time in this latest batch from the Satellite of Love, as all four features hail from the vaults of American International Pictures.
AIP leading player Roger Corman counts The Saga of the Viking Women and Their Voyage to the Waters of the Great Sea Serpent (movie made in 1957, featured on MST3K in 1991) among his 50 directorial credits and 400 producing efforts, and Joel and the Bots treat it with the proper irreverence, using superior flicks like Psycho and Deliverance to beat it into submission. Plus: TV's Frank fights a dead, dancing chicken straight out of Eraserhead.
War of the Colossal Beast (movie made in 1958, featured on MST3K in 1991) is a sequel to 1957's The Amazing Colossal Man (also spoofed on this show). The film is from series fave Bert I. Gordon, but never mind: The big news here is the inclusion of 1957's Mr. B Natural, which even the DVD box copy states is "perhaps MST3K's most beloved short." Personally, I prefer several others like 1946's Here Comes the Circus and 1940's A Case of Spring Fever (starring Coily!), but it's nevertheless prime SOL material.
The Undead (movie made in 1957, featured on MST3K in 1997) is another Corman cheapie, this one involving witchcraft, hypnotism and a twist ending. Mike and co. spend some time sticking it (again) to Leonard Maltin, who gave this film a 3-star rating in his annual movie guide.
Finally, The She-Creature (movie made in 1956, featured on MST3K in 1997) is one of those targets that's actually admired by many film fans, primarily for its atmosphere. But Mike and his mutinous minions are having none of it, invoking properties as diverse as Deep Throat and The Muppets during the course of the episode.
DVD extras include new introductions by Frank Conniff (TV's Frank); a feature on American International Pictures; and trailers.
Collection: ***
Shaun the Sheep Movie (Photo: Aardman & Lionsgate)
SHAUN THE SHEEP MOVIE (2015). Like all movies from Britain's Aardman Animations, this clay-animated effort did far better overseas than it did stateside, where American viewers might have been confused by the absence of minions. While the picture lacks the go-for-broke genius of the Wallace and Gromit works, it's still consistently inventive, centering on the misadventures that greet Shaun, his fellow sheep and Bitzer the dog as they head to The Big City (as all the signs call it) to locate the farmer who looks after them. Said farmer has taken a blow to the noggin and now suffers from amnesia, so it's up to the animals to locate him, jog his memory, and return him home. But that proves to be quite the challenge, more so since they're being dogged by a particularly nasty animal-containment employee. This toon tale takes its time getting started, but once the gang hits the city, matters become increasingly frenzied and funny, with a pair of standout set-pieces unfolding in a restaurant and inside a kennel. Despite being a silent film in that no one speaks dialogue, its references span the decades, from Modern Times to The Silence of the Lambs.
Blu-ray extras include a making-of featurette and a parody poster gallery.
Movie: ***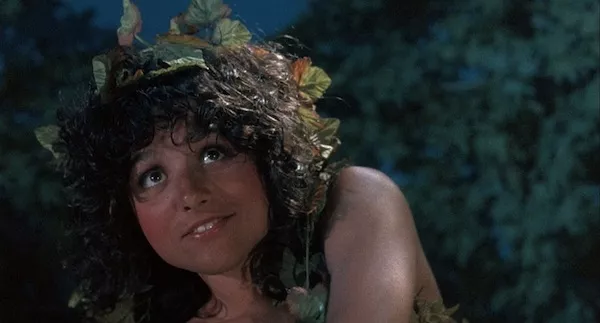 Julia Louis-Dreyfus in Troll (Photo: Shout! Factory)
TROLL (1986) / TROLL 2 (1990) / BEST WORST MOVIE (2009). If Troll falls into the so-bad-it's-good category, then Troll 2 arguably falls into the so-bad-it's-a-masterpiece camp. I actually caught the first Troll during its original theatrical run back in my college days, and the only thing I remembered about the experience was Sonny Bono turning into an assemblage of plants. Revisiting the picture (which, like 1984's Ghoulies, is a blatant Gremlins wannabe), it turns out it offers other goofy pleasures as well, including 80s-tastic makeup schemes on the titular creature, Gary Sandy (likable Andy on TV's WKRP in Cincinnati) as a macho right-wing buffoon, a va-va-voomish Julia Louis-Dreyfus (in her film debut) a loooong way from Seinfeld as a neighbor who turns into a forest nymph, and Michael Moriarty and Noah Hathaway as characters named Harry Potter and Harry Potter Jr. You won't be bored watching Troll, but you'll hate yourself in the morning. As for Troll 2, it has nothing to do with the original picture — in fact, it has broken free of the shackles of association and become an unstoppable entity in its own right, earning a designation among bad-movie buffs as the worst film of all time. I've seen worse, but nevertheless, this is wretched, bottom-of-the-barrel stuff, largely sunk by the most atrocious acting imaginable (particularly by Margo Prey, who plays mom Diana).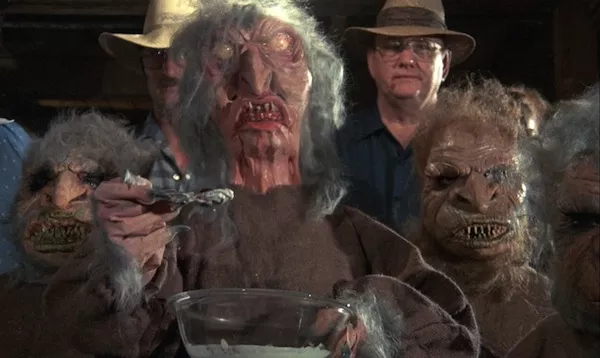 Troll 2 (Photo: Shout! Factory)
Michael Stephenson, who stars as the young boy Joshua, later directed and produced Best Worst Movie, a documentary (included as an extra on the Troll / Troll 2 double feature Blu-ray) examining the phenomenon behind the renewed popularity of Troll 2. The scenes in which director Claudio Fragasso maintains he made a very good movie are amusing; the segment in which the clearly troubled Prey asserts that Troll 2 has more in common with classic films starring the likes of Humphrey Bogart and Katharine Hepburn than with modern horror films is surreal; and the sequences in which affable dentist George Hardy (who played dad Michael) attempts to stretch his 15 minutes into an extra week or two (including making a desultory appearance at a horror convention) are initially humorous before turning awkward and uncomfortable.
Blu-ray extras on Troll include a making-of featurette and a gallery of behind-the-scenes photos. Blu-ray extras on Troll 2 include audio commentary by Hardy and co-star Deborah Reed. Blu-ray extras on Best Worst Movie consist of additional scenes and interviews.
Troll: **
Troll 2: *
Best Worst Movie: ***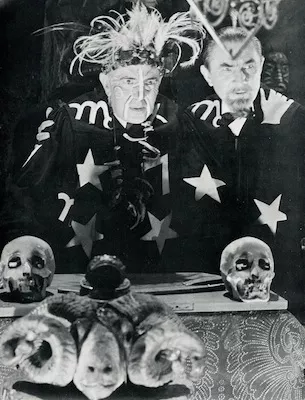 George Zucco and Bela Lugosi in Voodoo Man (Photo: Olive Films)
VOODOO MAN (1944). Even as Bela Lugosi continued to appear in Universal's classic monster movies in the 1940s (usually in support of the studio's new star, Lon Chaney Jr.), he also spent the decade headlining a frightful amount of poverty row projects, the sort of cheapies that helped drive his career — to say nothing of his fortunes and his health — into the ground. He made several such films for Monogram Pictures, almost all boasting some modicum of entertainment value. One such effort is Voodoo Man, a nonsensical outing that benefits from a trio of horror vets in its cast and a good measure of camp in its script. Lugosi, George Zucco and John Carradine are the genre heavyweights, here playing nefarious sorts (respectively, mad doctor, voodoo practitioner and dim-witted henchman) prone to kidnapping young women. Their aim is to bring Dr. Lugosi's two-decades-deceased wife (quite well-preserved, it should be noted) back to life — to do this, they must locate the one woman whose life force is compatible with that of the late spouse. They hope it might be their latest victim (Wanda McKay), but they don't count on the heroic interference of her screenwriter boyfriend (Michael Ames). The direction by the legendary William Beaudine (Billy the Kid Versus Dracula, Bela Lugosi Meets a Brooklyn Gorilla) is typically brisk and artless.
There are no extras on the Blu-ray.
Movie: **