It's 4:20 on 4/20. Time to wake and bake.
Yes, friends, it's that day of the year when all good stoners celebrate one of America's great national pastimes — smoking, vaping, eating, or by some other means of delivery, ingesting marijuana.
Chilling out. Getting chill. Getting high, blitzed, blazed, blunted, bouldered, stoned, faded, fried, cooked, baked. Name your term.
Oh, stop ye who judge with your fancy cocktails in hand. You either smoke now under the cover of your social status or you've smoked at some point in your miserable life. Anyway, the shit is legal in Alaska, California, Oregon, Washington, Nevada, D.C., Massachusetts and Maine. Nobody equates smoking blunts with shooting heroin anymore. It was your great-grandfather who disseminated that propaganda to snuff out Mexicans, blacks, jazz music and mixed-race relationships.
So, in honor of this . . . wait, what were we talking about? Oh yeah: In honor of this holiday, we here at CL have compiled the perfect playlist of songs by local artists of various genres celebrating the great and powerful cannabis plant. Feel free to download, stream, purchase or steal these songs to take with you to your secret 4/20 hideaway.
Not that we're promoting anything illegal here — just good local music.
Oh, and by the way: Don't get caught. For some reason N.C. lawmakers haven't yet received the memo that marijuana is good for the soul. Hey, give 'em a break. They've been hard at work making sure people go to the correct bathrooms.
1. "Watch Me Roll It" - Th3 Higher
Inspirational lines: "Where is my lighter?," "Now we gettin' higher," and the requisite pick-up line, "I want to speak to your spiritual."
"We came up with the idea of this song because older people love talking about how new rappers can't rap and all we do is mumble," Tizzy and Kizzy, the members of th3 Higher, tell us. "So we used a boom-bap beat and made an introduction song for the classical hip-hop universe to show we can do our thing on any beat.
"Tizzy's verse was recorded in his car because that's where he wrote the verse. The lyrics to his verse are what he was doing at that time in the car. Kizzy's verse is in the kitchen because he stay cooking up that flame. *hard sniff side eye*."
We had a hard time choosing this particular track because Tizzy and Kizzy have more than one weed song. But this is the one made us all warm and woozy with its laid-back vibe and lines like, "Where is my lighter?," "Now we gettin' higher," and of course, the requisite pick-up lines, "I want to speak to your spiritual" and "the universe connecting us all through the metaphysical."
Still, go check out the duo's latest ode to the weed, "Sweet Mary Jane," available on Apple Music, Spotify, Google Play, Tidal and all other major streaming platforms except Pandora. And don't miss their upcoming Super Symmetry Show on April 28 at Venue 1801, 1801 N. Tryon St. Cost is $7-$10.
Listen: Soundcloud.com/th3higher
Follow: @th3Higher
2. "Fried On Friday" - NiGE Hood
Inspirational line: "Friday, Friday, can't wait to hit the highway / Ready to get high, pull my car on out the driveway / Ladies that I pass by, waving like the tide / Friday, Friday, this is the day that I get fried."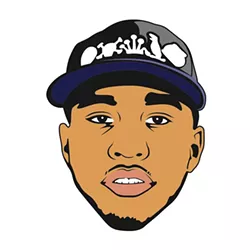 NiGE Hood illustration by Bilal Rashaad
"It was a Friday, I was at work and, man, I was bored," NiGE says. "So I used my free time and wrote a song about how great it feels on Friday to be anxious to get off work, shake off the formal mask and have fun with your friends."
This little song gets a big reaction when NiGE performs it live. We're talking get-off-your-ass booty-shaking banger. It slams.
You'll find "Fried On Friday" on NiGE's 2015 album Return of the Nasty, which you can stream or purchase at Apple Music, Spotify and the rest of the major outlets. Stream his other music on those sites, too.
Listen: Soundcloud.com/nigehood
Follow: @NiGEHOOD
Inspirational line: "Marijuana mom, marijuana mom, marijuana marijuana mom, marijuana mom, marijuana marijuana."
"The title for 'Marijuana Mom' was inspired by an Instagram post by my friend Asheigh," Charlotte Serf-rocker and all-around music guy Phil Pucci explains. "She took a photo of a news headline on TV which said, 'Meet the Marijuana Moms.' The subheadline was, 'Pot makes us better parents.' But it was hilarious because the headline was juxtaposed by this photo of this awfully sickly looking woman who looked like she was on oxygen. I was like, 'What?!'
"At the time I was going through a phase of naming Serfs songs after nonexistent comic book superheroines," he continues. "'Clever Chick' and 'Women of LA' were two others out of that time period. So it worked out perfectly."
More than perfectly. This is pretty much the best shoegazer noise-pop song about marijuana moms ever written. None of those other ones hold a Bic lighter to it.
Photo of Serfs by Joshua Thomas
Listen: serfs.bandcamp.com
4. "Rotated" – Ali Steele, Black Linen, Cosa Nostra Que
Inspirational line: "Hydroponic Billy Ocean / Aromatic love potion / Got me coasting, mind open / Aeroponic telescopin'."
True story: About a week ago I'm crowd-sourcing ideas for this list and ask a few local musicians and promoters I know for recommendations. One of the musicians is Solomon Tetteh, aka rapper Black Linen, who I wrote about in Creative Loafing back in February. He's one of those story subjects who's since become a friend. Don't judge me. It happens.
He makes a few recommendations. I ask him, "Don't you have one?" He says, "No." I say, "You've never written a weed song?" He says, "No." I say, "Well, write one and record it by next week and if it's good we'll use it."
Don't dare a rapper.
I'll let Black Linen tell what happened next: "So I'm on my way to Soule Jukebox to record a submission piece for the Sounds of the Queen City Charlotte anthem contest with Ali Steele. As we're riding I go, 'Aye man, I need a weed song for 4/20,' and his exact words are, 'Bruh, I've been playing this track for you every time we are riding around, and it's a weed song.' And I think to myself, 'I need to stop smokin.'
"Two days later we picked up his cousin Cosa Nostra Que to aid us in some vocals, and headed to Si-Fi Media Studios. We recorded the track in no time with the aid of Si-Fi's engineering skills. It was produced by Jet Fuel Beats of Umbrella Mindz and will debut on 4/20."
Right here at CL, of course. Now you be the judge.
Photo of Black Linen by Mark Kemp.
Listen: BlackLinen.bandcamp.com
Follow: @IAmBlackLinen
5. "End of the Fucking Rainbow" – Muse-Sick
Inspirational line: "Take me away to another galaxy / Up in the clouds somewhere that I don't care"
Muse-Sick is Celeste Moonchild and Ricky Rogers, part of the Charlotte underground hip-hop collective Stereo Academy. All of the tracks on their latest Soundcloud project are about weed, but this one, featuring Krishon Krown, was the one that got us nodding.
"It's kind of the beginning to a high ride," Celeste tells us. "It's the first track off of our mixtape Vibes in Motion. It was written over a couple of blunts and some great conversation in a couple of hours at the studio. I got the boys really high and said I have a beat and an idea for a song and I need you guys to feature on it. Of course they said yes and I watched them get really high and really focused listening to this beat over and over again, really getting inspired by the weed and music. The song explains Stereo Academy as a whole: eclectic but vibey. It's our love song to Mary Jane. You can't help but spark a blunt and vibe out to it."
Muse-Sick and Stereo Academy have a low profile right now, but watch out for them. (And check out the dope YouTube video for their song "Transcription.") We got so "vibey" to this music that we got a message from the Great Beyond telling us these folks are just getting started.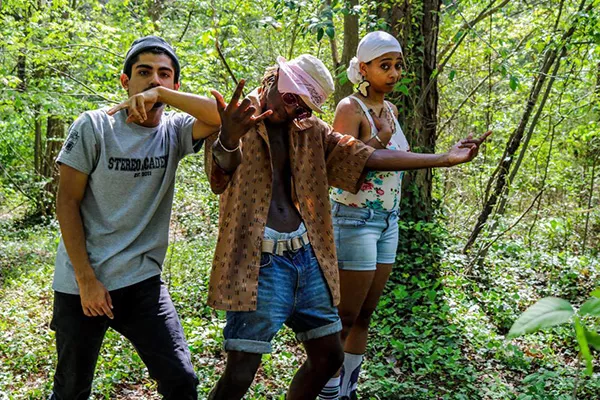 Muse-Sick is Ricky Rogers (from left), Krishna Krown and Celeste Moonchild. Photo by Bambam.
Listen: Soundcloud.com/rickyrogers94/sets/vibes-in-motion
Follow: @MyMusicNpoetry
6. "Lights! Cannabis! Action!" – One Big Love
Inspirational line: "It's 4:20 somewhere on some stoner's broke-ass watch / So that scientifically proves it's OK to smoke the pot."
"Lurking around the corner is the deadly 420 celebration that will claim the lives of over 500,000 people in a single day," the Charlotte-area duo One Big Love warns in the YouTube description of their "Lights! Cannabis! Action!" clip.
"Please know what your loved ones are into these days and know the warning signs of wackytobaky use."
One warning sign would be if your loved ones are rapping along to One Big Love's Cap-O and Jahson on the refrain of "Lights! Cannabis! Action!, which goes a little something like this: "There's a hole in my bowl. Plug it with a nugget. Plug it with a nugget."
You, too, can rap along with Cap-O and Jahson when One Big Love plug their bowls with fellow Charlotte stoners HipGnostic at the Evening Muse, 3227 N. Davidson St., on April 20. The 4/20 show starts at 10:30 p.m. and costs $15 - $18. Well, of course you can afford it!
Listen: Soundcloud.com/one-big-love
Follow: @1biglovemusic
7. "(Don't Outlaw) Plants" – The Stoners ft. Benji Hughes
Inspirational lines: "You can't outlaw a cloud just for being in the sky... You can't outlaw a bird just for trying to fly . . . How can you outlaw a plant?"
You know Benji. He's the guy who put out that sprawling double-disc set of perfectly oddball pop confection A Love Extreme that critics everywhere went bananas over. He's released other albums nontraditionally and came back last year on Merge Records with Songs in the Key of Animals. He's also written ditties for a bunch of TV shows and commercials and for other artists. He even penned that great Conway/Loretta-like duet "Let's Duet" in Walk Hard: The Dewey Cox Story.
Amid all that prolificness, Benji once recorded this country-rock song with the Stoners about how fucked up it is that certain plants are illegal. It's on a compilation of local artists called Sometimes Charlotte, which you can listen to on Spotify or YouTube or purchase for yourself at iTunes or CD Baby.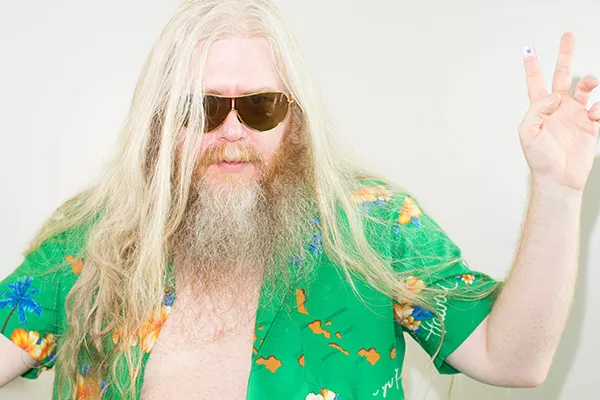 Photo of Benji Hughes by Soleil Konkel.
Listen: BenjiHughes.bandcamp.com
Follow: Facebook.com/Benji.Hughes.92
8. "Hippy Chick" – Quent Young
Inspirational line: "I just wanna smoke and get high, get high."
The video for this song has a lot of pretty women in it. I just felt compelled to get that information out there up here at the top.
Young, whose latest music is more jazz-based hip-hop, recorded this playful mix of hip-hop and neosoul some time ago with vocalist Nandi Joal, who's featured in the video with friends amid soft images that have a fuzzy, psychedelicized quality.
"The song was written as a ode to the free-spirited females that indulge in weed culture," Young says. "More so from observations of a couple females I knew during college."
You can watch the "Hippy Chick" YouTube clip above or hear the song on SoundCloud, but once you've listened to it, you'll want to hear more from Quent Young. So go check out his latest project, the jazz-based hip-hop of his EP Free Will, on ITunes and Spotify. And look out for more outstanding work from him later in the summer.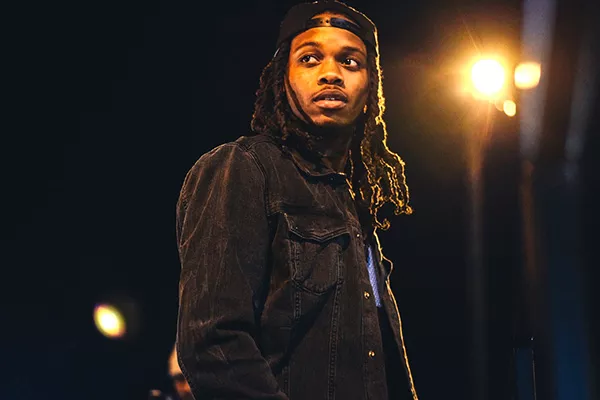 Photo of Quent by Johnny P. Newton
Listen: QuentYoung.com
Follow: @QuentYoung
9. "f(RY)day (ft. Lute)," High I'm Ry
Inspirational line: "Hey, I know you don't smoke weed, but I'ma get you high today."
Illustration of High I'm Ry by Marcus Williams
Talk about having way too many choices. High I'm Ry's whole raison d'être, it seems, is to create songs for 4/20.
His 2015 album f(RY)day, available on Bandcamp along with his self-titled debut, is one glorious ride through the marijuana fields of urban Charlotte — with the top down. We ultimately decided on the title song, if for no other reason than because "f(RY)day" also includes Ry's old running buddy from Charlotte's sorely missed Forever FC hip-hop collective — the excellent rapper Lute — as well as longtime collaborator Jimmy Kelso.
"This was one of the earlier tracks we worked on," Kelso remembers. "Lute and Ry crafted this great summertime backyard barbecue hook then we sat on it for Ry's project. Ry came in with this charisma and witty bars and made some great verses."
Listen: highimry.bandcamp.com
Follow: @HighImRy
Inspirational line: "You're in love as long as you're buzzed."
Favelas' "Weedman" has a Living Colour-esque quality — that is, if Living Colour had been a scrappy indie art rock band in the 2010s instead of an over-produced art-pop metal band in the '80s. Lots of stops and starts and odd tempo changes, stuff like that. It's the only thing on our list coming anywhere close to headbanger territory, though it's not really headbanger stuff, because it swings.
"'Weedman' came about accidentally, but I'm glad that it happened that way," singer Eli Red tells us. "The song is catharsis. It's about ignoring turmoil and hardship in the only way some people know how."
That is... getting baked.
Listen: FavelasOfficial.bandcamp.com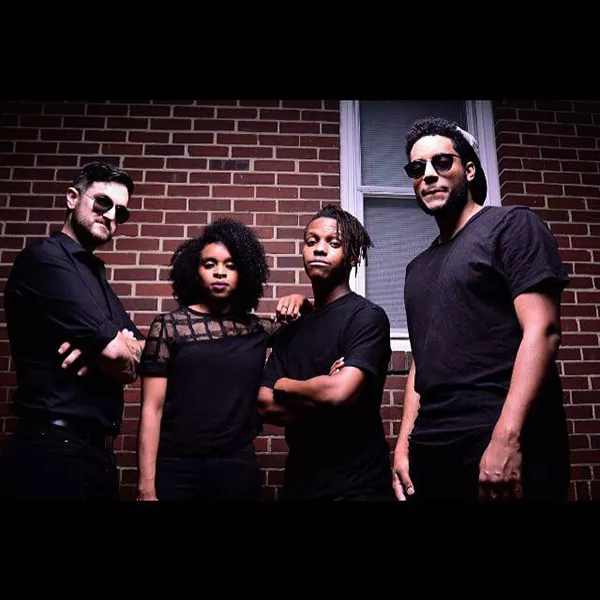 Favelas are David Helms (from left), Alexa Rae-Ramkissoon, Eli Red and Axnt. Photo by Surf Mitchell.
Follow: @Favelas_CLT