(View From The Couch is a weekly column that reviews what's new on Blu-ray and DVD.)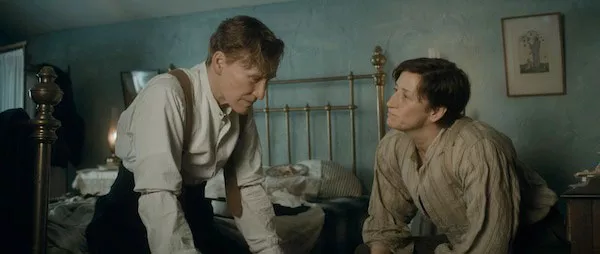 Glenn Close and Janet McTeer in Albert Nobbs (Photo: Lionsgate & Roadside Attractions)
ALBERT NOBBS (2011). There's a towering performance in Albert Nobbs, and it sure as hell doesn't belong to Glenn Close. A labor of love for the actress, Close not only stars in the picture but also serves as co-writer and co-producer (and, lest I forget, she also co-penned the theme song, "Lay Your Head Down"). Yet in essaying the title role, a lesbian in 19th century Ireland who has dressed up as a man for 30 years in order to work as a butler in a Dublin hotel, she isn't especially convincing: Even accepting that she looks a bit like a fey, mummified Stan Laurel, viewers have to assume that everybody in Ireland suffers from poor eyesight to fall for this ruse. Couple her turn with the fact that her character is never afforded much in the way of backstory or defining traits or — heck — even a pulse, and it's hard to invest any interest in her difficult life. Albert Nobbs would be a slog if it wasn't for Janet McTeer. Like Close, she plays a woman who's spent years passing herself off in public as a man, and she's excellent in the part, allowing us access where Close only allows indifference (nevertheless, both actresses received Oscar nominations, as did the makeup team). McTeer's Hubert Page is a vibrant character, full of wisdom, passion (she shares a cottage with her lover Cathleen, played by Bronagh Gallagher), inner strength (and external, as she makes her living as a house painter), and life experience. Close only comes to life in her scenes opposite McTeer; the rest of the time, she unwisely fashions her character as a riddle wrapped in a mystery inside an enigma. And while that designation might have worked well for Russia (at least according to Churchill), it's not adequate for a movie purportedly about the woman behind the man.
Blu-ray extras include audio commentary by Close and director Rodrigo Garcia; deleted scenes; and the theatrical trailer.
Movie: **1/2
Woody Harrelson in Rampart (Photo: Millennium)
RAMPART (2011). Dave Brown, the corrupt cop at the center of Rampart, is described by one of his own daughters as "a dinosaur ... a classic racist, a bigot, a sexist, a womanizer, a chauvinist, a misanthrope, homophobic clearly." Why stop there? He's also a bully, a thief, a murderer — and one of the most compelling cops seen on screen in some time. Dave Brown is played by Woody Harrelson, who earned a well-deserved Oscar nomination a couple of years ago for his supporting stint in writer-director Oren Moverman's The Messenger. Whereas that film found Harrelson playing a decent man grimly doing a dirty job — an army captain tasked with informing families of the deaths of their loved ones who were off fighting for God and country — Moverman's new picture finds him cast as an indecent man happily tackling a dirty job: serving as a "soldier" (his word) in an effort to cleanse the Los Angeles "jungle" (ditto). With a real-life 1999 LA police scandal serving as the backdrop, Rampart follows Dave as his life begins a downward spiral. Caught on camera savagely beating a civilian and later involved in a highly questionable shooting that leaves a Hispanic man dead, Dave becomes the poster child for everything that's wrong with the police force. He becomes a target of both the d.a.'s office (repped by Sigourney Weaver and Steve Buscemi) and an Internal Affairs investigator (Ice Cube), and he's not even sure he can trust his friends; specifically, a lawyer who comes to share his bed (Robin Wright) and an ex-cop with dirty dealings but a clean reputation (Ned Beatty). With a rare screenplay from L.A. Confidential novelist James Ellroy that he co-wrote with Moverman, Rampart is more of a character study than any sort of crime procedural, and it's all the better for it.
Blu-ray extras include audio commentary by Moverman; cast and crew interviews; and a behind-the-scenes featurette.
Movie: ***
The Secret World of Arrietty (Photo: Disney & Studio Ghibli)
THE SECRET WORLD OF ARRIETTY (2012). An adaptation of Mary Norton's classic novel The Borrowers, The Secret World of Arrietty hails from Japan's Studio Ghibli, the only toon factory comparable to Pixar. It's understandable that the original Japanese voices have been overlaid with English ones for many international markets, but considering this dubbing already took place for the picture's U.K. release — and with noteworthy actors like Atonement's Saoirse Ronan and Sherlock Holmes' Mark Strong, to boot — did stateside distributor Disney really need to replace those British voices with American ones? Were they afraid Yank audiences might be too dumb to decipher the King's English? Whatever the daft reason, it's a good bet this film would still work even in Pig Latin, given the usual warmth and attention to detail invested in all Ghibli efforts. The story revolves around the title character (Bridgit Mendler) and her parents (Amy Poehler and Will Arnett), inches-tall people who live in their own makeshift home underneath a real house. Warned to avoid human contact at all costs, Arrietty nevertheless strikes up a tentative friendship with a sickly boy (David Henrie), a bond that inadvertently draws the attention of a cruel housekeeper (Carol Burnett). Leisurely related and lovingly crafted (I love how the miniature family uses canceled stamps as wall paintings), The Secret World of Arrietty is an oasis of calm in the normally hyperactive world of toon entertainment.
Blu-ray extras include original Japanese storyboards, trailers and TV spots; the music video for Mendler's "Summertime"; and the music video for Cecile Corbel's "Arrietty's Song."
Movie: ***
Tim Heidecker and Eric Wareheim in Tim & Eric's Billion Dollar Movie (Photo: Magnolia)
TIM & ERIC'S BILLION DOLLAR MOVIE (2012). Tim & Eric's Billion Dollar Movie is about as funny as discovering that you have cancer, AIDS and a brain tumor all on the same day. A joint writing-directing-starring effort for Tim Heidecker and Eric Wareheim, the duo of Adult Swim and YouTube infamy, this film is witless and puerile — and so awful it makes me wonder if I'll be forced to be more charitable to the next Adam Sandler turkey that comes down the pike. "But wait!" interjects the team's hardcore legion of fans. "Unlike Sandler, these guys are geniuses!" Look, let's not mince words here. Anyone who believes Heidecker and Wareheim to be comic gold will more than likely love this movie, and they should rent or buy this with my full blessing. Their popularity, particularly among young males, cannot be denied, yet for me personally, they're simply not funny — I daresay I could go down to the nearest Target and randomly drag two strangers out of the checkout line, and they would possess better comic chops than these guys. The mode in vogue these days is anti-humor, which posits that the joke is that there's no joke aside from the expectation of a joke. Andy Kaufman was successful at this brand of comedy; Will Ferrell and John C. Reilly (who, incidentally, both appear in this film) are hit-and-miss; Zach Galifianakis and Will Forte (also both here) are mostly miss-and-miss; and Eric and Tim are bottom-feeders. The plot centers around the efforts of Tim and Eric to earn a billion dollars running a dilapidated mall in order to recoup the money they lost making a movie; while there, Eric finds himself drowning in a tub full of diarrhea, Tim has sex with a blow-up doll, and every scene operates on the level of seeing a 5-year-old boy picking his nose — unsightly, but hardly shocking as the filmmakers intended. Clearly, almost all taboos can be mined for buried humor, but based on this disaster, Tim & Eric apparently aren't the guys to do it.
Blu-ray extras include audio commentary by Heidecker and Wareheim; deleted and extended scenes (dear God, will the torture never end?); an interview with Tim & Eric; and a "Schrim Dance" screensaver.
Movie: *
LOVE IS IN THE AIR: We Were Here (Photo: Red Flag Releasing)
WE WERE HERE (2011). A powerful film that absurdly failed to snag a Best Documentary Feature Oscar nomination this year (despite making the Academy's shortlist), We Were Here is a nonfiction piece in the old-school style. Forgoing the catchy graphics, gotcha tactics and in-your-face stylistics popularized by the likes of Michael Moore and Morgan Spurlock, directors David Weissman and Bill Weber turn to the two oldest tricks in the book — talking-head interviews and archival footage — to carry their film. It's all they need. We Were Here focuses on San Francisco in the early 1980s, when a mysterious new disease began decimating that city's gay population. Some called it "the gay cancer"; others called it "the gay plague"; eventually, everyone was calling it AIDS. Weissman and Weber structure their film around modern-day interviews with five individuals who witnessed the carnage firsthand: Paul Boneberg, Guy Clark, Eileen Glutzer, Daniel Goldstein and Ed Wolf. These San Franciscans relate in grisly detail the horrors that befell their friends and loved ones, from the lightning-quick manner in which death would take people away to the abhorrently indifferent attitude of politicians like Ronald Reagan and Lyndon LaRouche, the latter pushing for a quarantine of all AIDS sufferers. Yet the five also note the triumphs of the time; specifically, the manner in which the entire community came together as one to work as caretakers, sounding boards, activists, errand boys or whatever other job needed filling. We Were Here ultimately serves as a tribute — not only to those who are no longer with us, but also to those who crossed the minefield and emerged as survivors, storytellers and heroes.
DVD extras include an interview with Weissman; AIDS prevention PSAs from the 1990s; and the theatrical trailer.
Movie: ***1/2