In 2015, the United State Department of Agriculture reported that there were approximately 45.7 million people on the Supplemental Nutrition Assistance Program (SNAP), better known as food stamps. But even though SNAP helps folks with food insecurity, it often falls short on providing access to and information about more nourishing food options.
That's where Nate Cerbelli and the 7-Day Meal Plan comes in. The program was designed specifically for people on food stamps — or just a tight budget — and offers a chef-selected shopping list. This one-day preparation and planning provides healthy food for a week and it all adds up to under $50.
Cerbelli and his colleague, chef Mike Coppola teamed with Healthy Home Market in Charlotte to create the shopping list and recipes in order to provide wholesome meals and diets for locals.
Creative Loafing: What kind of city-wide impact do you hope to make?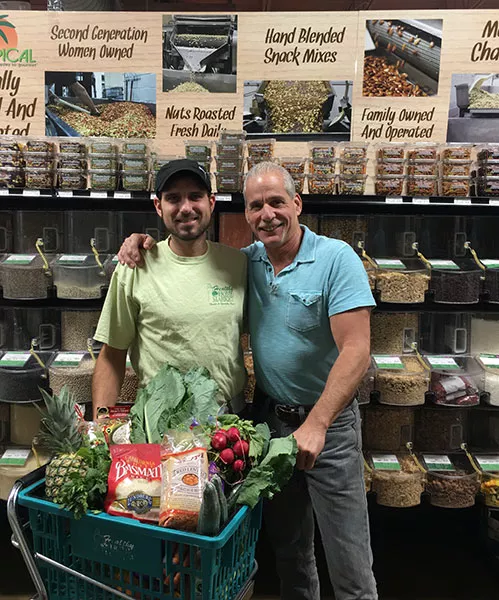 Courtney Mihocik
Chef Mike Coppola (left) with Nate Cerbelli
Nate Cerbelli: Me being the idealist that I am, I would love this to somehow affect all of the health food chains; Whole Foods, Trader Joe's and on a nationwide basis because I think that something like this is desperately needed for the population that is on a budget. They only have a certain amount of money to spend on food. If this can work at Healthy Home Market, which we believe it can, why couldn't it work in every health foods store nationwide?
How does this play into the economy of Charlotte and the health of the city's population?
I just saw a map of the U.S. and the statistic was that the top ten poorest cities in the country are also the top ten cities with the highest obesity rate. That's not a coincidence. Eating healthy food has got to be better for the kids in the country; if they can choose more than the dollar menu at McDonald's and be able to afford to eat for a week. If they have those kind of food choices, nutritious food choices, I think that would have a huge impact on kids in the country.
Would more programs like this in other cities outside of Charlotte, maybe even just in NC, increase the efficacy of food stamps and SNAP?
They're getting the most bang for the buck. It's only $50 to eat for a week. They're getting the most for that. They're buying nutrition, they're buying food that everybody should eat.
I don't know who invented the word "organic" but once that word was invented, all healthy foods became twice as pricey. Whereas it really shouldn't be that way. We should all have access to food that was grown and eaten the way humans were meant to eat food. But now, it's a commodity, healthy food.
Everybody should have access to what we've eaten 100 years ago but that's no longer the case now because it's labeled organic and we pay a penalty for that. It really should be the other way around, we should pay half the amount of money for food that's unadulterated you know? Because it's unadulterated, because it's what original food should've been for human consumption.