Benghazi. The word itself has become an enigma, fueling rabid and never-ending arguments between conservatives, Hillary Clinton backers and conspiracy theorists while inspiring odd and sometimes senseless acrostic memes on Twitter.
I can be sure that just writing this article will bring folks out of the woodwork and into our comments section to debate the very things the men who risked their lives and lost friends in Benghazi are now fighting against.
In Mitchell Zucoff's book, 13 Hours: The Inside Account of What Really Happened in Benghazi, he looks past the politics. Zucoff used a journalistic approach and the help of the men who lived it to tell the story of what happened on the ground on Sept. 11, 2012, when heavily armed extremists attacked a diplomatic compound in the eastern Libyan city without warning, killing four men, including U.S. Ambassador J. Christopher Stevens.
In early December, I met with three men who fought in Benghazi to protect those living at the compound while they waited for a way out. The men stopped in Charlotte while touring to promote the upcoming release of Michael Bay's movie, 13 Hours: The Secret Soldiers of Benghazi, based on their experience and the book that told the real story.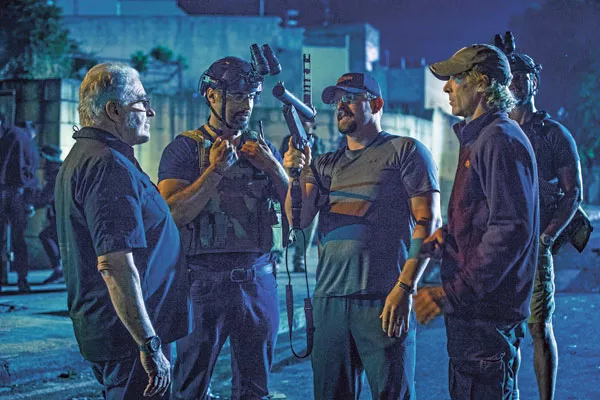 John "Tig" Tiegen (center) consults with cast and crew during the filming of 13 Hours. (Photo courtesy of Paramount Pictures)
I met with John "Tig" Tiegen, Mark "Oz" Geist and Kris "Tanto" Paronto at the Ritz-Carlton (keeping with the book and the way they refer to each other, I'll use their nicknames in this article), where they were meeting with multiple Charlotte journalists throughout the day before moving on to the next city.
These are the type of press-herding events I usually turn down immediately, but something got me to bite. Maybe my large collection of war books, all read without any realistic chance of meeting the folks whose acts are depicted inside, or my former desire to be a war reporter, one that still returns every once in a while to the chagrin of my mother.
Whatever made me decide this would be worthwhile, I found myself in the Ritz-Carlton lobby as players from the Golden State Warriors shuffled in and out, heading to and from the EpiCentre for lunch on the day following a game against the Charlotte Hornets. I couldn't help but notice the irony as I made my way to the 8th floor to meet with men who could be defined as actual warriors.
It was odd to meet with the guys just hours after I finished the book. I half-expected Oz to be wrapped in gauze, as he barely made it out of Benghazi alive and is last seen in pictures in the back of the book in a stretcher in the back of a plane looking, well, a little worse for wear.
I wanted to know what drove these former special forces guys — working as hired contractors for the CIA at the time of the attack — to end their silence and write a book, the type of thing that's often frowned upon in their circles.
"The story, the best way to say it, is that it was hijacked," said Tanto. "It was hijacked by the media and by politicians to fit their agendas and we just got tired of it. When it got to the point that we were being called liars, and we saw that on the TV and within our own agency, it got to the point where we had to do something."
The five contractors who shot their way out of Benghazi that day (two others participated in writing the book but were not identified) have left the cover-up conspiracies alone, but are openly critical of the chief of a CIA base near the compound for holding them back from going to the compund in the crucial first moments of the attack. They also wrote the book to rightfully honor the memory of two friends that died alongside them, CIA contractors Tyrone Woods and Glen Doherty. It annoyed them that not a single journalist spoke to them before telling their story for them.
The group even watched as government review boards released official statements recounting their struggle without speaking a word to those who fought there. They felt completely ignored after risking their lives to protect CIA staff who were living on the compound when it was attacked.
"We're watching this going, 'Wow, where are they getting this from?' It wasn't one (political) side or the other, it was both. When you see your story, when you live through that and then you're seeing people who haven't lived through that use it for their particular agendas or to support whatever cause they have, guys like us, it's going to piss us off," Tanto said. "But it also made us say, 'Wait a second, we had two buddies that gave everything over there. These guys need to be treated right.' The team did some heroic things, it needs to be recognized, not only with medals but there needs to be some, 'Atta boy, good job guys.' You know what, it could've been that simple and we may not even be talking right now."
The guys were on a trip to Kallispell, Montana when they met a firefighter who had built a memorial to those who fought and died in Benghazi on 9/11/12 and planned an annual event around the memorial. That inspired them to finally tell their story.
"The civilians were doing that but the government hadn't. So that was one of the things that was significant in us saying, 'Hey, this needs to be done.' It needed to be put down what happened — the sacrifice they made — and the only way to do that was to put it in print. We could've gone to a radio station or gone on the TV and they would just spin it again."
The book became successful, and soon, Transformers director Michael Bay was knocking at the door. The guys are quick to admit that they saw that coming.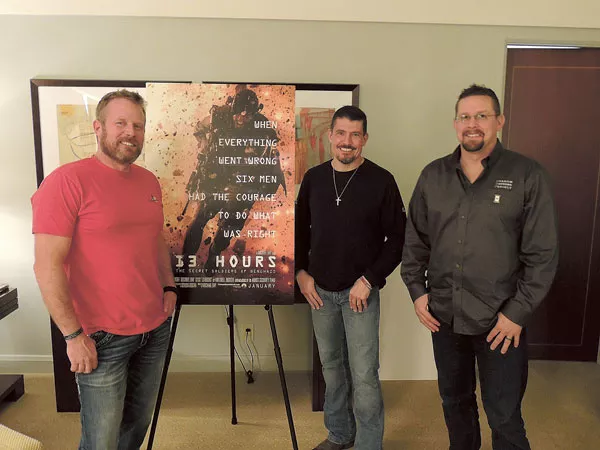 (From left) Mark "Oz" Geist, Kris "Tanto" Paronto and John "Tig" Tiegen. (Photo by Ryan Pitkin)
"We kind of assumed it would've been (made into a movie) no matter what just because the way we told the story and the fact is that it's a part of American history now," Tig said. "You have an American ambassador who was killed and that hasn't happened in over 30 years."
The group met with Bay while he prepared the sets and was able to give input about what the compound looked like and what it was like to live there. This came back to bite the famous director a couple times, as Tig's meticulous attention to detail became expensive.
"We're all looking over the table and Michael Bay is standing over by the door. Tig is like, 'No, this building was here' and (Bay) was like, 'Tig, you just cost me another $100,000 in set design.' No one else was there so they wont know, but Tig did what he had to do. That was part of the trust-building that happened between us that led to us being on set and being so interactive with him and the actors throughout the whole thing."
Tanto scoffs at Bay's critics, who don't like his exaggerated use of explosions as a crutch to tell the story.
"Michael Bay does explosions, he does fire, he does it well," he said. "One of his biggest critiques is that he loves that stuff. A media person told me, 'Oh, Michael loves explosions, it's going to be over the top.' I said, 'Well, war isn't sunshine and roses. It's dead bodies; it's fire and explosions. So he's the perfect guy for it.' I'm very happy with the process and how involved we were through the entire project. Would we like to have been more involved? Sure.'
When asked to clarify what he would have liked to change, Tig and Oz jump in to claim he just wanted to be in the movie with his shirt off. "I wanted to be in a shower scene," Tanto said with a reaffirming smile.
The three switch between somber, serious talk to poking fun at each other at the speed of a ricocheted bullet. The book recounts times at which Tanto was telling jokes to the crew as mortars rained from above and things were at their most intense. Since then, they've had time to mold their own stories at the expense of the others.
"I kept having to take tissue over to Tanto's building because he was crying," Oz jokes. "We ran out of bathroom tissue that night because he used it all up."
Tanto quickly shoots back. "I was asking him, 'Can you bring me some of your ammo because I'm shooting all your guys, bro.'"
That's when Tig joins the fun. "That's because he was shooting so much and he couldn't hit anything."
The guys would give anything to have Doherty and Woods back, and that much is clear, but it's also clear to see they were born to live out the experience they went through in Benghazi, saving lives while eliminating bad guys. Tanto is not shy to admit it, either. In the book, he compared fighting back one attack on the compound to being in a video game, and he confirmed that again three years later in Charlotte.
"You're having fun, you really are. You're having a lot of fun. And that night, we had to clear buildings, we had to fight fire, we had to run into fire, we got mortared, we had to shoot bad guys, we got bad guys shooting at us. Everything that you train for basically happened within those 13 hours," he said.
Fun for some, maybe, but as for me, I think I'll postpone that whole war-reporting gig for a few more years, at least.