Rory D. Sheriff showed up at Spirit Square on a recent afternoon fresh off the golf course and ready for rehearsal. His red golf tee and white Nike visor were reminiscent of Tiger Woods' "Sunday red," a similar outfit (usually with a black Nike hat) that Woods wears when he competes on a Sunday, the final day of a golf tournament.
Sheriff played pretty well that day, but it took him a while to get momentum, and a bad showing on the front nine left him in the weeds for much of the afternoon. It was in the dance studio on the second floor of Spirit Square later on where Sheriff was truly in his element, and the comparisons to Tiger made more sense.
However, tigers were not on Sheriff's mind that day — neither the animal nor the golfer. It was lions.
Sheriff is preparing for the 2017 premiere of Be A Lion, a play he wrote five years ago and originally intended to be a movie. It opens at Duke Energy Theater on May 31.
Be A Lion is a sequel of sorts to The Wiz, the 1978 film adaptation of The Wizard of Oz centered on black actors and actresses. Be A Lion was the first of two plays put on by Sheriff's black theater company, Brand New Sheriff (BNS) Productions.
Now, after five years of writing, rewriting, rehearsing, performing and rewriting some more, Sheriff feels the play is finally where he wants it to be.
"We've had a lot a lot of lumps, a lot of heartaches, a lot of disappointment and some setbacks with this production," Sheriff said when we met at 7th Street Public Market and he shared with me the story of how Be A Lion and BNS Productions came to be.
Sheriff has ended up where he is now thanks to his refusal to tread water. Throughout his life, he's not only climbed ladders but switched to new ones at the slightest dissatisfaction with his work.
"I feel like I'm going to die if I'm working on something I don't like, it's that drastic," he says. "If I'm not happy, I have to get control of it. I have to get in my happy place, and my happy place is being in control of something ... and it's in art."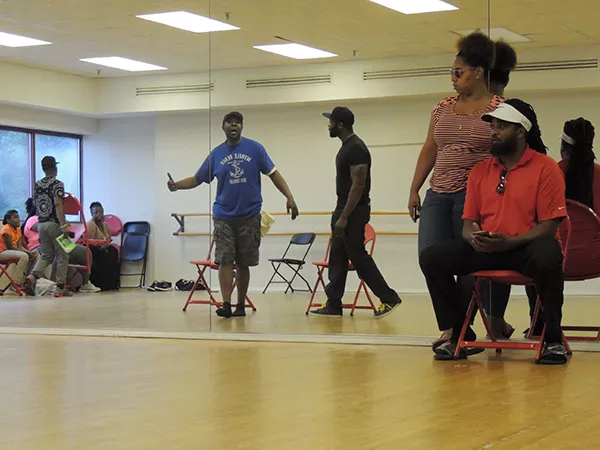 Rory Sheriff (far right) and stage manager Ericka Cornick look on as Tony Massey (blue shirt) belts out a song at a recent rehearsal.
Growing up in Redding, Pa., Sheriff wanted to be an actor. He was a student of the arts; he read Shakespeare and wrote poetry into his college years, when he attended Temple University in Philadelphia.
Slam poetry remained a passion for Sheriff into adulthood, but during college he became interested in being a radio personality, for the same reason so many young men do anything.
"Because I thought it was a cool way to get chicks, actually," he says of his desire to become a new school Jocko Henderson.
Sheriff worked his way up from a college station to a role as an unpaid intern at a secondary station to a host at Power 99, the biggest station in Philadelphia, one of the country's largest markets.
Then, in 2000, Sheriff moved to Charlotte for the same reason so many young men move anywhere: his girlfriend lived here.
Sheriff fell in love with the city on his first visit, and interviewed for a job at the popular Power 98. The experience was deflating for a man who had rapidly risen through ranks of radio up until that point.
"I didn't know anything about Charlotte, and when you're coming from a Philly market — the No. 4 market — you're like, 'All right, cool, this is what I can do for your town,'" he recalls. "When I left, the guy who interviewed me was like, 'We're already No. 1 here, we just needed you to come in and continue on doing what we're doing.' I was like, 'Oh, I screwed that up.' It was humbling."
Sheriff took a job with First Union, but soon became bored with that. He was days from returning to Philadelphia to get his old job back when he noticed a new sound coming from his normal jazz station — 92.7 was flipping formats to urban, and Sheriff saw his opening.
He eventually got a job there and could be heard on the airwaves of Hot 92.7 as Ghetto Child. He continued his ambitious ascent in the radio world, and eventually became a music director, even eventually working among the higher-ups at Power 98, which had once turned him away.
However, Sheriff's interest in the radio industry was gradually dimming.
"Slowly but surely I was just moving away from radio," he says. "I really didn't like the direction of radio. It's kind of like we were in a bad relationship, an on-again, off-again relationship. We'd break up and make up."
He never lost his affinity for writing, and it was during this time that he started to take it more seriously.
"I felt in control when I started writing. I felt in control of my life," he says. "What made me feel better was to write. I had all this experience in my head. I was in the military as well [before college]. I was in the Army, I fought in Desert Storm, I lived in Germany, traveled the world, so I've got all these experiences I could write about. So I started writing some books."
He released three successful books, mostly romance and erotica, but eventually got bored with that as well. Inspired by Tyler Perry, Sheriff began writing scripts.
He took a couple script-writing classes and had one that he was working on full-time with plans to go to Los Angeles and pitch it to movie execs. Shortly before the trip, however, an unexpected happenstance through channel surfing would change the course of Sheriff's life.
He was working on his script, titled A Hot Idea, which would later become Mahogany, when The Wiz came on television. He kept it on, as it was one of his favorite movies growing up, but didn't think much of it until the end.
"It goes off and I'm like, 'OK, what now?'" he says of the movie's anticlimactic ending. "Then, 'Ohhh. Bing, bing, bing. You're the writer, why don't you write and tell what happens?'"
And that's exactly what he did.
Sheriff bought the movie and watched it on repeat while working on his new script, which was a far, fantastical cry from the realist plots he had written in his romance novels and previous rom-com attempt.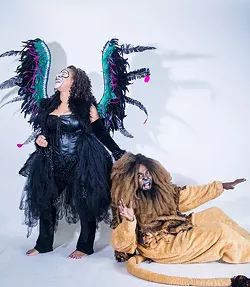 Melody Williams as Damneesha (left) with Tony Massey as Lion. Photo by Josh "J Sweat" Nwakerendu.
The Be A Lion script tells the tale of what happens when Dorothy leaves Oz and those left behind in the Emerald City are living in a state of lawlessness. A couple seeking refuge from the crime-ridden city run into the Lion, who is now leader of a nearby tribe.
The Lion returns to Oz to rule, but gets caught up in a conflict with Damneesha, the daughter of wicked witch Evileene, among other ordeals. Sheriff's script draws parallels with the experience of being a black man in America as well as other present-day social issues.
He originally called the script King of the Emerald City, but was struck by the rendition of his favorite song from The Wiz during one of his watching sessions.
"That's one of my favorite songs in the play, 'Be A Lion,' and it fits," Sheriff says. "It fits the whole concept of the story, because the lion is still struggling with his courage. He has courage now, but he's still struggling because he never had to use it. At some point he's going to have to be a lion, and it's equivalent to saying, 'Be a man. Stand up and be a man sometimes.' That's basically what Be A Lion is. It's, 'Be a freaking man. Be in charge. Be who you are meant to be.'"
Sheriff made the trip to Los Angeles with a new goal: pitch Be A Lion, forget about Mahogany.
He pitched his heart out at a meeting with three movie producers, only to be told they loved the story but thought it would be too expensive. They said they were looking for cheap romantic comedies, so he told them about Mahogany, despite not having planned a pitch at all.
Sheriff sold the rights to Mahogany ("I thought it was shit," he says) and left with some change in his pocket. But his most valuable takeaway from the experience was the advice given to him by one of the producers, a woman who ran to catch him before he could leave the building.
She asked if he had ever thought about making Be A Lion into a play or a cartoon. Sheriff responded that he had not, but the idea stuck with him until he returned home. The decision was not easy for a man who dreamt of getting into the movie business.
"At first, it hurt. I was destroyed. I thought it was a demotion. Like, this needs to be a movie," Sheriff recalls of his inner dialogue at the time. "Then, pacing back and forth in my hotel room, flying back home, I was like, 'Wow, you know what? This is what Tyler Perry went through.' I'm sure that his scripts were intended to be movies, at least somewhat, and if not, he took his stage plays into film. So maybe this is how I'm supposed to go. This is the path I'm supposed to go."
Sheriff put together a small casting call that consisted mostly of friends and family, then eventually put on a play at a small venue in town. Five years later, he has no regrets about making the transition to theater.
"It's fulfilling, I love it," he says. "And it's rewarding, because nothing is being handed to me at all. Everything that we get, we worked for."
Sheriff says he's put in countless applications for grants over the years, but has never been awarded one. Everything he's spent on his productions over the last five years has come out of his pocket.
He spent much of his first few years in the Charlotte theater scene just trying to learn the ropes, but says he's more comfortable in the community now.
"In the theater world, they approach things with reservation," Sheriff says. "They're like, 'OK, what is this? Who is this guy? We've been around. We have these theater companies, these theater groups, and this is who we know. We don't know you as a theater person. If you're radio, yeah, do radio. But we don't know you as a theater person.' So I had to prove that, for which I stepped up to the plate."
Sheriff isn't just stepping up to the plate for himself. He knows the importance of cultivating a black presence in Charlotte's theater community, and he feels he's just "cracking the door" to full acceptance.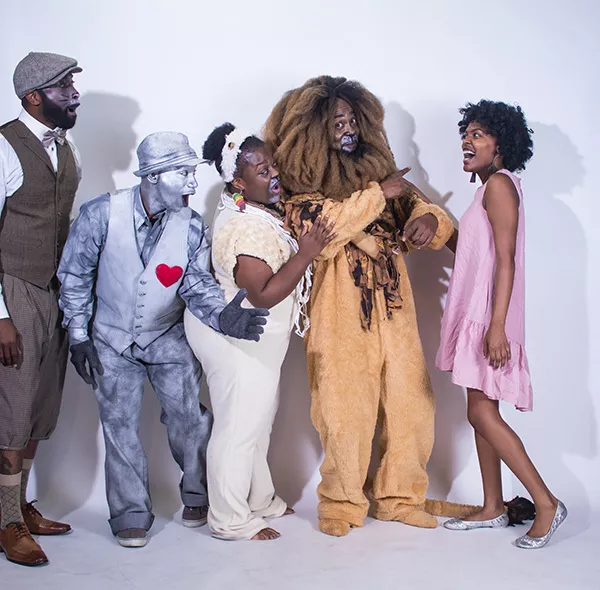 From left: Kineh N'gaojia as Miles, Elijah Ali as Tin man, Ruby Edwards as LaDawn, Tony Massey as Lion and Nailyah Gardner as Dorothy. Photo by Josh "J Sweat" Nwakerendu.
BDS Productions looks to join OnQ Performing Arts, the only black theater company to gain widespread acceptance locally.
"OnQ is doing great things right here in Charlotte, but it's not fair that we only have one mainstream African-American theater group," Sheriff says. "There's markets that have a lot of us. For a city this size, for a theater community this size, if we only have one that broke in? One that's known?
"There are a lot of theater companies and theater groups by African-Americans here in Charlotte, and a lot of good people who are still trying to do what I'm doing.," he continues. "OnQ opened that door and we're just opening it up wider, and we're showing not just Charlotte, we're showing the entire country: 'Look, African-American theater is great, and we're doing some really thought-provoking shows.'"
At rehearsal, Sheriff looks on alongside his longtime stage manager and personal assistant Ericka Cornick. The two track the script on their phones while they watch, listening for variations the cast members might be sticking into their performance, purposefully or not.
He stops the act at one point after one of the good witch's minions guides her across the stage by the hand.
"She's a witch. She may be a good witch but she's a witch, nobody's guiding her anywhere," Sheriff says, matter-of-factly.
While he notices the small things that interfere with his vision, Sheriff welcomes input from those in his plays.
Frank FaCheaux, a first-time actor who plays the Cheetah in Be A Lion, says he's been impressed by Sheriff's willingness to work in new ideas from the cast.
"I really tried to take my own idea of the role, but then I did come in and ask him what his vision is for it," FaCheaux says. "So I believe our ideas kind of meshed and we came to a realization as to what he wanted."
Sheriff credits the time he spent as an actor with his readiness to work with the cast and listen to their ideas.
"I've been in many plays. I've worked with many directors," Sheriff says. "A lot of them, I don't like their approach. I don't like, 'This is how we're going to do it and that's that.' It's my way or the highway, basically, with a lot of directors. I take pride in calling myself the actor's director. I want to sit down and talk with you. What are you seeing? Then I'll share what I see.
"For example, with Frank, if there's something that he sees and he wants to try with that character, that's dope, I want to see that. It could be better than my vision. I'm open to that."
Rasheed Owens has been working with Sheriff since the beginning of his theater career. The two were neighbors, and Owens remembers the day Sheriff told him about his idea for a spinoff of The Wiz he was writing.
Since then, Owens has played Miles the African tree mouse in each production except the upcoming run, as he plans to be traveling.
He also starred in Sheriff's other BSP Productions play, Boys To Baghdad, which retells some of the experiences Sheriff experienced during the Gulf War. Unbeknownst to the two when they first met, Owens also served in the Gulf War and was there at the same time as Sheriff.
Owens has been helping with this production, sitting in on auditions and rehearsals for the upcoming run and giving advice where needed. He said it's been amazing to watch the growth of Sheriff over the years.
"The first time he did it," Owens says before taking a long pause to decide how he would describe that first production, laughing, "Well, it was the first time he did it. We've learned a lot since then. Just to see how he's grown as a director, some of the rewrites that he's done and things of that sort, it's definitely grown to be a much bigger production."
As with Boys To Baghdad, Be A Lion turned out to be a bit more autobiographical than Sheriff had planned. He says he had never realized it until his sister read the script and informed him that he wrote about his own path in life and standing up for himself at times when he was being tested.
He denied it at first, but after a long talk during which his sister drew comparisons between his journey and the journey of the Lion, he came to see it in a different light. Now he can't deny the similarities.
Perhaps it's that visceral connection to his characters that makes it so difficult for Sheriff to edit his stories, like the time he ended up with a 160-page script for Boys To Baghdad and needed to get it down closer to 100, where one wants the average script to be.
"I swear, writing a script is like writing your whole life story in a single tweet," he says.
As long as he's not denying that it is, in fact, a life story.