When Lorraine Hansberry's A Raisin in the Sun opened at the Ethel Barrymore Theatre in New York on March 11, 1959, it was unquestionably a historical milestone. Hansberry was the first African American woman to write a play produced on Broadway, and Lloyd Richards was the first African American man to direct.
Although it lost the 1960 Tony Award to The Miracle Worker, Hansberry's drama was destined to become a cultural touchstone, sprouting two notable offshoots. And Raisin continues to speak to audiences. Since the last time Theatre Charlotte brought the play to Queens Road 13 years ago, the sturdy script has been revived twice on Broadway.
But Kim Parati, directing for the first time at Theatre Charlotte, sees the play as more than a milestone or a touchstone.
"It's a litmus test of our progress — or lack thereof — over these last 50 years," Parati observes. "We're still debating the infrastructure of the decaying conditions in the poor and segregated South Side of Chicago. We're still lamenting the pain of the black male when it comes to dealing with The Man. And we're still examining the conditions that rob poor people — and in this case, poor blacks — of their dreams."
Hansberry's drama actually had its roots in litigation her family was involved in 25 years before she wrote it, a case that fought Chicago's "restrictive covenants" enforcing segregated neighborhoods through agreements by all-white property owners' associations. You don't forget such things when your mother patrols the house with a loaded gun at night to protect the family, or when your case — eventually adjudicated in the family's favor by the Supreme Court — gets you spat upon on your way to school.
While the Younger family's confrontation with the emissary from the Clybourne Park Improvement Association is at the core of the drama, Hansberry, not yet 29 when Raisin premiered, layered on so much more.
When Younger family matriarch Lena receives the $10,000 check from her late husband's life insurance policy, only a portion of it goes toward a down payment on her dream home. A third will go toward fulfilling her daughter Beneatha's ambitions to attend medical school and become a doctor. The rest goes to Lena's bitter and discontented son Walter Lee, who wishes to shed the daily humiliations of a limousine driver and open a liquor store. Meanwhile, Walter Lee's wife Ruth has just learned that she is pregnant with another child that her family cannot afford.
So there's a whole swirl of racial, societal, and women's issues percolating throughout Raisin, with extra splashes of conflict supplied by Beneatha's two suitors, the well-to-do George Murchison and Nigerian exchange student Joseph Asagai. Maybe Beneatha, immersing herself in African culture, should just forget this America thing and run off with Asagai to his homeland.
Amid all these conflicted and bickering folk, one non-combatant emerges with a pivotal role: Travis, Walter Lee's son.
Parati takes on the task of shaping all these turbulences, crosswinds, and the crystallization they lead to with less than two years' experience in directing. But Parati's debut as director came a full 16 years after she made her Charlotte acting debut in the long-forgotten Naked Navigations, at a 5th Street art gallery, where her turn as Madonna was interrupted by a passing freight train. By 2001, Parati had made her debut at Children's Theatre as an unexpectedly active Annabel Lee in Tales of Edgar Allen Poe, before winning CL's Best Cameo award in 2002 with walk-ons in The Vagina Monologues and Jungalbook and making her Charlotte Repertory Theatre debut in 2003.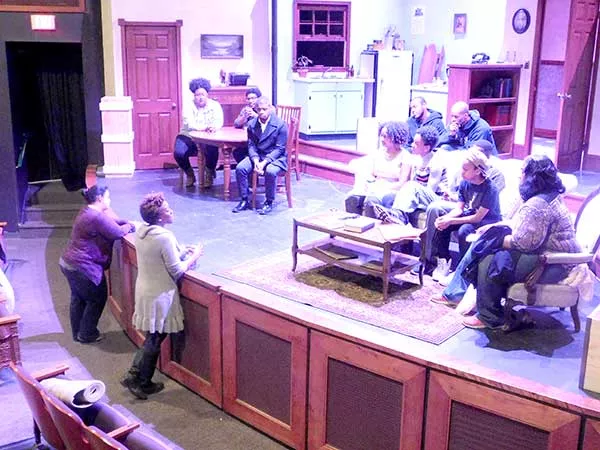 Ben Sparenberg
Kim Parati, lower left, addresses cast of A Raisin in the Sun after rehearsal.
Curiously, it was none of the above that turned Parati toward directing. Her "aha" moment happened at Spirit Square in the Collaborative Arts Theatre production of Bad Dates, the one-woman show written by Theresa Rebeck.
"I'd managed to carry a show on my shoulders for more than 80 minutes each night and not only survive it," Parati says, "but grow in the confidence that I might have the vision and fortitude to manage an entire production. That's when I began thinking about directing."
It took three years before Parati got her chance from Nicia Carla at PaperHouse Theatre to direct A Woman of No Importance. The site for this Oscar Wilde revival was unlikely, the first time The Frock Shop on Central Avenue was used for a theatrical production. Yet the triumph was undeniable: CL picked the sophisticated PaperHouse frolic as both its Best Comedy and Show of the Year in 2015.
Other recent career moves for Parati have included resigning from WFAE after 10 years, delivering her own story on The Moth Radio Hour, and obtaining her realtor's license. Keeping her hand in directing, she also piloted Motherhood Out Loud for Three Bone Theatre and The Bluest Eye for On Q Productions.
It wasn't a huge surprise when Theatre Charlotte executive director Ron Law called on Parati for A Raisin in the Sun.
"Ron and his team have worked hard to create a theatre that celebrates diversity and thought it might be wonderful to have a black woman direct a show written by a black woman," she says.
More than 50 actors showed up for auditions, and Parati found herself calling back 30. Better yet, she didn't have to scout beyond this talent pool to fill any of Hansberry's roles. Parati is excited about the new faces in the cast, and she's also planning a couple of surprises, restoring one of the scenes — plus a telling moment — that were cut from the original 1959 premiere.
Yet Parati pushes back against the notion that A Raisin in the Sun — has become newly relevant after the Obama presidency and Trump election.
"In 2008, I — like a lot of Americans — celebrated the fact that our country had elected its first black president," Parati recalls. "Yet, the disparities between blacks and whites in education, healthcare, mortality rates and income continue to widen. I'm not convinced there was an ascent and subsequent descent for African Americans from the Obama era to now.
"Sure, our conversation since Trump has changed because the optics and rhetoric seem drastically different," she adds, "but the stats about the lack of equity between blacks and whites have continued along the same trajectory."