A look at some of the most stunning casino resorts from various countries and continents around the world, and online betting alternatives if COVID-19 returns.


The World's Best International Casino Resorts. While online casino betting is certainly rising in popularity, it can sometimes be hard to replicate the real-world atmosphere, especially at top-class establishments. In no particular order, here are seven of the most beautiful casino resorts in the entire world.
1.) Hotel de Paris Monte Carlo
No list of global casino resorts would be complete without an entry from the principality of Monaco, synonymous with wealth, high rollers, and casinos. This exclusive hotel comes with just 99 rooms and assorted Michelin-starred dining options, so even if your wallet gets thinned your stomach will be satisfied with your stay here. Silver screen aficionados may also like the fact that this hotel is so stylish it's been used in films from the Marvel Cinematic Universe (Iron Man 2) to Pierce Brosnan's first Bond escapade in GoldenEye. And, of course, if you happen to be a gearhead with a taste for betting what better way to spend a weekend in May than watching the world-famous Monaco Grand Prix during the day, and betting in the evening?
However, there is one big potential downside with a brick and mortar casino which is that if COVID-19 returns then such establishments will be the first to be placed under lockdown and among the last businesses to be released from it. Top online casinos exists in cyberspace and are effectively immune to such potential disruption, so high flying American, European, African, and Australian players can keep themselves amused from the comfort of their own home if the virus should come roaring back and close down real-world casinos. The best international online casinos, unconstrained by a physical presence, have as many if not more games as the top global casino resorts, all accessible from home or when out and about if you prefer playing on your smartphone. And there's zero risks of catching COVID-19, or passing it onto the ones you love.
2.) Caesar's Palace
With a name harking back to the end of the Roman Republic and birth of the Roman Empire, Caesar's Palace in Las Vegas seeks to provide guests with a sense of timeless imperial decadence and is accordingly decorated with Romanesque statues within. The extensive spas are home to Roman baths, and architectural touches include mosaics and classical features, plus multiple pools for guests to refresh themselves or take in some light exercise. There are dozens of dining establishments within this long-lived casino resort and the renowned Forum shopping mall. But it also has plenty of betting choices, with gaming tables offering classics such as craps, blackjack, roulette, and countless video poker and slot machines.


3.) Marina Bay Sands
When it comes to stunning heights, the Marina Bay Sands hotel is pretty hard to beat. This waterside Singapore triple tower of luxury supports a magnificent infinity pool atop its three structures as part of the SkyPark. Not one for those scared of heights, the SkyPark is the biggest public cantilevered platform in the world. Formula 1 fans in town on the right weekend will also be able to use this sky high vantage point for an unbeatable view of the night race as the cars dart around the hotel at high speeds. There are 500 gaming tables for card sharks to test their luck and thousands of slot machines, in addition to a variety of refined and luxurious restaurants. All in all, Marina Bay Sands oozes opulence and style.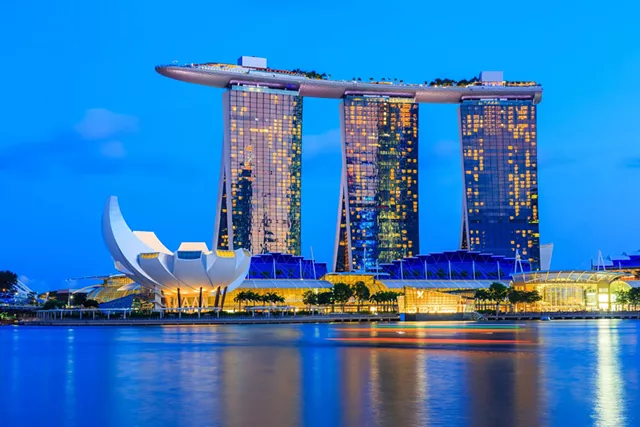 These hotels have been paired together for the simple reason that they're right next to each other and effectively sister hotels. Both were the brainchildren of Steven Wynn, hence the name, with the pair of them costing some $5bn combined. Not one for those with anything but the fattest wallets, the Wynn and Encore are ideal for high rollers with plenty of cash to splash, not only on the thousands of slots and many gaming tables but also at the upscale restaurants for those with impeccable taste (and deep pockets). There are plenty of places to stay in Las Vegas but if money's no object then the Wynn and Encore must be near the top of the list.
Paradise Island lives up to its name, and visitors to this Bahamian utopia and its Cove Atlantis casino resort will find it supremely relaxing to visit now that casinos and travel are opening up once more. Outside of the hotel, there are lagoons to wonder where you can discover a variety of delightful exotic animals, or you can simply laze on the beach and soak in the sun. High rollers can place their bets in the exclusive Sea Glass gaming area, and sports fans can keep in touch with their teams and bets, and have dozens of options for dining at refined local restaurants. The island's connected to New Providence by a pair of bridges, affording easy access to the city of Nassau if you want to take in some of the big city attractions (and the bridges also make it easy to fly to and from the US, the UK, Canada, and elsewhere).
Not everywhere in China is pro-gambling, but one part of the burgeoning superpower that is very much in favor is Macao. And one of the best places in Macao, and the world, to go and play is the Venetian Macao Resort Hotel. Inspired by the eponymous hotel in Las Vegas, the Venetian Macao is one of the largest casinos in the world, with more than half a million square feet in which to play. Perhaps unsurprisingly, this stunningly opulent casino and hotel took billions of dollars to build and offers visitors to its swanky surroundings literally thousands of slots and hundreds of gaming tables. The suites are exquisite too, as are the luxurious dining options where you can cheer yourself up after losing or celebrate a win and spend some of your profits.


The glamor of Las Vegas meets the remote South African bush at Sun City Casino Resort. Ideal for bettors who like to blend the finer things in civilized life with the great, untamed outdoors, there's a lot to enjoy both within and beyond the resort. The dozens of gaming tables host blackjack, baccarat, poker, and roulette, while slots fans have close to a thousand machines to keep them occupied. Beyond the doors, the private game reserve presents the opportunity to go exploring and ride elephants.
Whether you've got money to burn or just like thinking of where you'll go should that big win come in someday, we hope you enjoyed reading this little list of seven fantastic casino resorts.