We can't explain this curious phenomenon, but the Queen City's performing arts companies seem to have outgrown their customary October fixations with vampires and spooks. Instead, this coming Halloween weekend, if not entirely witch-free, will be more haunted by a swarm of classics.
At Central Piedmont Community College, CPCC Theatre presents The Crucible, Arthur Miller's weaponizing of the Salem Witch Trials to take aim at the infamous anti-Communist witch hunts led by Senator Joseph McCarthy in the 1950s. Counting the Robert Ward adaptation produced by Opera Carolina, we've had at least five opportunities to view this classic in the Metrolina area since 1998.
Caryn Crye (left) plays Elizabeth Proctor and Josh Logsdon plays John Proctor in CCCP's The Crucible. (Photo by Tom Hollis)
Another Tony Award winner, John Steinbeck's epic Depression-era novel The Grapes of Wrath, has had to wait longer for its first run here (Frank Galati adapted and directed the story for Broadway, winning the 1990 Tony less than three months after its opening), but now Theatre Charlotte is bringing this American classic to a local stage.
Steinbeck's biblical exodus begins in the Dust Bowl during the Depression Era, focusing on one family of dispossessed Oklahoma farmers, the Joads, as they journey to California in search of jobs and their lost dignity.
What the Okies find at the end of the journey isn't a Promised Land at all. Joining a severely overpopulated workforce, the Joads are plunged into a sun-kissed cesspool of migrant-worker exploitation.
The sheer size of the story, in geography and humanity, is a prime reason why it took so long for the 1939 Pulitzer Prize winner to be adapted for the stage — as well as for the additional delay before a local theater company brought it here. Galati's Broadway edition had a cast of 31 playing 45 roles, and that's not counting the seven musicians on hand to play the incidental music composed by Mike Smith.
Theatre Charlotte executive director Ron Law, taking over the creative reins for this production, has simplified the approach, reducing his cast to a mere 23.
Running the first local company to pick up the gauntlet on producing this behemoth, Law can empathize with those who haven't.
"The cast is large, which means a bigger costume budget," Law says. "If you are paying actors, that makes for a big salary line. There are also some very violent scenes in the play that really require a certified fight choreographer. The play calls for a river, campfires, a grave and a truck. Our space is very limited — virtually no wing space, no traps, no fly system. I truly favor minimalism in theater, focusing on narrative and characters. But sometimes minimalism is not really all that simple."
With so many roles, Charlotte's theater community also had to worry about who would sign up. Decreasing the cast creates more multiple roles to keep the volunteers busy, and Law was pleased to be able to fill nearly half of his cast list with local vets, including Vic Sayegh, Annette Gill and Paula Baldwin.
Gill and Baldwin have similar pedigrees at the Queens Road barn, playing Linda Loman in the two most recent revivals of Death of a Salesman in 1998 and 2009. Baldwin, the more recent Linda, has also aced auditions at a variety of local companies for prominent — and powerful — roles in Three Tall Women, August: Osage County, The Actress and Who's Afraid of Virginia Woolf?
Baldwin chafes against the notion that Ma Joad, her role in Grapes, is a softie by comparison.
"She fulfills her role as the mother who nurtures, cooks and cleans," Baldwin admits, "but Pa comes to her for her opinion and follows it even when he, at first, doesn't agree with her. She is truly the backbone of the family. When the men start to falter and give up, she continues to be positive and strong. Ma has several wonderful monologues, and one of my favorites is when Pa has all but given up and she tells him that life for a woman is 'all one flow, like a stream, little eddies, little waterfalls, but the river, it goes right on.'"
Vilified by bankers and landowners for his workingman sympathies, scorned by literary critics who preferred the apolitical beauties of Ernest Hemingway, William Faulkner and F. Scott Fitzgerald, the sun began to set on Steinbeck's reputation and continued to decline after he won the Nobel Prize in 1962. The socialist label, not a problem in Europe, hampered him in the United States.
So let's look around and see the political reasons why the time now may be ripe for The Grapes of Wrath.
An avowed socialist nearly captured the presidential nomination of one of our major parties, and the shadows of fascism and demagoguery hang over our land as heavily as they did in the late 1930s when Steinbeck published his masterwork.
Baldwin and Law both cite the sowing of divisions and the widening chasm between the haves and the have-nots as reasons why the Joads' odyssey still resonates today.
"The question then seems to be the same as today," Baldwin says. "What price are we willing to pay to affect change? Is America truly a land of opportunity for all?"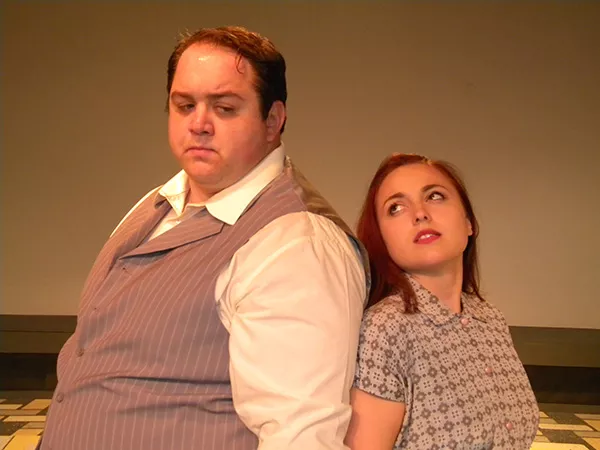 In the CCCP production, Proctor (left) has a softness towards Abigail Williams, played by Sarah Clifford. (Photo by Tom Hollis)
In the 2007 production of The Crucible at Theatre Charlotte, director Matt Cosper dipped into the screenplay that Miller had written for the 1996 film, freshening the version that had previously run on Queens Road in 1988.
Tom Hollis, chairman of the CPCC Drama Department, has settled on an even more daring way to give the old classic a new look today.
Directing at Pease Auditorium, Hollis is transposing the 1692 Salem Witch Trials to 1952, when the Miller script was released, while preserving the antique Puritan dialect that the playwright invented for his historical characters.
From what we're told about the impact Hollis hopes to achieve in juxtaposing Salem's infamous trials and Sen. McCarthy's infamous Senate hearings, we could possibly see a trace of Sen. Joe or his nemesis, Joseph Welch. Maybe some video cameos?
"The naming of names and the accuser being somehow sacrosanct has been an age-old issue in human affairs," Hollis observes. "The hysteria of the Salem Witch Trials and the '50s Communist hunts all echo with the proliferation of 'fake news' today.
"Did not Orwell predict that the shouting of a lie loud enough and long enough will make it true?" Hollis asks. "The inability of many to separate belief from objective reality is more disturbing today than ever."
After a couple of memorable performances in 1776 and Ragtime last season, Josh Logsdon gets an even meatier role as Miller's martyr, John Proctor, in his first non-musical foray at CP. His character is tempted and traduced by the adulterous Abigail Williams while further tortured and frustrated by his unforgiving wife, Elizabeth — tasked with finding his authentic self while living in a sexist world.
"The text does paint him as domineering and harsh at times when arguing with Elizabeth," Logsdon says. "But I try to draw on more of his softness with both Abi and Elizabeth. His relationship with Elizabeth transitions from one of resentment and more pain to a reclaimed love and a final peace. He has a softness to Abigail as much as he denies it, but he eventually sees that she's willing to destroy everything and everyone to have what she wants, and he's definitely horrified by it."
Not quite a vampire, but chillingly close — and certainly in season.