THE SPECTACULAR NOW
***
DIRECTED BY James Ponsoldt
STARS Miles Teller, Shailene Woodley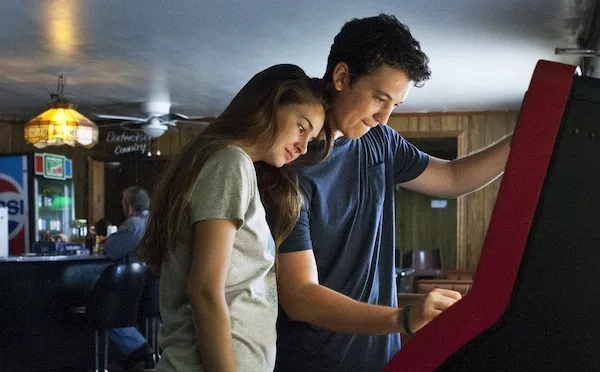 Shailene Woodley and Miles Teller in The Spectacular Now (Photo: 24)
There's a spectacular performance hovering around the edges of The Spectacular Now, and it belongs to Shailene Woodley. Best known for her role as George Clooney's older daughter in The Descendants, Woodley here delivers the sort of transcendent turn that feels so natural, so precise, so perfect in every detail. She's not the film's central character, and in many ways, that's a shame.
That's not meant to knock the contributions of Miles Teller, who's rock-solid in the pivotal part of Sutter Keely. Sutter is the cool kid, the wisecracking high school senior with the hot girlfriend (Brie Larson), a laid-back job (at a men's clothing store) and an easygoing demeanor that allows him to talk to anyone anywhere. But like any teenager worth his salt, Sutter also has problems: He has no desire to attend college, he unfairly blames his mom (Jennifer Jason Leigh) for his dad leaving when he was a small boy, and the aforementioned girlfriend dumps him when it's clear that they have no future together. But that's OK, as long as he has his trusty flask, his keg parties and his booze-fortified sodas. And it's after one of his drunken all-night revelries, when he's passed out on a strange lawn, that he meets Aimee Finecky (Woodley), a fellow student who's as shy and introverted as Sutter is garrulous and outgoing. Sutter believes he can help this awkward teen, a virgin who's into anime and believes nothing has ever happened in her life that's worth discussing, and for her part, Aimee becomes smitten with this popular boy who is devoting so much time to her.
For most of its running time, The Spectacular Now appears headed for 10 Best territory — this year's equivalent of 2012's The Perks of Being a Wallflower. Director James Ponsoldt and (500) Days of Summer scribes Scott Neustadter and Michael H. Weber (adapting Tim Tharp's novel) beautifully capture the insecurities and ill-advised decisions frequently made by teenagers, and they never allow any of the kids or adults to descend into caricature. But a late-inning incident — the movie's only melodramatic misstep — leads to a curiously rushed final act, one which shortchanges the characters, skips key developments and leaves an unsettling and unsatisfying feeling regarding what transpired. Even the hanging chad of an ambiguous final shot worked better in the service of other 2013 efforts that struck a similar pose right before the credits rolled (The Hunt, Trance, etc.).
Still, The Spectacular Now has so much going for it that skipping it is not an option. And among its many strengths, the most impressive one is the subtle way the filmmakers build upon Sutter's drinking throughout the picture, slowly revealing him not as a fun-loving kid but as a damaged individual just a few years away from becoming an alcoholic. It's not the sort of narrative spin found in high school or college flicks, and it's all the more powerful for not being preachy or sentimental. I headed into The Spectacular Now expecting to see a movie like Sixteen Candles and was stunned when I got a prequel to Days of Wine and Roses instead.