Nearly 300 people showed up to hear Rep. John Lewis, a congressman out of Georgia, speak yesterday at a park in west Charlotte named after Martin Luther King, Jr., with whom Lewis once marched as he did following yesterday's speech.
Lewis was in town to hold a "March to the Polls" campaign event in support of Hillary Clinton. He stood alongside local politicians like U.S. Rep. Alma Adams and N.C. Rep. Carla Cunningham, and listened as others spoke before him. Those speakers included Autumn Alston, a Charlotte native who has been campaigning for Hillary since early in her campaign, and Brittany Packnett, an organizer known for her work during the Ferguson protests who now works with Campaign Zero, an organization of activists who aim to affect policies related to police violence at all levels of government. Packnett announced her endorsement of Clinton about two weeks ago.
Following those two speakers, Lewis addressed the crowd and spoke about his past experiences marching with Dr. King in Selma in 1965 and being beaten in a whites-only waiting room during a sit-in in Rock Hill, South Carolina in 1961. He compared that time to now, implying comparisons between Republican presidential candidate Donald Trump and George Wallace, who served as governor of Alabama during the Civil Rights era.
"That person on the other side reminds me of another era," Lewis told the crowd. "We had a governor in the South; he didn't pull the trigger, he didn't throw the bomb, but he created the climate for other people to do it. When you have people burning churches, when you have a candidate supported by the Klan … I don't want to see that again."
Following his speech, Lewis led a nearly mile-long march through the Enderly Park neighborhood to a polling place at the Bette Rae Thomas Recreation Center. Neighbors looked on as the march stretched a half-mile down the sidewalks of Parkway Avenue.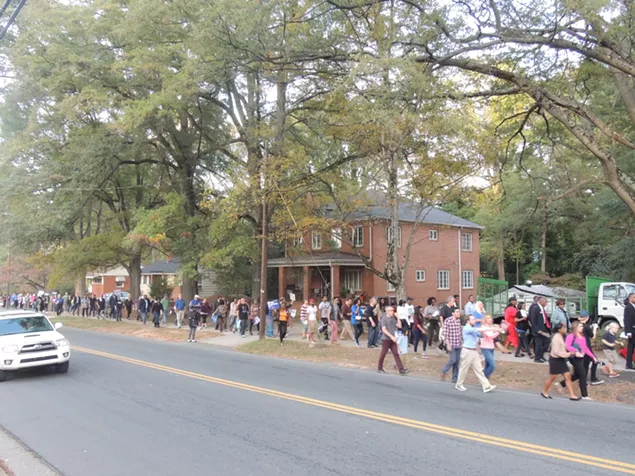 Ryan Pitkin
The "March to the Polls" on Parkway Avenue in west Charlotte.
Once at the rec center, some went inside to vote while Lewis led a chant and took pictures outside. Outside the early voting site, Creative Loafing spoke with Packnett about her late decision to endorse and campaign for Clinton at a time when many involved with the Movement for Black Lives have either been on the fence about supporting a candidate or have altogether shunned both.
Packnett cited past meetings between Clinton and members of Campaign Zero, emphasizing that she and others in the group have pushed her to answer for past positions that make it hard for some in the movement to support Clinton, such as the 1994 Crime Bill signed into law by her husband, then-President Bill Clinton.
"An endorsement two-and-a-half weeks out is unheard of, but it genuinely took me that long to make this decision, not because I was playing around but because our votes are really valuable," Packnett said. "So I wanted to take my time and use the access that I've been privileged with directly to her to push her on certain issues. We've seen some of those commitments come out in the criminal justice platform."
Packnett believes a Clinton administration will allow organizations like Campaign Zero to continue their work to inform government policy, and noted that Clinton's opponent represents a dangerous contrast to that possibility.
Ryan Pitkin
Brittany Packnett speaks during Tuesday's Hillary campaign rally.
"For me, this is not about being 100 percent aligned with her, this is not about her being a perfect candidate, this is not about a denial of past failures. What it is about is recognizing that we simultaneously have one particularly dangerous candidate who can set us very far back. It is also about building power in the way that [voting rights activist and civil rights leader] Fannie Lou Hamer talked about it, and showing up and engaging in a system that is absolutely imperfect, but one that we need to continue to work on in terms of how things relate to us now."
While other well-known activists who work with Campaign Zero, such as Deray McKesson, have endorsed Clinton, Packnett made it clear her choice was personal and not representative of any organization. She believes that every person should make that decision on their own.
Homemade yard signs dotted the route of yesterday's march, none of which advertising for candidates but instead sending messages that read, "Embrace Your Neighbor," "Strong Community" and "This House Supports the Uprising." Packnett recognized the work that's been done by organizers in Charlotte, especially during the Charlotte Uprising, during which she said she came to Charlotte to speak with activists and educators.
"I definitely don't want to enter people's space without recognizing there's been a lot of work that's been happening on the ground, and I've just been listening to people," Packnett said following yesterday's march to the poll. "I talked to some young brothers on the walk up here, just like, 'How are you feeling about this? What are your friends saying? What are the biggest challenges? What do you want to see after November 8?' Making sure again that if I am able to maintain access alongside many others, how are we helping to elevate these voices."
For Charlotte activist Ashley Williams, a core organizer with Charlotte Uprising, the non-choice is clear when it comes to the presidential election. Williams made national headlines in February when they disrupted a private Clinton fundraising event in Charleston, standing in front of Clinton with a banner asking her to answer for her "super predator" comments of the past.
Williams remains steadfast in their decision to vote for neither Trump nor Hillary, and says they will continue to focus on organizing. Neither Williams nor Charlotte Uprising as an organization will be making an endorsement this year, they said. Williams said they respect Packnett's personal endorsement and believe it shows how the movement is not an umbrella under which everyone agrees.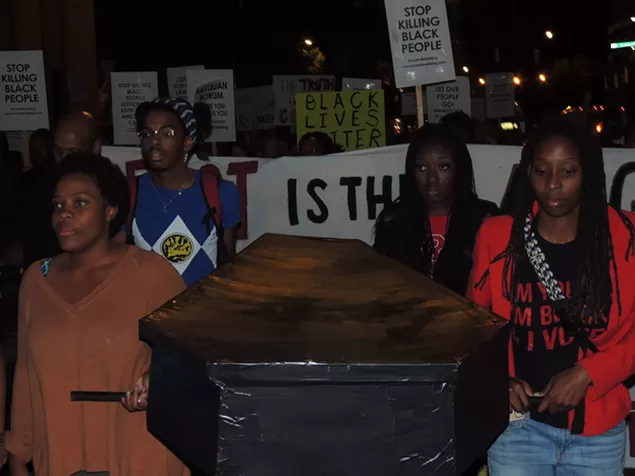 Ryan Pitkin
Ashley Williams, left, said the priority of Charlotte Uprising will be to organize, before and after the election.
"The Movement for Black Lives is not going to be monolithic. So everybody is going to have different ideas about everything, which is great," Williams said. "I personally think that us not endorsing anyone is the right decision. I think that when we do endorse folks, it confuses people because we say we're not monolithic. I also acknowledge how people need to be able to make choices for themselves and for their communities, so I respect that."
Williams said that while they won't be casting a presidential vote, they still hope folks don't take that to mean they shouldn't vote, which is what they've heard from many in their age group.
"I don't think folks should vote for Hillary or Trump and instead focus on their local elections," Williams said. "In North Carolina, we have a really interesting situation here where we know that folks under the age of 35 are going to determine if Pat McCrory wins again, and these are also the folks who are saying they're not trying to vote at all because of who is running for president. So in a normal election, in the way that a presidential election is what makes everyone come out, it's not doing that this year.
"So as an organizer I have to focus on organizing and giving folks other options than voting. That's what people really want right now," Williams said. "I think people want to vote too, but they want a political way to participate that doesn't look like voting. I hope that the Movement for Black Lives can continue to give people that."