The year 2006, at long last, is dead. Long live 2007! (Or, at least live ... er ... one year.)
So what does the new year have in store for the citizens of Charlotte? Only the higher power of your choice and maybe a few psychics know what's going happen this year for sure. But despite our lack of clairvoyant abilities, we -- the fine folks at Creative Loafing -- decided to try our hands at precognition and predict who and what will be big in the Q.C. for 2007. Our predictions run the gamut -- from the arts to politics to music and more.
Come 2008, of course, you may find we were dead wrong about every damn pick. But, hey, our predictions cost you less than those pesky 900 numbers. So, just read on and enjoy.
Jermaine Nakia Lee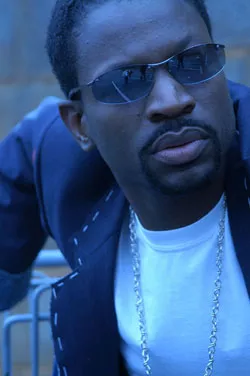 Jermaine Nakia Lee, president/founder of Carolinas Black Pride Movement
Where will 2007 find Jermaine Nakia Lee? Anywhere he wants. The founder/president of the Carolinas Black Pride Movement isn't about to stop, not after the grand debut of his BlackOut 2006 in September and its subsequent encore in October. The "theater event" showcasing the Harlem Renaissance from a gay/lesbian perspective was a major coup for Charlotte's GLBT and artistic communities. But, Lee will easily top his own success with the even bigger Black Gay Pride celebration he has scheduled and lots more in store from Motif Entertainment, his production company.
-- Branna Calloway
Charlotte's Korean Community
The Koreans are coming! The Koreans are coming!
You might want to pick up on some key hanguk phrases soon because Koreans will be making an impact this year. According to Joseph Yi, president of the Korean Association of Charlotte, the number of Koreans in the area is growing steadily. "Ten years ago, the Korean population was about 2,000 to 2,500. It's grown to about 5,000 to 6,000 now," he says.
While the population hasn't increased as fast as cities like Dallas and Los Angeles, Yi says Koreans are attracted to Charlotte because of the cheaper cost of living, the opportunity to start successful small businesses and the ability to raise their kids in a good environment.
For first-generation Koreans (those who were born in South Korea and moved to the United States), it's all about being able to give their kids the best of everything -- including education. "They put more effort into raising their kids than any other group of people," says Yi. "First priority is education. That drives everything. Koreans work 12-14 hours a day easily. They don't mind [working hard] for their kids."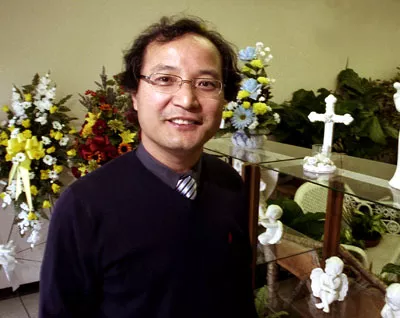 Joseph Yi, president of Korean Association of Charlotte
That being said, Charlotte will most likely begin to see more of these second-generation Koreans (those who were raised in the States) contribute to the economy through professional fields. Flipping through the pages of The Asian Herald, it's not strange to see advertisements by Korean doctors, dentists and CPAs, which may not have been the case 10 years ago.
To keep up with the growing population, the Korean Association has many activities and projects planned for 2007, including two picnics to support the Korean Seniors Association, a Korean festival where Yi expects at least 600 people to attend, and a math camp at UNC Charlotte for high school students. He's also working to get a "Welcome" sign in Korean erected in Charlotte-Douglas International Airport and hopes to get the driver's license test printed in a more accurate Korean language.
With all of these plans underway and the steady rise in population numbers, ahn young ha say yuh ("hello" in Korean) might go a long way.
-- Kimberly Lawson
H.E.L.P.
Since 2001, when this grassroots community group lobbied unsuccessfully for a $9-per-hour minimum wage for city workers, Helping Empower Local People has been operating mostly behind the scenes. But in 2007, look for H.E.L.P. to play a larger role in city affairs -- whether it's protesting absentee landlords or advocating for elder care issues. "We would want to be more visible than we have been," says Chris Bishop, H.E.L.P.'s lead organizer in Charlotte.
Modeled after the techniques of famed community organizer Saul Alinsky, H.E.L.P. has grown to 50 congregations and organizations, whose members and congregants total 75,000 people in Mecklenburg County. Multiracial and multigenerational, its church- and community-based structure is generally liberal but nonpartisan. At an October meeting of more than 500 people, H.E.L.P. members sought pledges from Mayor Pro Tempore Susan Burgess and City Councilman Anthony Foxx, both Democrats, as well as U.S. Rep. Robin Hayes, a Republican.
Bishop says in 2007 the group will focus on three main concerns: neighborhood blight, youth opportunities and elder care issues. In December, H.E.L.P. members walked parts of Grier Heights to show Burgess and Foxx (both are members of the council's Housing and Neighborhood Development Committee) how boarded-up homes and neglected rental properties are hurting the East Charlotte neighborhood. That's not the only neighborhood H.E.L.P. is concerned about, Bishop says, citing Belmont, Hidden Valley, University Park and other neighborhoods with H.E.L.P. member congregations as examples.
Bishop says the organization also has concerns about treatment and services for senior citizens. Last year brought Charlotte several high-profile tragedies at area nursing homes. In one example, a 66-year-old Alzheimer's patient went missing for four days in June before nursing home employees found her in a storage area not far from her room at Liberty Nursing and Rehabilitation. The patient, Mary Hicks Cole, died; her family has sued.
Bishop says the group needs to research elder care issues and develop relationships with key leaders such as state Rep. Beverly Earle, who is co-chairwoman of the N.C. Study Commission on Aging. "We've got to begin to get that issue more attention," Bishop says.
-- Karen Shugart
Jennifer Roberts
Jennifer Roberts, chairwoman of the Mecklenburg County Commission
In a county where ascending politicians wait politely in line for years for their chance at leadership, Jennifer Roberts is breaking all the rules and turning a few heads.
Two years ago, no one gave Roberts much of a chance of winning an at-large county commission seat. Established politicians often fail to capture highly competitive at-large seats, and Roberts was a political unknown running against those established politicians.
Roberts not only won that race, but came in first in her second at-large race in 2006, topping the vote total of even long-time commissioner Parks Helms, who for years came in thousands of votes ahead of his nearest opponent -- and until November was the county's most popular politician. Roberts put an end to that with a well-organized campaign, and her colleagues recently elected her chairwoman of the commission, the first time a woman has ever held that position.
As chairwoman of the commission, she also leads the Metropolitan Planning Commission, which governs light rail and mass transit projects for the county; this position will make her a powerful player in local politics as leaders from different parts of the city and county fight for mass transit dollars and mass transit projects that can change the face of their areas.
In her new roles, Roberts has a chance to rewrite how the county is governed. She's already doing that by reaching out to booming parts of the county that previous Democratic leaders have shunned, like University City, home to young up-and-coming politicians of both political stripes. What will she do next? What changes will she make? In a county that has grown politically stale, Roberts is a fresh new face to watch.
-- Tara Servatius
Soulganic
Soulganic, formerly known as Organic Soul, is now officially Charlotte's finest neo-soul outfit. Led by sweet-voiced front man and co-musical director Anthony Rodriguez, the quartet also features funky drummer Cory McClure, classically trained guitarist Ryan McKeithan, and master percussionist Lucas Torres. Rodriguez, a native of the "Boogiedown" Bronx, seamlessly juggles his partners' collective range of diverse influences -- from Dizzy Gillespie and Tito Puente to Santana, Stevie Wonder and Maxwell -- as is made clear by tracks on the group's MySpace page: myspace.com/organicsoulmusic.
Buoyed by the fiery percussion of studio vet Torres, Soulganic has triumphed at such local venues as Spirit Square, NoDa's Wine Up, the Evening Muse and the SK Net Cafe, swaying audiences with its funky fusion and a true falsetto of the kind rarely heard since the 1970s heyday of Al Green, Philip Bailey and the Chi-Lites. Music writers can easily fall prey to hype and exercise their jones to forecast futures that no one can truly predict, yet anyone witnessing one of Soulganic's live shows would be enthusiastically inclined to foretell great things to come for this group. As long as they keep striving for higher levels of creativity and take it to the stage, it should be so.
Soulganic's R&B/funk/jazz with a Latin twist certainly impacted the way Charlotteans got their groove on in '06. Accolades followed from this paper, the Observer and SOTAC, among other sources. And now all looks very bright for the group in 2007.
They will kick off the New Year with verve at the Neighborhood Theatre on Jan. 6, opening for their friends Audioform. This hot event will be followed by Soulganic's official listening party at Club Tempo on Jan. 26, which features a live performance by the band. (Check with that week's See & Do calendar for details.)
If you've missed their act thus far, be sure to get on out and witness why Creative Loafing voted Soulganic as its '06 Best New Band. Then, look out for the group's as-yet-untitled new release in March. It will indeed be "organic soul" at its best.
-- Kandia Crazy Horse
Heroes Aren't Hard to Find Annual Comic book Convention
Admit it. You love inner monologues expressed in thought bubbles.
If you were a comic book character, the mere mention of the Heroes Aren't Hard to Find Convention (Heroes Con to those in the know) would elicit musing wonderment and multiple exclamation points in your excited word balloons. Because Heroes Con is THE event for anyone who ever glanced at a cover of Spider-Man and thought, "Cool!" So start sewing your favorite super hero costume now, and practicing those witty, snarky, come-backs to spew at your villain (or hero, if you feel like crossing over to the dark side) of choice. This year is going to be big. And we mean big.
Last year, fans lined up to gawk at Rosario Dawson, drool over Adam Hughes' (of Wonder Woman and Tomb Raider fame) artwork, and spend their hard-earned dough on piles of comics and merchandise. With rows of vendors, art auctions, signings, gaming tournaments and playing "name that superhero" while people-watching costumed patrons, we predict that Heroes Con is going to outdo itself in 2007.
Run by Heroes Aren't Hard to Find store owner Shelton Drum, with the help of dedicated employees and many volunteers, Heroes Con was the second event held at the new convention center and is one of the best comic cons in the nation. Visiting the Heroes Aren't Hard to Find Web site (www.heroesonline.com) reveals that Drum and crew are already planning for the event, which will take place Father's Day weekend, June 15-17. (A great place to take Dad for a little bonding time!)
If the thought of a Cyclops, Emma Frost and Phoenix love triangle gets you excited, (or hell, if you even know who those particular X-Men are) take note. You'll be there, and it'll be big.
-- Natalie Howard
Elise Wilkinson and Stan Peal
Elise Wilkinson and her new Collaborative Arts company continues to explore new vistas and venues in its second season. In March, they turn on the power at Spirit Square, bringing Steven Dietz's Fiction to Duke Power Theatre. It's Collaborative's first drama as we find out what happens when a husband and wife decide to read each others' diaries. Shrewd idea, right? Laurie Riffe makes her Charlotte directorial debut while Wilkinson, who recently directed Riffe in Bad Dates, returns to the spotlight as the mysterious "other" woman, wedging between Joe Copley and Sheila Snow Proctor as the husband and wife. Moon worshippers will then be glad to learn that Shakespeare at the Green will return for a second year, Wednesdays through Sundays, May 31-June 17. Warmer weather with our pentameters! But of course, the play's the thing, and when Collaborative selects it, we're told it will be either Julius Caesar, Twelfth Night, or As You Like It.
Stan Peal is promising that his Epic Arts Repertory Company will deliver its biggest production ever, a remount -- and rewrite -- of his own Goddess and the Magdalene. Peal first presented the work in 2001 in Minneapolis, before he and his actress wife, Laura Depta, lit up the Queen City with their multi-talents. He's bringing director Lon Bumgarner aboard for the project, reuniting the creative team that brought us The Friar & the Nurse back in 2003. Peal and Depta will be onstage again July 12-28 at the Actor's Theatre of Charlotte.
But they plan to cement their image as solstice people in June with a Summer Solstice fundraising event, no doubt mixed with the mummery and drummery that characterized the Mad Mad Madrigal of yore. Come December, Peal and Depta plan to bring the black magic of Mad Mad back to a location yet to be determined. "With just a few new twists and turns," says Peal, "to keep it as fresh as a Krispy Kreme."
-- Perry Tannenbaum
Adam Morrison
AP/Jeff Roberson
Adam Morrison
Adam Morrison has the great distinction of being the first Charlotte Bobcat player selected by Michael Jordan, B-ball legend and manager of the Bobcat's basketball operations. With this simple gesture, "His Airness" proclaims that the diabetic, moustache-sporting rookie has a lot to offer this young franchise. A fairly accurate assertion if you note the record Morrison brought with him from three years at Gonzaga University: West Coast Conference's All-Freshman first team, All-WCC first team as a sophomore, U.S. Basketball Writers Association Co-Player of the Year and the 2006 Chevrolet Player of the Year his junior year. Not to mention his ruthlessness on the floor; his ability to get into other players' heads to either inspire, destroy or create a game winning shot for himself; and that old-school style of play that's reminiscent of Larry Bird, a comparison he's often had to shrug. Whatever part of Adam Morrison's game you're watching, one thing is for certain: he's here to win -- and don't make the mistake of getting in his way.
-- Branna Calloway
Main Street Rag
Charlotte has a secret. While the mainstream may only know us for our Panthers and banking, there is an intelligent underground in town that gets overlooked in the mega-sports haze. You may not have heard of Main Street Rag, but it is one of the few literary publishing companies in the Queen City. While most readers tend to ignore anything that isn't recommended by Oprah, Main Street Rag is daring to publish the poetry, short fiction, essays and cartoons that aren't the going to be in paperback next to the magazines at Wal-Mart any time soon.
The South has always been home to gutsy, earthy, and risqué writers, a tradition that struggles to continue today. Main Street Rag gives the future Faulkners of Charlotte a voice and puts us on the literary map, as authors from all over the world send in submissions to MSR. Publisher M. Scott Douglas releases the magazine Main Street Rag in several large chain stores across the nation (such as Books-a-Million and Borders), and several local independent bookstores (like Park Road Books).
If you are looking for a printing press for that novel you wrote one steamy summer on the coast, Main Street Rag is also a bindery, and can aid writers seeking to distribute their next great American novel. Main Street Rag is featured in the Poet's Market, (a valuable resource for aspiring writers) and accepts submissions for short literary works from freelance writers, as well as photography and artwork. (Guidelines for submissions are available at www.mainstreetrag.com.)
With a poetry contest offering a prize of $500 and publication in May, and a worldwide contest for best book at the end of January (better start writing!), expect big things from this little rag in 2007.
-- Natalie Howard
Don't trust us? Check here for some real predictions.