When Ku Klux Klan members and neo-Nazis joined forces for a rally at a Knoxville, Tenn., park on May 26, 2007, they were greeted with a humorous spectacle by activists known as the Coup Clutz Clowns. As "white power" chants echoed from the mouths of the cold-hearted supremacists, a calm and tolerant opposition responded with calls for "white flour" and "white flowers" while happily flaunting suitable props.
That peaceful confrontation was an inspiration to musician, activist, motivational speaker and author David LaMotte. After hearing of the incident, he began writing a poem about it, in a style reminiscent of Dr. Seuss. LaMotte read it at concerts for four years before deciding it had a literary future.
The result is White Flour, his whimsical, self-published children's book released last month on the five-year anniversary of the demonstration. LaMotte will sign and read from the book at his June 17 show at the Evening Muse.
Illustrated by Jenn Hales, White Flour recounts the CCC's alternative approach to bigotry confrontation. It targets middle school-aged children familiar with civil rights history and present-day prejudices.
"I think it's really important for kids that are being exposed to violence to understand that there are various options for how we can respond," says LaMotte. "It's not just fight or flight. I firmly believe that the best option is often neither one of those. This is a core idea of peace work. Nonviolent resistance in particular teaches us that actually the best option is often to be more creative than either fighting or running away. And I think that's what happened in this story."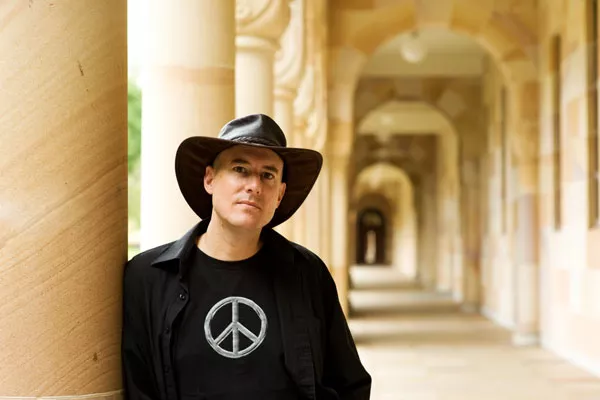 LaMotte, who currently lives in Chapel Hill, admits to creatively embellishing minor details in the book. For example, the supremacists, who are pictured wearing traditional KKK garb in the book, were actually in everyday attire at the event.
"We depicted them this way because it's a visual shorthand for racist," says LaMotte. "It was useful in telling the story to do it that way. I should clarify, though, that in the back of the book, there's a clear description about what really happened that day. I'm not trying to misrepresent what happened in any way, but this is a piece of art based on fact and we did take some liberties in order to tell the story well."
The book was funded by a Kickstarter campaign, which began in March to raise $18,500 to be used for the production of 2,500 copies. After 12 days passed and all the money was raised, LaMotte decided to up production to 10,000 copies and hire a national publicist for the project. By the end of the month, a whopping 204 percent of goal was reached, for a total of $37,000.
"It's been an amazing thing to watch it take off," says LaMotte, who is currently working on another book tentatively titled World Changing 101: Challenging the Myth of Powerlessness.
"What really changes society, what really shifts things is movement," he continues. "I think we tend to feel powerless a lot of the time partly because we don't see ourselves as heroes. The civil rights movement didn't happen because Dr. Martin Luther King, Jr. went and fixed everything. It happened because Dr. King inspired people to make small changes and people made those changes. It's not naïve to think you can make a change. It's naïve to think you can't make a change. Our small efforts really do matter."
David LaMotte will perform a short concert and hold a book signing at 2 p.m. June 17 at The Evening Muse, 3227 N. Davidson St. Cost is $20 in advance (includes a copy of the book). www.theeveningmuse.com.