THE PIRATES! BAND OF MISFITS
**1/2
DIRECTED BY
Peter Lord & Jeff Newitt
STARS
Hugh Grant, Martin Freeman
A different sort of booty call can be found in The Pirates! Band of Misfits, which sails the rough waters of a genre that's recently been overexposed due to at least one Pirates of the Caribbean sequel too many.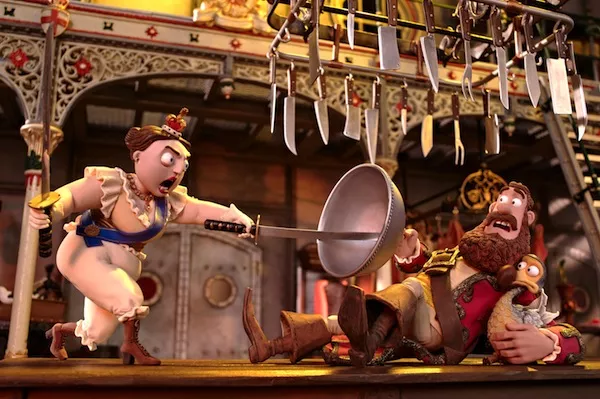 V FOR VICTORIA: The Queen kicks booty in The Pirates! Band of Misfits.
The latest effort from Aardman Animations, the outfit responsible for Chicken Run, Arthur Christmas and the wonderful Wallace & Gromit canon, this rollicking yarn feels far more conventional than the studio's previous efforts, trafficking in the same sorts of themes that have been the bread and butter of Disney for decades and every other studio's toon department in more recent times. The story concerns the efforts of the Pirate Captain (voiced by Hugh Grant) to show that he deserves the title of Pirate of the Year, awarded to the seafaring scoundrel who accumulates the largest amount of loot. While such true terrors of the sea as Black Bellamy (Jeremy Piven) and Cutlass Liz (Salma Hayek) laugh at him, the hapless Pirate Captain tries his best to plunder and pillage, to no avail. It's only after he becomes involved with the duplicitous Charles Darwin (David Tennant), a scientist who realizes the value of the captain's pet Dodo bird, that matters begin to swing his way, at least temporarily.
The eye-pleasing claymation style revitalized by the studio remains front and center — the CGI work is mainly relegated to the background, literally (mostly for skies and other backdrops to the primary action) — and the film boasts an unusual villain in Queen Victoria (Imelda Staunton), who loathes pirates and can hold her own in hand-to-hand combat (who knew?). But the other characters are a rather blasé bunch (including the Pirate Captain's right-hand man, blandly characterized by Martin Freeman), and the usage of the tattered themes of family, loyalty and being happy with oneself is shockingly rote — the result, perhaps, of using existing source material (novels by Gideon Defoe, who also wrote the script) rather than employing the usual Aardman practice of building a work from scratch (where the filmmakers have never been held back by any narrative constraints).
The Pirates! Band of Misfits fares OK against most modern toon flicks but pales next to other Aardman releases. How a person chooses to rate its success depends on whether one looks at a glass of water and views it as half-full or half-empty.