It promised to be the most exciting Oscar race in years. Instead, it turned out to be nothing but a tease.
Before the nominations were announced last week for the 85th Annual Academy Awards, there was speculation that this could be a rare four-horse race for the Best Picture Oscar rather than a contest that was settled since Day One (as were the last two, when everyone knew that The King's Speech and The Artist would prevail). While most of us tagged Lincoln as the front-runner, the strong showing of Zero Dark Thirty from the critics' groups positioned it as a formidable challenger. Argo represented a possible dark-horse choice — it also did well with the critics and was a safe pick if backlash downed the other candidates — while the splashy musical Les Miserables tapped the populist vote.
But then, in the span of just a few minutes, it was all over.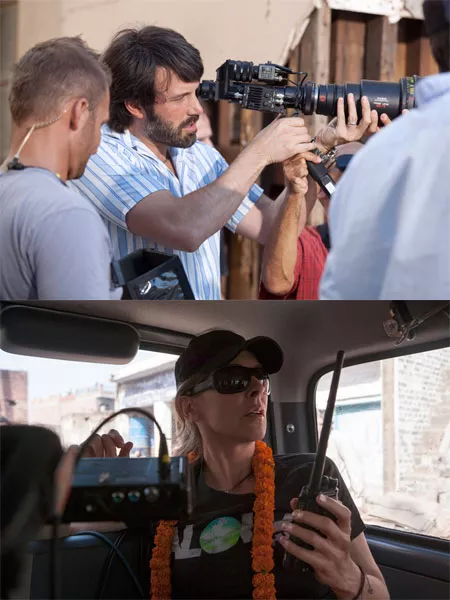 POLITICS AS USUAL: Argo director Ben Affleck (above) and Zero Dark Thirty helmer Kathryn Bigelow might have missed out on Oscar nominations for unfair reasons. (Argo: Warner; Zero Dark Thirty: Columbia)
When the nominations were announced, it was the Best Director category that yielded the most shocks. Zero's Kathryn Bigelow and Argo's Ben Affleck, considered locks by almost everyone, were overlooked, as was Les Miserables helmer Tom Hooper. And there, left standing in the clearing, all alone and suddenly with his serious rivals silenced, was Lincoln's Steven Spielberg. Since it's practically impossible for a movie to win Best Picture without its director also being nominated, that means Lincoln now has a clear path to the top Oscars — and Oscar watchers are left with another predictable outcome. Sure, there might be a spoiler lurking in the wings — maybe Life of Pi, which next to Lincoln scored the most nominations, or maybe even still Argo, which since the Oscar nominations won Best Picture at both the Golden Globes and Critics Choice Awards — but the general consensus is that this contest is now signed, sealed and delivered.
Here, then, are some other musings about this year's slate.
Low Points
• No Best Director nominations for Bigelow or Affleck. Sure, this was mentioned above, but it requires further edification. Affleck was probably overlooked since a jealous directors' branch probably doesn't cotton to this youngster trying to break into their ranks (it took a few years before the group finally accepted the likes of Spielberg, Ang Lee and Ron Howard), but the Bigelow snub is more troubling. True, they already gave her an Oscar for The Hurt Locker a couple of years ago, but because of that, this boys' club (only four women have ever been nominated in this category, and Bigelow was the lone American) felt it could go back to dude-centered business as usual. And while this branch doesn't generally shy away from controversy — it provided movies like The Last Temptation of Christ and Blue Velvet with their sole nods — it's possible its members elected to punish Bigelow for all this nonsensical pro-torture talk (although, tellingly, male scripter Mark Boal did receive a nomination).
Ezra Miller deserved a Best Supporting Actor nomination for The Perks of Being a Wallflower. (Summit Entertainment)
• The Best Supporting Actor roster. As Seth MacFarlane and Emma Stone pointed out when announcing the nominees, all five are previous winners. ("Breath of fresh air in that category!" quipped MacFarlane.) There's nothing wrong with that if all were worthy, but the nods for Argo's Alan Arkin, Silver Linings Playbook's Robert De Niro and even Lincoln's Tommy Lee Jones were instances of coasting on familiarity. Left out was 19-year-old Ezra Miller, whose work in The Perks of Being a Wallflower was the best supporting male performance I saw in 2012.
• No Best Actor nomination for John Hawkes in The Sessions. A previous nominee for his supporting work in Winter's Bone, Hawkes seemed likely to make the cut for his excellent turn as real-life paraplegic Mark O'Brien (who passed away in 1999). What makes Hawkes' omission more unfortunate is that his co-star Helen Hunt was recognized in the supporting ranks for her comparatively pedestrian performance.
• No Best Original Score nomination for Beasts of the Southern Wild. The year's most acclaimed soundtrack failed to make the cut, although I personally never expected the octogenarians in this notoriously cliquish branch to recognize it. But of course, they rewarded John Williams yet again: His score for Lincoln marks his 48th nomination.
• The Best Makeup nomination for Hitchcock. Well, at least they resisted Lincoln's sideburns. But Anthony Hopkins looked more like character actor Thayer David than he did director Alfred Hitchcock. Besides, as my wife joked on Facebook, "I can stuff a pillow in Anthony Hopkins' suit, too! Give me an Oscar!"
Highlights
• The Best Picture lineup. While the directors branch dropped the ball, the Academy as a whole did a solid job in singling out the best of the year. Seven of the nine contenders are included in my own Top 20 list, while the other two, Lincoln and Les Miserables, are perfectly respectable movies with sizable fan bases.
Emmanuelle Riva is up for Best Actress for Amour. (Sony Pictures Classics)
• The Best Actress lineup. From 9-year-old Quvenzhane Wallis (Beasts of the Southern Wild) to 85-year-old Emmanuelle Riva (Amour) — and with Jessica Chastain (Zero Dark Thirty), Jennifer Lawrence (Silver Linings Playbook) and Naomi Watts (The Impossible) in between — all five performances are outstanding. The field was so rich this year that contenders like Rust and Bone's Marion Cotillard, The Deep Blue Sea's Rachel Weisz and Anna Karenina's Keira Knightley were left on the outside.
• The Best Documentary Feature nominations for Searching for Sugar Man and The Invisible War. Well done, Academy.
• The lack of a Best Foreign Language Film nod for The Intouchables. This French import isn't a bad movie, but it's nevertheless the sort of mindless, feel-good dribble that not only often pushes out better works but goes on to win the statue. Surprisingly, the Academy ignored it altogether.
• Only three technical nods for The Hobbit: An Unexpected Journey. Look, I enjoyed the film to the tune of a soft 3 stars, but considering Peter Jackson's The Lord of the Rings trilogy received a total of 30 nominations and 17 wins, I say enough already.
Other Thoughts
• The best-dressed movie character of the year? Snow White. Interestingly, both 2012 releases centering on the fairy-tale heroine — Snow White and the Huntsman and Mirror Mirror — earned nominations for Best Costume Design. Huntsman also received an additional nod for Best Visual Effects.
SHORT AND SWEET: Paperman landed a deserved nomination for Best Animated Short. (Disney)
• While The Simpsons Movie notably failed to earn a Best Animated Feature nomination in the 2007 race, Maggie Simpson in The Longest Daycare managed to snag a Best Animated Short nod this year. The toon was shown theatrically before Ice Age: Continental Drift. Another nominee in this category, the delightful Paperman, preceded Wreck-It Ralph (itself a Best Animated Feature nominee) during its theatrical engagement.
• As one of the producers of the Best Picture nominee Argo, George Clooney joins Warren Beatty as the only two people to have earned Oscar nominations as actor, director, writer and producer. That's pretty damn impressive for someone whose early screen credits include Return of the Killer Tomatoes! and Grizzly II.
• Superhero films fared almost as poorly with the Oscars as they did last year, when all four releases in this genre scored a total of zero nominations. This year, The Avengers managed to snag a solitary nod for Best Visual Effects, but The Dark Knight Rises and The Amazing Spider-Man were shut out. On the other hand, James Bond, a superhero in his own right, found his latest vehicle, Skyfall, earning five nominations, topping the previous 007 record of three for 1977's The Spy Who Loved Me. Nobody does it better, indeed.
THE SCOREBOARD
OSCAR'S 9 BEST
These were the movies nominated by the Academy for Best Picture of 2012.
1. Lincoln (12 nominations)
2. Life of Pi (11)
3. Silver Linings Playbook (8)
4. Les Miserables (8)
5. Argo (7)
6. Amour (5)
7. Zero Dark Thirty (5)
8. Django Unchained (5)
9. Beasts of the Southern Wild (4)
CRITICS' 5 BEST
Based on a national sampling of 652 critics, these were the films that appeared the most frequently on critics' 10 Best lists.
1. Zero Dark Thirty
2. Moonrise Kingdom
3. The Master 4. Argo
5. Lincoln
(Source: www.criticstop10.com)
BRUNSON'S 5 BEST
These were my picks for the year's best movies.
1. Argo
2. Zero Dark Thirty
3. Silver Linings Playbook
4. The Queen of Versailles
5. Searching for Sugar Man
(To see Matt Brunson's lists of the Best & Worst Movies of 2012, go here.)
MOVIEGOERS' 5 BEST
These were the year's biggest moneymaking releases.
1. The Avengers
2. The Dark Knight Rises
3. The Hunger Games
4. Skyfall
5. The Twilight Saga: Breaking Dawn - Part 2
(Source: www.boxofficemojo.com)
...AND THE WORST
Based on cumulative scores, these were the biggest turkeys.
1. A Thousand Words
2. Last Ounce of Courage
3. Playing for Keeps
4. The Apparition
5. Silent Hill: Revelation
(Source: www.rottentomatoes.com)