Isaac Payne, Chris Watts and Antoine Williams are accomplished young artists who incorporate elements of nostalgia — both false and heartfelt — into their work, as they speculate on how popular culture and the built environment shape and warp us. In two shows at Central Piedmont Community College's Ross Galleries, they explore the complexities and contradictions of contemporary life.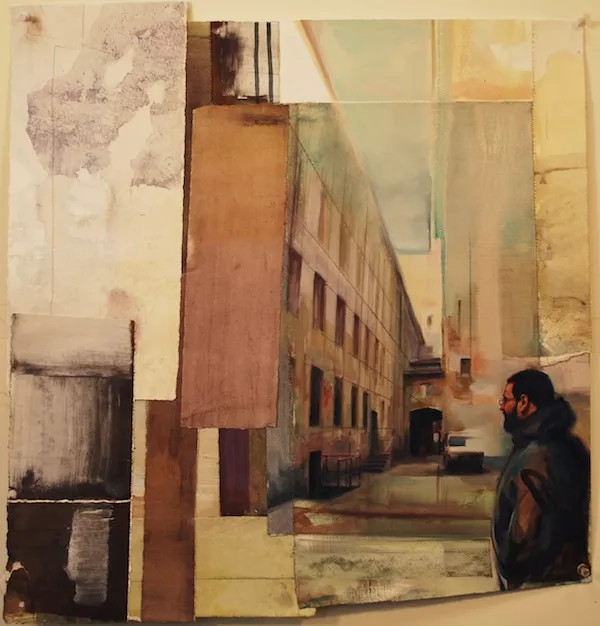 "Passages" by Isaac Payne
After Payne and Watts learned they were being paired for a two-artist show, Watts suggested collaborating. For Interactive Landscapes, each contributed several pieces and worked jointly on another four.
Payne is attracted to what he calls "the inevitability of architecture," the way buildings acquire character over time. In his paintings, which examine our estrangement from the natural world, large buildings dwarf anonymous figures. He begins these paintings by piecing together papers and staining them with ink, yielding collaged surfaces that echo the lines of buildings and the energy of urban spaces.
The finished works, with their restrained colors and rigorous execution, are stunning. The titles are resolutely plain — "Stroller," "Scaffolding," "Passages" — as if Payne doesn't want to intrude on the viewer's experience.
"Untitled" by Chris Watts
Watts' work is motivated in part by a yearning for "that middle ground between being accepted by the black community and being myself." He is omnivorous in his exploration of different materials and styles, but his work is deeply consistent — it is pensive, with figures and backgrounds that often bleed into one another. He frequently uses idealized images of heroes and celebrities from publications like Ebony, Jet and LIFE as his starting point.
In "LAD, OPS-S, $, KS (Self Portrait)," he stands next to Muhammad Ali; they have similar facial expressions, but Ali is confident and Watts is tentative, chagrined. "Emotional Content," a work on canvas, is an abstracted depiction of a nuclear detonation. An untitled image of a young girl, a transfer on a sheet of found paper, is tender.
The collaborations range from spare to elaborate. Deceptively simple, "Outside of Itself (Blue and Black)" and "Walking with Ghosts" are introspective pieces dominated by the poured ink surfaces that both artists use; "Ghosts" has Watts' characteristic photo-transfer figures. "Sunny Day Inn" is dense with buildings, aggressively collaged elements, and the intimation of a narrative. The exhibition ends with "False Hope," in which Watts' 1950s-era family looks down from the cosmos at Payne's gloomy figures massed on the street below.
With Payne and Watts, there is a rich and measured exchange of ideas. But walk into the adjoining gallery, and all hell breaks loose.
"The Problems We Live With" by Antoine Williams
Antoine Williams' paintings are every bit as informed as the work of Payne and Watts, but the emotion is unrestrained.
The exhibition's title, The People Under the Stairs, is inspired by the eponymous underground hip-hop duo and the Wes Craven film — both of which, in their own ways, were forgotten or insufficiently acknowledged.
Williams' paintings employ vivid colors, confrontational figures, and lush surfaces. Snaking through many of them is a sinuous line, usually red, that is both a decorative flourish and filled with meaning, alternately uniting and entrapping.
"The Problems We Live With" is a sharp, unsentimental update of Norman Rockwell's famous painting of a little girl being escorted by the National Guard, as she is about to integrate an all-white school. Williams' version is rife with ambiguity — are they really protecting her, or is she even more vulnerable in her trusting innocence? Here, the line that entangles the girl and the soldiers is a red ribbon pulled by a hummingbird that confronts a corvid.
In "Beauty Mark," the line is replaced by a length of barbed wire that encircles a girl on a pedestal. The wire is carried by a bird reminiscent of Cinderella's little winged friends who help her prepare for the ball.
The "Phat Boys" series is polemical and assaultive, both visually and in content. The lurid images — people in the garb of various African countries, one stirring a cauldron of Pimp Juice and two carrying heavy loads of swag — seem to be about myriad things: the burdens of cool; the exploitation of people in third world countries; the way we express our alleged individuality through the acquisition of junk.
Appropriately, the final image in Williams' show is "Reign Dance." In this multi-layered work, an Edwardian-era couple is superimposed on obscured images of urban debris and chaos, which are, in turn, superimposed on barely discernible images that may be personal or news photos of family, political action, and achievement — but it's hard to tell. It's as if a part of history has been obliterated.
The exhibits Interactive Landscapes: New and Collaborative Work by Isaac Payne and Chris Watts, Ross Gallery, and The People Under the Stairs: Antoine Williams, are on display in the Ross Galleries at Central Piedmont Community College through Aug. 2. A public reception will be held 5:30-7:30 p.m. July 12. Details: http://arts.cpcc.edu/art-gallery/upcoming-exhibitions-1 or 704-330-2722 ext. 3211.