THE MUPPETS
***1/2
DIRECTED BY James Bobin
STARS Jason Segel, Amy Adams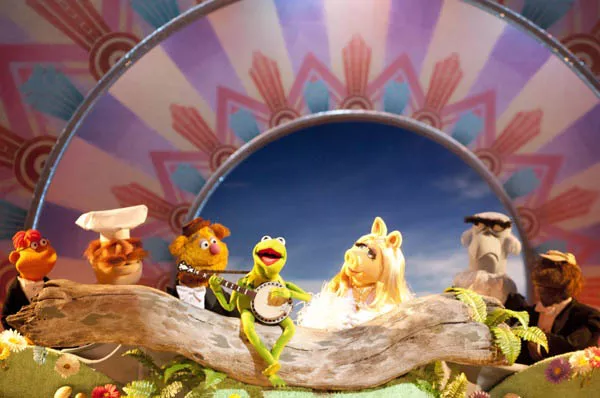 ALWAYS CHASING RAINBOWS: Kermit performs "The Rainbow Connection" in The Muppets. (Photo: Disney)
Yes, it may be true that The Muppets is a film for the whole family, but here's a cruel suggestion: Hire a babysitter and leave the kids at home. After all, what grownup weaned on a steady diet of Muppet episodes and movies wants to interrupt their jaunt down memory lane by having to escort weak bladders to the bathroom or hungry mouths to the concession stand?
Well, OK, bring the small fry, but chances are that this is one of those films that will be enjoyed more by the parents than their brood. Jason Segel, a self-proclaimed Muppet devotee who co-wrote the screenplay with Nicholas Stoller, plays Gary, who takes his girlfriend Mary (Amy Adams) and his equally Muppet-obsessed brother Walter — who, incidentally, happens to be a puppet himself — to Los Angeles for vacation. When they stop at the old Muppet studio, they're shocked to see it dilapidated and abandoned; they're even more upset when they discover that ruthless businessman Tex Richman (Chris Cooper) plans to buy the property, tear down the studio and drill for oil. In an effort to save the hallowed ground, the trio head off to find Kermit, Miss Piggy, Fozzie and the rest of the gang, all scattered across the country (and, in the case of Piggy, living in Paris).
I have two major criticisms, both of which admittedly tend to dissipate when reflecting on the sheer joy the overall movie brings. First, Walter's pretty much a drip, both as a character and a Muppet, and instead of even creating him in the first place (when you think about it, he's not really necessary to the overall arc), I would rather Segel and Stoller had spent more time on the already established puppet personalities (personally, I can never have too much Fozzie in my life; ditto those sarcastic old geezers Statler and Waldorf). Second, the cameos, by and large, are a disappointing lot. Jack Black and Zach Galifianakis have the largest of these parts, and neither is particularly funny; compare their contributions to, say, the manic bits by Steve Martin and Mel Brooks in 1979's The Muppet Movie and the contrast is glaring. The Muppet Movie furthermore gave us comedy titans like Richard Pryor, Bob Hope and Madeline Kahn; this film can only counter with Ken Jeong, John Krasinski and Selena Gomez — hardly a fair trade.
Running the risk of sounding like Statler and Waldorf, though, I had best stop with the naysaying. At any rate, the majority of the film is pure pleasure, full of knowing winks to the franchise's time and place in history: the bouncy "Mahna Mahna"; Kermit's celebrity Rolodex, long outdated ("May I speak to President Carter?"); the lovely "The Rainbow Connection" (just try and not tear up during that sequence); and the creation of '80s Robot, whose computer-related gag provided me with the biggest laugh I've enjoyed in a theater this year.
Segel and Adams are both irresistibly appealing and handle their song-and-dance numbers with gusto, but who are we kidding? We're here to see old friends, whether they're flubbing their stage moves, trying to keep Animal in check, or slyly managing to sing a G-rated version of Cee-lo's R-rated musical hit. The Muppets is inspirational, celebrational and, naturally, Muppetational, and if it falls just short of being wholly sensational, I doubt few will complain.