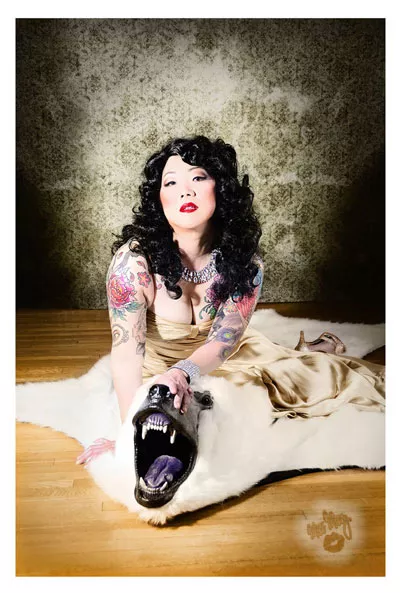 Put Margaret Cho on a stage and f-bombs will detonate. There may be talk of menstrual blood, drag queens and Kim Jong-il. Cho is not your average funnygirl charged with making people laugh — although she does that well. The gay pride flag-waver and tattooed biker babe is breaking Asian-American stereotypes and orchestrating revolution.
Eight years ago, Cho came to Charlotte in the midst of the Kerry/Bush election, headlining her Revolution tour at Ovens Auditorium. Now, she's back again with her show Mother, a one-night performance at The Comedy Zone on Sept. 17. This time, Cho is touting Obama and bringing her confessional comedy to town just in time for another election cycle. The wild rush of the DNC may be over, but excitement for this season's America's Next Top Candidate is gearing up for November. Only a few days after First Lady Michelle Obama passionately stated her most important role was "mom-in-chief," Cho lets Creative Loafing be her platform, giving a maternal scolding to anti-gay and anti-women advocates who would seek to limit the rights of all American mothers.
"The election is such a big deal," Cho says. "I'm a really big supporter of Obama. It's the time for the people who support Obama to get out there and talk about him."
When Cho spoke with CL, politics wasn't first on her agenda; she had recently been involved in a minor motorcycle accident and apparently needed to talk about it. Seems Cho had dropped her 1966 Honda Dream and it pinned her to her driveway in California.
"It was really scary, but it's totally OK," Cho says. "It's one of those things that if you're a biker, you're going to go down." It's fitting that the even-voiced Cho can speak so matter-of-factly about falling and getting right back up. Her rise to fame started in the early '90s at stand-up clubs and late-night shows like The Arsenio Hall Show, where she performed routines based on her life and her immigrant family in San Francisco.
Then came All-American Girl, a sitcom loosely based on her work. But tumultuous plot changes, clueless producers and intense media pressures to stay thin sucked the life out of Cho's comedy and spirit. She was given an Asian consultant because producers were worried she wasn't "Asian enough." As Cho says, "I wasn't like any Korean role model that they had ever seen. I didn't play violin. I didn't fuck Woody Allen." Her character wound up as a watered-down caricature, and the show was canceled after one season.
Cho suffered from a complicated relationship with food and pressure to conform to a certain body image that resulted in dramatic weight loss and kidney failure. Working through these issues, as well as struggles with substance abuse and the emotional weight of media scrutiny, Cho turned her experiences into a critically acclaimed one-woman show in 1999, I'm the One That I Want, which paved the way for concert films and the future national tours Notorious C.H.O., Revolution, State of Emergency and Assassin. For her latest stand-up tour, Mother, Cho brings fans endearing tales of her relatable mom, in the only way Cho can do it without being sickeningly maudlin: By making fun of dear old mom.
Tucking her chin into her neck, inflecting a heavy Korean accent, dropping the "s" from plural words and going straight for the most embarrassing moments, Cho already solidified her mom-impression in I'm The One That I Want. To the cheering laughter of her audience, Cho imitated her mother unpacking porn titles in her parents' San Francisco bookstore. "This book is called Ass Master," Cho imitates, holding an imaginary book up for scrutiny. "Because gay, they like ass. They like ass so much they don't know what to do. I think they like ass too much. You have to have ass in moderation. You cannot have ass all the time. If you have ass all the time, then it's not special ... Mommy gonna look at Ass Master now. I have to look at it! I'm so curious." Cho's face contorted into a mix of screaming and laughter, as she looked away in mock horror. "I wasn't ready for that! It was just ass right away! I thought it would be table of contents, then ass!"
Cho talks about how the character has now become universal. "It's a lot of jokes about my mom, growing up with her and how she is now," she says. "Also, how I'm 43, and at this age where I feel like I'm mother to the world, as a pop-culture mother figure. It's about mothers that we look up to in pop culture, like Lady Gaga and Madonna." While Cho isn't a mother herself, fans do flock to her as a sort of pop-culture leader for equality, a trait that secures her place within the celebrity-mama hierarchy. "I have maternal instincts and am a maternal being at this point, for sure."
Cho's routines have long reflected a keen awareness of the role of women — in particular, queer women of color. In the world of stand-up — a world seeped in white male privilege — being a queer, Asian-American woman means fighting an uphill battle. It's a battle Cho seems to be conquering.
DURING A RECENT Cornell University show, Cho dropped trou to reveal her latest tattoos: two pin-up ladies on her bum cheeks. Stripped down to just a gray T-shirt and g-string, her body is nearly covered in colorful swirls and designs, including presidential powerhouses Abe Lincoln and George Washington on her knees and Ben Franklin on her back. The bum-cheek tats are relatively new, she says, and when she had them done, she was compelled to show them to the world.
"So I took pictures of my ass and then I posted them to Twitter ... and I got a lot of positive responses," she says to approving applause. "And then I got some negative responses," she continues and then screams, "and I went fucking ape shit!" The audience howls. "If you go online and you write shitty things about women's bodies, I will fucking come for you," she goes on. "I will come and get you, cause that's not fucking cool. You're not allowed to comment on women's bodies negatively. Women have enough problems about that kind of stuff."
Just as quickly as she makes her point, Cho is off confessing some other shocking secret. "When I lose weight it really makes me crazy. Sexually, it makes me insane. I gotta fuck as many people as possible, because this body is not gonna last! I need witnesses!" she says. "Have you ever fucked people off Craigslist?"
Aside from a few pioneering women of comedy, like Cho's role models Joan Rivers and the late Phyllis Diller, stand-up traditionally has been a man's world — notably men who act like dicks. It takes bravery to get onstage, be defiantly unladylike and talk about things that women are not supposed to talk about. Cho does this on a regular basis, and it resonates with audiences.
"People want to hear women more because we're underrepresented," she says. "Comedy is an outsider art and women are outsiders in the industry — and in the world — so we know so much more on a different level." As for her confessional style: "It's better to just go there and be totally honest. It's harder putting limitations on what you can do because you're afraid of hurting people."
Robin James, a UNC Charlotte associate professor of philosophy and adjunct faculty in the Women's and Gender Studies Program, notes that when it comes to raunchy comedy, women often bear the brunt of patriarchal disapproval.
"There's a long-standing double standard in media and the arts," James says. "When men do X, we laud them for it as innovators, but when women do X, we take it as evidence of their incompetence." Cho is on stage doing X, Y and Z, with a little triple X thrown in for good measure, all to connect with her audiences and get a laugh. But it isn't always a smooth process.
"There's always going to be assholes," Cho says. "You don't want to feel unsafe in the comedy club, and because I'm queer, I'm a woman, I'm Asian-American, there's a lot of unsafety in that minority status and it's hard to maneuver sometimes."
James notes that Cho has hundreds of years of stereotypes working against her, since Asian women are unfairly pigeonholed as passive and demure. "Because she is queer and a person of color, anything she says will be interpreted through these [stereotypes]," James says. "Something mildly sexual will come off hypersexual. What would be just sort of lame coming out of the mouth of some bearded white dude will sound absolutely scandalous when Cho says it."
So how does Cho maneuver through this? "By making it my own," she says. "Making comedy more about what I want to do and not about trying to prove everything to the world; just by making it my art. That's how I do everything."
EVERYTHING, to Cho, means much more than just stand-up. In addition to comedy, she's an author (she wrote a memoir in 2002, I'm the One That I Want, and a collection of essays in 2005, I Have Chosen to Stay and Fight), a dancer (Dancing with the Stars, season 11), an actress (Drop Dead Diva and her Emmy-nominated performance as Kim Jong-il on 30 Rock) and a singer (she released a Grammy-nominated album, Cho Dependent, featuring music and comedic duets with artists ranging from Ani DiFranco and Fiona Apple to Andrew Bird and Ben Lee). And let's not forget her status as a revolutionary.
A fighter for equality, Cho has trumpeted gay rights in all of her works. Fans call her the "Patron Saint of Outsiders," and Cho strives to embrace the most disenfranchised voices, working with projects such as Cyndi Lauper LGBT-friendly True Colors Tour and donating funds to organizations such as The Matthew Shepard Foundation, PFLAG and the Human Rights Campaign.
"The political climate is really polarized," Cho says. "I feel like there are people who are really proud of their bigotry and I don't know why that's acceptable." She is especially concerned with the recent anti-gay amendment passed in the Tar Heel state. "I think in North Carolina it was really tough, because gay marriage was voted down so strongly," she says. "That's so disheartening, to be a queer activist and be witness to this kind of homophobia.
"Same as California, when gay marriage was voted down in California," she continues. "It was so disheartening. We underestimate the homophobia going on around us. It's hard. But, I think [acceptance of LGBT issues] will happen soon. It will happen in California, someday, like it will happen all over the world."
Interconnected with today's LGBT struggles is the current backward momentum of women's rights, Cho says. She was part of the 2011 documentary Miss Representation, which explored the portrayal of women in film and television. Cho says women's issues take on deeper resonance in election years.
"Some people are really misguided," she says. "It's like, why do you want to take away women's rights?" She points to the irony of the anti-women's rights perspective of conservative women: "The only reason Sarah Palin is a celebrity is because of women's rights. Because of that, she was able to advance to the point where she is a political figure and is able to be on this world stage. And it's so revolting that she would now try to take away the rights that got her to where she is now."
WITH SO MUCH anti-gay, anti-choice and anti-women sentiment expressed in recent years, does Cho see things getting better? Yes, she says — but it will take lots of work.
"It's going to just remain the same unless we actively are doing something about it. We're always going to have to defend our rights," she says. "We're almost there, if we can just continue on and make sure the things that happen don't go unanswered for." She points to the recent horrific "legitimate-rape" comments by Missouri Republican Senate nominee Todd Akin. "It's so fucked up, it's so disgusting, because it just shows what the GOP thinks of women and how fragile our rights are," she says.
Part of that fight can be done through entertainment, Cho says. If art is a reflection of culture, then those who make it, like Cho, are in a position to lead. When art becomes a positive and empowered message for voices that would not otherwise be heard — women, LGBTs, people of color — then our culture can only improve. James warns, however, that artists must find a balance of perspective; otherwise the message become too didactic.
"It's important not to let the political content overwhelm the art/entertainment factor," James says, "because those sorts of works are just uninteresting and turn audiences off. If you really want to reach people with a message, you have to be extra entertaining, fun and interesting."
That's the secret to Cho's comedy. She's found the magical balance between message and madness. She may be the Patron Saint of Outsiders, but she's also still the Mother of All Comedy.
"I do work that I would like to hear, that comes from the heart," Cho says. "I've lived through so many things, and I want to share things that have happened to me because that may help others. There's a point to it all. It adds a little more depth to the art form rather than just telling jokes.
"I look at really painful stuff in life (as if it is) gold, because you can go back and pan for it, mine it and it's powerful. The negative things and terrible things have paid off," Cho says. "To be an outsider is a blessed and joyful thing."