According to the top definition of "molly wop" in the Urban Dictionary, the term means, "To reach waaay back with your pimp hand, damn near knocking oneself off balance to deliver a massive blow with an inside closed fist to the temple of your hoe or foe."
Putting the disturbing misogyny aside for a moment, the definition is indicative of the surprise one gets when first seeing Charlotte band The MollyWops play live. When you see two young ladies with acoustic guitars hit the stage in front of a bearded drummer who looks straight out of Anthrax, and then start playing a fusion of hip-hop, folk and soul, it can be striking.
Sitting in their garage-turned-studio just feet from the home the three band mates share in NoDa, the contrasting crew explains how the name fits.
"It basically means to hit someone in the head really hard with all your force, and it fits because that's kind of what The MollyWops' music does," says guitarist/vocalist Tiffany Lozada. "We go up and you don't really know what we're going to sound like or what we're going to do, and then you're like, 'Oh shit.'"
Lozada's fellow guitarist/vocalist Jessica Evans hops in to finish the hypothetical.
"You're like, 'What is this girl going to do?' and I'm just like, 'Doo, doo-doo, doo, doo,' and then Tiffany raps and it's like, bam, you're molly wopped."
Evans could be described as the singer in the group, if we're going to be throwing around labels, but Lozada, whose raps sync with Evans' melodies perfectly — and sometimes simultaneously — matches her presence on stage.
Add former New York slash metal/punk drummer Pete McCoil, and you've got a mix that works, despite all the reasons it shouldn't.
"When you look at them, they all look like they came from a different walk of life," says Joe Kuhlmann, owner of the Evening Muse, where the band cut its teeth at open mics. "If you had the three of them in a room somewhere and a bunch of other people around, you would not be like, 'Those three are in a band.' But when they're together, you see it and you feel it."
The unlikely trio met in the tiny western Kentucky college town of Murray. They hung around the same bars playing open mics, and every once in a while McCoil would hop behind a drum set to surprise one of the ladies during their own respective sets, which they each welcomed.
In October 2015, McCoil and Lozada moved to Charlotte and began playing together in earnest. When Evans came by to visit a month later, she joined in on a few sets and quickly decided to stay, rather than move to Phoenix, Arizona, where she had planned to take over her father's business.
"I couldn't leave them, they're my family," Evans says. "I do have biological family, of course, who I'm still close with, but this is the family that I chose. I couldn't leave the music, I couldn't leave my dreams behind knowing that this is something that could have happened."
The three moved into the NoDa house together with McCoil's girlfriend, who serves as the band's financial consultant, and began playing the Muse open mics.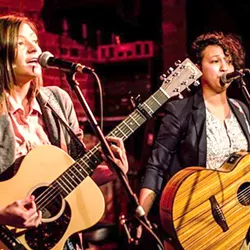 Photo courtesy of The MollyWops.
"There's a really cool new twist on the girl duo thing that they're doing," Kuhlmann says. "There's a hip-hop feel to it but it's not so over-the-top hip-hop, because there's still like a folksy, soul type of thing that's trying to come through."
As he's wont to do with bands that catch his ear, Kuhlmann began giving the band tips, urging Lozada and Evans to engage more in their stage presence while saying the opposite to McCoil, suggesting he tone down the heavy tendencies that came from his past life as a touring metal drummer.
Two years later, Kuhlmann barely remembers what he said to The MollyWops ( "I think I said something along the lines of, 'You have to dig and believe in what you're doing before you can actually get others to buy into it, too."), but they credit his advice with helping build them up.
"He said some critical things to us and I bit my tongue and swallowed my pride, and they really did help," McCoil says. "I'm a stubborn musician when it comes to, if I want to do it I'm going to do it. But I also learned with these two that they're the stars of the show when it comes to this band."
Kuhlmann also helped build the confidence of those two stars of the show, albeit in an accidental and roundabout way.
"The legitimate thing that he told me, word for word was, 'I don't like your style of music but I fucking love you guys. You guys do it really well and I want to listen to it always,'" Evans recalls. "He was so straightforward about it and that was the one moment where I was like, 'You know what, we're doing good. Even if people don't like us, they still fucking like us.'"
And people do like them. In fact, The MollyWops almost found themselves with a major record deal about a year after playing their first show. According to the band, Warner Bros. showed interest in signing them early this year, offering them a headlining spot on a tour of six brand new acts.
There was just one problem: they wanted to change the band. A label rep emailed McCoil with some suggestions, which, ironically enough, included replacing him to form an all-female outfit.
The veteran drummer told Evans and Lozada, 23 and 27, respectively, that they may never get another chance like this and that maybe they should take it. They were having none of it.
"He's like, 'You know what, it sucks, but if you girls want to go off and try it, you should,'" recalls Lozada. "But for me, it didn't matter. I don't need to sell my soul to be able to do that. I didn't think twice about it. Once I knew that they didn't want Pete, I was like, 'Well, I don't want them.'"
Lozada pointed out that Warner Bros. would have never heard of The Mollywops if it weren't for McCoil, who records, produces and masters all of the band's music in their garage studio then puts it on the internet and promotes it himself.
"I was like, 'No. Absolutely fucking not,'" says Evans. "I would hope that you would not replace me, so I'm not going to replace you either."
Listening to his band mates' reactions, it's clear McCoil is more than appreciative that they didn't take him up on his humble suggestion. From behind his drum set he beams proudly at their recollections.
"That's loyalty right there," he says.
And that's what family is for.