(View From The Couch is a weekly column that reviews what's new on Blu-ray and DVD. Ratings are on a four-star scale.)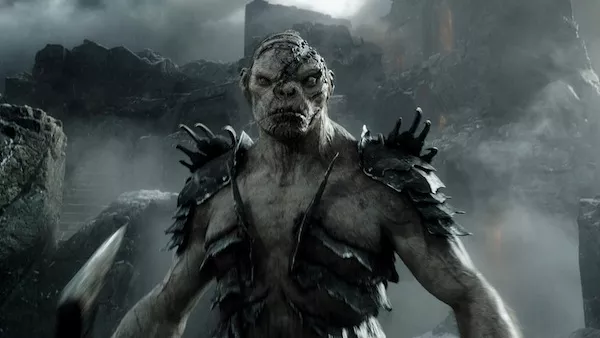 The Hobbit: The Battle of the Five Armies (Photo: Warner & MGM)
THE HOBBIT: THE BATTLE OF THE FIVE ARMIES (2014). In Peter Jackson's third and final Hobbit yarn (following An Unexpected Journey and The Desolation of Smaug), the dragon Smaug (voiced by Benedict Cumberbatch) is dispatched in about as much time as it took the final film in the Star Wars 2.0 trilogy to knock off Count Dooku. But there's still plenty of story left to tell, most of it centering around the efforts of everyone to bask in the reclaimed gold of the Lonely Mountain. Yes, it's The Treasure of the Sierra Madre with Thorin Oakenshield (Richard Armitage) subbing for Fred C. Dobbs, but there's real empathy to be felt in watching Bilbo (Martin Freeman) attempt to bring his friend Thorin back from the dark side. There's also a lot of heart in the budding romance between dwarf Kili (Aidan Turner) and elf Tauriel (Evangeline Lilly), as well as rooting interest in Bard (Luke Evans) becoming the reluctant leader of the human contingent. And if there's a feeling of déjà vu whenever the action shifts to Gandalf (Ian McKellen) again puttering across the landscape or yakking with other wizards, it's offset by the segments featuring the Orc Azog (Manu Bennett), one of the most imposing of all recent movie villains. So after a span of 14 years and six movies, Jackson's finally done with J.R.R. Tolkien. Unless, of course, he suddenly decides to bring The Silmarillion to the screen, in which case an intervention might be required.
The new Extended Edition offers 20 additional minutes not seen in theaters, and what's interesting is that they're violent enough to earn this cut an R rather than the series' trademark PG-13 (even the Extended Editions of Journey and Smaug landed PG-13 ratings). Blu-ray extras include audio commentary by Jackson and co-scripter/producer Philippa Boyens; over 10 hours of making-of featurettes; and a piece on the New Zealand shooting locations.
Movie: ***
Henry Cavill and Armie Hammer in The Man from U.N.C.L.E. (Photo: Warner)
THE MAN FROM U.N.C.L.E. (2015). The Cold War rages on, and when we first meet Napoleon Solo (Henry Cavill) and Illya Kuryakin (Armie Hammer) in 1963, they're rival agents (Solo for the CIA, Kuryakin for the KGB) attempting to kill each other. Solo is trying to smuggle an important asset named Gaby Teller (Alicia Vikander) out of East Berlin while Kuryakin is trying to stop him. It's not long after, however, that the men's respective organizations order them to team up in an effort to stop the usual coterie of global villains from getting their hands on nuclear warheads. Warner Bros. didn't do itself any favors by releasing this celluloid update of the hit TV series into theaters so soon after Mission: Impossible — Rogue Nation, since both sport similarities beyond the fact they're based on '60s spy shows. This undeserving box office underachiever may not quite match the intensity or excitement of the Tom Cruise vehicle, but it's nevertheless a worthwhile endeavor, with director Guy Ritchie toning down the spastic shooting style that all but destroyed his Sherlock Holmes films with Robert Downey Jr. That's not to say he's become a nondescript filmmaker, but the technical flourishes displayed in The Man from U.N.C.L.E. (including a rare modern use of split screen) actually benefit the storyline rather than just function as masturbatory moviemaking. There are at least two dozen actors who would have made a better Napoleon Solo than Cavill, but I'll give him a break since he's not as soul-crushingly dull as when he played Superman in the dreary fanboy fave Man of Steel. The real delight is Hammer, with Illya Kuryakin proving to be the film's most interesting character as well as its primary wellspring of humor.
Blu-ray extras include a making-of featurette; a piece on recreating the look of the 1960s through costumes, cars and more; and a look at the motorcycles employed in the film.
Movie: ***
Ian McKellen in Mr. Holmes (Photo: Lionsgate)
MR. HOLMES (2015). Being thoroughly unfamiliar with Mitch Cullen's 2005 novel A Slight Trick of the Mind, I approached this film adaptation expecting to see a slight and sprightly murder-mystery in which a retired Sherlock Holmes noodles about the countryside solving a crime at his own leisurely pace — a modern-day companion, perhaps, to those delightful Miss Marple films from the 1960s that starred the incomparable Margaret Rutherford as Agatha Christie's elderly sleuth. But this film proves to be something else entirely. Ian McKellen, reteaming with Gods and Monsters writer-director Bill Condon, stars as the 93-year-old Holmes, residing in the countryside with his housekeeper Mrs. Munro (Laura Linney) and her bright young son Roger (Milo Parker). Approximately three decades earlier, Holmes had retired — actually, more like fled — from the detective business, shaken by the specifics of his final case. As always, Dr. Watson had embellished the real-life circumstances for his printed pieces, with Holmes solving the case in satisfactory fashion, but Holmes now wants to write his own truthful version of how the investigation went down. Condon, who won an Oscar for adapting Gods and Monsters, only occupies the director's chair for Mr. Holmes, leaving the scripting to Jeffrey Fletcher. The storyline is admirably multitentacled, centering not only on the mystery that refuses to remain in the past but also on a half-dozen other topics (including the debilitating effects of dementia). Much might seem superfluous in the early going, but everything is ultimately woven together into a rich tapestry that honors the Arthur Conan Doyle legacy.
Blu-ray extras consist of two making-of featurettes examining the iconic character and the storyline.
Movie: ***1/2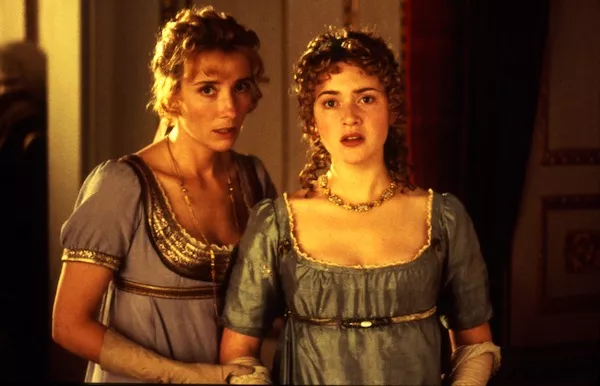 Emma Thompson and Kate Winslet in Sense and Sensibility (Photo: Twilight Time)
SENSE AND SENSIBILITY (1995). The 1995 Oscar race was clearly setting up to be a match between Ron Howard's Apollo 13 and Ang Lee's Sense and Sensibility, but when the Academy incredibly, absurdly failed to nominate either man for Best Director, that paved the way for Mel Gibson's comparatively lacking Braveheart to emerge out of left field and snag the Best Picture and Best Director Oscars. Howard's omission wasn't too shocking — this was during the period when the Academy regularly turned its back on TV-stars-turned-movie-directors like Howard, Rob Reiner and Penny Marshall, honoring their films but not the helmers themselves — but how to explain the snub of Lee? An acclaimed Taiwanese filmmaker tackling his first English-language project, Lee, along with scripter-star Emma Thompson, managed to make what remains the finest Jane Austen adaptation to date. In this exquisite endeavor about two sisters looking for love in Victorian England, the sensible Elinor Dashwood (Thompson) cautiously falls for a timid gentleman (Hugh Grant) while her spontaneous sibling Marianne (Kate Winslet) desperately pursues a handsome stranger (Greg Wise) even as a more refined suitor (a superb Alan Rickman) stands in the shadows. Nominated for seven Academy Awards, including Best Picture, Actress (Thompson) and Supporting Actress (Winslet), this earned Thompson the Oscar for her adapted screenplay. (Incidentally, the Academy later made it up to both Lee and Howard, awarding the former two Oscars for directing Brokeback Mountain and Life of Pi and the latter two awards for directing and producing A Beautiful Mind.)
Blu-ray extras include audio commentary by Thompson and producer Lindsay Doran; separate audio commentary by Lee and co-producer James Schamus; deleted scenes; Thompson's Golden Globe acceptance speech; and a piece on the costumes.
Movie: ****
John Malkovich and Madonna in Shadows and Fog (Photo: Twilight Time)
SHADOWS AND FOG (1992). One of Woody Allen's most expensive undertakings also proved to be one of his biggest box office flops, earning less than any of his other 44 features aside from the largely forgotten trio of September, Another Woman and Cassandra's Dream. If nothing else, the $14 million budget can clearly be seen on the screen, in the magnificent cityscape built from scratch by production designer Santo Loquasto. The setting is an unnamed European city in which a killer's on the loose, hiding in the shadows and stepping out of the swirling fog to strangle his victims. A meek clerk named Kleinman (Allen in full nebbish mode) is awakened from a deep sleep by a vigilante mob whose leaders demand that he help them carry out their plan to catch the madman. But nobody bothers to tell Kleinman any specifics, leaving him to wander around the nocturnal streets until he bumps into Irmy (Mia Farrow), a circus sword-swallower running away from her womanizing boyfriend, the troupe's clown (John Malkovich). Loquasto's sets and cinematographer Carlo Di Palma's black-and-white compositions are astounding, and film and literature buffs will have fun spotting references raging from German Expressionist cinema (particularly Fritz Lang's M, F.W. Murnau's Nosferatu and Robert Wiene's The Cabinet of Dr. Caligari) to Franz Kafka. The central storyline is also entertaining, with Kleinman's plight allowing for some familiar — and amusing — moments of self-deprecation ("A deranged person is supposed to have the strength of 10 men. I have the strength of one small boy ... with polio."). On the flip side, the circus-related material is thin, the philosophic pontificating is atypically glib, and the all-star cast (including Jodie Foster, Madonna and Fred Gwynne) is given precious little to do.
Blu-ray extras consist of the trailer and an isolated score track.
Movie: **1/2