Jamie Starks answers the phone from behind the bar at the South End art & drinks spot he's been helping out at in recent months. He pauses before he speaks.
"Dirty Hippie," he finally says into the receiver, but there's no answer. He hangs up and looks down.
"That's still so hard for me," he says. "I still want to say Tommy's Pub when I answer the phone, so every time it comes out like, 'Errr ... Dirty Hippie.'"
Starks worked at and eventually managed Tommy's Pub on Central Avenue for about eight years before it was shut down last year, the land sold to developers to build an apartment complex. Tommy's owner Jim McNally credits Starks with transitioning the original pub from a place where three or four old-timer regulars could be found belly up to the bar on any given night to a crucial part of Charlotte's music scene; an intimate venue where up-and-coming artists could get stage time before moving up the ranks to bigger spots.
The familial atmosphere that defined Tommy's Pub for 30-plus years continued after that transition, and in the year since its closing, McNally and Starks have been working to bring that feeling back. They've hit their share of roadblocks, but the effort looks to have paid off now, and Starks hopes to open the new Tommy's Pub before the end of the year.
Tommy's Pub was opened in 1977 by Tommy Karras. He took the building over from his father, Nick, who had run the Central Avenue Bar & Grill there since 1951, save for about a three-year span when it was called Happy Days. By the time McNally bought it from Tommy's sister in 2002, there were regulars there who had been setting up on the same stool for decades, whose fathers and uncles had done the same.
Jamie Starks with the Tommy's Pub street stock car he drove in 2007.
Starks entered the picture in about 2007 when, despite his preference for Mountain Dew and Pepsi over beer, he finally went to check out the bar his friend Jim ran and was always telling him about. A short-track stock car racer himself, Starks appreciated all the racing history on the walls. McNally ended up sponsoring him, and Starks raced around East Lincoln Speedway with Tommy's Pub painted proudly on the hood of his street stock that year.
He ran the bar one night as a favor when McNally attended a concert with his only two bartenders, and was eventually taking over more shifts here and there. By 2008, he was working there regularly. That's when things began to change.
"The cash register still had one button. All we served was beer — just five different kinds. We only had a few guys in here every night and would shut down by 8 p.m." Starks recalls. "I had a meeting one day with Jim. I'm like, 'Jim, if I'm going to be here as much as I'm going to be here, the bar's not making any money, I'm not making any money, we need to make some changes.'"
McNally worked on introducing liquor to the menu, while Starks set his eyes on a small 35-by-12-foot room with nothing inside but a shuffleboard and an electronic dart board that nobody touched. Charlotte soundman Zach McBee gave him some high quality speakers to replace the ones that had been collecting dust in the building for decades. He brought in his friend Brent Greer, a country musician, to host open mic nights on Wednesdays for musicians of any genre. Those weekly events became popular almost immediately, and eventually Starks started booking bands to play shows.
"I went from writing things on a notepad — like one to two shows — to having to buy a calendar book, to filling all the days up probably within a year and a half," Starks says. "By 2010, the music scene [at Tommy's] was in full swing."
The good ol' boys of years past took the transition in stride, and Starks recalls how the two groups interacted each night as musicians prepared to take the small bar over from the stool pigeons who called Tommy's home.
"For a while we were the old man bar during the day and, like, punk rock music at night," he says. "The old guys thought it was funny that all of a sudden there were people coming in with leather coats and chains and funky hair and piercings and tattoos, and they'd be like, 'Oh well, guess it's time for us to go.' A couple of them stuck around to see."
Tommy's quickly found its niche in Charlotte's music community, with its small, intimate setting and modest turnout serving as a jumping off point for bands just emerging from the garage. Bands like Scowl Brow and The Commonwealth played their earliest shows at Tommy's.
Starks also got help from others in the community, with bookers like Buck Boswell at The Milestone and Zach Reader at Snug Harbor throwing bands his way when they weren't a good fit at their respective venues. When bands would start to improve and draw bigger crowds, Starks would return the favor.
"Every Sunday Bluegrass Jam" sessions at Tommy's were snug, to say the least.
"I called Tommy's the 'friendly confines' of the Charlotte music scene. Like Wrigley Field is the 'friendly confines' for the MLB, we were the friendly confines of Charlotte's music scene," Starks says. "People link me to that, and it's like, yeah I had an idea, but I couldn't do that idea myself. People helped us out along the way. I opened the door but I didn't drag the people in."
For Plaza Midwood neighbor Jenna Thompson, who would later lead the fight against developers planning to knock Tommy's over and build 100 apartment units on the site, Tommy's meant something more than the music.
"A long time ago I compared it to Cheers and people sort of sneered at that, because they just saw it as a nasty dive bar," Thompson says. "But really it was a place you could go and feel welcome even if people didn't know who you were. If you were a regular, Jamie knew your name, Jim knew your name. It was truly a neighborhood bar; a home away from home in a lot of ways. Many people did not see it that way, except for the people who had been going there for years. In that sense, it was important to a lot of people."
Starks says he rarely had a chance to look back on the growth he had inspired in Tommy's until 2015, when he and McNally read a news article saying the land had been sold to developers and Tommy's would be demolished.
They had heard rumors in the past but been assured by the landowner that they were fine. But now that landowner, Angela Ballas, sister of the bar's namesake Tommy Karras', had fallen into bad health. Her son, Johnny Ballas, had to sell the land to pay for Angela's healthcare.
"That was painful," McNally says. "It was very painful to know we had to leave, but I understood it. I had known that family for many years. I was a good friend of Tommy's before he passed away in 2002. The family really needed to sell the property."
Although McNally understood, some neighbors stood to fight for the preservation of the historical dive bar. Jenna Thompson organized a grassroots resistance to the new development planned for the site. She started an online petition and got about 100 people to show up to a public hearing in front of city council denouncing the new plans.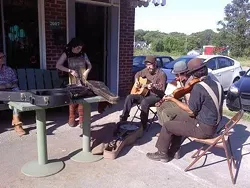 An impromptu jam session outside Tommy's Pub.
Thompson's efforts eventually led to the formation of Plaza Midwood Shows Up, a group of people that inform residents of development planned for the neighborhood and create a dialogue around it. The group's name was inspired by the headline of Erin Tracy-Blackwood's May '15 Trouble Hunter column in Creative Loafing about Thompson's grassroots development resistance.
Starks supported Thompson's efforts, although he stayed behind the scenes, not wanting to ruffle feathers with the Ballas family, whose decision he understood.
"My fight wasn't with them selling the building at all. My fight was, 'What the fuck, another development? Another person coming in to tear down more history out of this city to put up more apartments?' If they wanted to tear Tommy's down and put in a community park, I would've been like, 'Yeah it sucks but you know what, you have a beautiful little park and everybody's going to benefit from it."
Thompson says her fight was with the developer as well, if even just as a symbol.
"It was a working class bar and the property it was on got singled out for luxury apartments, so basically it was very symbolic of the uncontrolled growth in the neighborhood," Thompson says. "It's inevitable that it's going to happen, but there are no efforts being made by city council to preserve what we had. It's a free for all to build, build, build and to build things that are unaffordable to people who made the neighborhood what it is."
Despite their efforts, the plan was approved, and now Tommy's Pub is no more. The process left Starks with resentment for the democratic process. For Thompson, it was an ill-fated but important fight.
"From the beginning, we knew we weren't going to win," Thompson says. "It's the principle of the thing. You've got to stand up for something."
For McNally and Starks, the city council vote was simply the beginning of a new chapter. They immediately decided to begin looking for a new location to re-open Tommy's Pub.
McNally, now 73, informed Starks when the search began that he would be at the reins of the new project.
Jamie Starks will take over as owner of the new Tommy's Pub.
"I said, 'I want the new Tommy's to be yours. I'm getting too old to tend bar for a bar full of customers here to see music and whatnot.' I will just be acting in an advising capacity, and we will get the new Tommy's open," McNally says.
Zoning ordinances and code enforcement have changed a lot in the 80 or so years since Tommy's original home was built. Starks has had a rough go of things. He says he's been chased out of multiple promising sites by code enforcement officers claiming there isn't enough space for parking or that he's a few feet too close to a residential area. The process has left both Starks and McNally with a bitter taste.
"It's a quagmire, a bureaucratic hornet's nest. It's amazing. There are so many t's to cross and i's to dot, and frankly an awful lot of it is needless. It greatly forestalls honest, hard-working folks like Jamie who want to open a business," McNally says.
Nevertheless, the work continues, and it's evident in speaking with Starks that nothing short of death will stop him from reopening Tommy's.
For McNally, the experience has justified his life-long belief that hard work pays off in the end, no matter the obstacle.
"It was perseverance," he says. "I told Jamie that it would not be easy, but anything worth working hard for is worth it in the long run. I feel very confident that I've turned over the reins of Tommy's to the right person."
Who doesn't like a happy ending?
Editor's Note: A section of the original story that described a potential new location for Tommy's has been removed, as that deal fell through. In May 2017, Starks announced that he had officially acquired space for the new Tommy's Pub in the Eastway Crossings Shopping Center.