(View From The Couch is a weekly column that reviews what's new on Blu-ray and DVD.)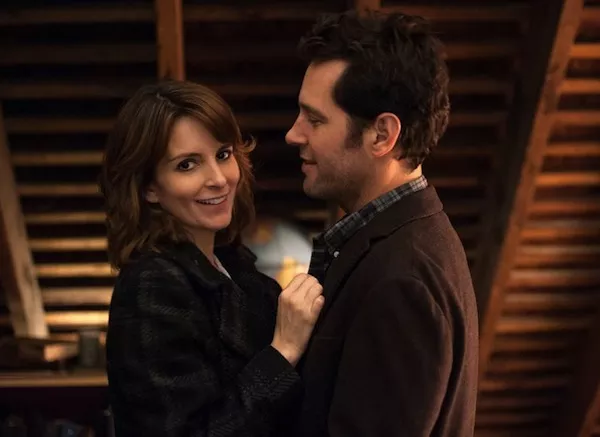 Tina Fey and Paul Rudd in Admission (Photo: Universal)
ADMISSION (2013). Tina Fey is a smart, funny and vivacious actress, but she's at her best when paired with a more manic co-star who brings her relative passivity into sharper focus (think Amy Poehler in Baby Mama or Steve Carell in Date Night). Paul Rudd is a charming, likable and slyly amusing actor, but he's at his best when paired with a more manic co-star who likewise brings his relative passivity into sharper focus (think Leslie Mann in Knocked Up or Jason Segel in I Love You, Man). So while the idea of teaming them in a movie sounds like a feasible one, the reality is that all this low-simmer niceness results in a film that has absolutely no wit, bite or — most shockingly — moments of hilarity. Fey stars as Portia Nathan, a Princeton admissions officer fiercely devoted to her job. Approached by John Pressman (Rudd) to come check out the alternative, go-green high school he runs in the middle of nowhere, she accepts the invitation and is soon introduced to Jeremiah (Nat Wolff), an atypical student who John insists would be a perfect candidate for Princeton. Portia isn't convinced, but once John drops the bombshell — Jeremiah is most likely the son she gave up for adoption nearly two decades earlier — she does whatever she can to ensure that the boy makes it into Princeton. Using Jean Hanff Korelitz's book as a blueprint, Karen Croner cobbles together a script that bungles many important ingredients, starting with the crucial fact that we are never convinced that Jeremiah and Princeton would be a mutually beneficial match. The characters of Portia and John are problematic as well. Some of her questionable actions are never challenged by the filmmakers and make her less attractive than doubtless intended; Rudd's part, meanwhile, is more of a supporting one, and he isn't given enough time to come off as much more than a smug, self-satisfied liberal who, depending on your inclination, should either be slapped or prepped for canonization. Top acting honors go to Lily Tomlin as Portia's mother Susannah, a feminist who once wrote a book titled The Masculine Myth, sports a Bella Abzug tattoo and — a nice touch — has two dogs named Betty and Gloria. Like Portia — like practically all women in cinema — Susannah can't be completely happy in her independence or her career, ultimately needing a man (never another woman, of course) to share her bed. Nevertheless, Tomlin is excellent, providing more intensity than the role deserves.
The only extra on the Blu-ray is a behind-the-scenes piece.
Movie: *1/2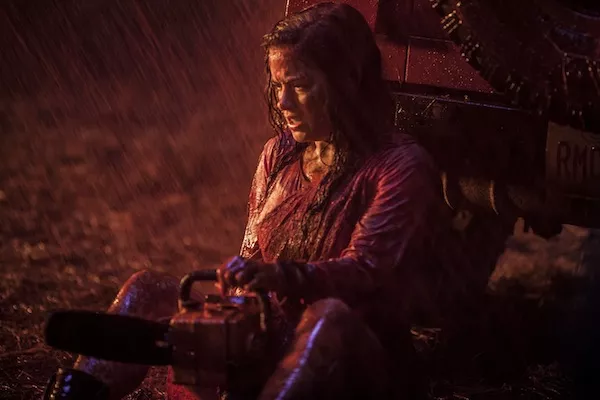 Jane Levy in Evil Dead (Photo: Sony)
EVIL DEAD (2013). Few horror flicks have been as deliriously demented, as insanely radical, as alive, as Sam Raimi's 1983 The Evil Dead, a so-called "ultimate experience in grueling horror" (as it calls itself during the closing credits). The film operated in a manner that set it apart from just about everything else seen up to that point, functioning more like a three-ring circus complete with clowns, freaks and high-wire artists than as a traditional motion picture. A remake (or reboot, or re-imagining, or whatever the hell they're calling these things these days) was perhaps inevitable, yet Evil Dead doesn't bring to mind The Evil Dead as much as it does The Dark Knight — specifically, the Joker's signature line of "Why so serious?" It would be impossible to produce another film like Raimi's original — it's a product of its time and place as much as of its deranged sensibilities — but writer-director Fede Alvarez and co-scripter Rodo Sayagues have opted to sprint in the other direction, concocting a movie that offers very little in the way of wit or humor. The general thrust remains the same: Five friends journey to an isolated cabin in the middle of nowhere, where they accidentally unleash a demonic presence that gets off on possession. The primary way to kill the evil entity is through bodily dismemberment of the occupied person, which means that here's a picture that gleefully embraces its gore 'n' guts. Evil Dead is well-made, offers some notable splatter scenes and provides a small amount of tension here and there, but there's not much that distinguishes it from other slightly above-average horror flicks. Fans of Raimi's original Evil Dead trilogy will appreciate the nods to those efforts (the necklace, the bridge and, of course, the chainsaw), but these moments are more like conspicuous signposts pointing back to the quality of the original than integrated into this new landscape. The Evil Dead aficionado in me wanted to like this new version much more than I did, but it's simply impossible to wholeheartedly embrace it when just last year we were treated to another cabin-in-the-woods yarn that carried on Raimi's legacy far better than this film does. The name of that 10 Best placeholder? The Cabin in the Woods, of course.
Blu-ray extras include audio commentary by actors Jane Levy, Lou Taylor Pucci and Jessica Lucas, director Fede Alvarez and writer Rodo Sayagues; a making-of piece; a featurette in which Bruce Campbell and others discuss rebooting the franchise; and a look at the design of the new "Book of the Dead."
Movie: **1/2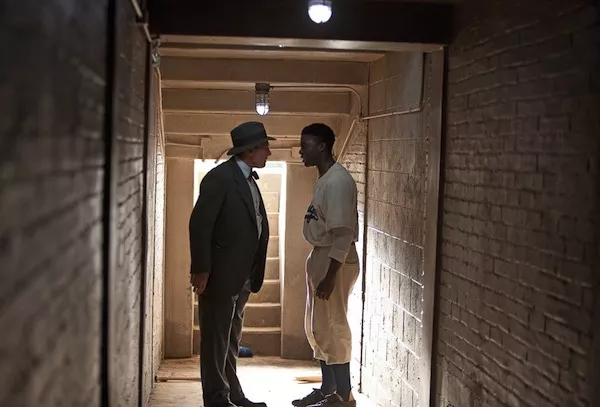 Harrison Ford and Chadwick Boseman in 42 (Photo: Warner Bros.)
42 (2013). Here's to you, Mr. Robinson: a new motion picture you can call your own. It's been 63 years since the release of The Jackie Robinson Story, in which the baseball legend starred as himself, and now the first African-American to play in the major leagues steps back into the spotlight with 42. The subject of this competent biopic is still overdue for a comprehensive, warts-and-all movie, but for the time being, this one will pleasantly do. 42 begins not with Robinson but with Branch Rickey (Harrison Ford), the Brooklyn Dodgers general manager who decides that the mid-1940s, right after the close of World War II, is the right time to insert a black man in the lily-white Major League Baseball ranks. Rickey insists his motivation is money — a black and white league means green from both black and white spectators — although it quickly becomes apparent that he has no love for racism. For now, though, he's determined to find the right person to break that color barrier, and he settles on Jackie Robinson (Chadwick Boseman), a terrific player from the Negro leagues. Robinson is fearless in the face of prejudice, but Rickey insists that the only way for this to work is for the young man to ignore the hatred that will be hurled his way. Writer-director Brian Helgeland does a good job of letting facts rather than flights of fancy steer him through this inspiring story (indeed, many of the movie-friendly lines of dialogue are actually drawn from real life), and he relates the material in a doggedly old-fashioned manner that, based on the box office, appealed to its presumed target audience of seasoned adults. Yet that old-school approach also ends up hindering the film, with its streamlined narration, one-note characterizations (almost everyone is either an open-minded believer or a raving redneck) and wince-inducing simplifications (a little boy is shown using the n-word after hearing his father use it; oh, so that's how racism can pass between generations!) often reducing it to the level of yet more sports saga boilerplate. Boseman delivers an impressive performance as Robinson, Ford provides gruff humor as the crusty Rickey, and the strong supporting cast includes Nicole Beharie as Robinson's wife Rachel, Christopher Meloni as the Dodgers' combative manager Leo Durocher and John C. McGinley as iconic sportscaster Red Barber. It's the collective effort of these MVPs that primarily allows 42 to register as more than just by-the-numbers.
Blu-ray extras include a behind-the-scenes featurette; a look at the film's central casting; and a piece in which various baseball figures discuss Robinson's legacy.
Movie: **1/2
Manuel Perry as BIG JIM SLADE in The Kentucky Fried Movie (Photo: Shout! Factory)
THE KENTUCKY FRIED MOVIE (1977). The team of Jerry Zucker, Jim Abrahams and David Zucker would go on to create 1980's Airplane! and 1988's The Naked Gun: From the Files of Police Squad!, but for my money, their best effort remains this early low-budget endeavor that carved out a nice niche on the cult circuit (made for a mere $600,000, it ended up with $15 million in the bank). Director John Landis, similarly on the cusp of hitting the big time (his next film would be National Lampoon's Animal House the following year), orchestrates 83 minutes of pure hilarity, with the film nothing more than a spoof of TV shows, commercials, PSAs, trailers and motion pictures. The longest piece is A Fistful of Yen — a Mad magazine-like takeoff on the martial arts classic Enter the Dragon, it stars the appealing Evan Kim (in the Bruce Lee role) going undercover to the Isle of Lucy to stop the diabolical megalomaniac Dr. Klahn (Master Bong Soo Han). Despite its length, it's actually one of the milder segments in this decidedly non-PC effort that revels in its extremities, with various skits targeting race (the TV show Danger Seekers), religion (the commercial for Willer Beer), politics (specifically, JFK's assassination in the ad for the board game Scot Free), death (actor Henry Gibson on behalf of the United Appeal for the Dead) and sex sex sex (various segments). The announcer breaks are amusing ("Moscow in flames, missiles headed toward New York. Film at 11.") and the "Sex Record" sequence (featuring BIG JIM SLADE) never fails to amuse, though personal favorites would have to include the trailers for That's Armageddon! and Catholic High School Girls in Trouble. Look for a few familiar faces appearing in cameos, including one-time James Bond George Lazenby, The Incredible Hulk star Bill Bixby, and Donald Sutherland "as the clumsy waiter."
Blu-ray extras include audio commentary by Landis, the Zuckers, Abrahams and producer Robert K. Weiss; a lengthy interview with the Zuckers; and the theatrical trailer.
Movie: ***1/2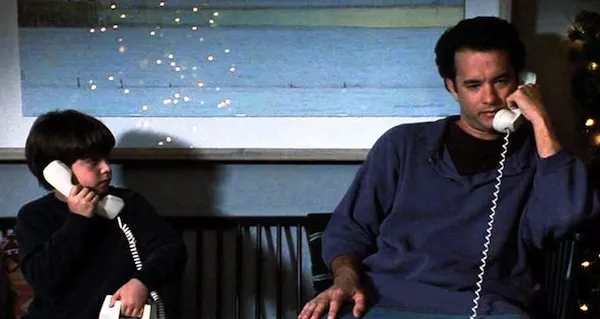 Ross Malinger and Tom Hanks in Sleepless in Seattle (Photo: Twilight Time)
SLEEPLESS IN SEATTLE (1993). Writer-director Nora Ephron's box office hit was one of the most popular romantic comedies of its decade — a good thing, since, like its protagonists, the picture wants nothing so much as to be loved. It's awash in old-fashioned sentiment, as represented by the employment of the 1957 Cary Grant-Deborah Kerr weepie An Affair to Remember as the motor that drives its engine. Tom Hanks stars as Sam Baldwin, a widower who moves with his young son Jonah (Ross Malinger) from Chicago to Seattle in an attempt to lessen the pain of losing his wife (Carey Lowell). It doesn't work, so Jonah dials into a national call-in radio show on his dad's behalf. Exposed over the airwaves, Sam's story breaks the heart of thousands of women; among them is Annie Reed, a reporter who's set to marry the decent but dull Walter (Bill Pullman) but instead finds herself obsessing over a man she's never even seen, let alone met. The film's overwhelming warmth is what allows us to not only forgive the more labored moments but also to basically ignore the fact that we're watching a movie about a stalker (switch the gender roles and you'll see what I mean). Ryan effectively conveys the story's more ethereal elements while Hanks punches across the down-to-earth principles (as when discussing the rules of the dating game); they're backed by a sturdy supporting cast that includes Rita Wilson and Victor Garber as Sam's best friends (the scene in which the men counter all the sobbing over An Affair to Remember with their own tearful description of The Dirty Dozen is a keeper) and Rob Reiner and Rosie O'Donnell on hand with the one-liners. Props, also, for the ear-pleasing selection of old-time tunes on the soundtrack (especially Jimmy Durante tackling "As Time Goes By"). This earned Oscar nominations for Best Original Screenplay (Ephron, David S. Ward and Jeff Arch) and Best Original Song ("A Wink and a Smile," crooned by Harry Connick Jr.).
Blu-ray extras include audio commentary by Nora Ephron and associate producer Delia Ephron; the self-explanatory piece Love in the Movies; the music video for Celine Dion and Clive Griffin's "When I Fall in Love"; and the isolated score track (composed by Marc Shaiman).
Movie: ***
SHORT AND SWEET:
Taking a week off from work in July is generally a sound scheme, but the relentless rain Charlotte recently endured during my R&R knocked the visions of swimming pools, cookouts and outdoor exercise clean out of my head. Still, this did allow for more Couch time, enabling me to catch up with some titles that had been released in the recent past.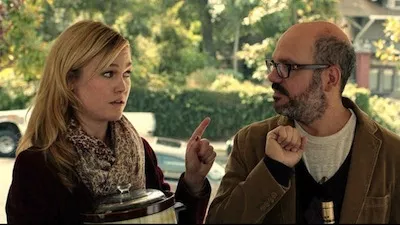 Julie Stiles and David Cross in It's a Disaster (Photo: Oscilloscope)
IT'S A DISASTER (2013). Several friends meet at a house for a social event, only to quickly learn that the end of the world has already commenced. Sound familiar? But no, I'm not talking about the summer hit This Is the End; I'm referring to a movie that's even better. The raunchy comedy currently in theaters clearly yields larger laughs, but this is the more consistently even film, building its black, bleak humor layer by layer until its rug-pulling finale. Like writer-director Todd Berger's first feature, the barely seen The Scenesters, this sophomore effort played numerous film festivals (including RiverRun in Winston-Salem) but never was able (or allowed) to break out. Too bad. The note-perfect cast includes David Cross, Julia Stiles and America Ferrera.
Blu-ray extras include audio commentary by writer-director Todd Berger, Cross, Brennan and Grace; a behind-the-scenes featurette; footage from a ComicCon 2012 panel featuring Boston and Hayes; and the theatrical trailer.
Movie: ***
Timothy Spall and Jane Horrocks in Life Is Sweet (Photo: Criterion Collection)
LIFE IS SWEET (1990). 1988's High Hopes put British writer-director Mike Leigh on everyone's radar, but it was 1990's Life Is Sweet that firmly entrenched him on the international map. Like many Leigh efforts, it's an intimate look at a middle-class family — in this case, one comprised of a pair of wisecracking parents (Alison Steadman and Jim Broadbent) and a pair of distant daughters (Claire Skinner and Jane Horrocks). This one's a real gem, with standout performances from Horrocks as the perpetually miserable daughter and Timothy Spall as the clan's oddball friend Aubrey. Life Is Sweet didn't arrive in the US until the end of 1991, at which point it completely captivated the critics — among the honors it snagged were Best Film, Actress (Steadman) and Supporting Actress (Horrocks) from the National Society of Film Critics and Best Supporting Actress (Horrocks) from the Los Angeles Film Critics Association.
Blu-ray extras include audio commentary by Leigh; five short films written and directed by Leigh; and an audio recording of a 1991 interview with Leigh.
Movie: ***1/2
William Devane and Tommy Lee Jones in Rolling Thunder (Photo: Shout! Factory)
ROLLING THUNDER (1977). One of Quentin Tarantino's favorite movies — obviously, since he named his short-lived production company after it — this controversial revenge yarn written by Paul Schrader (Taxi Driver) and Heywood Gould (a Razzie Award winner for penning the Tom Cruise laugher Cocktail) basically plays like an inferior version of Death Wish, with a thudding simplicity that makes the Charles Bronson hit look as complex as All the President's Men by comparison. William Devane stars as Major Charles Rane, just returned to his Texas hometown alongside his best friend and fellow soldier Johnny Vohden (Tommy Lee Jones). He receives a box of silver coins for his efforts in Vietnam, a bad publicity stunt since the promise of easy money lures a group of thugs to his house, whereupon they murder his wife and son and leave him minus a hand. Once he recuperates, the now hook-handed Rane, with Vohden tagging along, takes off seeking vengeance. Between dull characters and John Flynn's drowsy direction, this one's a big disappointment.
Blu-ray extras include interviews with Devane, Jones, Schrader and Gould; the theatrical trailer; and a TV spot.
Movie: **
Things to Come (Photo: Criterion Collection)
THINGS TO COME (1936). Famed production designer William Cameron Menzies directed this adaptation of H.G. Wells' classic novel, with Wells himself handling screenplay duties. It sounds like it can't miss, but while the film is a four-star triumph of art direction, its story — a decades-stretching odyssey of our planet being destroyed by war, then rebuilt, then threatened again — is often a slog, marred by Wells' frequently didactic dialogue. This one's a real curio, worth seeing more for its historical worth than anything else. Love the opening sequence, though.
Blu-ray extras include audio commentary by film historian David Kalat; an interview with cultural historian Christopher Frayling regarding the film's design; a visual essay by film historian Bruce Eder on the score; and unused special effects footage.
Movie: **1/2