(View From The Couch is a weekly column that reviews what's new on Blu-ray and DVD. Ratings are on a four-star scale.)
Stephen Baldwin, Laurence Fishburne and Salma Hayek in Fled (Photo: Olive Films)
FLED (1996). My fondest memory involving Fled isn't even on the screen; instead, it was the priceless moment on TV's Siskel & Ebert when Roger Ebert dismissed the action film by stating, "I guess it sort of holds your attention while it's happening. I mean, something is moving on the screen, so you look to see what it is." (To which a laughing Gene Siskel retorted, "What a compliment!") As for the movie itself, it's nothing more than a generic "buddy flick" that feels like a clone of countless better pictures. Aware of the derivative nature, director Kevin Hooks and scripter Preston A. Whitmore II attempt to waylay criticism by employing a running gag where one of the main characters constantly references other movies ("Didn't you see The Fugitive?" "Didn't you see Deliverance?"). Nice try, guys , but those quips only serve to remind viewers that they could be watching one of those classics instead of this dud. The by-the-numbers plot concerns the search for a missing computer disc that contains enough incriminating evidence on it to bury a Cuban mobster (Michael Nader); among those involved in the hunt are Luke Dodge (Stephen Baldwin), a computer hacker, escaped convict, and owner of said disc, and Charles Piper (Laurence Fishburne), a fellow prisoner who — shades of The Defiant Ones — is shackled together with Dodge and thus forced to also take it on the lam. In a break from the usual NYC or LA settings, Fled is largely set in Atlanta, though that change of scenery does nothing to improve the tiresome shenanigans. Will Patton delivers the best performance as a kind-hearted detective, but Salma Hayek is wasted as an innocent bystander who assists our handcuffed heroes.
There are no extras on the Blu-ray.
Movie: *1/2
Burt Lancaster and Michael York in The Island of Dr. Moreau (Photo: Kino Lorber)
THE ISLAND OF DR. MOREAU (1977). The mid-1970s saw the debuts of 1976's The Food of the Gods and 1977's Empire of the Ants, two terrible H.G. Wells adaptations that were released on Blu-ray (and reviewed in this column; go here) just last month. Thank goodness, then, for The Island of Dr. Moreau, which hit theaters around the same time and gave Wells back some of his cinematic dignity. Don Taylor, a TV journeyman who occasionally took a break from the small screen to helm such entertaining fare as Escape from the Planet of the Apes and The Final Countdown, does likewise here, fashioning the film less as an exercise in stark horror and moody ambience — the defining traits of the classic 1932 adaptation Island of Lost Souls, starring Charles Laughton as Dr. Moreau — and more as a straightforward adventure yarn with a sci-fi bent. While that unfussy approach is no doubt due to Taylor's limitations as a director, it nevertheless works for this vivid picture that makes fine use of its lush Caribbean setting (the film was shot in St. Croix in the U.S. Virgin Islands). Michael York makes for a dashing hero as Andrew Braddock, a shipwreck survivor who manages to reach land after several days adrift. He finds himself on an uncharted island whose few residents include the erudite Dr. Moreau (Burt Lancaster), his beautiful young ward Maria (Barbara Carrera), the perpetually inebriated mercenary Montgomery (Nigel Davenport) and strange beings who prowl through the surrounding jungle. Braddock eventually learns that these creatures are half-man, half-beast "humanimals" created by Moreau in his aptly named "House of Pain," and he determines that escaping from this island is his best course of action. The chaotic climax is needlessly protracted and comes dangerously close to camp, but the rest of the film is measured and engrossing. While this doesn't match its 1932 predecessor, rest assured that it's light years ahead of the lamentable 1996 version starring an unhinged Marlon Brando.
Blu-ray extras include a final deleted image that was added to network showings of the film (it offers a take-it-or-leave-it twist) and a pair of theatrical trailers.
Movie: ***
Peter O'Toole in The Night of the Generals (Photo: Twilight Time)
THE NIGHT OF THE GENERALS (1967). The smashing performances by Peter O'Toole and Omar Sharif in 1962's Lawrence of Arabia made both men overnight stars, so it was hopeful that a movie reuniting both actors would provide a similar electrical charge. Unfortunately, The Night of the Generals fails to elicit even one tiny spark between the gents, just one of the problems confronting this ambitious if errant undertaking. A murder-mystery set during World War II (and beyond), the film finds Sharif cast as Major Grau, a German military investigator attempting to ascertain who murdered a prostitute in Nazi-occupied Warsaw. There's evidence that the brutal slaying was committed by a general, and only three in the city have no alibis: General Kahlenberge (Donald Pleasence, Blofeld in the James Bond flick You Only Live Twice), General von Seidlitz-Gabler (Charles Gray, Blofeld in the James Bond flick Diamonds Are Forever) and General Tanz (O'Toole, who of course never played Blofeld but, keeping the 007 connection alive, did appear in an uncredited cameo in the James Bond spoof Casino Royale). This lengthy (2-1/2 hours) picture also makes room for a pair of significant subplots — one centers on a romance between General von Seidlitz-Gabler's headstrong daughter (Joanna Pettet) and a timid German soldier (Tom Courtenay), while the other involves a plot to kill Adolph Hitler (the same real-life operation detailed in Tom Cruise's tepid Valkyrie). These various story strands clumsily come together toward the end, but the story interestingly continues past this point by focusing on a French inspector (the always-welcome Philippe Noiret) familiar with the case. The identity of the killer is fairly obvious from the get-go, and the picture is further weakened by an atypically subpar performance from O'Toole. Nevertheless, the plot mechanics remain engrossing (if rarely believable), and there are some fine turns in the supporting ranks.
Blu-ray extras consist of two theatrical trailers and an isolated track of Maurice Jarre's score.
Movie: **1/2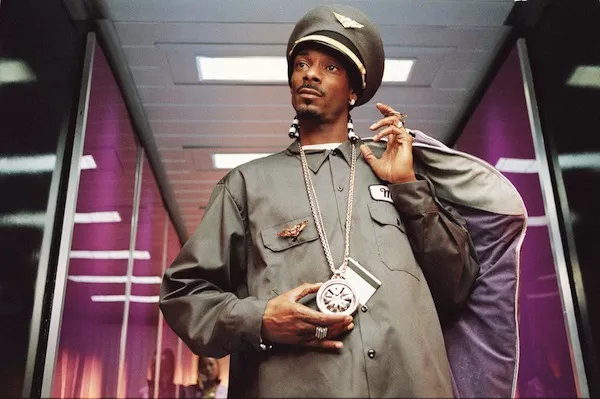 Snoop Dogg in Soul Plane (Photo: Olive Films)
SOUL PLANE (2004). This woeful comedy might have been successful had it taken off in one of two distinct directions. It could either have been a gently rollicking comedy filled with endearing characters — a la Barbershop — or it could have been a balls-to-the-wall satire that came up with clever new ways to gross out an audience — like the original Scary Movie. Instead, it waffles between the two camps, resulting in an imbecilic film that's about as punishing as a four-hour flight delay. A younger — and blander — Kevin Hart, displaying little of the magnetism that's currently propelling his nuclear-hot career, stars as Nashawn Wade, who, after winning millions in a lawsuit against a major airline, decides to use the settlement to create his own company, NWA Airlines. The maiden voyage (Flight 069, of course) is packed with nothing but formulaic figures: a dope-smoking pilot (Snoop Dogg), a dope-smoking lavatory assistant (D.L. Hughley), a randy homosexual flight attendant (Gary Anthony Williams), a randy security guard (Mo'nique), and a white nerd (Tom Arnold) who's actually named "Elvis Hunkee" (pronounced "honky," of course). Writers Bo Zenga and Chuck Wilson should be ashamed of themselves, not only for a lazy script that staggers between brain-dead crudity and cheap sentiment but also for reinforcing infinite stereotypes. And while I generally applaud a movie's right to offend, a gag involving the harassment of a Middle Eastern passenger simply because he "looks" like he could be a terrorist seemed in especially poor taste back in 2004, and it made me wonder at the time if Donald Rumsfeld was one of this film's financiers. The sizable cast also includes John Witherspoon as a blind man who thinks he's fingering a woman when he's really grinding his digits into a baked potato and a pre-Modern Family Sofía Vergara as the flight's sexy stewardess.
The Blu-ray offers both the R-rated theatrical version as well as an unrated cut. Extras include audio commentary on select scenes by Hart, Arnold and others; a making-of featurette; deleted scenes; and outtakes.
Movie: *
Dave Franco, Tom Wilkinson and Vince Vaughn in Unfinished Business (Photo: Fox)
UNFINISHED BUSINESS (2015). Sentimentality has no place in raunchy comedies, and many a movie of this nature has gone down in flames when, after we're presented with 100 nonstop minutes of odious characters and gross-out gags, we're suddenly asked to give a damn about these slobs. It happens repeatedly (e.g. Tammy, The Hangover, just about any Adam Sandler flick), as the scriptwriters go soft and include a faux-meaningful ending in a misguided effort to add what they believe is heft but is really just b.s. But what if the sentimentality is there from the very start? That's the angle taken by Unfinished Business, a hard-R comedy that at least makes an attempt to present us with real people rather than just receptacles for dick-and-puke jokes. Right from the beginning, we see that Dan Trunkman (Vince Vaughn) is an honorable family man with a loving wife (June Diane Raphael) and two insecure kids (Britton Sear and Ella Anderson), one of whom is having an especially hard time since his portly body makes him a prime target for bullies. Whereas most movies of this ilk would trot the kids out as a climactic dog and pony show, this one is quick to acknowledge their presence — and, more importantly, their influence on the protagonist. Of course, let's not get carried away — it's not like we're talking Little House on the Prairie warmth here. Trying to get his own business off the ground requires Dan and his only employees, the elderly — and randy — Timothy McWinters (Tom Wilkinson) and the young — and dim-witted — Mike Pancake (a funny Dave Franco), to travel to Berlin, whereupon they become involved in a series of misadventures involving glory holes, awkward sexual positions (specifically, the wheelbarrow), reefer madness at a youth hostel, and driving on the Autobahn (or, as Kraftwerk famously put it, "Wir fahr'n fahr'n fahr'n auf der Autobahn"). Some of it is amusing, much of it is trite, but at least the film doesn't go out of its way to insult our intelligence.
Blu-ray extras include a making-of featurette and deleted scenes.
Movie: **1/2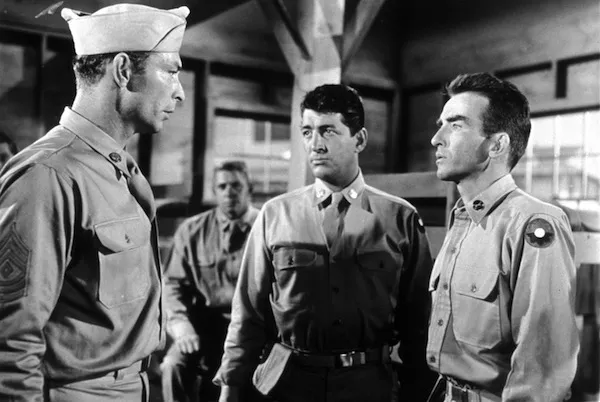 Lee Van Cleef, Dean Martin and Montgomery Clift in The Young Lions (Photo: Twilight Time)
THE YOUNG LIONS (1958). Dean Martin spent the first eight years of his film career exclusively partnered with Jerry Lewis — they made 16 pictures together during that stretch (17 if you include their joint cameo in the Hope-Crosby outing Road to Bali) — and there was speculation as to whether the team's designated straight man would be able to make it in the movies on his own. Any worries were quickly dispelled: After one throwaway film (1957's Ten Thousand Bedrooms), Martin landed a leading role in 1958's The Young Lions and followed that with the same year's excellent melodrama Some Came Running and 1959's Western masterpiece Rio Bravo. Martin would eventually settle into mostly making films with his Rat Pack buddies as well as headlining Matt Helm actioners, but with this trio, he laid to rest all doubts of his big-screen virility. What's most impressive about his work in The Young Lions is that while his co-stars are Marlon Brando and Montgomery Clift, the era's most celebrated Method performers and among the cream of the Hollywood crop, he easily holds his own against this esteemed pair. Adapted from Irwin Shaw's 1948 novel, The Young Lions tracks three men through their ordeals during World War II. Christian Diestl (Brando) is a German lieutenant who initially believes that Hitler will serve his country admirably but soon loses all of his idealism in the face of his countrymen's acts of cruelty and destruction. Hailing from the other side of the Atlantic are a pair of GIs: Noah Ackerman (Clift), a Jewish store clerk waging his own private battle against the anti-Semitism lobbed at him by his own fellow Americans, and Michael Whiteacre (Martin), a Broadway star who freely confesses he's a coward at heart but proves to be a great friend to Noah. The ending of Shaw's book (which I devoured as a teen) is far more powerful — by comparison, the film timidly peters out — but Brando delivers a thoughtful performance as the conflicted German, and the work by Maximilian Schell as Diestl's superior is even stronger than his (absurdly) Oscar-winning turn three years later in Judgment at Nuremberg.
Blu-ray extras consist of audio commentary by film historian Lem Dobbs, Julie Kirgo and Nick Redman; the theatrical trailer; and an isolated track of Hugo Friedhofer's score.
Movie: ***