(View From The Couch is a weekly column that reviews what's new on Blu-ray and DVD. Ratings are on a four-star scale.)
Burt Lancaster and George Kennedy in Airport (Photo: Universal)
AIRPORT: THE COMPLETE COLLECTION (1970-1979). The Airport series spanned the 1970s, and Universal has helpfully placed all four entries in one Blu-ray compilation.
The story goes that when someone informed Burt Lancaster that Airport (1970), based on Arthur Hailey's gargantuan bestseller, had scored a barrel of Oscar nominations, he retorted, "I don't know why. It's the biggest piece of junk ever made." Considering that Lancaster was the film's top-billed star, such candor is refreshing, but truthfully, the movie is better than his comment suggests — yes, it may be junk, but it's irresistible junk, like cotton candy, chicken nuggets or Gilligan's Island reruns. An all-star cast mills about in this melodrama in which a blizzard paralyzes a major airport while a plane is subjected to the whims of an unstable bomber. Lancaster plays the airport head, Dean Martin portrays a pilot, George Kennedy commands the ground crew, and so it goes. Top acting honors go to Van Heflin as the distraught bomber and Maureen Stapleton as his concerned wife. Nominated for 10 Academy Awards (including Best Picture and Best Supporting Actress for Stapleton), this absurdly copped the Best Supporting Actress trophy for Helen Hayes (as an elderly stowaway).
The massive success of Airport guaranteed there would be sequels, and the first was Airport 1975 (1974), a laughable yarn in which a 747 gets clipped by a small plane, leading to most of the crew being killed or maimed. It's up to a stewardess (Karen Black) to take charge, all while receiving instruction from those on the ground (Charlton Heston and returning George Kennedy). This is the one with the singing, guitar-strumming nun (Helen Reddy), the young girl (Linda Blair) requiring an organ transplant, and Gloria Swanson as herself.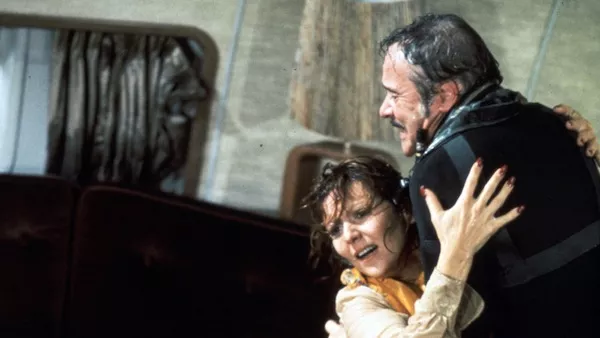 Brenda Vaccaro and Jack Lemmon in Airport '77 (Photo: Universal)
Airport '77 (1977) sounds like it would be the dopiest of them all, but it's actually not bad, thanks to a surprisingly strong cast and a tendency to avoid any camp. In this one, a 747 is hijacked by a gang of criminals, who then proceed to send the plane straight into the ocean. It's up to the pilot (Jack Lemmon!) to figure out how to save the submerged passengers. James Stewart, Lee Grant, Christopher Lee and Olivia de Havilland (who just turned 100 this month!) are among the cast heavyweights. And, yes, George Kennedy is back again. This earned a pair of Oscar nominations for Best Art Direction & Set Decoration and Best Costume Design.
The Concorde... Airport '79 (1979) is not only the worst picture in the Airport series, it's one of the worst of all '70s disaster flicks (and that's really saying something). A scientist (Robert Wagner) involved in illegal arms dealing must kill his girlfriend (Susan Blakely) after she finds out about his dirty activities. But rather than, say, strangling or shooting her, he arranges to have the plane on which she's traveling be blown out of the sky. Awful in every respect, it does feature a wonderfully kitschy cast: Charo, John Davidson, Martha Raye and Jimmy "Dyn-o-mite!" Walker. And, yes, George Kennedy is back again. His character is inexplicably now a pilot, and he gets to answer a stewardess' claim that "You pilots are such men!" with "They don't call it a cockpit for nothing!" Oy.
The only Blu-ray extras are theatrical trailers.
Airport: **1/2
Airport 1975: *1/2
Airport '77: **1/2
The Concorde... Airport '79: *
Randy Travis and Patrick Swayze in Black Dog (Photo: Universal)
BLACK DOG (1998). Charlotteans who want to catch a glimpse of their hometown on screen but don't especially want to sit through an entire lame movie can count their blessings: The Queen City — including its crown jewel, Bank of America Stadium (then Ericsson Stadium) — appears only in the first sequence, after which viewers can turn off the Blu-ray player and pop in something worthwhile (unless they also want to catch Wilmington, NC, in action). Black Dog, about a truck driver (Patrick Swayze) who gets caught up in a scheme involving the transport of contraband firearms, is standard yahoo fare, full of unshaven rednecks, high-speed car chases, and countless vehicles that conveniently burst into flame at the slightest provocation. You also get country music star Randy Travis as a trucker who writes rotten country songs and Meat Loaf as a Bible-thumping villain prone to yelling things like "Witness the resurrection, brothers and sisters!" as he tries to run Swayze off the road. Despite the presence of Mr. Loaf, the movie offers no paradise by the dashboard light, the windshield wipers, or even the back tires. Bad Dog!
Blu-ray extras include the theatrical trailer.
Movie: *1/2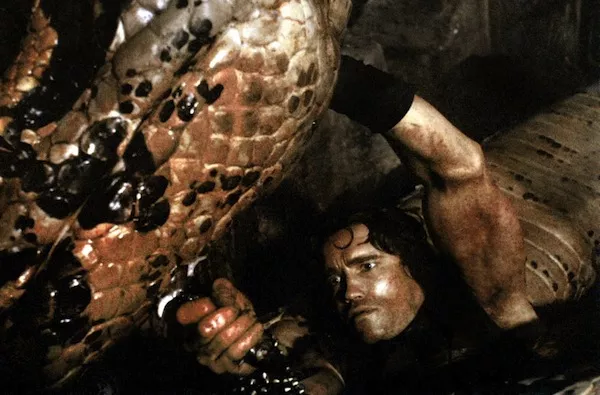 Arnold Schwarzenegger in Conan the Barbarian (Photo: Universal)
CONAN THE BARBARIAN (1982) / CONAN THE DESTROYER (1984). Arnold Schwarzenegger had been knocking about Hollywood for over a decade, but despite a few nibbles like Hercules in New York and Stay Hungry, he only became a recognizable Tinseltown fixture once he played the title role in the box office hit Conan the Barbarian. Even before that dreadful 2011 remake hit theaters, the original had been labeled in some quarters as a "classic," but let's not kid ourselves. This adaptation of Robert E. Howard's pulp adventures (also seen in the popular Marvel comic books) is a lumbering bore, with director John Milius and co-scripter Oliver Stone bringing no sense of joy to the proceedings. It's a fine-looking production, but the story — Conan squares off against a Snake King, played by a monotonous James Earl Jones — is uninvolving, and a wooden Arnie is not yet seasoned enough to work up the charisma that would serve him well in later roles. Conan the Barbarian was followed two years later by Conan the Destroyer; the sequel was roundly trashed, but it's no worse than its predecessor, since its campy components at least take the edge off the tedious proceedings. Besides, where else can you see Schwarzenegger, Grace Jones and Wilt Chamberlain all sharing the same screen?
While previously available separately on Blu-ray, the two films have now been reissued in a combo set. Extras on Conan the Barbarian include audio commentary by Milius and Schwarzenegger; a making-of feature; deleted scenes; and a piece on the creation of the sword used by Conan. The only extra on Conan the Destroyer is the theatrical trailer.
Both Movies: **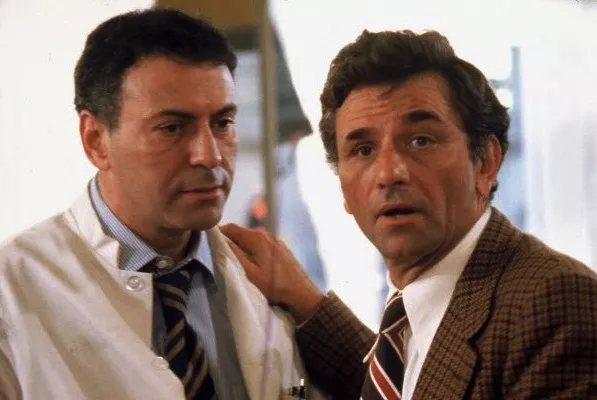 Alan Arkin and Peter Falk in The In-Laws (Photo: Criterion)
THE IN-LAWS (1979). A minor comedy classic (as well as a Top 20 box office hit back in '79), this one has it all, including a clever premise, a witty script (by Andrew Bergman) that's packed with choice dialogue, two beautifully matched lead actors in Peter Falk and Alan Arkin, and a supporting performer who almost makes off with the picture like a bandit in the night. Arkin stars as Sheldon Kornpett, a meek dentist who gets caught up in the misadventures of Vince Ricardo (Falk), a maverick CIA agent who also happens to be the father of his daughter's fiancé (Penny Peyser and Michael Lembeck play the betrothed). Both stars are in glorious form — Falk with his positive energy and tireless motormouth, Arkin with his deadpan demeanor and barely contained rage — while Richard Libertini (who passed away earlier this year) is an absolute hoot as an eccentric Latin American dictator with a hand puppet (literally; his hand is the puppet) named Señor Pepe, a hilarious takeoff of Señor Wences' ventriloquist act immortalized on The Ed Sullivan Show. And always remember: Serpentine! By all means, avoid the awful 2003 remake starring Michael Douglas in the Falk role, Albert Brooks in the Arkin part, and a grotesquely miscast David Suchet playing a bastardization of Libertini's character.
Blu-ray extras consist of audio commentary (from 2003) by Falk, Arkin, Bergman and director Arthur Hiller; a new interview with Arkin; a discussion of the film with supporting players Ed Begley Jr., Nancy Dussault, James Hong and David Paymer (who made his film debut as the helpful cab driver); and the theatrical trailer.
Movie: ***1/2
Walter Matthau in The Taking of Pelham One Two Three (Photo: Kino)
THE TAKING OF PELHAM ONE TWO THREE (1974). Considering the infinite number of motion pictures that have been filmed on New York locations over the decades, it's meant as a compliment of the highest order when I state that few, if any, Big Apple flicks exude such an NYC ambience as The Taking of Pelham One Two Three. Shot in that gritty 70s style that no doubt helped accentuate the city's grungy ordinariness, this exceptional thriller finds four men — Mr. Blue (Robert Shaw), Mr. Green (Martin Balsam), Mr. Grey (Hector Elizondo) and Mr. Brown (Earl Hindman) — hijacking a subway car and holding it for ransom. Their directive: Pay us a million dollars or we start killing passengers. The Transit Authority suits, fronted by Lt. Zachary Garber (a wonderful Walter Matthau), and the weak-willed mayor (Lee Wallace), keenly aware of poll numbers, assess how best to tackle the situation. Filled with colorful characters and crackling dialogue — and always with another surprise up its sleeve — his exemplary adaptation (by Charade scribe Peter Stone) of John Godey's novel inspired not only the naming of the central criminals in Quentin Tarantino's Reservoir Dogs after colors but also led to that misguided and mediocre 2009 remake with Denzel Washington and John Travolta.
Blu-ray extras include audio commentary by film programmer and historian Jim Healy; separate interviews with Elizondo, composer David Shire and editor Jerry Greenberg; and an animated montage of stills and posters.
Movie: ***1/2