Esperanza Spalding had a melody in her head. She'd been thinking about it. She'd been humming it. She heard the piano and the strings — violin, cello, viola, bass. And she knew she had the right voice for it: one that can flutter, in a mere phrase, from the smoky elasticity of Billie Holliday to the childlike wonder of Ella Fitzgerald.
But Spalding's melody needed words.
She glanced up. "Above my desk I had posted this poem by William Blake," she says. "I thought, wouldn't it be funny if it worked with the music?" She began singing lines from "The Fly," one of the many deceptively simple verses from Blake's Songs of Innocence and Experience.
Little Fly / Thy summer's play / My thoughtless hand / Has brushed away.
"It worked!"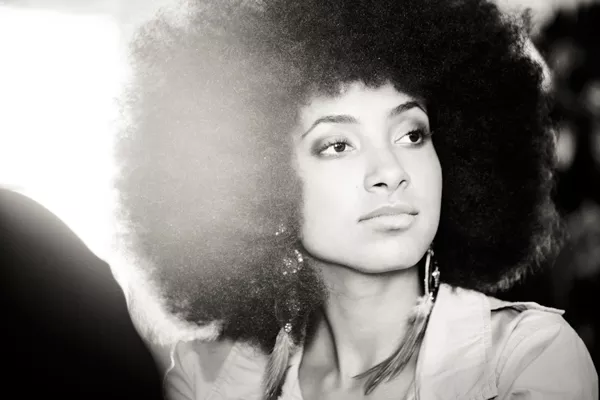 JAZZ HAIR: Esperanza Spalding
Not only did it work, but the exquisite "Little Fly" became the opening track of Chamber Music Society, Spalding's 2010 set of jazz- and strings-based songs that wound up resonating far beyond the heady conservatory world. It not only topped Billboard's jazz chart but it also reached No. 34 in pop, and its success put Spalding's Angela Davis afro and freeform compositional skills front and center.
The 27-year-old bassist and singer landed big feature profiles and magazine covers. She toured to great acclaim, stopping in Charlotte for that year's Sunset Jazz Festival. She took home the ominous "Best New Artist" award at the 2011 Grammys, and at this year's ceremony she fronted the Southern California Children's Chorus for a stirring performance of Louis Armstrong's whimsical "What a Wonderful World."
Although grateful for all her popular success, she's neither shaken nor stirred by it. "To me, the word pop means nothing," says Spalding, who performs at Knight Theater on Thursday, May 10. "I mean, music doesn't get any more profound just because more people are listening to it."
Even more are listening to Spalding's newest collection, Radio Music Society, which shot to No. 10 on the pop chart when it arrived in late March and became her second No. 1 jazz album. Perhaps partly due to its title and chart positions, some have characterized Radio Music Society as more "pop" than Spalding's previous works, which also include her 2006 debut, Junjo, and a self-titled album two years later.
"I'm not doing pop. I'm not doing fusion. That's not where I'm coming from," Spalding says. "I grew up listening to the music I listened to" — that would include Miles Davis, Sly Stone, David Bowie, folk, classical, music from other countries — "but when I sit down to write a song, I'm just writing a song. If any of those elements come into my music, it just makes sense." In other words, Spalding is not making conscious attempts to compose perfect mixes of jazz tracks with pop choruses for mainstream acceptance, hip-hop beats for "the kids" or Brazilian flavors for the international-music-loving crowd. She laughs. "No, that's not the way it happens at all."
Spalding's creativity is a bit more organic. After all, she comes from one of those rare areas of the United States where artistic experimentation is in the DNA. Growing up in Portland, Ore., she didn't realize that in some parts of the country artistic types are considered kind of strange. "I just assumed everybody understood that you do art — that that's what kids do," she says. "It was really weird getting to school with kids saying their parents thought they were weird to be an artist."
Not only that, but in Portland, art wasn't just for the privileged. "It was very crunchy-hippie when I was a kid," she says. "Working-class single parents could afford for their kids to be involved in the arts there." She should know. Her mother was a single parent who raised Spalding and her brother in a tough part of town. "All of these art scenes were extended to low-income kids. And I think that's crucial."
If there's any weakness to Spalding's Music Society series, it's that she has a tendency to be a little overly ambitious. In my Rolling Stone review of Chamber Music Society, I wrote that the album "finds Spalding stretching herself a bit too thin, pulling together everything from a Broadway-like duet ('Apple Blossom,' with Milton Nascimento) to scat-heavy, string-and-percussion excursions ('Chacerera')." Radio Music Society is even more ambitious, bringing together a cornucopia of guest appearances — Q-Tip co-produces a couple of tracks, Lalah Hathaway and Atlanta's Algebra Blessett sing on two, Gretchen Parlato contributes backup vocals, and literally dozens of young and veteran jazz and R&B players add their imprints, including saxophonist Joe Lovano, percussionists Billy Hart and Jack DeJohnette and guitarist Jef Lee Johnson. And the songs? There's everything from a fairly faithful cover of the Stevie Wonder-penned "I Can't Help It," from Michael Jackson's Off the Wall, to a transformation of Wayne Shorter's classic funk-jazz instrumental "Endangered Species" into more than six minutes of simmering, playful adventurousness courtesy of Hathaway's sultry vocals and some giddy improvisation.
"The creative process is all about trying to make these big, imaginary ideas feasible," Spalding says. "The best thing about having a wider audience is that you have more resources to do what you want to do. For example, I'd always been interested in playing with large ensembles. Now I get to play with large ensembles."
If "overly ambitious" is the only fault one can find with Spalding's Music Society series, then perhaps critics like me should not yet — as William Blake wrote of his little fly — brush her away.
Esperanza Spalding
$35-$65. May 10. 7:30 p.m. Knight Theater. www.blumenthalarts.org.