(View From The Couch is a weekly column that reviews what's new on Blu-ray and DVD. Ratings are on a four-star scale.)
Lamberto Maggiorani and Enzo Staiola in Bicycle Thieves (Photo: Criterion)
BICYCLES THIEVES (1948). More commonly known in the United States under the title The Bicycle Thief, the Italian import Ladri di Biciclette is a masterpiece by any name. It's not hyperbole to flatly state that this is one of the all-time greats in the annals of cinema; on my own list, only Ingmar Bergman's The Seventh Seal ranks higher when it comes to foreign-language films. A key motion picture in the burgeoning of the Italian neorealist movement, this international award winner (including an honorary Best Foreign Film Oscar from the Academy) was an attractive enough property to catch the attention of Hollywood producer David O. Selznick, who envisioned it as a project for Cary Grant. I'm sure that would have made a decent movie, but by electing instead to shoot their film in Italy with nonprofessional actors, director Vittorio De Sica and scripter Cesare Zavattini created a timeless classic and in the process helped push along the maturation of world cinema. Lamberto Maggiorani, a real working-class joe, plays Antonio, whose job putting up posters around Rome depends on his bike. After the vehicle is stolen, he and his adoring son Bruno (Enzo Staiola, a natural in front of the camera) comb the back streets of the city in a frantic search for the thief. From its opening moments to the devastating finale (perhaps the most wrenching conclusion I've ever witnessed on screen), there isn't a false note in this important and highly influential landmark.
Blu-ray extras consist of a feature on the history of Italian neorealism; a 2003 documentary on Zavattini; and interviews with those who worked with De Sica.
Movie: ****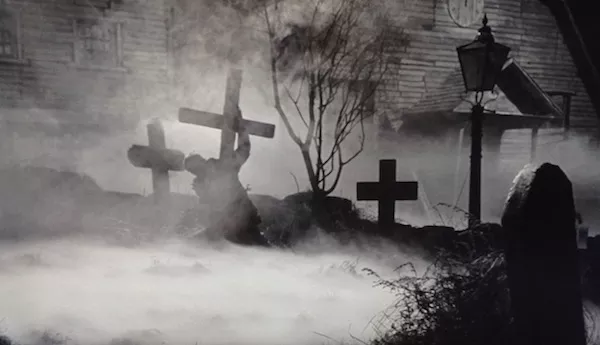 The City of the Dead (Photo: VCI)
THE CITY OF THE DEAD (1960). While the title hints at a zombie flick (more so since there is an Italian zombie film with a similar moniker, City of the Living Dead), this British effort actually centers on witchcraft. It's a buried gem in that subgenre: Better known by its American name (Horror Hotel, which I guess sounds like a zombie flick starring Elvis), this has been newly restored by the VCI label and offered on Blu-ray in its original U.K. cut. It's a movie ripe for discovery, with Christopher Lee cast as a college professor who suggests to his student Nan (Venetia Stevenson) that if she's really interested in continuing her study of witchcraft, she should journey to the small Massachusetts town of Whitewood, where a witch had been burned at the stake centuries earlier. Nan soon arrives in the fog-shrouded village, whereupon the locals eye her suspiciously, the priest (Norman Macowan) insists she leave immediately, and the innkeeper (Patricia Jessel) evades all her questions. Astute viewers will catch that a narrative bait and switch mirrors one from Hitchcock's Psycho (released around the same time) — it's just one of the startling developments in a film full of fine characterizations, intelligent dialogue, and a pervasive atmosphere of dread. The movie marked the big-screen debut of director John Moxey; he would helm only a half-dozen more films before spending the next quarter-century working exclusively in television, largely on hit series like The Saint, Mission: Impossible and Murder, She Wrote.
In addition to the U.K. cut, the Blu-ray contains the aforementioned (and slightly edited) American version, Horror Hotel. Extras on the disc include separate audio commentaries by Lee, Moxey and author Bruce G. Hallenbeck (The Amicus Anthology); two interviews with Lee; an interview with Stevenson; and a photo gallery.
Movie: ***
Will Smith in Concussion (Photo: Columbia)
CONCUSSION (2015). Dramatizing one man's David-and-Goliath fight against the all-powerful National Football League, the based-on-fact Concussion admirably never goes easy on the monolithic organization. Will Smith stars as Dr. Bennet Omalu, a Nigerian forensic neuropathologist who uncovers the tragedy of dormant brain damage in many ex-players and subsequently finds the NFL stonewalling him at every turn. Smith and Gugu Mbatha-Raw (doing what she can with the thin role of Omalu's significant other) radiate sincerity, and there are typically solid supporting turns from old pros Alec Baldwin as a concerned league doctor, Albert Brooks as Omalu's sympathetic boss, and especially David Morse as a former gridiron player whose rapidly deteriorating condition has led him to hit rock bottom. Less convincing is squeaky clean Luke Wilson as odious NFL commissioner Roger Goodell, but the picture, to its credit, lays all blame where it squarely belongs. In all other respects, though, this plodding drama plays like a well-tailored TV movie of the week, the sort that hits every expected narrative beat just before the fadeout to commercial.
Blu-ray extras include audio commentary by director Peter Landesman; a making-of featurette; deleted scenes; and a piece on the true story that inspired the film.
Movie: **1/2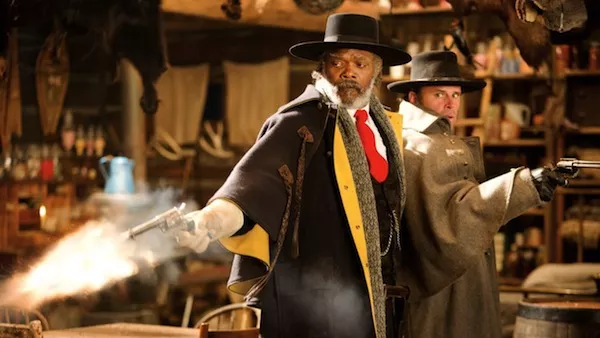 Samuel L. Jackson and Walton Goggins in The Hateful Eight (Photo: Anchor Bay & Weinstein Co.)
THE HATEFUL EIGHT (2015). Billed as "the 8th film by Quentin Tarantino" (not at all accurate, but we'll let it slide), The Hateful Eight ran just over three hours in its limited theatrical roadshow edition and a bit over two-and-a-half hours in the version that opened wide and now occupies the Blu-ray release (this latter cut excises the overture, the intermission, and a few minutes of narrative). Either way, the film moves like a cheetah on fire, feeling far shorter than many of the 100-or-so-minute duds I endured last year. The credit for that, now as always, goes to Tarantino's writing, among the most fluid and lively since the days of Howard Hawks and Billy Wilder productions. The vibrant monologues and exchanges are in the service of a Western-cum-murder-mystery, as a disparate assortment of characters are stranded in a desolate cabin in post-Civil War Wyoming. Chief among these bad-asses are a pair of bounty hunters, Major Marquis Warren (Samuel L. Jackson) and John "The Hangman" Ruth (Kurt Russell), as well as Ruth's prisoner, the murderous Daisy Domergue (Jennifer Jason Leigh), and Chris Mannix (Walton Goggins), a racist not at all happy that the South lost the war. The over-the-top gore isn't nearly as awkward, embarrassing, oppressive or tiresome as Tarantino's overuse of both the "n" word and the "b" word. The legendary Ennio Morricone earned the Best Original Score Oscar (finally!) for his excellent contribution, while Leigh and cinematographer Robert Richardson nabbed well-deserved nominations.
Blu-ray extras consist of a behind-the-scenes featurette and a look at the film's 70mm presentation.
Movie: ***
Jennifer Lawrence in The Hunger Games: Mockingjay — Part 2 (Photo: Lionsgate)
THE HUNGER GAMES: MOCKINGJAY — PART 2 (2015). While this fourth and final film boasts the same problems as many of those in multi-part franchises — namely, the decreased use of audience favorites (see: Hagrid in the Harry Potter series) and a needlessly protracted finale (hello, The Lord of the Rings!) — it provides a satisfying conclusion to the exploits of one of the best screen heroines of recent years. Picking up where Part 1 left off, we find Katniss Everdeen (Jennifer Lawrence) dealing with a Peeta Mellark (Josh Hutcherson, simply not up to the rigorous demands the role now requires) who's been programmed to kill her, a President Snow (Donald Sutherland, deliciously evil) who's determined to crush her, and a President Coin (Julianne Moore) whose end game grows more suspicious by the minute. Meanwhile, Katniss' puppy dog of a part-time lover, Gale (Liam Hemsworth), continues to hang around seeking scraps of affection, while the most interesting players — Woody Harrelson's Haymitch, Elizabeth Banks' Effie and Jane Malone's Johanna among them — are lucky to be given a scene here, a line there. Aside from some outlandish moments toward the end, such as when the creatures from The Descent unexpectedly show up, the picture benefits from its relentless bleakness, as decent people die unexpectedly, personal traumas continue to haunt many of the characters, and Katniss learns that when it comes to government, plus ça change, plus c'est la même chose. The Hunger Games franchise is often dismissed for its Young Adult designation, but as far as these film versions are concerned, they often showcase a maturity and sobriety that put many Old Adult efforts to shame.
Blu-ray extras include audio commentary by director Francis Lawrence and producer Nina Jacobson; an eight-part making-of documentary; and a photo gallery.
Movie: ***
Herbert Lom in Murders in the Rue Morgue (Photo: Shout! Factory & MGM)
MURDERS IN THE RUE MORGUE (1971) / THE DUNWICH HORROR (1970). Edgar Allan Poe and H.P. Lovecraft, two literary giants well-versed in the macabre, share top billing in this double feature Blu-ray featuring early-70s efforts based on their works. Unfortunately, the films aren't frightening, just frighteningly mediocre.
Director Gordon Hessler has stated in interviews that the plot of Poe's Murders in the Rue Morgue was so well-known that the filmmakers felt they had no choice but to radically alter the storyline. By that brilliant logic, the next version of Hamlet should center on, say, a brooding elementary school student in Madrid; ditto for the next take on Tom Sawyer, which should maybe focus on striking workers in Cleveland. At any rate, all Hessler and company did was graft an even more familiar project, Gaston Leroux's The Phantom of the Opera, onto the Poe piece, as Herbert Lom plays a disfigured madman haunting a playhouse. Jason Robards handles the central role of the acting troupe's impresario/leading man, and never before or since has this two-time Oscar winner been so wretchedly miscast. If the portly police inspector looks familiar, that's because he's played by the somnambular Adolfo Celi, the villainous Largo in the 007 entry Thunderball.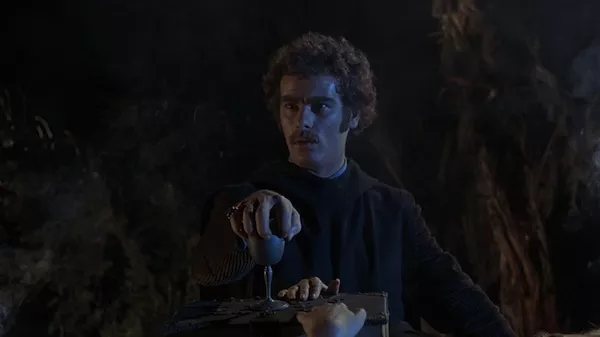 Dean Stockwell in The Dunwich Horror (Photo: Shout! Factory & MGM)
The Dunwich Horror has long enjoyed a reputation as a minor cult item, but this adaptation of the Lovecraft story proves to be a great disappointment. Dean Stockwell (dull) plays Wilbur Whateley, a strange young man who enlists the unwitting aid of a college student (Sandra Dee) in his plan to call forth demonic entities; meanwhile, who (or what) is lurking behind a locked door at the Whateley residence? The animated opening credits sequence is the best part of a leadenly paced picture that grows less gripping as it moseys along. One of the scripters was future L.A. Confidential Oscar winner Curtis Hanson (this marked his first screen credit); look for Rocky's Talia Shire (here billed under her maiden name, Talia Coppola) as an ill-fated nurse.
Blu-ray extras on both titles include audio commentary by film historian Steve Haberman and the theatrical trailer.
Both Movies: **
MYSTERY SCIENCE THEATER 3000: VOLUME XXXV (2016). Roger Corman goes 3-for-4 with this latest set of MST3K keepers. To be clear, this isn't to say he has three good movies represented here; instead, he's involved with three of the included turkeys.
Given the success of both I Was a Teenage Werewolf and I Was a Teenage Frankenstein in 1957, it's no surprise the AIP heads titled their film Teenage Cave Man (movie made in 1958, featured on MST3K in 1991) instead of the planned Prehistoric World. A pre-The Man from U.N.C.L.E. Robert Vaughn plays a rebellious grunt in this hokey outing marginally redeemed by a nifty twist ending — and largely redeemed by the riffs from Joel and the 'Bots ("Hey, it's Grady from Sanford and Son!").
Originally titled Time Walker, Being from Another Planet (movie made in 1982, featured on MST3K in 1992) poorly meshes horror and sci-fi staples, as a recently unearthed mummy is soon revealed to be a long dormant alien just wanting to go home. I chuckled at Crow singing, "Hey, hey, we're the mummies!" and was impressed that the show got away with including one of the most notorious taglines in porn history ("It's Not His Nose That Grows," courtesy of The Erotic Adventures of Pinocchio).
The one non-Corman flick in the pack, 12 to the Moon (movie made in 1960, featured on MST3K in 1994) focuses on what happens when an international coalition of astronauts encounters hostile moon creatures with a fondness for cats. Before they tackle the main attraction, the Satellite of Love crew sets its sights on Design for Dreaming, a General Motors-produced short that allows for verbal shout-out to films as disparate as Breakfast at Tiffany's and Roger & Me. Plus: TV's Frank holds a celebrity roast for Dr. Forrester.
It's not quite as awful as MST3K fave Outlaw of Gor, but as far as sword and sorcery spectacles go, Deathstalker and the Warriors from Hell (movie made in 1988, featured on MST3K in 1996) is pretty unendurable. Yet when filtered through wisecracks involving Maude (a hilarious quip), Highlander, That's Entertainment! and more, the third film in the beloved(?) Deathstalker series becomes a much more palatable concoction, even if we do have to suffer through Pearl's tiresome shtick during the wraparound segments.
DVD extras include an interview with Being from Another Planet composer Richard Band; retrospective pieces on the other three titles; and the original version of Time Walker.
Collection: ***1/2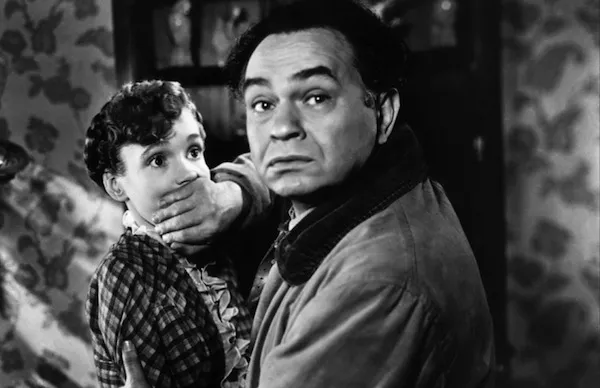 Allene Roberts and Edward G. Robinson in The Red House (Photo: The Film Detective)
THE RED HOUSE (1947). The Film Detective arrived on the scene in 2014, and among this entertainment outfit's pursuits is cleaning up public-domain titles and releasing them on Blu-ray. On the heels of such digitally remastered titles as Roger Corman's A Bucket of Blood, the Vincent Price chiller The Bat and the exceptional film noir outing Kansas City Confidential (recently reviewed in this column) comes The Red House, a curio starring the great Edward G. Robinson. He headlines as Pete Morgan, who lives on a modest farm with his sister Ellen (Judith Anderson) and his adopted daughter Meg (Allene Roberts). Pete has always warned Meg to stay away from the forest located on their property, particularly the red house that's buried deep within it; she's always obeyed until her classmate Nath (Lon McCallister) snags a job at the farm and decides he won't rest until he uncovers the mystery behind Pete's paranoia. This isn't a film noir in the traditional sense, but it boasts enough ingredients to pass as one — these include the superb, shadow-saturated camerawork by Bert Glennon, a memorable score by three-time Academy Award winner Miklós Rózsa (Hitchcock's Spellbound), and a femme fatale of sorts in Nath's mischievous girlfriend Tibby (21-year-old Julie London, a quarter-century before she became a household name via her role as nurse Dixie McCall on TV's Emergency!).
There are no extras on the Blu-ray.
Movie: ***