If you build it, they will come. We at Creative Loafing built an oral sex survey; they came. And then they took the survey. As with anything on the internet, some respondents took it seriously and others didn't. What resulted was a mishmash of numbers and anecdotes, which is interesting more for the pinhole lens it offers into the private lives of our neighbors than for any real statistical significance.
Either way, there's a lot to swallow while sifting through the results.
Of about 60 respondents who shared their deep-throated secrets with us, more than 60 percent were between ages 26 and 45. Big shout-out to the three folks in the "Over 65" age range who participated.
Not surprisingly, a majority of those who answered our survey were men, making up exactly 69 percent of respondents, coincidentally enough.
Nine of 10 respondents said they enjoy oral sex, which makes it all the less surprising that the leading answers when asked how often you had oral sex were "as often as possible" and "not enough."
Those who said they didn't enjoy it cited self-consciousness and not finding it pleasurable, with nearly 30 percent of women finding themselves on that side of the argument compared to just 2.5 percent of men.
Alas, it does seem men are out of practice. A survey of Canadian undergraduates recently found that men are less likely to perform oral sex on their partners, casual or not, than women, but that men are more likely to enjoy giving oral sex.
Those same undergrads said that oral sex with a casual partner was less enjoyable than with a more committed partner, but also that — don't get them wrong — it's good either way.
I don't think we need a survey to conclude that taking the first steps into the turbulent waters of your sexuality or lack thereof is universally horrifying. With oral sex, as with everything else, there's a first time for everyone. When responding to a question asking about their first experiences with oral sex, many women respondents answered by describing the first time they had given oral sex. One woman summed up a first experience scenario that she likely shares with many, many women in Charlotte and around the globe.
"It was fine," she says. "I really wasn't sure what I was expecting. His semen was bitter, which I wasn't anticipating. I swallowed and have always swallowed since. Of course I gave and did not receive in return. I think my first time receiving was not until my long term relationship in college."
Another respondent, a man, described his first experience thusly: "College." He leaves much to the imagination, while another man, describing one of his less-than-stellar experiences, doesn't: "I could not get hard, no matter how hard she worked. But then she started puking and that was that."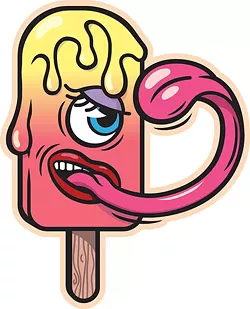 To avoid this and other oral-gone-wrong situations, respondents weren't shy about offering advice for improvement. (Imagine your fellow Charlotteans in the room with you, giving helpful advice as you and your partner careen toward a crowdsourced finish.)
We were happy to see that we can all agree that when oral is good, it's great.
"I was tied up and blindfolded. Teased endlessly with light touches all over my body — I never knew where the next one would come from. A finger inside of me and his tongue slowly circling my clit sends me absolutely off the edge," wrote one respondent.
"There is no getting around the fact that swallowing cum is the way to go. If a woman can't/won't swallow, it can still be good, but it will never be great. I have had sooooooooooo many good blowjobs in the past few years it is hard to pick one out. There was one time when my GF was driving me to the airport and we had some time to kill. We went to the cell phone lot and she blew me. That was pretty hot."
If you need further inspiration to get out and go down, studies show that performing oral sex on women is good for your health. (That magic potion down there can protect against cancer and heart disease.)
But while real scientists are out there doing the hard work of finding out that oral is good for your health, we at Creative Loafing are content to conclude that oral sex is just good — if not always clean — fun.
While the quotes in this intro may act as a good tease, check out the love below, where we go a few inches deeper.
We know 60 Charlotteans is a small sample size, so we're keeping this thing live in hopes of getting more info and updating our stats online.
ON ENJOYMENT
"I feel like giving oral sex is just gross. I don't like the thought of putting a penis in my mouth. I feel dirty. Receiving is okay, but I do it more for my partner's enjoyment. Even filling out this survey is extremely difficult, but maybe it helps me sort through some of my feelings about it."
"Honestly — I'd rather be the giver than the taker. Not a particular experience but something about seeing the other person rise to their climax via my mouth, is a huge turn on."
"I'm a big fan of 69. Why should I have all the fun when we can both get off?"
ON MEMORABLE EXPERIENCES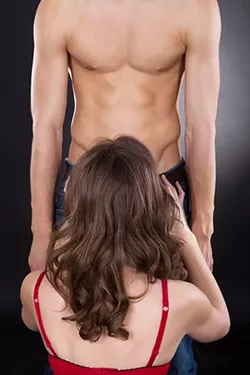 "He was enormous. And his cum tasted like honey and champagne."
"I had inserted some grapes into my girlfriend's vagina ... As I performed oral sex she would climax and the grapes would pop out. I would of course pause to eat them."
"I was amazed to find out that the only way [my partner] could orgasm was when she made me cum in her mouth. She said that she felt so much power at that moment and of course I was amazed, and very happy! She said it was from an early experience in her life involving her older brother and his friends, but did I care?"
ON NOT-SO-MEMORABLE EXPERIENCES
"Once my ex husband got knocked in the forehead by a ceiling fan when we were visiting my inlaws..."
"In college one time I was with a girl, we were both really drunk. She wanted to have sex so she ripped off my pants and started blowing me. I could not get hard, not matter how hard she worked. But then she started puking and that was that."
"It was so dry down there and he had not shaved in a week and his beard rubbed me raw. He could not find the clit at all. Midway through he consulted a 2010 Men's Health article to help him find it."
ADVICE
"No teeth. Ever. I have found a combination of clitoral stimulation and penetration, both with my tongue, provides the best results. Also, eye contact can help with the mental game."
"For girls, get into it! Try new things and read his body language. Not everything works for every guy, so don't be afraid to mix it up. Communication is key too. He shouldn't hold back feelings if he doesn't like what's going on. Talk, experiment, and don't stop when things are going well for him."
"Don't do oral out of a sense of obligation. Only perform if you're confident and enjoying performing."
"I use my vibrator when giving my boyfriend a blow job. It makes it enjoyable for both of us."
"I begin slowly and enjoy the oral sensation. Performing this is about my gratification too!"