(View From The Couch is a weekly column that reviews what's new on Blu-ray and DVD.)
Charles Bronson in Death Hunt (Photo: Shout! Factory)
DEATH HUNT (1981). With its crisp running time and lean, mean storytelling, Death Hunt is the type of undemanding fare made for a midnight viewing session in a living room environment. Loosely based on a true story, this casts Charles Bronson as Albert Johnson, a trapper living an isolated life in the snow-packed Canadian wilds in 1931. Stumbling across a dogfighting ring led not by Michael Vick but by an unsavory character named Hazel (Ed Lauter), Johnson saves the animal while drawing the ire of the rubes involved. After killing one of them in self-defense, Johnson is forced to take it on the lam, with the sympathetic but duty-bound Edgar Millen (Lee Marvin) and his fellow Mounties on his trail. To further complicate matters, a serial killer tagged the Mad Trapper is also on the prowl, leading many to speculate whether that might also be Johnson. There's always intrinsic pleasure to be had from watching a taciturn action star like Eastwood or, in this case, Bronson roughly manhandle rednecks; couple that with the sight of Bronson and Marvin trying to out-snarl each other, and the result is a modest bit of macho cinema.
Blu-ray extras include audio commentaries with writers Michael Grais and Mark Victor and select cast members; an interview with producer Albert S. Ruddy; and the theatrical trailer.
Movie: **1/2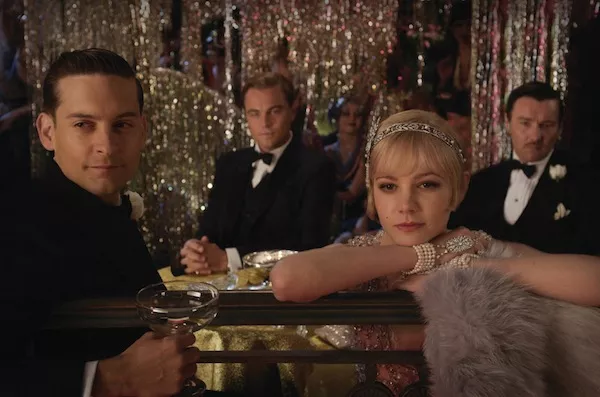 Tobey Maguire, Leonardo DiCaprio, Carey Mulligan and Joel Edgerton in The Great Gatsby (Photo: Warner Bros.)
THE GREAT GATSBY (2013). Here's the thing about director Baz Luhrmann's adaptation of F. Scott Fitzgerald's 1925 classic: It remains quite faithful to the book, at least in terms of plot developments, character motivations and other integral elements often butchered by Hollywood filmmakers. But it rarely taps into the essence of the novel, preferring instead to showcase the glitz over the grit. It's a stage spectacular made for impatient viewers, and yet there's no denying that it works fairly well in that capacity. It's 1922, and the affable Nick Carraway (Tobey Maguire) moves into a cottage situated next to the sprawling mansion of nouveau rich entrepreneur Jay Gatsby (Leonardo DiCaprio). Gatsby and Nick's cousin, Daisy Buchanan (Carey Mulligan), once shared a grand but brief romance, and the millionaire convinces Nick to help facilitate a rendezvous between the pair, a clandestine plan until Daisy's husband Tom (Joel Edgerton) starts to get suspicious. Fitzgerald's novel touches on numerous weighty subjects, including the allure and the insidiousness of decadent living, the opportunity for Americans to reinvent themselves in startling fashion, the perennial class struggle between this nation's haves and have-nots, and the subtle but significant differences between "old money" and "new money." Luhrmann and co-scripter Craig Pearce pay lip service to all of these topics but resist delving into them, opting instead to fashion a film that plays like a fabulous party that only goes downhill when the cops turn up to shut it down. While not a complete success, the 1974 version trumps this one in almost every regard, particularly in the casting. DiCaprio is arguably a better actor than Robert Redford, but he doesn't have the stature to pull off this iconic role. Maguire's Nick Carroway doesn't differ enough from his Peter Parker, meaning I prefer Sam Waterston's thoughtful portrayal. The only casting misstep in the '74 take was Mia Farrow's grotesque turn as Daisy: Mulligan isn't as disastrous, but she's still wrong for the part, portraying this beautiful whirlwind as a mousy girl — it's like watching a 12-year-old playing dress-up in her mommy's clothes. In fact, much of The Great Gatsby feels that way: It's pretty, charming and sometimes even clever, but it's impossible to take seriously.
Blu-ray extras include a making-of featurette; deleted scenes; pieces on the film's costume designs and music selections; a look at the Jazz Age depicted in the movie; and, most tantalizingly, the trailer for the long-lost 1926 silent version of The Great Gatsby.
Movie: **1/2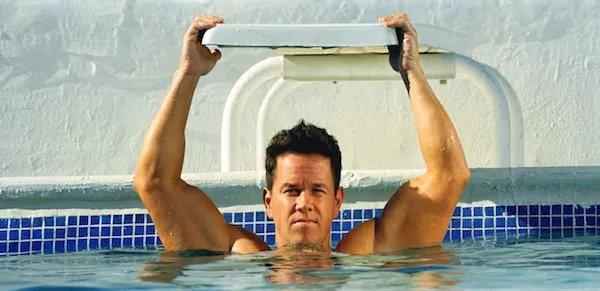 Mark Wahlberg in Pain & Gain (Photo: Paramount)
PAIN & GAIN (2013). The factual tale being related here, based on a series of articles Pete Collins wrote for the Miami New Times, is solid gold. Daniel Lugo (Mark Wahlberg) is a Miami bodybuilder who loves his body but not his lot in life, which entails a low-paying job working in a gym. He eventually decides that there's no reason he can't enjoy the American Dream himself ... by stealing it from someone else. Enlisting the aid of two other hunky lunks (Dwayne Johnson and Anthony Mackie), he sets his sights on kidnapping a wealthy gym patron (Tony Shalhoub). But when it comes to doing anything right, these three are even less adept than Moe, Larry and Curly. Besides a head-spinning story, what Pain & Gain most has going for it is a superb cast (Wahlberg, particularly, has rarely been better). But all salient ingredients largely count for naught with Michael Bay at the helm. Not able to get out of the way of a promising movie, the Pearl Harbor director, with the apparent support of scripters Christopher Markus and Stephen McFeely, smothers the project in the sort of juvenile hijinks we had hoped he would skip this time around: homophobia, misogyny, scatological humor and other ingredients sure to make a 13-year-old boy titter. It's not that sordidness should be absent from a sordid tale, but Bay loves to wallow in it — contrast this with even someone like Quentin Tarantino (hardly our most modest filmmaker!), whose Django Unchained centered on the atrocities of slavery yet still was restrained enough to not actually show one man getting his head hammered open and another torn apart by dogs. Bay's immature streak goes even deeper than homo and bitch jokes: Rather than the attentive yet dispassionate stance that shrewd filmmakers employ when they don't want to condemn their immoral characters outright (think the title character in Brian DePalma's Scarface or Anton Chigurh in the Coens' No Country for Old Men), there's a sense that he's actually cheering these thugs on, never more obviously than in a monologue in which Daniel proudly speaks about taking his best shot. There's no irony or self-awareness in the staging of this sequence; instead, Bay tackles it as if he were Steven Spielberg filming one of Daniel Day-Lewis' earnest Lincoln speeches. It's an irritating moment and, as with the rest of Pain & Gain, viewers will feel the burn for days afterward.
There are no extras on the Blu-ray.
Movie: **
Q - The Winged Serpent (Photo: Shout! Factory)
Q - THE WINGED SERPENT (1982). Some people primarily remember Michael Moriarty for his superb, Emmy Award-winning performance as the icy SS officer Erik Dorff in the 1978 television miniseries Holocaust. Others know him as Assistant District Attorney Ben Stone on the first four seasons (1990-1994) of the long-running TV series Law & Order. But there will always be a group who mainly recall the actor from his quirky and possibly deranged turn in Q - The Winged Serpent, an ingratiating effort from genre filmmaker Larry Cohen. Moriarty plays small-time crook Jimmy Quinn, who, following a botched robbery, hides out at the top of the Chrysler Building in Manhattan; there, he locates the nest of the giant creature that's been flying around the city, picking off construction workers, window washers and topless rooftop sunbathers alike. David Carradine and Richard Roundtree portray the cops investigating the slayings, with the former believing that the monster is the Aztec god Quetzalcoatl brought back to life through prayer and the latter thinking that his partner's crazy. Those who require their special effects to be CGI-sparkly need not bother: The stop-motion animation used to create the serpent isn't polished, but that only adds to the merriment of a movie that never stops long enough to take anything seriously. Cohen and his crew soak the picture in Big Apple atmosphere — the aerial photography of Manhattan is especially dynamic — and Carradine is disarmingly relaxed as the wisecracking detective. Yet it's Moriarty, as the lifelong loser who hopes to parlay his knowledge of Q's location into fame and fortune, who really sparks the proceedings with his offbeat characterization.
Blu-ray extras include audio commentary by Cohen and the theatrical trailer.
Movie: ***
Carole Lombard and Jack Benny (far right) in To Be or Not to Be (Photo: Criterion Collection)
TO BE OR NOT TO BE (1942). Director Ernst Lubitsch's wartime effort seemed doomed from the start, when 33-year-old leading lady Carole Lombard was killed in a plane crash two months before the picture's premiere. On the heels of that tragedy, the controversy surrounding the film's premise — a comedy about the Nazi occupation of Poland? — softened its appeal at the box office and led to scathing reviews from most critics of the day. Clearly, though, this was a simple matter of a movie being ahead of its time; subsequently given its due, it's now regarded as no less than a masterpiece. Jack Benny and Lombard star as Joseph and Maria Tura, Poland's most celebrated stage performers and part of an acting troupe that eventually finds itself involved in a complex scheme to stop a Nazi spy (Stanley Ridges) from exposing the members of the Polish underground. Character actor Sig Ruman scores his best role as a bumbling German officer ("So they call me Concentration Camp Ehrhardt!") whose ineptitude foreshadowed the Nazis on Hogan's Heroes — in fact, both Ehrhardt and the TV show's Colonel Klink even call out for their same-named subordinate "Schultz!" whenever something goes wrong. Benny is hysterical as an actor whose vanity knows no bounds, while the final performance delivered by Lombard (whose death left Clark Gable a widower) ably shows her adeptness at both comedy and drama. Hurtling forward with its dizzying blend of laughs and intrigue, the movie's blessed with a script that's jam-packed with memorable quips (some laced with naughty double entendres), with most of the best ones handed over to Benny. Personally, though, I've always had a soft spot for Tom Dugan's ad-lib in a play in which his character portrays Der Fuhrer: "Heil Hitler!" "Heil myself." Real-life spouses Mel Brooks and Anne Bancroft starred in a 1983 remake; that underrated version is funny, but this one's the real article.
Blu-ray extras include audio commentary by film historian David Kalat; a 2010 French documentary on Lubitsch's career; and a 1916 silent short Lubitsch made shortly before leaving Germany for the U.S. In addition to the usual critical essay commissioned by Criterion (this one by the always astute Geoffrey O'Brien), the accompanying booklet also includes the op-ed piece Lubitsch wrote in 1942 for the New York Times, defending his film against its critics (most notably Times reviewer Bosley Crowther).
Movie: ****