(View From The Couch is a weekly column that reviews what's new on Blu-ray and DVD.)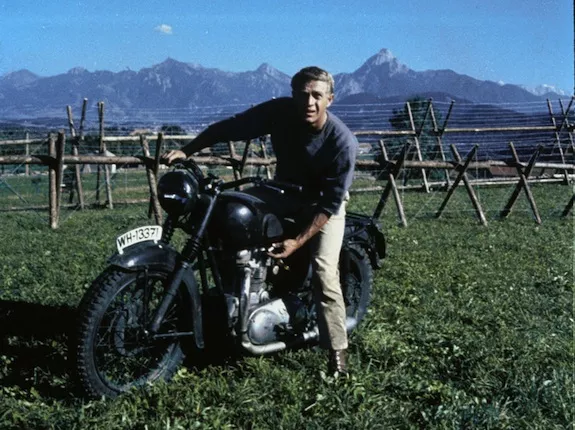 Steve McQueen in The Great Escape (Photo: Fox & MGM)
THE GREAT ESCAPE (1963). Forget the film school staples for a moment: If you cross off the usual suspects (Citizen Kane, Casablanca, The Seventh Seal, Bicycle Thieves, etc.) from my list of the greatest movies ever made, this World War II adventure yarn would be what's left standing near or at the very top. Certainly, it'd be a tight race between this, The Adventures of Robin Hood and a couple of products from the Spielberg/Lucas era to claim the crown of the most enjoyable, matinee-style, popcorn picture that Hollywood has ever produced — these are masterpieces that movie buffs can watch anytime, anywhere, and instantly feel uplifted by the experience. Based on a true story, this centers on an attempt by captured Allied soldiers to escape from Germany's premiere POW camp; among the all-stars cast as prisoners taking part in the breakout are Steve McQueen, James Garner, James Coburn, Charles Bronson (terrific as Danny "The Tunnel King") and Donald Pleasance (touching as Blythe "The Forger"). McQueen's motorcycle ride has long been the stuff of cinematic legend, but the movie is packed with countless memorable episodes of this caliber. John Sturges directs with verve, with Elmer Bernstein contributing a sensational score that clearly should have taken that year's Oscar (shamefully, the movie's sole nomination was for Best Film Editing).
Blu-ray extras include vintage audio commentary by Sturges, Garner, Coburn and others; several featurettes about both the movie and the events that inspired it (including a piece on the man who was the basis for McQueen's character); and a photo gallery.
Movie: ****
Chevy Chase and John Candy in National Lampoon's Vacation (Photo: Warner Bros.)
NATIONAL LAMPOON'S VACATION (1983). There's a tendency to slap the label "comedy classic" on any guffaw-filled flick that emerged from the 1980s — Caddyshack, Stripes, Ghostbusters, Beverly Hills Cop, Rhinestone (well, OK, maybe not that Sylvester Stallone-Dolly Parton atrocity) — but the truth is that only a fraction of that decade's highly touted output deserves such a heady classification. Many will vehemently disagree, but National Lampoon's Vacation doesn't quite make the grade: It's an extremely pleasant diversion with a few memorable bits and a likable cast, but true comic invention is hard to locate in the meandering screenplay by the late John Hughes. Chevy Chase stars as Clark Griswold, a clod who elects to take his brood — wife Ellen (Beverly D'Angelo), son Rusty (Anthony Michael Hall) and daughter Audrey (Dana Barron) — from Chicago to Los Angeles to spend some time at the theme park Walley World. While everyone else wants to fly there, Clark insists on driving, a decision that leads to a series of disasters for the Griswold clan. Chase is in good form, and his man-to-man talks with Hall are especially amusing; also scoring is Randy Quaid as Clark's redneck in-law Eddie, whose idea of a decent meal is Hamburger Helper without the hamburger (and if his teenage daughter Vicki looks familiar, that's because she's played by Jane Krakowski, who grew up to portray Jenna Maroney on TV's 30 Rock). The original ending was deemed so rotten by preview audiences that a new one was hastily shot with John Candy (as a park employee) added to the mix; it's not much better than the discarded one. This movie's commercial success led to more adventures for the Griswolds: 1985's European Vacation, 1989's Christmas Vacation (arguably the best-loved of the series) and 1997's Vegas Vacation.
Blu-ray extras include audio commentary by director Harold Ramis, Chase, Quaid, Hall, Barron and producer Matty Simmons; an introduction by Chase, Quaid and Simmons; a comprehensive, 90-minute making-of documentary; and the theatrical trailer.
Movie: **1/2
Louis Gossett Jr. and Richard Gere in An Officer and a Gentleman (Photo: Warner Bros. & Paramount)
AN OFFICER AND A GENTLEMAN (1982). During my two high school years living in Nairobi, Kenya (1982-1984), no movie was more popular — or played at the local theater longer — than An Officer and a Gentleman. The reason was obvious, as evidenced by the mostly black audiences' roars of approval and bursts of applause whenever Louis Gossett, Jr. appeared on — and took command of — the screen. Which just goes to prove the filmmakers are correct in an accompanying Blu-ray feature when they state that the movie was an international success that spoke to different people on different levels. Thirty-one years later, it holds up as a prime example of old-fashioned (some would say corny) romantic melodrama, as troubled naval officer candidate Zack Mayo (Richard Gere, in a role famously turned down by John Travolta) falls for factory worker Paula Pokrifki (Debra Winger) while butting heads with demanding drill instructor Foley (Gossett). Winger and Gossett nabbed most of the critical acclaim for their work in this sleeper box office hit — indeed, they're both excellent — yet it's Gere's superb performance, the finest of his lengthy career, that propels the film toward its hankie-saturating finale. Nominated for six Academy Awards (including Best Actress for Winger and Best Original Screenplay for Douglas Day Stewart), it won two: Best Supporting Actor for Gossett and Best Original Song ("Up Where We Belong").
Blu-ray extras include audio commentary by director Taylor Hackford; a half-hour retrospective piece; a featurette on the film's music; a look at the hand-to-hand combat scene between Gere and Gossett; and true stories of military romance.
Movie: ***1/2
James Mason and Paul Newman in The Verdict (Photo: Fox)
THE VERDICT (1982). Talk about wretched timing: Did Paul Newman even have a reasonable shot at the Best Actor Academy Award for 1982? In many other years (say, 1984, when F. Murray Abraham won for Amadeus), the veteran would likely have been a near-lock, but not in this contest. On one side was Gandhi's Ben Kingsley (the Academy's choice) and on the other was Tootsie's Dustin Hoffman (my choice), and even the sentimental factor — coupled, of course, with that note-perfect performance — wasn't enough to place him in the winner's circle. (He would finally win for 1986's The Color of Money.) Working from David Mamet's lean script (adapted from Barry Reed's novel), Newman stars as a boozy lawyer struggling down the comeback trail via a medical malpractice suit. No one gives him a shot at winning, especially against a polished opposing attorney (James Mason), which means he also has crippling self-doubt as one of the challenges placed before him. This was nominated for five major Oscars: Best Picture, Actor, Supporting Actor (Mason), Director (Sidney Lumet) and Adapted Screenplay. And yes, the long-standing trivial tidbit is accurate: That is indeed a 20something, pre-Moonlighting Bruce Willis as an extra in the final courtroom scene.
Blu-ray extras include audio commentary by Lumet and Newman; a making-of piece; the featurettes Paul Newman: The Craft of Acting and Sidney Lumet: The Craft of Directing; and the theatrical trailer.
Movie: ***1/2