THE GOOD DINOSAUR
** (out of four)
DIRECTED BY Peter Sohn
STARS Jeffrey Wright, Frances McDormand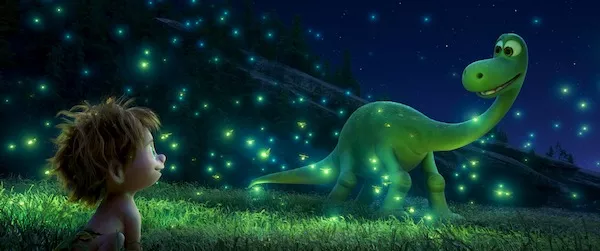 The Good Dinosaur (Photo: Disney-Pixar)
It's a situation worthy of an Alanis Morrisette song. Isn't it ironic that in the same week I pen
an article ranking all the previous Pixar movies
and noting that all of them are recommended to some degree, along comes the first Pixar movie to score a negative review? That's the case with
The Good Dinosaur
, a crushing disappointment from an outfit generally known for its exacting high standards. Forget such modern gems as this summer's
Inside Out
and the
Toy Story
trilogy —
The Good Dinosaur
makes even such indifferently received efforts as
Cars 2
and
Monsters University
look great by comparison.
Pixar pictures have always been for adults as much as for children, yet this one marks the first time grown-ups have been left out of the mix, with the studio fashioning a film designed to play only to the small fry (or as Tim Robbins' Norville Barnes would say in the Coens' The Hudsucker Proxy, "You know, for kids!"). That's all well and good, but I'm not even sure the target audience will warm to a film so bereft of humor or excitement (or, should I say, warm to it as much as to other family films, as most kids will invariably watch anything as long as it involves bright colors and loud noises).
The film begins with a "what if?" scenario: What if the comet that wiped out the dinosaurs missed the planet? The only reason for this supposition is so a human protagonist — a feral boy — can eventually be added to the story, since this opening act doesn't impact the film in any other way. Mostly, the plot centers on a young dino named Arlo and how his life is irrevocably altered by a tragedy lifted straight out of The Lion King. And like another lion, the one taking the road to Oz, Arlo needs to finds his courage, and he only does so after getting lost and teaming up with the aforementioned boy, a lupine lad named Spot.
The story is suffocating in its simplicity, and while the backgrounds are gorgeously rendered, the characters are a visually drab lot (as my wife accurately noted, Arlo and his family members look like animated cucumbers). Thankfully, The Good Dinosaur never indulges in the sort of scatological humor seen in other studios' toon efforts. Still, that's a consolation that only goes so far, given that innovation and imagination prove to be as extinct as pterodactyls in the modern world.