(View From The Couch is a weekly column that reviews what's new on Blu-ray and DVD.)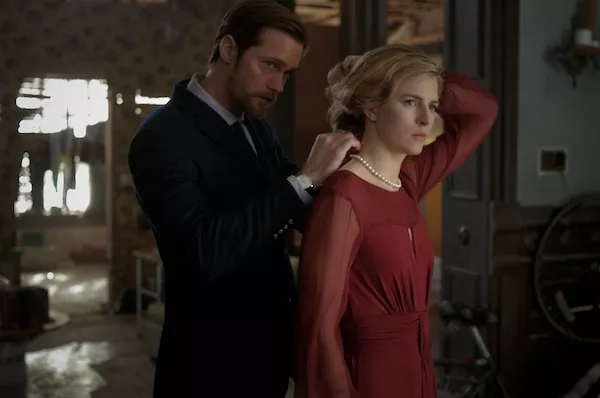 Alexander Skarsgård and Brit Marling in The East (Photo: Fox)
THE EAST (2013). Brit Marling is one of those acquired indie tastes, like Greta Gerwig (Frances Ha) and Mark Duplass (Safety Not Guaranteed), who tends to leave viewers undecided as to their actual merits. Strolling through projects with a blank face, a couple of definable tics and a tendency to mutter most of the dialogue (there's a reason many of these thespians' movies are tagged "mumblecore"), it's understandable that some moviegoers believe they elevate the art of underplaying while others find them to be about as exciting as a whistling kettle. While I barely remember her in the slog that was Another Earth (which she co-wrote with director Mike Cahill), her low-key demeanor favorably informed her work in Arbitrage, The Company You Keep and especially Sound of My Voice, an interesting if not entirely successful drama which she co-scripted with director Zal Batmanglij. She and Batmanglij have reunited for The East, and it's in all ways her most satisfying work to date. She stars as Sarah Moss, a former FBI agent who now works for a company that specializes in protecting multimillion dollar corporations from their own sins. For her first assignment, she must go undercover as a transient and infiltrate The East, an anarchist group that seeks to punish corrupt conglomerates for their profit-puffing actions that cause the suffering and deaths of countless innocents. Sarah succeeds in joining the outfit, whose members include the soft-spoken Benji (Alexander Skarsgård), the brash Izzy (Ellen Page) and the sensitive Doc (a nice turn by Toby Kebbell). Sarah's arrival coincides with a plot to strike back at a pharmaceutical giant; also on the agenda is an attack against a company that's been dumping its toxic waste into heretofore clean rivers. Obviously, the potential for The East to be nothing more than a shrieky liberal screed is enormous, but Batmanglij and Marling sidestep it with their fair and balanced screenplay. While only Republican Congressmen and Tea Party sycophants could possibly sympathize with the heinous corporations depicted in this film, that's not to say more sober-minded folks won't occasionally find fault with the group that's targeting them. "We're not terrorists," states one of its members, yet certain actions metaphorically pollute the waters as thoroughly as any sewage. The movie delights in knocking us off-balance, with only the nail-on-the-head denouement failing to convince. The rest of the time, The East keeps its salient storyline headed in the right direction.
Blu-ray extras include six making-of featurettes covering the casting, the story and more; and deleted scenes.
Movie: ***
Herbert Marshall, Charles Herbert and Vincent Price in The Fly (Photo: Fox)
THE FLY (1958). One of the top-grossing science fiction hits of the 1950s, The Fly hardly was made on the cheap (as many genre films of the day). In fact, it was doubtless its tony presentation by Twentieth Century Fox — it was a CinemaScope production with De Luxe color, both signs of studio confidence and quality control — that accounted for many of those box office receipts. The rest of its success can be credited to the steadfast presentation of a tantalizing idea, one that was adapted by screenwriter James Clavell (who would also co-script The Great Escape and later pen such bestselling novels as Shogun) from a Playboy-published story by George Langelaan. Al Hedison stars as Andre Delambre, a scientist who's killed by his loving wife Helene (Patricia Owens) in the film's first scene. Andre's brother François (Vincent Price) and Inspector Charas (Herbert Marshall) are at odds to explain the incident until Helene finally spins (via flashback) the unbelievable tale of how Andre invented a device that allowed solid material to be broken down and transported across space. Testing the creation on himself, Andre failed to notice the fly that made the cross-room journey with him, resulting in a man with a fly's head and left appendage and a fly with a man's ... well, you get the drift. Hedison and especially Owens lend great sympathy to their portrayals of the well-meaning scientist and his suffering wife, and it's interesting to catch Price in a rare appearance as a normal guy in a horror flick. The climax ("Help me!") has given many viewers chills while providing others with chuckles — I'm in the former camp; the primal terror of that situation never fails to move me — but the rest is efficient in its solemnity. Leading man Al Hedison began his career briefly employing his first name before switching to his middle name — as David Hedison, he's best known for starring in the 1960s TV series Voyage to the Bottom of the Sea and for playing CIA agent and Bond buddy Felix Leiter in the 007 entries Live and Let Die and Licence to Kill. The Fly was followed by two sequels (1959's Return of the Fly and 1965's Curse of the Fly) and superbly remade in 1986 by David Cronenberg — a rare example of a remake besting its predecessor.
Blu-ray extras include audio commentary with Hedison and film historian David Del Valle; a making-of featurette; the Biography episode on Vincent Price; and a Fox Movietone News snippet centering on the theatrical premiere of The Fly.
Movie: ***
Robert Downey Jr. in Iron Man 3 (Photo: Disney & Marvel)
IRON MAN 3 (2013). Putting the pedal to the metal, it's full speed ahead for Iron Man 3, the first post-Avengers flick to feature one of that elite outfit's members again operating in single-player game mode. Like Iron Man 2, this sequel is generally engaging, occasionally dull, frequently cluttered, and recommended with only the greatest of reservations. The picture nicely ties into the plot of The Avengers by presenting Tony Stark (Robert Downey Jr.) as a man who's been humbled by his close encounters with otherworldly gods as well as that frightening free fall from the heavens. These events have caused him to experience frequent anxiety attacks, although it will take much more than that for him to shirk his duties as Iron Man: When a madman named the Mandarin (Ben Kingsley) arrives on the scene and starts endangering American lives, Stark is ready to act. But the Mandarin isn't the only heavy on the scene. There's also Aldrich Killian (Guy Pearce), an entrepreneur who has created a way for his minions to serve as living weapons of mass destruction. As Stark, Downey still delivers the one-liners with gusto ("I loved you in A Christmas Story," he tells one bespectacled kid), but his chemistry with co-star Gwyneth Paltrow (as Pepper Potts), strong in Part 1 and meh in Part 2, continues its downward slide (maybe he's lost some respect after seeing her Goop). There's potential in his relationship with Rebecca Hall (as a fellow scientist), but her role is both inconsistent and drastically underwritten. Indeed, Downey's best moments are with his male co-stars: The easy rapport between Stark and Don Cheadle's James Rhodes harkens back to Lethal Weapon's Murtaugh-Riggs banter, while Stark's scenes opposite a helpful young boy (Ty Simpkins, the possessed son in Insidious) provide the picture with most of its heart and humor. Pearce does what he can with a threadbare role, while Kingsley emerges as an MVP: His work as the Mandarin is exemplary, but not for the reasons one would expect. (Nuff said; no spoilers this late in the game.) Ultimately, the film does enough right to keep the customer satisfied — any disappointment isn't pronounced enough to elicit rage against the machine, but many discerning viewers might still feel a twinge of remorse aimed at the man in the iron mask.
Blu-ray extras include audio commentary with writer-director Shane Black and co-writer Drew Pearce; a behind-the-scenes featurette; deleted scenes; and a gag reel.
Movie: **1/2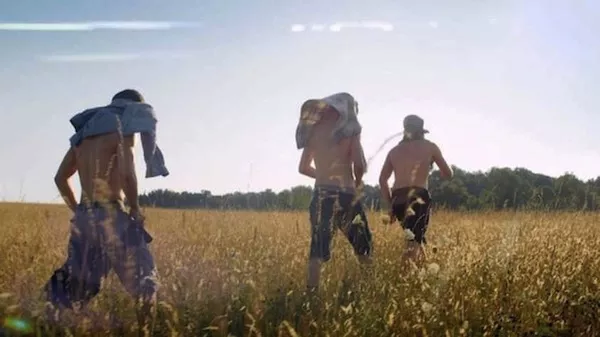 The Kings of Summer (Photo: Sony)
THE KINGS OF SUMMER (2013). Coming-of-age tales are generally a dime a dozen, but here's one pretty much guaranteed to make viewers feel like a million bucks. A noteworthy effort for both writer Chris Galletta and director Jordan Vogt-Roberts, The Kings of Summer centers on two teenage boys experiencing miserable home lives. Joe Toy (Nick Robinson) has trouble relating to his father Frank (Nick Offerman), who's been in a perpetual state of depression since the death of his wife. Meanwhile, just being around his pesky parents (Megan Mullally and Marc Evan Jackson) has caused Patrick Keenan (Gabriel Basso) to bust out in hives. Past their respective breaking points, the boys, with a weird acquaintance named Biaggio (Moises Arias) in tow, decide to build a house deep in the woods; once it's completed, they leave their homes behind, opting to live in complete freedom while their parents wonder what's behind their disappearance. At first, it's an idyllic life, with the main hurdle being the trio's inability to catch their own food (fortunately, there's a Boston Market just on the other side of the bordering highway). But matters take a turn for the worst after Joe, deciding that the only thing missing from their cabin in the woods is "a woman's touch," invites his crush Kelly (Erin Moriarty) to hang out with them. That decision, along with the presence of a menacing copperhead, provides a potential "Eve and the snake" dynamic that might destroy this snatch of Heaven on Earth. The first hour of this 90-minute gem siphons humor from just about every ingredient available, most notably Frank's grizzly-bear personality, Patrick's reactions to the idiocy of his parents' utterances, and pretty much any moment focusing on the unique Biaggio. But even with this abundance of gags, it's clear that there are somber issues simmering just beneath the surface, and these are elevated — and handled — in mostly satisfying fashion during the third act. Admittedly, some of the film's comic bits come off as arch and artificial — no surprise, considering how many of the participants are involved with such snarky shows as Mash Up and Funny or Die Presents — but for the most part, The Kings of Summer will provide home audiences with the royal treatment.
Blu-ray extras include audio commentary with Vogt-Roberts, Galletta, Robinson, Basso and Arias; deleted and extended scenes; an on-set interview with co-stars Alison Brie and Eugene Cordero; and a mash-up of Offerman's best one-liners from the film.
Movie: ***1/2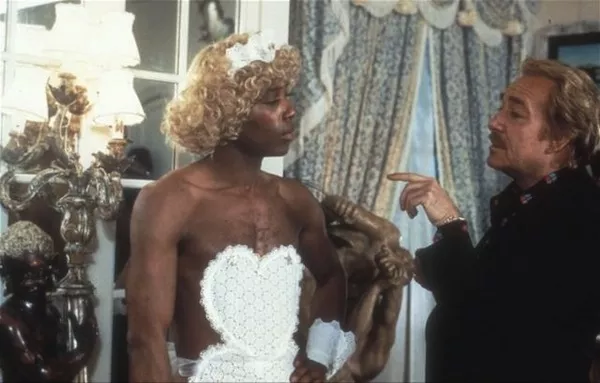 Benny Luke and Ugo Tognazzi in La Cage aux Folles (Photo: Criterion)
LA CAGE AUX FOLLES (1978). It's been 34 years since La Cage aux Folles made its U.S. debut in the spring of 1979, and even now, it remains in the list of the all-time top 10 box office imports. That's a remarkable feat for a movie that apparently hit the American zeitgeist at just the right time, for while it was probably a given the film would be a smash in its native France — after all, it was based on a play by Jean Poiret that had run in that country for approximately half the decade — there was no reason to anticipate its breakout status on these shores. Ugo Tognazzi and Michel Serrault star as Renato and Albin, a bickering homosexual couple involved with the risque nightclub La Cage aux Folles. Renato, the more calm of the pair, runs the venue while Albin, a hysterical mess most of the time, is the marquee attraction, a transvestite playing to packed houses. Renato and Albin find even more stress piled onto their plates when Laurent (Remi Laurent), Renato's son from a one-night fling, announces to his dad and "mom" Albin that he's getting married. The dilemma: His fiancee (Luisa Maneri) is the daughter of Simon Charrier (Michel Galabru), one of the leaders of an ultra-conservative political party. And guess who's coming to dinner? Charming and frothy, La Cage aux Folles proves to be about as tame as any old-fashioned bedroom farce brought from stage to screen, which of course went a long way toward allowing it to be embraced by Americans who generally steered clear of foreign films, gay films, and gay foreign films. Benny Luke contributes some amusing moments as Jacob, the barefoot household servant who's almost as likely as Albin to get emotional without notice. This was followed by two desperate-sounding sequels (one involving a spy ring, the other a will forcing Albin to marry a woman), an American remake (the smash hit The Birdcage, starring Robin Williams and Nathan Lane) and three separate Tony Award-winning stints as a Broadway musical (1983, 2004, 2010). This film version proved to be a hit with Academy members as well as audiences, snagging nominations for Best Director (Edouard Molinaro), Best Adapted Screenplay (Poiret, Molinaro, Francis Veber and Marcello Danon) and Best Costume Design.
Blu-ray extras include an interview with Molinaro; archival footage featuring Serrault and Poiret; an interview with Laurence Senelick, author of The Changing Room: Sex, Drag and Theatre; and the film's French and American trailers.
Movie: ***