(View From The Couch is a weekly column that reviews what's new on Blu-ray and DVD. Ratings are on a four-star scale.)
Harrison Ford and Sylvester Stallone in The Expendables 3 (Photo: Lionsgate)
THE EXPENDABLES 3 (2014). Say this for The Expendables 3: It's arguably a fraction better than the two previous installments in this AARP-endorsed franchise. Then again, I'd hate to live on the difference. The series has always been promoted as an all-star action romp in which all these muscular marquee fillers have equal billing, but really, it's been a Sylvester Stallone vanity project all along. That's never more apparent than in this entry, which finds Stallone's Barney Ross deciding that his fellow mercenaries (among them Jason Statham, Dolph Lundgren and newest old kid on the block, Wesley Snipes) are, in the vernacular of Roger Murtaugh, too old for this shit. Of course, Barney doesn't apply this line of logic to himself, so he axes the other oldies and surrounds himself with four young'uns (including Twilight player Kellan Lutz and Olympic and MMA star Ronda Rousey in her film debut) as he goes after Stonebanks (Mel Gibson), a former colleague who has journeyed over to the dark side. Stallone (who also co-scripted), as usual, hogs the spotlight, though Snipes at least gets some quality time at the start and Antonio Banderas, as a motor-mouthed assassin who wants to join the team, steals second-half scenes whenever he can. Gibson makes a more effective villain than he did in Machete Kills, while Harrison Ford, likely the lone liberal in this Limbaugh-loving logjam, has the only laugh-out-loud line (involving Statham's British accent) as he essays the role of a snarling CIA suit. Otherwise, this is disposable Kleenex entertainment, with Patrick Hughes faring no better than previous directors Simon West (Ex. 2) and Stallone (Ex. 1) in shooting action scenes that largely fail to snap, crackle and pop.
The Blu-ray contains both the PG-13 theatrical cut as well as an unrated version that runs five minutes longer. Extras include a making-of featurette; an extended scene; and a gag reel.
Movie: **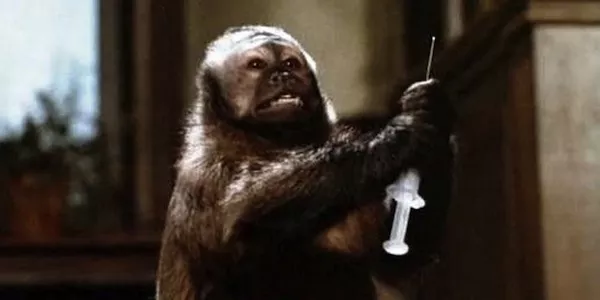 Monkey Shines (Photo: Shout! Factory)
MONKEY SHINES (1988) / THE DARK HALF (1993). Two films by George Romero have just hit Blu-ray, and the superior title is not the one that finds the Night of the Living Dead writer-director teaming with fellow horror icon Stephen King.
Monkey Shines, an adaptation of Michael Stewart's novel, casts Jason Beghe as Allan, an athlete who ends up a quadriplegic after an unfortunate accident. Paralyzed from the neck down, Allan bonds with Ella, the trained capuchin monkey given to him by his scientist pal Geoffrey (an excellent John Pankow) to cater to all his needs. What Allan doesn't know is that Geoffrey had been conducting tests on Ella, lab experiments that allow the critter to tap into Allan's thoughts and carry out his darker impulses. One of Romero's best non-zombie flicks, this intelligent, absorbing watch includes early roles for Stanley Tucci as a self-satisfied surgeon and Stephen Root as a heartless scientist.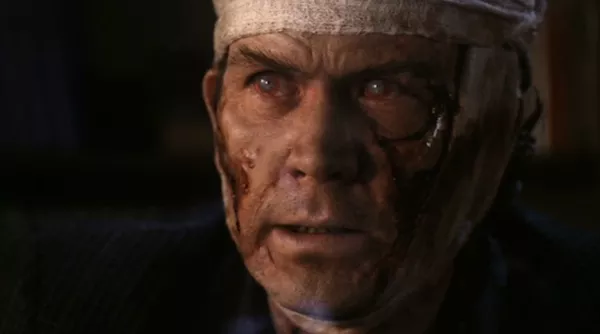 Timothy Hutton in The Dark Half (Photo: Shout! Factory)
Based on the King novel, The Dark Half stars Timothy Hutton as Thad Beaumont, a scholarly author who elects to "kill" his more successful alter ego — George Stark, writer of sex-and-blood potboilers — only to discover that his pseudonymous creation (also Hutton) truly exists and is partaking in his own killing spree. The film is well-cast and photographed (by Howards End lenser Tony Pierce-Roberts), but Romero's direction is atypically listless, and the supernatural aspects are never explained in a satisfactory manner. For a better film about a "dark half," check out David Cronenberg's 1988 Dead Ringers, featuring a pair of knockout performances by Jeremy Irons.
Blu-ray extras on Monkey Shines include audio commentary by Romero; a making-of retrospective feature; deleted scenes; a terrible alternate ending; behind-the-scenes footage; and the theatrical trailer. Blu-ray extras on The Dark Half include audio commentary by Romero; a making-of retrospective feature; deleted scenes; behind-the-scenes footage; storyboards; and the theatrical trailer.
Monkey Shines: ***
The Dark Half: **
Daniel Radcliffe and Zoe Kazan in What If (Photo: Sony & CBS Films)
WHAT IF (2014). Here's the thing about What If: Unlike such past hipster rom-coms as (500) Days of Summer, Ruby Sparks and the criminally overlooked In Search of a Midnight Kiss, we really don't care if the central lovers end up together or not. That may sound like a condemnation, but that would be an incorrect assumption. What If tells the story of Wallace (Daniel Radcliffe) and Chantry (Zoe Kazan) and whether it's possible for these two people of opposite sexes to be just friends. In the real world, that's a no-brainer — a glance at Facebook reveals that even misogynist brutes manage to have plenty of female buddies — but apparently in Hollywood, it's as fantastic a concept as the ones found in 2001: A Space Odyssey and Eraserhead. And so we get movies like When Harry Met Sally..., My Best Friend's Wedding and this one, which posit that under every male-female friendship rests a restless libido looking to bust loose with the force of the Alien chestburster. The complication in What If is that Chantry already has a boyfriend in Ben (Rafe Spall), who tends to come across as a clod but at least treats her with genuine affection and tenderness. Resigned to "just a friend" status, Wallace values his time spent with Chantry but perpetually wishes that they could be lovers. The ending is pat, predictable and completely out of character, but such are the demands of the marketplace and the demographics that drive it. But up until this cop-out denouement, What If manages to feel fresh even in spite of its well-worn elements, as scripter Elan Mastai, adapting the play Toothpaste and Cigarettes by T.J. Dawe and Michael Rinaldi, initially explores the dynamics of Wallace and Chantry's friendship with a sobering honesty. But convention eventually rears its ugly head, and What If settles for being So What.
DVD extras consist of two making-of vignettes.
Movie: **1/2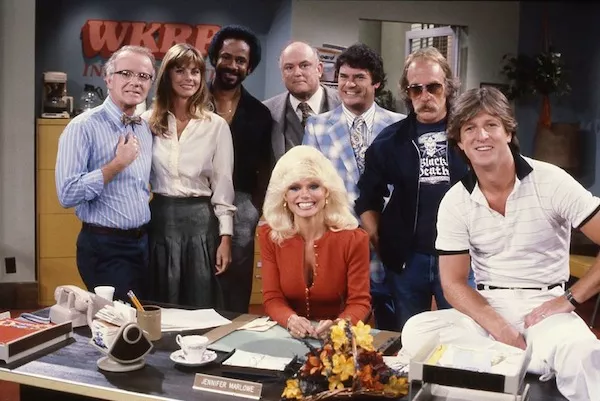 The gang's all here at WKRP in Cincinnati (Photo: Shout! Factory)
WKRP IN CINCINNATI: THE COMPLETE SERIES (1978-1982). This CBS sitcom ran for 88 episodes over four seasons, earned three Emmy Award nominations for Best Comedy Series, nabbed co-stars Howard Hesseman and Loni Anderson each a pair of Emmy nods, and cracked the Nielsen Top 25 during its second season on the air. Yet such good vibes didn't follow it into syndication once the 1990s rolled around, as the countless classic songs included on the episode soundtracks to provide authenticity (not to mention great music) had to be replaced with generic filler as the licensing rights had expired. Therefore, what the folks at Shout! Factory have achieved with this box set is nothing short of miraculous. They have restored practically all scenes that had been trimmed for syndication (a common — if annoying — practice now being mercifully corrected by most TV box sets) and have managed to add back an astounding amount of the original songs. How many of the songs? Series creator Hugh Wilson has estimated about 85%, meaning viewers can once again hear hit tunes by the likes of Bob Dylan, Elvis Presley, Blondie, Bruce Springsteen and numerous others (alas, The Beatles and Michael Jackson are still among the MIAs). As for the series itself, while it often lacks the bite of the classic comedies that arrived earlier in the decade (All in the Family, M*A*S*H, etc.), it succeeds because of its endearing roster of characters, all working at an Ohio rock station. Gary Sandy heads the cast as new program director Andy Travis, surrounded by ineffective general manager Arthur Carlson (Gordon Jump), hip DJs Johnny Fever (Hesseman) and Venus Flytrap (Tim Reid), unctuous sales manager Herb Tarlek (Frank Bonner), nerdy news director Les Nessman (Richard Sanders), sweet office assistant Bailey Quarters (Jan Smithers) and, the show's breakout character back in the day, brainy and buxom receptionist Jennifer Marlowe (Anderson).
DVD extras include footage from a 2014 reunion/panel discussion with Hesseman, Anderson, Reid, Wilson and other key cast and crew members; an interview with Sandy; a piece on Anderson and her character; and a look at the beloved episode "Fish Story."
Collection: ***