Television has the Emmy. The film industry has Oscar. Collegiate football has the Heisman trophy. The culinary world, though, has the James Beard Foundation metal — honoring chefs, restaurateurs, food bloggers, cookbook authors, mixologists and even restaurant designers. Since the James Beard Foundation (JBF) awarded the first recipients in 1990, the awards have grown in prestige and honor, parallel to the increased popularity of celebrity chefs nationally.
Yet a Charlotte chef has never won or even been nominated for this highest honor.
The idea that a city of this size has not had a chef recognized is puzzling. Charlotte has a cadre of gifted, creative chefs. Ask any food writer in town, and she will shake her head in agreement that Charlotte has had — and lost — wonderful restaurants and chefs.
Two Charlotte chefs — Bruce Moffett, owner of Barrington's Restaurant and Good Food on Montford, and Mark Hibbs, who is no longer in Charlotte — have made it into the first round, a group of 20 semi-finalists, back in 2009. But Charlotte has never had a chef in the final five nominees or as winner.
In fact, with the exceptions of San Jose, Calif., and Jacksonville, Fla., Charlotte is the largest city not to have a winner or nominee in the regional chef categories. Clearly, Charlotte is the largest city (with a population of 775,202 and the 17th largest city in the United States) in the foundation's Southeast region (which includes Kentucky, West Virginia, Tennessee, North Carolina, South Carolina and Georgia) not to be recognized.
Even within North Carolina, tiny communities like Cashiers, with a population of 157, had chef John Fleer of Canyon Kitchen at Lonesome Valley become a nominee in 2011.
But why not Charlotte?
The qualifications to get a nod for Best Regional Chef are fairly straightforward: A chef must "set new or consistent standards of excellence in their respective regions ... and must have been working as a chef for at least five years with the three most recent years spent in the region." But more than this, the Best Regional Chef is often a chef who has shared his or her passion for the profession not only with diners, but with fellow chefs as well. A true Best Chef is one who has made his mark within the community as well as fostered creative talent in his kitchen.
Over the past 23 years, the voting process has changed. In the past, only a closed panel of judges selected potential winners. But, in effort to be more transparent and promote inclusiveness, the JBF opened the process. Anyone — from people who work in the restaurant industry to everyday eaters — may submit a chef's name during the online open call (which begins mid-October and concludes in December).
To become the winner of Best Chef: Southeast, the chef must first be voted into a group of about 20 semi-finalists by a panel of 200 to 250 regional judges, 100-plus past winners, and the JBF Restaurant and Chef Award Committee, comprised of 17 food writers and reviewers. The top five vote-getters become the nominees, and then the committee determines the winner.
Each region has 20 to 25 panelists "as widely dispersed geographically as we can manage," says Providence Cicero, restaurant critic of the Seattle Times and the 2014 JBF Restaurant and Chef Award committee chair. "If a restaurant or chef makes the semi-finalist list, someone in their ranks (or several people) has personally eaten there."
One past JBF Best Chef winner is actually from Charlotte. Chef Chris Hastings was twice a finalist for the Best Regional Chef: South, a region that includes Alabama, where Hastings has his award-winning restaurant Hot and Hot Fish Club. In 2012, Hastings won Best Chef: South. (JBF's South includes Florida, Louisiana, Alabama, Mississippi, Arkansas and Puerto Rico.)
As an award-winning chef in Birmingham, a city with a population less than one third of Charlotte's, Hastings has an instructive take on his hometown. He got his start in the kitchen at the Silver Cricket, one of Charlotte's better restaurants, in the 1980s. Soon thereafter, and with the encouragement of Silver Cricket owners Marion and Charles Tucker, Hasting opted not to attend Appalachian State University as he had planned, but instead went to Johnson & Wales University in Rhode Island and earned a culinary degree. He did not return to Charlotte.
When Hastings worked in the Silver Cricket kitchen, Charlotte was just emerging from the shadows of the restrictive liquor laws. In 1978, Mecklenburg County ended a 70-year ban on the sale of liquor in restaurants. Before then, most people resorted to eating in private clubs, where drinking was permitted. Without the gross profit margin afforded by alcohol sales, Charlotte had not been an attractive place for chefs and restaurateurs to open shop.
This was unfortunate, since two important things were happening in the early '80s. First, Charlotte was transitioning from a textile town into a banking center. The second trend was national: the rise of the American chef. In 1977, the U.S. Department of Labor promoted the occupation of chef from the service category to professional, and by the 1980s, American chefs were taking steps away from the classic French Nouvelle Cuisine approach to create the various styles of American cuisine.
In Dallas, a group of chefs banded together to declare their own regional cuisine: Tex-Mex; meanwhile in Birmingham, JBF-award-winning chef Frank Stitt, owner of Highlands Bar & Grill, successfully gathered the Birmingham chefs to raise awareness of their local cuisine and local foods. Hastings, who worked in Stitt's kitchen, said this effort worked and that city avoided an invasion of corporate chains. Today, Hastings says the food scene in Birmingham is in its third generation.
In contrast, Hasting says, "The local food movement didn't happen in Charlotte. It stayed in its groove. The Epicurean [now an empty field on East Boulevard] was the go-to place."
---
Like an awkward teenage girl, Charlotte stands in the mirror identifying her faults, yet clinging to that one physical attribute that engenders compliments. But Charlotte sits at a large table that offers more than fried chicken.
---
To be fair, though, a handful of places gave voice to local foods and culinary talents: John Berres' Cafe Flavors and The Pewter Rose were both distinctly restaurants of place (in other words, distinctly Charlotte), while Rudolfo Montero's Tio Montero in Dilworth was decades ahead of a time when Americans would embrace Spanish cuisine.
By the 1990s, with the arrival of the Carolina Panthers and the national attention the team brought, Charlotte was quickly becoming a city of corporate restaurant chains. For commercial real estate brokers, corporate chains had deeper pockets that could afford Charlotte's steep leasing rates and were less risky than local entrepreneurs. The beauty of chains is their sameness, and that sameness seems to have left its pernicious legacy of the palates of Charlotteans. "Chains got there and they flooded Charlotte, which became more of a steak and potato town," Hastings says. "Charlotte is a safe town, not really adventurous." Ouch.
The past 10 years, though, have brought deliberate change. Chefs are now a part of Charlotte's sought-after creative class.
Mark Peres, associate professor at Johnson & Wales University and founder and past-president of Charlotte Viewpoint, served on the Charlotte 2020 Vision Steering Committee, and he confirms that leaders at Charlotte Center City Partners, the Chamber, the City Committee and members of the Knight Creative Community Initiative sought chefs in the 2000s. Peres says the intention and hope was these new "creatives" would have a direct "impact on dining and taste in the city." In other words, these chefs would offer, as Peres notes, "less steak and more of everything else."
Arguably, Charlotte has had artistic chefs tilting against corporate behemoths and bland palates. In 1991 (before the Bank of America tower), chef Scott Howell, now chef-owner of Nana's in Durham and semi-finalist for Best Chef: Southeast in 2012 and 2013, dazzled Charlotteans at Monticello Restaurant in downtown with his memorable dishes and flourishes, like flash-fried beet leaves. Throughout the '90s, notable chefs such as Jim Alexander, Michael Blais, Gene Briggs, Tom Condron, Tim Groody and Mark Martin all were making creative dishes in their respective kitchens. With the exception of Blais, these chefs are still in the area.
In 1998, Creative Loafing gave Pastis (with its clamorous dining room in South End) the Best of Charlotte award for Best New Restaurant. Pastis' owner, the late Dutch chef Axel Dikkers, had apprenticed with Wolfgang Puck at renowned chef Raymond Thuillier's Michelin three-star restaurant in France. Fifteen years ago, Dikkers was a Charlotte chef who took risks to create flavor riffs in playful dishes. I have vivid memories of his salmon osso bucco. Chef Mark Martin, who later opened Ethan's in Elizabeth, was a sous in Dikkers' kitchen. (Martin now teaches at The Art Institute of Charlotte.) One of Martin's sous chefs at Ethan's was Jamie Lynch, current executive chef and partner at 5Church and soon-to-open Nan and Bryon's.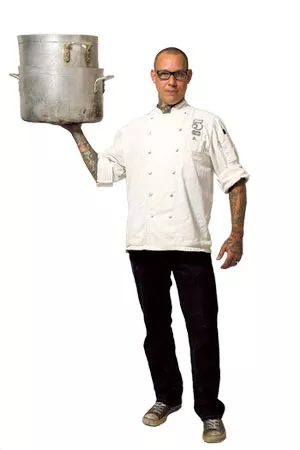 Jon Silla
Jamie Lynch, executive chef at 5Church
Lynch (like chefs Geoff Bragg, Blake Harwick, Marc Jacksina, Joe Kindred and Jim Noble) came onto the Charlotte culinary scene during the last decade or so. Lynch, a graduate of the New England Culinary Institute, worked in high-powered Manhattan kitchens Le Cirque, Aureole (with Charlie Trotter) and Café Boulud (with Daniel Boulud). In addition to working alongside Martin, Lynch was also sous for Briggs at Blue Restaurant and the former Table, and for Moffett at Barrington's. Lynch is a talented chef who has helped elevate the standard of cuisine in town. His cooking invariably involves a balance of flavor and texture with sophisticated whimsy. Lynch is unquestionably a Charlotte chef to follow.
One local chef who should be considered for 2014 Best Regional Chef: Southeast is Bruce Moffett. His Barrington's Restaurant is another CL Best New Restaurant (2001) award winner. Moffett, a graduate of the Culinary Institute of America in Hyde Park, N.Y., worked in Boston and Atlanta before moving to Charlotte. His reputation here may include being rather low-key, but he is a skillful chef and has consistently provided locals with delicious, innovative food — dishes that are unforced tweaks on familiar themes. And he has done this day after day, month after month, year after year.
Jon Silla
Bruce Moffett, chef and owner of Barrington's Restaurant
Additionally, Moffett has fostered talent in his kitchens. Barrington's has consistently been a learning ground for those who move up. "I try to surround myself with talented people and give them the freedom to work their vision into the framework of a small restaurant," Moffett says. "I think I give them the tools they need to succeed and I let them take the next step forward. I try to reward the people who have helped me get where I am by giving them opportunities to grow with our group."
Moffett's team has included his brother Kerry Moffett, executive chef and minority owner of Moffett's second restaurant venture, Good Food on Montford; Larry Schreiber, soon to be executive chef of the new restaurant; Eric Fergason, chef-owner of Nick's Italian in Oregon; Chris Vergili, soon-to-be sous chef at Moffett's restaurant under construction in Myers Park; Jason Newman, his current sous chef; and Jamie Lynch and Kyle Rhodes, both at 5Church. For the past 13 years, Barrington's has been a solid locally-owned chef-driven spot any city would want to have and brag about — or at the very least offer up for consideration as the 2014 JBF Best Chef: Southeast.
And why not? The idea that a city with a number of culinary teaching facilities has not had a chef recognized is troubling. Charlotte has a range of exemplary educational opportunities for culinarians to hone their craft. The College of Culinary Arts at Johnson & Wales University, the culinary arts program at Central Piedmont Culinary College and the International Culinary School at The Art Institute of Charlotte are staffed with skilled faculty, many of them recipients of highly regarded awards.
It's not the food keeping Charlotte from being recognized. The Charlotte region has a thriving farm community, and the farmers markets flourish. Many farmers have waiting lists for shares into their Community-Supported Agriculture system. And we all know it is unlikely that anyone can find a better-tasting peach or okra anywhere.
It's not the beverages either. Many of Charlotte's restaurants have comprehensive, rather extraordinary, wine lists that other locations — like Charleston — envy. Ironically, Charlotte-based Eric Solomon, of Eric Solomon Selections - European Cellars, was a semi-finalist in 2012 and 2013 for Outstanding Wine & Spirits Professional. While the North Carolina wine industry is just getting started, local breweries and micro-distilleries are moving quickly to make up for lost time since the N.C. legislature, only a few years ago, changed the laws restricting them.
One of the recurring stumbling blocks for Charlotte's culinary community is the incessant competitiveness with a winner-takes-all attitude. Perhaps this stems from the town's obsession with the First Union (now Wells Fargo) and NationsBank (now Bank of America) feud from decades ago, a my-bank-is-bigger-than-yours acquisition rivalry that resulted in Charlotte becoming the second-largest banking town in America. Or local publications' — including Creative Loafing — penchant to issue Best of proclamations each year. Or even the current popularity of chef competitions.
Charlotte's culinary community could learn much about cooperation from places like Birmingham or Napa Valley. After California's stunning blind tasting win at The Paris Wine Tasting of 1976, vintner Robert Mondavi became instrumental in marketing California wines throughout the world. He quickly realized that unless the members of the nascent wine industry in the Napa Valley banded together to promote their wines while simultaneously increasing the quality of their wines, the in-fighting would hurt them all.
But Charlotte does have emerging culinary voices urging solidarity. One is The Piedmont Culinary Guild, still in its formative stage. Chef Kris Reid, one of the founders, says the Guild will provide a connection between chefs, and from chefs to consumers, chefs to students, and chefs to farmers.
The essential component that must change, though, is Charlotteans' attitudes toward our food, our chefs and our restaurants. Do we have farm-to-fork restaurants? Yes. Have we had them for 20 years? Yes. Do we have New American restaurants? Exceptional ethnic restaurants? Yes and yes. Do we have the full range of eating choices from hole-in-the-wall to exquisitely appointed dining emporiums? Yes — in 2013, Charlotteans have a plethora of eating choices. We should prefer to celebrate our own. We can welcome outsiders, like Asheville's Tupelo Honey Café — we are a Southern town, after all — but we must begin to embrace our collective culinary voice. Ironically, if outsiders — like the JBF — acknowledge the talent we have in the city, we will, too.
Like an awkward teenage girl, Charlotte stands in the mirror identifying her faults, yet clinging to that one physical attribute that engenders compliments. But Charlotte sits at a large table that offers more than fried chicken. (And for the record, the iconic Price's Chicken Coop has not been acknowledged by the JBF's "America's Classic" category either.)
Shakespeare got it right: "The fault, dear Brutus, is not in our stars / But in ourselves, that we are underlings." In other words, it is not fate that has caused Charlotte to be continuously overlooked. "If Charlotte doesn't care," chef Hastings says, "nobody is going to care."
It is time to care.
Here is the link to The James Beard Foundation open call for a chef's name to place in consideration for 2014 Best Chef: Southeast: www.jamesbeard.org/awards.