(View From The Couch is a weekly column that reviews what's new on Blu-ray and DVD.)
Vera Farmiga in The Conjuring (Photo: Warner Bros.)
THE CONJURING (2013). Every few years, the American moviegoing public is greeted with a film that instantly earns the tag of "One of the Scariest Movies Ever Made!" This designation used to be reserved for only the most special of terror tales — Psycho, The Exorcist (see review below), Alien — but these days, it's a catchphrase free-for-all, without much meaning. Saw, Hostel, Paranormal Activity, Insidious — the list goes on. (But no Jack and Jill? What the hell?) The Conjuring is the latest picture to manufacture this reputation for itself, and theatrically, it seemed to have taken hold in many moviegoers who treated it like the second coming of Norman Bates. I suppose it's possible to be shaken to the core by this movie — even if it's not much more frightening than, say, The Flintstones Meet Rockula and Frankenstone or Scooby-Doo on Zombie Island — but ultimately, it's just one more haunted-house yarn, albeit one that's modestly elevated by James Wan's relatively restrained direction and characters who are more levelheaded than the usual gang of idiots who populate films of this nature. Reportedly based on a true story — and if you believe that everything in this film really did happen, then I have 20 acres of NoDa property I can sell you cheap — this examines what paranormal investigators Ed and Lorraine Warren (Patrick Wilson and Vera Farmiga) consider the most frightening and baffling case of their careers. It's the early 1970s, and they're called upon to check out a house newly purchased by the Perron family. Stopped clocks, strange clapping sounds, doors creaking open by themselves -- time to call the Ghostbusters! Or, in a pinch, the Warrens. To his credit, Wan relies on mood more than cheap scares or buckets of blood, but there's only so much that can be done with a premise as overexposed as this one (is there anything less cinematic than watching people monitoring cameras and tape recorders?). The filmmakers try to generate some tension with a leering doll that's no match for Trilogy of Terror's Zuni warrior, a guest appearance by the title apparition in Mama, and even the Pixar ball being rolled across a floor, but the return on investment is minimal. The Conjuring boasts top production values and an admirable refusal to condescend to its audience, but we really should be demanding more from our horror flicks.
Blu-ray extras include a piece in which Wan discusses his approach to horror; a look at the knickknacks the Warrens collected over the years; and an interview with the Perrons.
Movie: **1/2
Michael Caine in The Eagle Has Landed (Photo: Shout! Factory)
THE EAGLE HAS LANDED (1976). Few men could corral an all-star cast as efficiently as John Sturges, whose 30-year career in the director's chair included the high-powered likes of The Great Escape and The Magnificent Seven. The Eagle Has Landed, a crackerjack adaptation of Jack Higgins' bestselling novel by screenwriter Tom Mankiewicz (himself the son of All About Eve writer-director Joseph L. Mankiewicz), turned out to be Sturges' final film, and it proved to be a worthy send-off. The fanciful plot finds the German High Command commissioning a report to determine whether it would be possible to kidnap British Prime Minister Winston Churchill; the task falls to Colonel Radl (Robert Duvall), who decides it's doable once news reaches him that the PM is planning a trip to an isolated Norfolk village far away from the wartime hustle and bustle. To head the mission, Radl chooses Colonel Steiner (Michael Caine), a German who loves his country but not necessarily the Nazi bastards running it (he gets into trouble for helping out a Jewish woman on her way to a concentration camp). Sent incognito to aid Steiner and his men is Liam Devlin (Donald Sutherland), a folksy IRA member who cares nothing about helping Germany but cares deeply about bringing down England. Devlin is given a job as a marsh warden and ends up falling for a lovely local girl named Molly (Jenny Agutter); for their part, Steiner and his group arrive in the village disguised as Polish paratroopers but become wary when they learn of a U.S. outfit stationed nearby. Crafted with meticulous precision and infinite patience — the Germans don't even land in England until the one-hour mark (total run time is 130 minutes) — the film unfolds like a good novel, with compelling exposition eventually giving way to thrilling action. The large cast also includes Donald Pleasance as Heinrich Himmler, Larry Hagman as an idiotic American officer, Treat Williams as an intelligent American officer, and Jeff Conaway, Grease's Kenickie, in a small role as a G.I.
Blu-ray extras include on-set interviews with Sturges, Caine and Sutherland; vintage behind-the-scenes footage; a discussion with the late Mankiewicz (who passed away in 2010); and the theatrical trailer.
Movie: ***1/2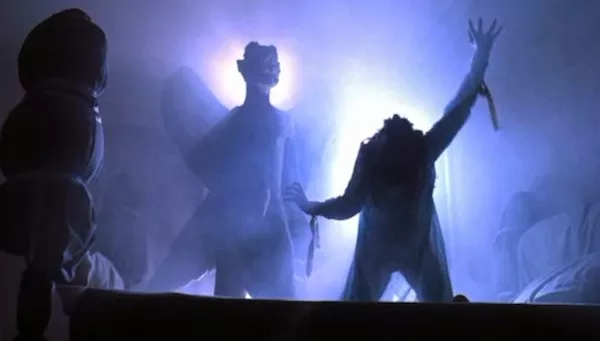 The Exorcist (Photo: Warner Bros.)
THE EXORCIST (1973). In its day, this adaptation of William Peter Blatty's gargantuan best-seller was a true phenomenon: a critical favorite; a commercial smash (at the time, it was second only to The Godfather as the all-time top moneymaker); the first horror film nominated for the Best Picture Academy Award; and, most importantly, a movie that became something of a pop culture conversation piece, sparking a renewed interest in the supernatural, triggering heated debates within the religious community, and generating countless op-ed columns and gossip items (including a notorious bit about how the film caused one pregnant patron to suffer a miscarriage out of fright). Today, it's a bona fide classic, a finely crafted thriller that benefits immensely from William Friedkin's controlled direction, Blatty's thematically fruitful script, Owen Roizman's imaginative camerawork and Dick Smith's startling makeup designs. As everyone knows, the movie tells the horrific story of a little girl (Linda Blair) who gets possessed by the devil, but Blatty deepens the emotional pool by also making it about a mother's (Ellen Burstyn) love for her daughter and about a young priest's (an excellent Jason Miller) struggle with his faith. Nominated for 10 Academy Awards (including acting bids for Burstyn, Miller and Blair), this won for Best Adapted Screenplay and Best Sound.
The 40th Anniversary Blu-ray edition contains both the original theatrical version (122 minutes) and the extended director's cut (132 minutes) that debuted theatrically in 2000. New to this package are a feature in which Blatty revisits the California house where he wrote the novel, the Georgetown University shooting location, and those infamous steps; a documentary featuring never-before-seen footage of Father Eugene Gallagher (who initially told Blatty about a possession case that sparked the novel) as he discusses exorcisms and other related matters; and a 40-page book featuring an excerpt from The Friedkin Connection: A Memoir. Extras brought over from past Blu-ray and DVD versions include two audio commentaries by Friedkin; separate audio commentary by Blatty; an introduction by Friedkin; a making-of piece; the 1998 BBC documentary The Fear of God: 25 Years of The Exorcist; the film's original ending; and trailers.
Movie: ***1/2
Edith Scob in Eyes without a Face (Photo: Criterion Collection)
EYES WITHOUT A FACE (LES YEUX SANS VISAGE) (1959). To borrow from the late Rodney Dangerfield, Les yeux sans visage got no respect when it premiered stateside in 1962: Trimmed and dubbed into English, it was paired with the two-headed creature cheapie The Manster and released under the title The Horror Chamber of Dr. Faustus. The unedited French version finally opened on three US art-house screens in 2003, and this of course is the cut that Criterion has seen fit to preserve. Working from an adaptation by the team of Pierre Boileau and Thomas Narcejac (known for the novels that morphed into Vertigo and Diabolique), director Georges Franju has fashioned a terror tale that's as poetic as it is horrific, buoyed by the ascetic camerawork by Eugen Shufftan (a year before he took the Oscar for The Hustler) and an early score by Lawrence of Arabia composer Maurice Jarre. Pierre Brasseur plays the disturbed doctor (named Genessier, not Faustus), whose own negligence has left his daughter (Edith Scob) facially disfigured. Determined to restore her beauty, he sends his assistant (Alida Valli) out to lure young women back to his estate, where in gruesome fashion he removes their faces in a continued (and failed) attempt to transfer their looks to his own child. The film sports an eerie elegance not unlike that of Cocteau's Beauty and the Beast (an apt title for this movie as well), and if its grisly subject matter would seem to preclude it from narratively generating a comparable fairy tale ambience, the dreamlike imagery works overtime to indeed create such a mood.
Blu-ray extras include archival interviews with Franju; a new interview with Scob; excerpts from a 1985 documentary about Boileau and Narcejac; and Blood of the Beasts, Franju's 1949 documentary about French slaughterhouses.
Movie: ***
Melissa McCarthy, Tom Wilson and Sandra Bullock in The Heat (Photo: Fox)
THE HEAT (2013). In the annals of buddy-cop flicks, The Heat showcases a pretty good team in Melissa McCarthy and Sandra Bullock. It isn't just the fact that they're two women in what's traditionally a male-oriented sub-genre — although the scarcity of such is partly why this movie stood out (to the tune of $159 million) in a summer that was otherwise nothing but guy-on-guy action. It's also because Hollywood has given us some pretty dismal pairings in the past: Jay Leno and Pat Morita in Collision Course, Arnold Schwarzenegger and Jim Belushi in Red Heat, Gene Hackman (oh, Gene...) and Dan Aykroyd in Loose Cannons ... the list goes on. Compared to some of the former pairings, McCarthy and Bullock might as well be Newman and Redford. It's just a shame the movie surrounding them isn't much better. Had the screenplay by Katie Dippold (a writer for both Parks and Recreation and MADtv) been a bit punchier, this could have been a noteworthy bookend piece to director Paul Feig's previous film, the uproarious Bridesmaids. As it stands, the movie is almost pure formula, elevated out of the realm of the mediocre on the sheer strength of McCarthy's bravura turn. Bullock stars as Sarah Ashburn, a hell of an FBI agent (excuse me; "Special Agent," as she reminds everyone) who's uptight and conceited. McCarthy plays Shannon Mullins, a Boston cop who's loud, crude and prone to physical violence. Both women are after the same drug lord, so despite their constant bickering, they're forced to pool their resources to barrel through various criminal underlings to reach the top man. While Bullock proves to be a perfect foil for McCarthy, she's not particularly funny on her own (casting someone like Kristen Wiig or Tina Fey would have solved this problem); fortunately, McCarthy provides enough stand-up material for both of them. She's a class (if not classy) act, with impeccable timing and brash self-confidence. Only on rare occasion does the tenuous material defeat her (the prolonged dive-bar sequence, complete with the obligatory booty shaking, is wretched); the majority of the time, she's providing The Heat with its incendiary firepower.
The Blu-ray contains both the R-rated theatrical version and an unrated cut. Extras include five separate audio commentaries (participants include Feig, McCarthy and the guys from Mystery Science Theater 3000!); a making-of featurette; deleted, alternate and extended scenes; and bloopers.
Movie: **1/2
Vince Vaughn and Owen Wilson in The Internship (Photo: Fox)
THE INTERNSHIP (2013). The Internship was one of the duds of the summer movie season, failing to capture the attention of either critics or audiences. Certainly, it's a film that perhaps feels a little too conservative, a little too old-school — it's the Matlock to This Is the End's Breaking Bad. It's rated PG-13 instead of R, it avoids the strain of mean-spiritedness that's in vogue in modern comedy, and its leads are more comfortable making jokes about 1953's Stalag 17 and 1983's Flashdance than anything from the brave new world of 2013. And yet I responded favorably to it, perhaps because it was a respite from the loud and overbearing movies that dominated the summer. And in the less demanding atmosphere of the living room, its modest charms play equally well. Certainly, a lot of that has to do with the chemistry between Wedding Crashers co-stars Vince Vaughn and Owen Wilson. Here, they're cast as Billy and Nick, two watch salesmen who find themselves out of work. They manage to land internships at Google headquarters (aka The Googleplex) in California, but they now find themselves competing with numerous other interns for permanent positions — and unlike them, the other recruits are college kids who eat, drink and breathe computers. The Internship is conventional in the ways one would expect: A longtime Google employer (Rose Byrne) initially resists Nick's flirtations but eventually falls for him; one intern (Max Minghella) mentally bullies everyone around him, especially the "old guys"; and Billy and Nick find themselves hanging out with the youthful rejects. Yet the script by Vaughn and Jared Stern smartly addresses the generation gap without making fun of either side: There's something to be said for the work ethic of students who acknowledge the harsh realities of contemporary career-building, but there's also much to learn from the easygoing attitudes of people who grew up in a time before every baby is automatically handed an iPod the minute it pops out of the womb. Both leads are on their game, and it's their ingratiating ways with a line that keeps the humor percolating. Aside from an uproarious scene involving Professor Charles Xavier (yes, that Professor X), the laughs are mostly low-key — but at least they're there, which automatically places this above many guffaw-free films of its genre.
The Blu-ray contains both the theatrical version and an unrated cut. Extras include audio commentary by director Shawn Levy; deleted scenes; and trailers.
Movie: ***
Liam James and Sam Rockwell in The Way, Way Back (Photo: Fox)
THE WAY, WAY BACK (2013). While it was been a dismal summer for movies made for teenage boys (Man of Steel, Pacific Rim, The Lone Ranger), it was been an exemplary one for films made about teenage boys. On the heels of The Kings of Summer and Mud came The Way, Way Back, a disarming seriocomedy that hopefully will have more luck on Blu-ray and DVD than it did in the theaters. Nat Faxon and Charlotte native Jim Rash, who both won Oscars (along with Alexander Payne) for adapting 2011's best movie, the Hawaiian-set The Descendants, again head to the beach with this piece centered around 14-year-old Duncan (Liam James), an awkward, introverted kid who's forced to spend his vacation trapped in a summer home with his caring mom Pam (Toni Collette) and her overbearing boyfriend Trent (Steve Carell). Pam doesn't see that Trent is cruel to her son (he tells the lad that, on a scale of 1 to 10, he rates a 3), and Trent's teenage daughter Steph (Zoe Levin) doesn't treat Duncan much better. But his misery is alleviated by the presence of the sweet girl next door, a teen named Susanna (AnnaSophia Robb), and especially by the unexpected friendship of Owen (Sam Rockwell), a laid-back, wisecracking employee at the nearby Water Wizz water park. As a coming-of-age tale, The Way, Way Back doesn't break any new ground, but it's never less than entertaining, marked by some amusing interludes and a sympathetic performance by the young James. Its most inspired stroke is having Carell play the loathsome jerk and Rockwell the decent guy, a nice reversal of expectations. And if you want to see the guys responsible for this low-key winner, that's Faxon as Owen's perpetually grinning co-worker Roddy and Rash as his perpetually complaining co-worker Lewis.
Blu-ray extras include a making-of piece; deleted scenes; a piece on the ensemble cast; and a tour of the water park.
Movie: ***