THE DESCENDANTS
****
DIRECTED BY Alexander Payne
STARS George Clooney, Shailene Woodley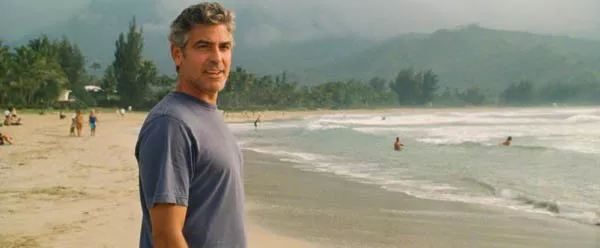 George Clooney in The Descendants. (Photo: Merie Wallace / Fox Searchlight)
The must-see George Clooney vehicle of 2011 — The Ides of March sure wasn't it — The Descendants might be set in Hawaii, but it's hardly a film defined by its postcard prettiness. Right at the start, director and co-writer Alexander Payne (adapting Kaui Hart Hemmings' novel) shows us a downtown as gritty as that of any sprawling metropolis, while Clooney's character, Matt King, informs us that Hawaiians have the same miserable problems as those of us living in the contiguous United States.
With all romantic notions dispelled, the movie gets down to business. Matt's having a rough time of it, with life coming at him hard from all directions. His wife, with whom he's grown coolly distant, has had a boating accident and now rests in a coma; to make matters worse, he later learns that she had been having an affair with a realtor (Matthew Lillard) and was possibly going to leave him. His daughters, rebellious teenager Alexandra (Shailene Woodley) and socially awkward Scottie (Amara Miller), don't respect his authority. And as the family member legally entrusted with prime acreage that has belonged to the clan for generations, he must decide between selling it to capitalist opportunists and making himself and his relatives millionaires or holding onto it and winning the approval of those who would hate to see this beautiful land razed.
Payne, who also was a guiding force behind Sideways, About Schmidt and Election, has made another terrific movie about recognizably flawed people and the decisions they make that either improve or irrevocably damage their lives. No situation is ever easily digestible in his complex films: Here, Matt doesn't know whether or not he should forgive his wife since she's in a coma, and his children, his father-in-law (Robert Forster) and Alexandra's boyfriend (Nick Krause) alternate between infuriating us and earning our sympathies. Marked by stellar performances (particularly by Clooney, Woodley and Judy Greer as the realtor's wife) and an incisive screenplay, The Descendants packs a real Hawaiian punch.