(View From The Couch is a weekly column that reviews what's new on Blu-ray and DVD. Ratings are on a four-star scale.)
Barbara Steele (right) in The Crimson Cult (Photo: Kino)
THE CRIMSON CULT (1968) / MADHOUSE (1974). Over the course of 35 years, close friends Christopher Lee and Peter Cushing appeared in 22 pictures together (admittedly, they didn't share any scenes in a handful), but their output with other giants of the horror field was less prolific. Here are two titles that offered each actor an opportunity to work with a fellow vet of the macabre.
Also known under the title Curse of the Crimson Altar, The Crimson Cult pairs Lee with the legendary Boris Karloff, with whom he had earlier co-starred in 1958's Corridors of Blood. Drab Mark Eden plays the central role of Robert Manning, who journeys to a remote English village to search for his missing brother and learns of the legend surrounding a witch (Barbara Steele in greenface) who once haunted the area. Is the respected Squire Morley (Lee) responsible for the current cult-like activities invoking her spirit, or is Professor Marsh (Karloff), the local occult expert, somehow involved? Better direction would have benefitted a film that nevertheless offers modest thrills for genre devotees. Karloff adds dignity (and cheeky humor) to his last film of note — he would catch pneumonia while making this picture and subsequently only appear in four Mexican-produced cheapies before his death in 1969.
Vincent Price and Peter Cushing in Madhouse (Photo: Kino)
In Madhouse, Cushing finds himself playing a secondary role to Vincent Price, who's pretty much the whole show. Price's Paul Toombes, a horror veteran best known for his series of Dr. Death pictures, has suffered a breakdown following the gruesome slaying of his fiancée, a murder many believe he himself committed. Released from an asylum after a lengthy stay, Toombes attempts to resuscitate his career with the help of his screenwriter friend (Cushing) and a sleazy TV producer (Robert Quarry). But a fresh string of murders has him wondering whether he might indeed be slaughtering others while in an altered state. Madhouse is far more silly than suspenseful, and the identity of the killer is never once in doubt, but as a vehicle for Price — and as a behind-the-scenes peek at filmmaking — it's worth a late-night watch. This was one of only four directorial credits for prolific editor Jim Clark, who would later win a Best Film Editing Academy Award for 1984's The Killing Fields.
Blu-ray extras on The Crimson Cult consist of audio commentary by Steele and film historian David Del Valle; separate interviews with Lee and composer Kendall Schmidt; and the U.S. and U.K. theatrical trailers. Blu-ray extras on Madhouse consist of audio commentary by Del Valle; a retrospective making-of featurette; and the theatrical trailer.
Both Movies: **1/2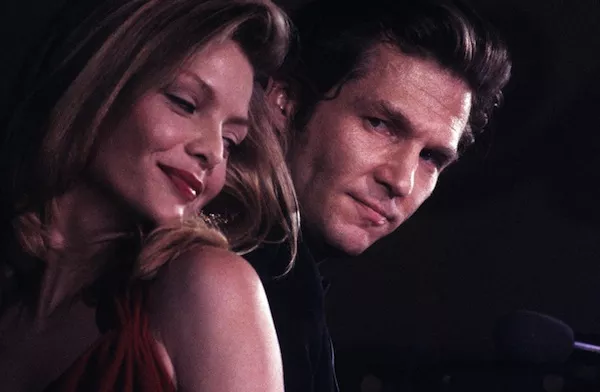 Michelle Pfeiffer and Jeff Bridges in The Fabulous Baker Boys (Photo: Twilight Time)
THE FABULOUS BAKER BOYS (1989). If my meticulous research is correct, only seven lead actresses have managed to win a Golden Globe and citations from all four major critics' organizations (New York, Los Angeles, National Board and National Society) for the same performance. Out of this group — a small but impressive lot that runs from Sally Field in 1979's Norma Rae to Helen Mirren in 2006's The Queen — the only one not to go on to win the Academy Award was poor Michelle Pfeiffer for The Fabulous Baker Boys. Honestly, she never really had a chance, given the Academy's penchant for sentimental favorites and softball cinema — hence, she lost the Oscar to 80-year-old Jessica Tandy in the warm and fuzzy Best Picture winner Driving Miss Daisy. The titular Baker boys are frosty Jack and fussy Frank (real-life siblings Jeff Bridges and Beau Bridges), a pair of lounge-act pianists who elect to spice up their show (and their sagging finances) by adding a singer to the mix. They settle on Susie Diamond (Pfeiffer), tough-talking, street-smart, and always ready with a quip (or a sharp counter to a quip). All three stars are superb, with the siblings nailing the most poignant scene by serving up The Sherman Brothers' "You're Sixteen." But it's Pfeiffer's smart and sexy performance that quickly became a thing of legend, with her sultry rendition of "Makin' Whoopie" (in a red dress, no less) earning almost as much ink as any other movie scene from 1989. Besides Pfeiffer's bid, The Fabulous Baker Boys earned three other Oscar nominations, including Best Cinematography for the incredible Michael Ballhaus (The Last Temptation of Christ, Bram Stoker's Dracula, Quiz Show).
Blu-ray extras consist of audio commentary by writer-director Steve Kloves and film historians Julie Kirgo and Nick Redman; separate audio commentary by Ballhaus; deleted scenes; the theatrical trailer; and an isolated music track.
Movie: ***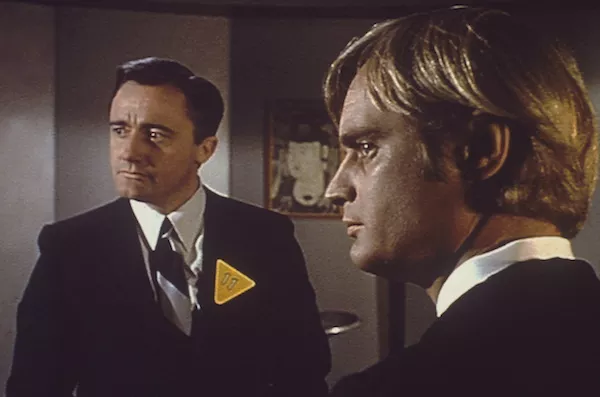 Robert Vaughn and David McCallum in The Man from U.N.C.L.E. (Photo: Warner)
THE MAN FROM U.N.C.L.E.: THE COMPLETE FIRST SEASON (1964-1965). Back in 2008, Warner Home Video released The Man from U.N.C.L.E.: The Complete Collection, a DVD box set featuring all 105 episodes (plus numerous extras) from the hit TV series that ran from 1964 to 1968. With a new motion picture opening August 14, the company has seen fit to now reintroduce the first season, and while fans will be thrilled to catch all 29 episodes, they might be disappointed to learn that this 10-disc set contains no bonus material. Secret agents were all the rage in the 1960s, and this series cashed in by focusing on the exploits of Napoleon Solo (Robert Vaughn) and Illya Kuryakin (David McCallum), who worked for the organization U.N.C.L.E. (United Network Command for Law and Enforcement) under the auspices of section head Alexander Waverly (Leo G. Carroll). McCallum, who would emerge as an audience favorite, is seen more fleetingly in this initial season, which is actually fine since Vaughn delivers an ingratiating performance as the cocky, devil-may-care Solo. And while the show would eventually grow sillier (the unfortunate influence of the campy Batman series), the episodes here are comparatively more serious, as our heroes repeatedly quell global threats perpetrated by the villainous outfit Thrush. A few actors better known for their film appearances pop up as guest stars during this first season (Kurt Russell, George Sanders, Martin Balsam, Slim Pickens), but more interesting is seeing those performers who were soon to become TV mainstays: Carroll O'Connor, still seven years away from portraying Archie Bunker in the landmark show All in the Family; Robert Culp, who would soon be co-starring in the rival spy series I Spy; Barbara Feldon, who would soon be co-starring in the spy spoof series Get Smart; and, most intriguingly, future Star Trek co-stars William Shatner and Leonard Nimoy guesting in the same episode. Jerry Goldsmith's theme music is outstanding, among the best of this great composer's career.
As stated, there are no extras in the DVD set.
Collection: ***
Richard Widmark in Night and the City (Photo: Criterion)
NIGHT AND THE CITY (1950). The Hollywood blacklist of the 1950s ruined many a career, but director Jules Dassin was one of the lucky ones: Forced to flee the U.S. and set up residence in France, he went on to become the internationally renowned director of such hits as Rififi and Never On Sunday. But before this unexpected swerve in his career, he had shot four consecutive film noir offerings that still retain their power today: Brute Force (1947), The Naked City (1948), the excellent, underrated Thieves' Highway (1949) and Night and the City. Needlessly remade in 1992 with Robert De Niro and Jessica Lange, this terrific picture stars Richard Widmark as a petty American hustler hoping to hit it big in London. His girlfriend (Gene Tierney) urges him to give up the con and earn a decent living, but he ignores her advice and concentrates his shady efforts on becoming the biggest wrestling promoter in London — a career path that places him in dangerous proximity to the crime boss (Herbert Lom) currently holding that position. Few filled the role of the sweaty anti-hero better than Widmark, and he's in notable form here, whether cheerfully duping American big-spenders or fearfully fleeing from underworld thugs. Incidentally, all four Dassin noirs are available on DVD from the Criterion label, but Night and the City is the first the outfit is offering on Blu-ray; hopefully, the rest will follow shortly.
The Blu-ray contains both the 95-minute U.S. cut of the film as well as the 101-minute British version. Extras include audio commentary by film scholar Glenn Erickson; two interviews with Dassin (1972 and 2005); and the theatrical trailer.
Movie: ***1/2
I, Madman (Photo: Shout! Factory)
Short and Sweet:
I, MADMAN (1989). Tibor Takács staked his claim to fame as the director of the low-budget 1987 horror flick The Gate, which made headlines when it opened on the same day as the far more costly Ishtar and almost edged it out for the top spot on the weekend box office chart. Takács followed that feat with I, Madman, but despite his earlier success, this one barely received a theatrical release, with most of its audience later finding it on VHS. Jenny Wright (Rob Lowe's wife in St. Elmo's Fire) stars as Virginia, a bookstore employee whose fascination with a pair of sordid novels written by the disturbed — and deceased — author Malcolm Brand (Randall William Cook) leads to his return as a supernatural slayer of innocent victims. Nifty and draggy in equal measure, this finally goes off the rails but has a fun time getting there. Cook not only plays the killer but also created the visual effects; years later, he would win three consecutive Oscars for his effects work on The Lord of the Rings trilogy.
Blu-ray extras include audio commentary by Takács and Cook; a making-of featurette; behind-the-scenes footage; and the theatrical trailer.
Movie: **1/2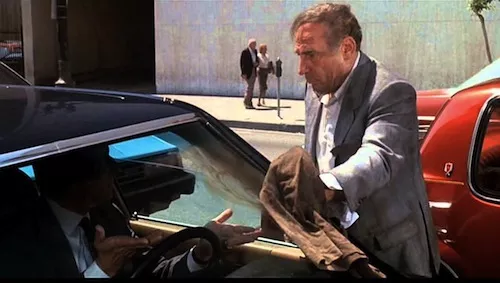 Mel Brooks in Life Stinks (Photo: Kino)
LIFE STINKS (1991). Even comic geniuses are allowed an off-day — or off-movie, as the case may be — and Mel Brooks strikes out with this sizable flop that's perhaps surpassed only by 1995's Dracula: Dead and Loving It as the auteur's worst. Brooks stars as the filthy rich Goddard Bolt, who bets a rival developer (Jeffrey Tambor) that he can live on the streets of an LA slum area for 30 days without any access to his vast fortune. It's a grueling experience, but Goddard learns some empathy as he hangs out with the likable hobos Sailor (Howard Morris) and Fumes (47-year-old Teddy Wilson, who passed away following a stroke just four days before the film's release) and falls for the bag lady Molly (Leslie Ann Warren). Attempts at creating a social satire a la Sullivan's Travels fall flat, and the absence of such invaluable Brooks regulars like Madeline Kahn and Dom DeLuise really hurts.
Blu-ray extras consist of audio commentary by Brooks, co-star and co-scripter Rudy De Luca and co-scripter Steve Haberman; a making-of featurette; and the theatrical trailer.
Movie: *1/2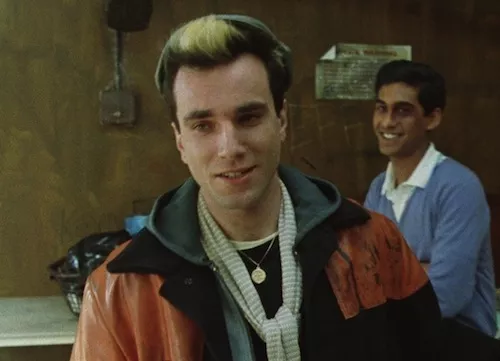 Daniel Day-Lewis and Gordon Warnecke in My Beautiful Laundrette (Photo: Criterion)
MY BEAUTIFUL LAUNDRETTE (1986). The odious Margaret Thatcher and her crippling policies made sizable targets for many British filmmakers during the 1980s and beyond, and few hit the bulls-eye as squarely as screenwriter Hanif Kureishi and director Stephen Frears with their indie hit My Beautiful Laundrette. Yet Thatcherism is what's simmering beneath the surface; at ground level, this tells the story of Omar (Gordon Warnecke), a Pakistani lad who, with the help of his capitalist uncle (Saeed Jaffrey), attempts to renovate a laundromat in an economically repressed community. To help him operate the business, Omar turns to his friend Johnny (Daniel Day-Lewis), a former skinhead who's trying to become a better person, and they soon begin a clandestine romance. Kureishi's Oscar-nominated script shrewdly dissects all manner of societal ills — classism, racism and sexism among them — while Day-Lewis enjoyed a breakout year stateside thanks for his contrasting performances here and as a supercilious dandy in A Room with a View.
Blu-ray extras consist of separate interviews with Frears, Kureishi, producers Tim Bevan and Sarah Radclyffe, and director of photography Oliver Stapleton, and the theatrical trailer.
Movie: ***