Charlotteans are notorious for getting stuck in their own neighborhoods, hardly daring to venture out of their comfort zones to explore the offerings of other districts. Some things shake folks out of their doldrums, though — like when a local restaurant/nightspot that has changed hands a number of times finally finds its niche.
That's what the partners who launched 5Church have done with the space at the corner of 5th and Church streets. It's been completely reinvented, becoming home to a new restaurant that the owners plan to unveil May 18.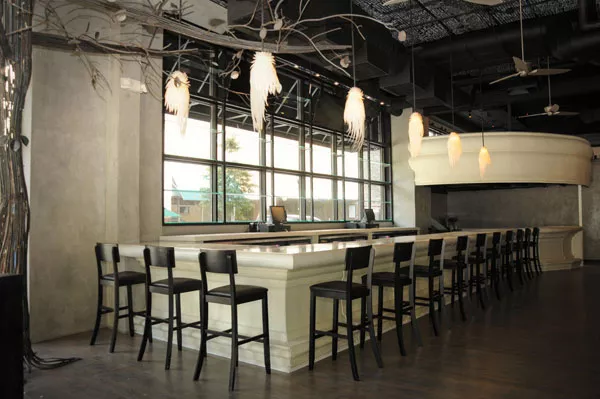 (Photo by Graham Morrison)
From top to bottom, 5Church is not just a restaurant, it's an escape. If you're walking in its vicinity, you'll be immediately drawn in by its curb appeal. The exterior glass windows serve as the backside of the bar, appearing as a beacon to passersby. When you walk through the doors, you'll be greeted by a large-scale, custom metal work tree. Local tattoo artist Rodney Raines' installation inside shows his twist on three $5 bills. In addition is Nathaniel Lancaster's large mural, which grabs attention in the room.
Included among the team of managing partners are folks from the Reaching Quiet Design interior design firm, known for commercial work at Twenty-Two Gallery in Plaza Midwood and Vida Mexican Kitchen y Cantina at the EpiCentre.
"For me, the inspiration for this is really what it should be for a restaurant — it comes from the food," says development partner Eric Boyd. Executive chef Jamie Lynch, most recently at Barrington's, will be manning the kitchen, serving up traditional yet technique-driven American cuisine.
"When I heard about the food and tasted the food ... that's sort of how I saw the architecture, which is really different than what we've done in the past," Boyd continues. "We [at Reaching Quiet Design Group] are generally very minimalist, modernist people and so is most of our work. This was an opportunity to sort of reference traditional American architecture and then put exaggerations and twists on it to make a surreal, escapist type of environment."
Every wall offers something aesthetically pleasing — even the ceilings. Gazing up, you'll notice their black, industrial feel and exposed piping. You'll also notice the entire ceiling is covered in white writing with bold words like "battles," "courage and sternness," and "there is only we." Artist Jon Norris spent hours on a ladder with a paintbrush in one hand and Chinese military novel The Art of War in the other. It's safe to say 5Church is the only restaurant in Charlotte in which an entire book is written on its walls.
Why The Art of War? Development partner Mills Howell explains: "The whole group, we kind of had to fight our way to get here. There was a lot of strategy behind us being in this industry and breaking free from, I guess you could say, the man."
The book's theme is fitting to the vibe at 5Church. Everything in the space required determination, skill and labor. Every spo has been touched by hand — whether it be the concrete work on the bars to create an illusion of fabric and limestone tops, the Himalayan oak communal tables, luxurious button-tufted leather banquettes or the ornate white pillars.
The interior is dramatic and over the top. Decor aside, though, operating partner Patrick Whalen stresses the importance of the experience patrons should expect. "Why are you paying a premium to go out? It's either for the ambiance, the food or the design ... or all of those things combined in a really exciting way," Whalen says.
Between the sprawling bar, the private, swanky lounge area and the surrounding options for dining in a large group or a cozy pair, 5Church offers remarkable variety.
"You've got the intimate, fine dining up on the top area, and then you've got the bar/communal table, which has a very New York/L.A. feel, so we could have a lot of people mingling," Howell says. "We wanted to make sure there were multiple atmospheres, for the late-night crowd or just if you'd want a romantic setting. We were able to do that with this location's layout — create a lot of different dining experiences so you don't just come here every time and feel like you've had the same experience."
Another member of the management group, Alejandro Torio, calls 5Church "Uptown meets Plaza Midwood meets Myers Park." He adds, "We want the artist and fashionista hanging with the banker."