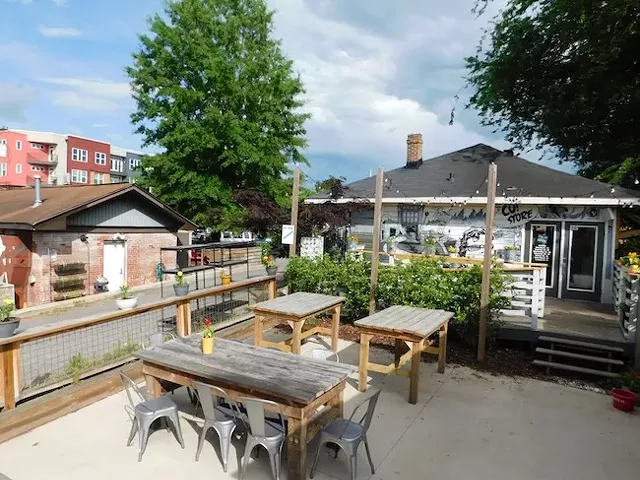 The back patio at NoDa Company Store. (All photos by Dana Vindigni)
Last month, for the annual CL Beer Guide, we sent three staffers and local rapper Black Linen out in Plaza Midwood to track down the absolute cheapest beer we could find and give our drunken opinions on it. Thanks to all the great feedback, we decided to bring the squad back for this year's Summer Guide. Black Linen couldn't make it, so we brought new sales rep Alexandra McGill and sales manager Aaron Stamey to tag along with news editor Ryan Pitkin, art director Dana Vindigni and sales rep Justin LaFrancois.
This time, we took the light rail from NoDa to South End in search of five patio bars we either heard were worth visiting or knew from experience. We hit the town directly after work on a recent Wednesday to share some summer cocktails and beers in the great outdoors of Charlotte's urban jungle. As with our Broke Beer Guide, we did no research for the following reviews, and all we have to offer are our drunken insights and non-expert opinions. Cheers.
NoDa Company Store, 3221 Yadkin Avenue
[On the "Butterfly Highway" between the front and back patios, sitting on swings drinking NoDa Coladas, white wine, Unknown Ginger Wheat and other beer.]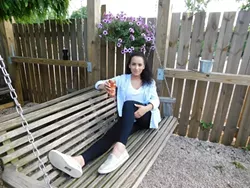 Alexandra McGill: This is a great place to take a selfie. This area is so cute. It looks like Florida.
Dana Vindigni: It's very quaint. It kind of reminds me of Savannah, even though I've never been to Savannah. It has like a Charleston kind of vibe to it, which is kind of neat. And it also kind of reminds me of a nice, quaint little house, and like my grandma's backyard in Queens. All those things in one.
Justin Lafrancois: I've never been to Savannah but I had a picture of it in my head forever, and this is it.
DV: Don't you just feel it in your bones?
Ryan Pitkin: This place always has sangria on blast. It's $7 a cup, which is a good bit, but it's a great thing to start with. It has a patio over here that's in the sun, but it's also got one in the front. I call that the front, because it's on the street, but some people call it the back, which is bullshit.
JL: I feel like this is definitely not the appropriate place to get super aggressive. I am an aggressive drinker. I have an aggressive demeanor about me when I drink — not like hostile or physically aggressive, I'm just party aggressive.
RP: This is more chill, nice, Dana's grandma's backyard. Someone just walked by and said, "This place feels very zen," which is the opposite of Justin's vibe in general.
DV: Hanging swings plus potted plants equals adult fun.
RP: I think The Matts [Matt Hooker and Matt Moore] painted the walls of this place. The Osiris Rain mural on the wall covering the dumpster adds to the vibe. Speaking of walls covering dumpsters, it's crazy that they built a custom brick wall around the Porta Potty. That was really thoughtful. It probably contains the smell a little bit, sends it straight up.
JL: That makes for a little bit of privacy. I don't like there being nothing but a plastic wall between me and all those people.
RP: The other cool thing about this patio is that in the summer they grill out hot dogs and hamburgers and other foods that they switch up every weekend and they just give them out to whomever comes by to hang.
AM: How can they afford that? I feel like everything here is so cheap I don't know how they afford to do it.
A few Company Store selections.
DV: You could get shitty at this place for $50 no problem.
JL: I could get alcohol poisoning at this place for 50 bucks.
Solstice Tavern, 3221 N. Davidson St
[Now drinking Leinenkugel Summer Shandy, Bold Rock Hard Cider, Fireball and tequila]
JL: I'm going to drink in context of whatever patio we're on. I just ordered a Budweiser and a shot of Aristocrat tequila, straight up, no salt, no lime.
RP: Why is that in context of where we are?
JL: Because I feel like that's a good NoDa set-up. Why would I not get the cheapest beer I possibly can?
Aaron Stamey: Ryan's a NoDa resident, have you ever had that combination before?
RP: Never in my life.
Justin LaFrancois (eft) and Ryan Pitkin
JL: It doesn't matter what the combination is, it's just like the character of the drink.
AM: What's that, trashy?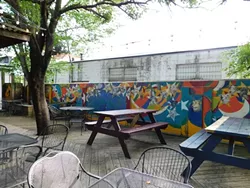 RP: This is a go-to summer patio. I've been living in this neighborhood nine years and this has always been the patio. It's where I learned to play cornhole.
DV: It's really comfortable. It's got the eclectic vibe with the collection of signs and bizarrely high fences for a good reason, we can assume.
JL: The fans that they have out on this patio are supplying the best breeze I've ever felt in my life.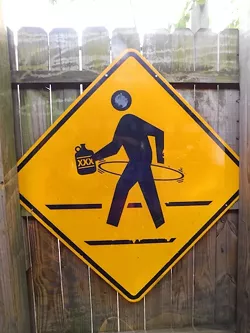 DV: Yes, we'll give them props for their circulation of airflow. I feel kind of like I'm on vacation in Cancun, where you go to one of those quirky bars, with all the different colors, it's got a little Mexican or island feel to it.
JL: Maybe if this patio was made out of water instead of wood, I could swim up to the bar.
RP: One thing about this place is that there was once a family of possums living under us, and every once in a while when you're chilling here at night, they would just come up and then sit on that tree and stare at us.
AM: That does not make me want to be here.
RP: I'm pretty sure they're gone. Something bad happened. I think one tried to cross the street one time or something. Didn't go well.
Fahrenheit, 222 S. Caldwell St.
[In the elevator up to the 22nd floor, we discuss expectations]
JL: I've only ever been here one time and it was freezing cold so we couldn't go outside. My expectation is that maybe this will be the Disneyland of patios. It's the original Uptown patio.
[On the patio, drinking house-made cocktails and/or wine]
RP: The view is as promised; pretty damn good.
[image-10
JL: I just want to say that I played in a charity golf tournament on Monday, and standing on this rooftop patio I feel like I'm back on the putting green.
RP: Do you mean because of the way all these banker bros are dressed?
JL: No, because we're definitely standing on Astroturf that makes me feel like I'm on a sports field.
AS: I love the view of the Spectrum Center. I can see the Hornets losing from here.
Aaron Stamey leads a toast.
RP: When I walked in here, I felt like I did not even come close to belonging. But they let you in, and they're cool and friendly, no dress code. But it doesn't seem like a place for the Boozing on a Budget crew.
JL: It's swanky but you don't have to plan your outfit. We came in here with an electric scooter, t-shirts, sunglasses, we're chilling.
RP: Right, and I see other people dressed equally casual, so it's cool.
AS: It feels like I'm at Niagara Falls with everyone taking pictures.
DV: I'm having the Orange Blossom. It's super good. It was $14. This is kind of a bitchin' view. If you're going to spend money, then you need to spend it correctly, and spending it on this view of the Charlotte skyline is pretty damn good. Do you want to wait on line for the bar? No, but that's ok.
RP: We didn't really. We've got like six people with us now so I think you were just last in the line that we created.
AS: The TV game is weak outside.
RP: But the fire pit game is strong.
DV: You're not coming here for television. You're coming here to get some classy liquor and spend some money and be in the scene with people who want to do that.
AM: I worked here for two years, and every time there was a nice view we all still ran out [and] had to get a picture. I love this place, because it's so nice. Especially in the winter, the fire pits are really nice. It's busy all year round. People always want to come here.
RP: You've been inside talking to some old friends for a little while. Are they paying you to say this?
AM: [laughs] No, even when I worked here, I loved it up here. Why wouldn't you love it up here? It's so nice, look at that sunset. My dad lived here 20 years ago, and he came back in town last year, and I said, "You know what? We have to go to Fahrenheit." So you can come up here and see how Charlotte grew. And he was like, [gasp]. I liked that I got to show him how Charlotte grew. When he was from here, he didn't see the skyline. I brought him up here and he was like, "Wow, Charlotte's a city now."
Dilworth Tasting Room, 300 E. Tremont St.
[Drinking house-made cocktails and a bevy of different beers]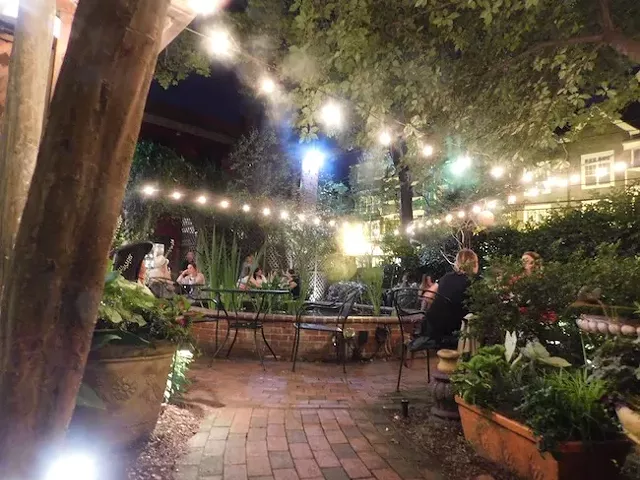 DV: This place is sort of like the perfect date if you were in Lady & the Tramp. It's got beautiful trees and elegant lighting and a big pond in the middle and a beautiful spring, and it's just quite romantic. I need a date night here.
JL: It's the hottest patio we've been on all night. I feel like I'm in The Jungle Book.
RP: It reminds me of Midnight in the Garden of Good & Evil. Y'all thought Company Store looked like Savannah, but this is Savannah.
AM: You think the garden's evil?
RP: No, the movie.
JL: I feel like I'm in a nice little bungalow, and that if I ventured off into the corner I might find Hugh Hefner's grotto. Rest in peace. Since we've been drinking already and we came in here loudly, we are getting looks. Also very important, you can smoke on this patio, as opposed to Fahrenheit. It doesn't look like you can here, but you can.
DV: Can we talk about the fact that this place kind of looks like a fairy garden, which is always important to be able to just take a minute in a place, if you don't wish to be surrounded by television and modern technology.
RP: I thought you were going to say "and douchebags."
DV: That too.
JL: I love that they have a little, I don't want to call it a fountain because the water's not running, what would you call that? A pond?
RP: It's a pond.
JL: You think there's fish in there?
Pitkin (from left), LaFrancois, McGill and Stamey at Dilworth Tasting Room.
RP: I bet there's at least one koi in there. Go check.
JL: There's multiple fish in that pond. And it's pretty deep. I would say about four feet deep.
RP: I think this is my top-ranked patio.
DV: I mean, there's literally a fucking lagoon.
AM: This is definitely my favorite patio so far. It is so cute out here. I love it. The drinks are like Fahrenheit price. I'm getting the strawberry basil cup for $13. But this place is so cute, it's covered so you feel like it's very private. And there's plants everywhere, which I love. The walls are even covered in plants.
DV: They have a little food selection. It's nice. It's like handheld foods, priced reasonably. Obviously not dirt cheap, but not crazy expensive. You have flatbreads and cheese plates and meat plates, $10 to 13. My wine was between $10 and 12. Totally affordable and the ambience is really cute. Cheers. This is a top-rated date place.
RP: I give it an eight out of 10, probably my top ranked so far.
JL: I give it a 10 out of seven.
Hot Taco, 200 E. Bland St., A
[Drinking rum tiki drinks, skinny margaritas and sangria]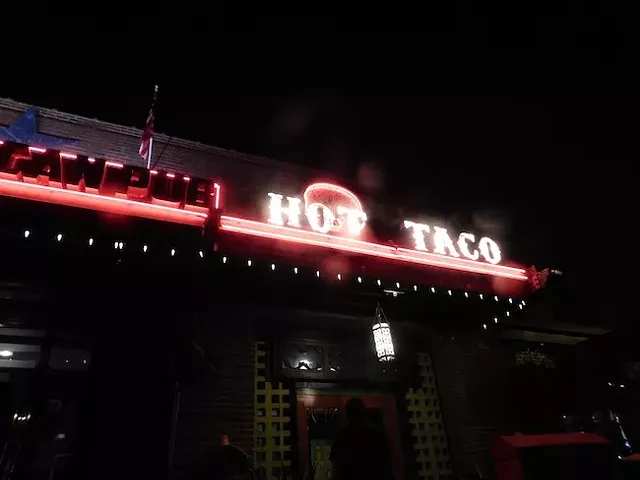 JL: The late-night menu here is an awesome way to end your light rail patio trail.
RP: If you're drunk enough to overlook the racist sleeping Mexican statues.
JL: There's two of them! That's double the racism.
DV: This is literally a step away from the light rail, the closest one to it that we've visited all night.
JL: The cactus that's painted on the wall is very nice. The West Coast Customs Magic School Bus looks really cool.
JL: The music is not fantastic, but it's on, so that's good.
DV: I do feel like the last few places we haven't had any music. Not since Company Store.
JL: Company Store had the best music all night for sure. Let's talk about the clientele on the Hot Taco patio. So there is no other clientele on the Hot Taco patio, but I can tell you that there is clientele on the All American Pub, Oak Room and Slate patio, and it's definitely a sad sight: over-gentrified, banker bro scene. If Bank of America let all their employees out at the same time, this is where they'd end up.
DV: Yeah, but we're here, and we're not yuppies. I feel like survivors of South End are going to be over here, the last living locals of South End would be over here.
RP: Are we going to be drinking out of a coconut, is that what the server said?
JL: I really fuckin' hope so.
DV: I feel like the limit for banker bros is not this far, like they end in Uptown.
RP: Oh no. They will come to South End. That's where they stay.
JL: Yeah, this is where they live. They all live in that building right there [points across the tracks].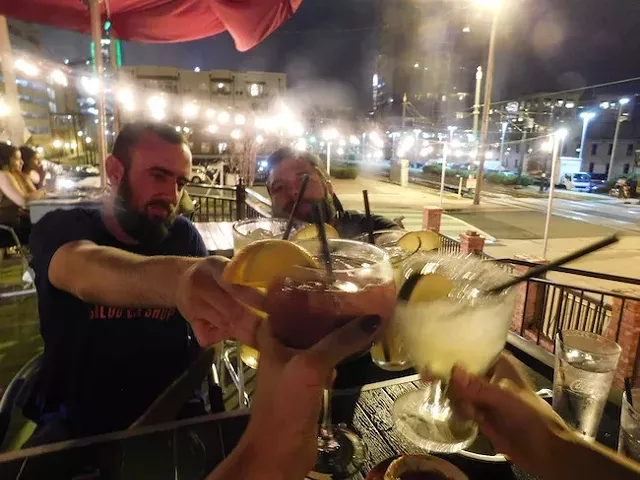 AM: For it being 10:30 p.m. on a fuckin' Wednesday, the menu's pretty big.
JL: I'm getting a half-priced fajita.
DV: Half-priced fajita means $8, I can get a fajita rather than a bowl for $11. Yes, that's happening. This combo of quac and queso is really something amazing.
RP: It is but these chips are kind of stale. Either way, this is a fine night cap of tacos and fajitas.
AM: I didn't feel great about this place, it's lowest on my list.
RP: I thought it was good. I had a very nice tiki drink, although no coconut, dammit.
AM: It wasn't crap. But it wasn't great.
JL: Just as I suspected, the clientele at Hot Taco in South End still wears their Rich & Bennett's St. Patrick's Day bar crawl shirts when they go out on a Wednesday night.
[And at that, we made our way down Bland Street to call an Uber, as the next light rail wouldn't arrive for 20 minutes and we were ready to end our night as patio reviewers. Stay tuned for the next Boozing adventure.]