Genius A 21-year-old man in southwest Charlotte called police after falling victim to perhaps the most clever marketing ploy ever pulled off in The Blotter. The man told police that he returned home from work one day to find that his house had been broken into. Nothing was stolen or damaged, and the man told officers that the only evidence he could find of someone being in his home was a flyer for an alarm company laying on the table that he knows wasn't there in the morning. The man said he now felt uneasy after finding the flyer, which is perfect because he's literally holding the potential solution to his unease in his hands. Time to call the alarm company.
Gumball 3000 Police responded to a break-in at a business in west Charlotte last week after someone was desperately seeking some chewing gum. According to the report, someone smashed through the front window of Guaranteed Nails on Freedom Drive, only to grab the gumball machine and make off with it.
Try Vaping Police responded to an apartment near UNC Charlotte last week after a couple college students took things too far during an argument about fresh air in their apartment. A 19-year-old student told police that he started arguing with his roommate over the fact that he had been smoking cigarettes inside the apartment. The roommate threatened him in return, however, the report makes clear that nobody was assaulted in the confrontation and the two "went their separate ways," which is odd because they live together and don't have separate ways to go.
Watch Your Back A 67-year-old man in Uptown was left high and not dry last week after reporting that someone had stolen the rear wipers off the back windshield of his Honda Pilot while he slept.
Black Phillip In what appears to be a Blotter first, at least in the eight years I've been familiar with the column, a 15-year-old girl in northeast Charlotte reported that someone stole her goat, allegedly carrying it off the property when she was away.
Delivery Service A 26-year-old man in west Charlotte was surprised last week when someone brought the party to his house unexpectedly. According to the victim, he was awoken at around 3 a.m. by the sound of something crashing through his window. He went into his living room to find that someone had thrown a liquor bottle through the window, which would normally be great news, except it was empty.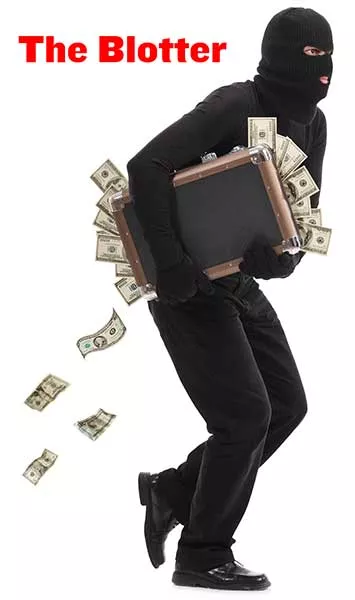 Pop Off Police responded to a road rage incident in east Charlotte after one man pulled a gun on the other, but the officers were able to call his bluff. The 29-year-old victim told officers that the stranger had pointed the gun at him, which made him fear for his life. The officers seized the gun, only to find that it was just a BB gun all along.
Shanks for Nothing Over the last two weeks, we've reported on a new trend of very young students being caught with knives of varying types on school grounds. This week, more reports surfaced, including a child at Joseph W. Grier Academy being caught with a pocket knife, another pocket knife confiscated from a kid at Croft Community School and a kid at Idlewild Elementary School being found to be in possession of a butter knife after punching a kid on the school bus. For the kicker, a boy at Merry Oaks Elementary was found with a five-pointed throwing star last week.
Nostalgia A 62-year-old woman who teaches at a local school received a letter from a former student last week, which would normally be a great gesture, except it seemed this one had a score to settle. The teacher filed a report stating that the former student used expletives toward her in the letter, and while she admitted that no crime was committed, she wanted the incident documented in case he tries to contact her again.
Senseless Reports A police officer filed a report last week stating that he found five cents in the back of his vehicle while he was cleaning it out one afternoon. And now here I am including that experience in an actual journalistic publication. It's a vicious cycle we're all caught in.
Evening Stroll Police were called to the intersection of Thomasboro and Glenwood drives in west Charlotte last week after getting reports of a nude woman walking around near the I-85 ramp. Sure enough, officers quickly found the woman easily, as she was standing in the middle of the street, visibly impaired and totally naked.
Overzealous An embarrassed officer had to file a report on himself after damaging someone's property last week. According to the report, the officer was knocking on the door of a house in west Charlotte and got a little too aggressive. The officer said he could see people inside that weren't coming to the door, so his answer was to knock louder on a nearby window, although he knew they already heard him. The intimidation tactic didn't work, however, and the officer simply knocked through the window, doing $100 in damage when he shattered the one he was knocking on.