(View From The Couch is a weekly column that reviews what's new on Blu-ray and DVD. Ratings are on a four-star scale.)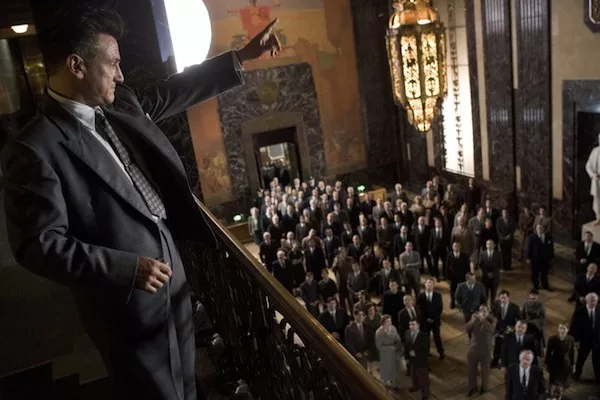 Sean Penn in All the King's Men (Photo: Mill Creek & Columbia)
ALL THE KING'S MEN (2006). Robert Penn Warren's Pulitzer Prize-winning novel from 1946 centered on boisterous, larger-than-life governor Willie Stark, but really it was just a thinly disguised look at the career of Louisiana politician Huey Long. The solid 1949 screen adaptation nabbed rave reviews and three Oscars — Best Picture, Best Actor (Broderick Crawford) and Best Supporting Actress (Mercedes McCambridge) — but such niceties failed to materialize for this 2006 version. In short, writer-director Steven Zaillian's take is an unmitigated disaster, choked by miscast actors, suffocated by illogical editing and drowned by a choppy script that offers no real sense of period and no clear delineation of its central themes. Zaillian had stated in interviews that he deliberately avoided seeing the earlier film version, preferring instead to take all material from the printed source; in retrospect, that was a faulty decision, since studying that movie might have enabled him to see how weighty material can be effectively thinned out and streamlined for the screen. The film's faults are many, but let's focus on the grotesque miscasting of Sean Penn as Stark, a self-proclaimed "hick" politician whose folksy charms endeared him to his state's rural population. West Coast kid Penn, who's about as folksy as a Manhattan Starbucks, turns in one of his worst performances, second only to his shameless "Look, Ma, no brains!" showboating in I Am Sam — even his pompadour hair is miscast. Still, he's hardly the only one who was hired for name recognition rather than because he was right for the role. Jude Law and Anthony Hopkins seem bored; Kate Winslet and Mark Ruffalo seem lost. As cynical political aide Sadie Burke (the role previously essayed by McCambridge), Patricia Clarkson is merely OK; still, she's one of the few to emerge unscathed from this stultifying boondoggle.
There are no extras on the Blu-ray.
Movie: *
Kelly Reno in The Black Stallion (Photo: Criterion)
THE BLACK STALLION (1979). Walter Farley's beloved children's book, the first in a series of approximately two dozen titles, was turned into a beloved motion picture that proved to be a sleeper hit at the box office. Under the sponsorship of no less than Francis Ford Coppola, who had his own 1979 champ in Apocalypse Now, director Carroll Ballard and his three scripters (including Melissa Mathison, who would later write E.T. The Extra-Terrestrial and marry Harrison Ford) have fashioned a lyrical piece that's most noteworthy for the astounding work by cinematographer Caleb Deschanel (Zooey's dad). Kelly Reno delivers a natural performance as Alec Ramsey, a young boy traveling abroad alongside his father (Hoyt Axton) in 1946. Journeying by sea off the North African coast, Alec discovers a black beauty aboard the ship, a magnificent horse kept trussed up by its owner. After a storm destroys the vessel, only Alec and the stallion are able to make it to a nearby island. Eventually, the pair become inseparable, and even after Alec is rescued and reunited with his relieved mother (Teri Garr), the horse, now called the Black, remains with him. An encounter with Henry Dailey (Mickey Rooney), a retired racehorse jockey, provides Alec with an unlikely friendship and the Black with an opportunity to test his skills on the track. The first half of the picture, set on the desert island, is magnificent, lightly invoking the eerie stillness and spiritual ambience of Australian efforts like Walkabout and Picnic at Hanging Rock and allowing Deschanel to come up with countless breathtaking images. The second part, set stateside and culminating in (of course) a race for the equine underdog, is far more conventional, though Rooney is a delight as the gentle old-timer. Sound designer Alan Splet, best known for his work on David Lynch films like Eraserhead and Blue Velvet, earned a special Academy Award for his sound editing efforts, and the picture earned nominations for Best Supporting Actor (Rooney) and Best Film Editing. Shockingly, Deschanel was overlooked completely.
Blu-ray extras include new interviews with Ballard and Deschanel; a piece in which award-winning photographer Mary Ellen Mark (who passed away in May) discusses the pictures she took on set as the film's unit photographer; and five short films by Ballard.
Movie: ***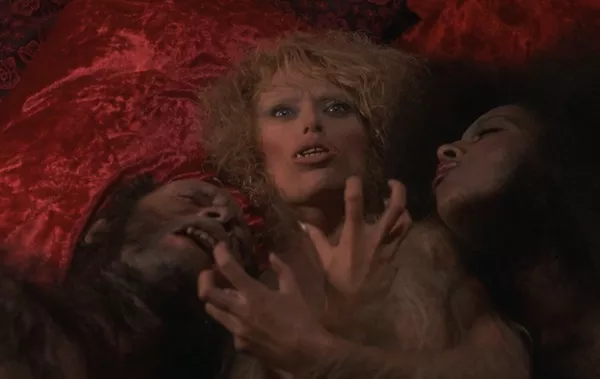 Sybil Danning (center) in Howling II: Your Sister Is a Werewolf (Photo: Shout! Factory)
HOWLING II: YOUR SISTER IS A WEREWOLF (1985). Second only to 1941's The Wolf Man as the greatest werewolf flick ever made, 1981's The Howling remains a high-water mark in lycanthrope cinema, thanks to Joe Dante's knowing direction, John Sayles' witty script, Rob Bottin's superb makeup effects, and perfectly cast performers in every role (including a cameo appearance by the late, great Famous Monsters of Filmland editor Forrest J Ackerman). That's why the very existence of this wretched movie is so depressing: An in-name-only sequel that involved no one from the first film, this immediately tainted the Howling brand, a mercenary move that continued through a rash of further follow-ups. Author Gary Brandner, who publicly voiced his dislike of the 1981 film because it strayed from his novel (I actually read his novel, and the movie was an improvement), co-wrote the script for this sorry sequel, so he deserves much of the, uh, credit for a work that fascinates with its absolute awfulness. Also known under the ridiculous moniker Howling II: Stirba — Werewolf Bitch, this finds Christopher Lee delivering a wooden performance as Stefan Crosscoe, a mysterious figure who travels to Transylvania intent on slaying Stirba (Sybil Danning), the queen of the werewolves. Accompanying Stefan are a pair of Americans, Jenny (Annie McEnroe) and Ben (Reb Brown, Captain America in a pair of late-'70s TV movies), and once they reach the old country, the three are joined in their mission by a priest, a dwarf and other local crusaders. It's difficult to ascertain who gives the worst performance — forced to pick, I'd say Danning — although such ghastly acting falls right in line with Brandner's hideous screenplay and Philippe Mora's seemingly nonexistent direction. Certain shots are repeated ad nauseam (I lost count, but the end credits feature the same snippet of Danning exposing her breasts at least 15 times), and a "Howling" theme song, by the punk band Babel, is played so many times throughout the film that viewers' ears are in perpetual danger of bleeding profusely. Reportedly, the first thing Lee did upon arriving to the set of Dante's Gremlins 2: The New Batch was apologize to the director for taking part in this atrocity!
Blu-ray extras include audio commentary by Mora; separate audio commentary by composer Steve Parsons and editor Charles Bornstein; interviews with Danning, Brown and special makeup effects artists Steve Johnson and Scott Wheeler; and a photo gallery.
Movie: *
Judi Dench and Bill Nighy in The Second Best Exotic Marigold Hotel (Photo: Fox)
THE SECOND BEST EXOTIC MARIGOLD HOTEL (2015). Sequels are perpetually rocked hard by the law of diminishing returns, but that trend is reversed with The Second Best Exotic Marigold Hotel, which bests its 2012 predecessor The Best Exotic Marigold Hotel. To be sure, the difference is slender — both receive the same star rating — but there's a breeziness to this sequel that was missing from the first installment. Sonny Kapoor (Dev Patel) is still running the hotel in India that specifically targets senior citizens, only now he wants to expand the business by opening a second venue (hence the film's title). His entrepreneurial hustling — which includes buttering up a guest (Richard Gere) he believes to be a scout for the financiers — ends up interfering with his upcoming wedding, a situation that rightly upsets his fiancée Sunaina (Tina Desai). Meanwhile, the regulars go about their business, with Evelyn (Judi Dench) forced to decide between pursuing a new career or spending more time with the smitten Douglas (Bill Nighy), Muriel (Maggie Smith) worrying about her health, Norman (Ronald Pickup) and Carol (Diana Hardcastle) contemplating affairs, and Madge (Celia Imrie) still trying to bed any male with a pulse. By being able to move past the first film's meandering exposition and occasionally unconvincing characterizations (as I wrote in my review of the original, "Smith's character is a repulsive, unrepentant racist, but she removes the shackles of her long-held prejudiced views in about the amount of time it takes the rest of us to watch the film version of To Kill a Mockingbird"), The Second Best Exotic Marigold Hotel allows its principals more room to breathe. Sonny's woes are more engaging than those he experienced in the 2012 take, while the tentative relationship between Evelyn and Douglas continues to be nicely handled. And while the subplots involving the secondary actors (Pickup, Hardcastle, Imrie) are painfully flimsy, Gere proves to be a welcome addition, especially in the scenes in which he woos Sonny's apprehensive mom (Lillete Dubey). I'm not sure the world needs a third Exotic Marigold Hotel, but this one's pleasant enough to inhabit for a couple of hours.
Blu-ray extras include various making-of featurettes on the cast, the story, the location filming, and more.
Movie: **1/2